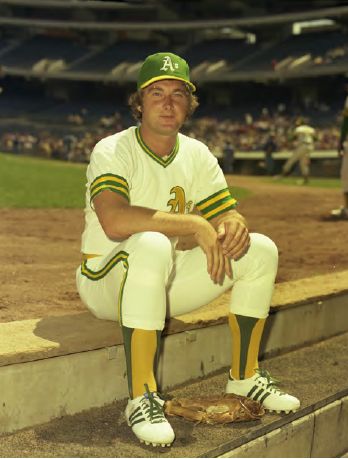 ---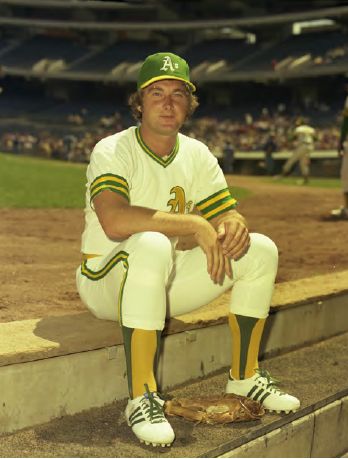 From 1970 to 1977, Rich McKinney was a utility player for all or part of each major-league season. His time in "The Show" was exclusively in the American League. He played for the Chicago White Sox, New York Yankees, and Oakland A's. Originally slated as an infielder, McKinney also handled the outfield and designated hitter positions.
Charles Richard McKinney was born on November 22, 1946, in Piqua, Ohio, to Charles E. and Barbara E. (Houser) McKinney. The couple also had a daughter, Carol. The elder McKinney was a farmer. The farm's primary crop was corn.
From 1962 to 1965, Rich McKinney attended Miami East High School in Troy, Ohio. A gifted athlete, he lettered in baseball, basketball, football, and track. McKinney quarterbacked and captained the football team, and was captain of the basketball team as well. In his senior year, as a hoopster, McKinney made all-state. A rebounding machine, he still held (as of 2014) the school's records for most career rebounds (707), season rebounds (327), and game rebounds (24), as well as the most career free throws (299).
On the baseball diamond, McKinney was the Vikings' field general at catcher. He was behind the dish for three years. Then in the spring of his senior year, McKinney was stricken with a mystery illness. For 2½ weeks he suffered with a 105-degree fever. Doctors initially thought the infirmity was leukemia, but medical tests did not bear that out. McKinney recalled, "They never did find out what I had. I lost 40 pounds and almost died. It was terrible."1
Though he didn't play much baseball in his senior year, out of all his collegiate recruiting offers, McKinney chose to go to Ohio University on a baseball scholarship. "I picked Ohio because of Coach Bob Wren, and because I thought it was the best baseball school," he said.2
McKinney's assessment of the Bobcats baseball program and its skipper was on the mark. In 1949 Bob Wren was named head coach of his alma mater after being in professional baseball for six years with the St. Louis Browns organization. His first season, Ohio University went 14-10-1. During his tenure from 1949 to 1972, Wren's squads never had a losing season, and his .742 winning percentage ranks among the best in the NCAA record books. On September 22, 1997, the Athens, Ohio, school dedicated its new ballpark as Bob Wren Stadium.
McKinney's original plans were to be a two-sport star — baseball and football — for the Bobcats. He had regained most of his strength after his sickness and played quarterback and as a pass-catching flanker for the freshman football team. But a knee injury suffered during a spring football match required surgery and put a stop to his gridiron aspirations. His athletic focus became solely baseball.  
In his sophomore year, the 5-foot-11, 185-pound muscular ballplayer was abruptly switched from catcher to shortstop. He later said, "I didn't know anything about playing short."3 McKinney credited Bob Wren with teaching him the position and making the transition to the infield a success.
At the plate, McKinney did not need any instruction whatsoever. In 1967 the upperclassman finished third in batting in the Mid-American Conference with a .392 average. He ranked third nationally in RBIs, fifth in home runs, and ninth in doubles. College baseball scribes and scouts labeled him one of the country's top collegiate sluggers. McKinney was named to First Team All-MAC in 1967 and 1968. His .697 slugging percentage in the 1967-68 season remains, as of 2012, an Ohio University record.
During the summer of 1967, McKinney played in the Carlings League. The amateur loop in Illinois was backed by the major leagues and stocked with college players who had not signed a pro contract. McKinney batted .308, fourth-best in the league.
A physical-education major, McKinney entered his senior year looking forward to playing in the big leagues. The All-American had already talked with about 15 organizations. His dream was to play for a West Coast team. "Ever since I was little, ever since I could see them play on television I've wanted to do that," he said.4
On June 7, 1968, McKinney was chosen in the first round (14th overall) of the major-league amateur draft, by the Chicago White Sox. Fred Schaffer, a longtime White Sox scout, had given positive reports on the prospect. In one of his reports to the team, Schaffer wrote of McKinney: "He has one of the best bats I've ever seen in the free-agent field."5
McKinney was the second collegian selected in the 1968 draft. The first (fourth overall) was also a MAC man, a catcher from Kent State University who went to the New York Yankees: Thurman Munson. Some others who were singled out in that initial round and made it to the majors were Tim Foli, Greg Luzinski, Gary Matthews, and Bobby Valentine.
McKinney received a $25,000 bonus and Chicago assigned the 21-year-old to the Double-A Evansville White Sox (Southern League). In 86 games at shortstop, McKinney had 307 at-bats and batted .261, with 12 doubles, 9 triples, and 37 RBIs.
McKinney split 1969 among three teams and military service. He found himself initially placed at the White Sox' Florida Instructional league outpost, then after 37 games there was moved to the Double-A Columbus White Sox (Southern League). Under manager Gary "Griz" Johnson, McKinney the shortstop was moved to center field. His stay at Columbus was for only 11 games. Promoted to the Triple-A Tucson Toros (Pacific Coast League), he completed the year there.
McKinney began the 1970 season with Tucson, where he batted .303 with 41 RBIs in 62 games. In late June he was called up to the White Sox. On June 26, 1970, at Comiskey Park in a night game against the Minnesota Twins, McKinney made his major-league debut before a home crowd of 9,486. Batting sixth, he started at third base, a position he had never played before professionally. The muscular right-handed batter scored his first major-league run in the second inning. He reached second base on an error by Twins center fielder César Tovar, and a single by pitcher Bob Miller brought him home. In the fifth, McKinney got his first major-league hit, a single to right off Jim Kaat. In the 4-2 Chicago victory, McKinney handled his two fielding chances at the hot corner without any problem.
McKinney's first major-league home run came in an 8-2 loss on September 21, 1970, at Comiskey Park in the nightcap of a doubleheader against the Kansas City Royals. The gopher ball was given up in the eighth by Jim York, who was making his major-league debut. It was the first of four straight games in which McKinney hit a homer. He closed out the season with the four home runs but with a .168 batting average.
Before the start of 1971 spring training in Sarasota, Florida, White Sox manager Chuck Tanner was looking for another power hitter to add to the lineup. Discussing possible trade rumors, Tanner said, "It could be we might discover that extra power right in our own back yard in the person of Rich McKinney. … Rich showed us last fall that he has the potential power when he hit those four homers in four games. The only thing he has to prove is that he can handle major-league pitching consistently."6
After their 1971 home opener, the White Sox lost nine of ten games. Chicago scored only 18 runs in those games. McKinney had been used as a pinch-hitter in that stretch and in four successive plate appearances had hit safely. Skipper Tanner needed offense. He shook up the lineup and shuffled McKinney to the outfield. Later Tanner said, "He took to outfielding quite naturally."7
McKinney himself said, "I don't believe I have the ability to play shortstop in the major leagues. I just don't have the range and I don't do too well with the pivot. They had Luke Appling work with me, but I don't feel that's the spot for me. I'm in the right place now — the outfield. You don't have so many different plays to worry about out there and, therefore, can concentrate more on your hitting."8 McKinney's prowess at the plate did improve; at one point in the season he even flirted with .400. As a pinch-hitter he ended the season 11-for-19 (.579).
Clearly 1971 was a career year for McKinney, with 114 games, 369 at-bats, a .271 batting average, 46 RBIs, and a .377 slugging percentage. McKinney's banner year raised his visibility among opposition advance scouts and general managers alike, and after the season New York Yankees general manager Lee MacPhail swapped pitcher Stan Bahnsen, who had been the American League Rookie of the Year in 1968, for McKinney.
Marty Appel was the Yankees' assistant public-relations director at the time of the trade. In his memoir, Now Pitching for the Yankees, Appel provided some insight as to why MacPhail had sought the deal:  "No one had really secured the position since Clete Boyer was traded in '67. Five years of Charlie Smith, Bobby Cox, and Jerry Kenney — and it wasn't happening."9 Appel wrote that Yankees scouts were impressed with McKinney and thought he would get better. "McKinney was our offseason big news, our new face, our new marquee star. He would take over third base." Appel recalled.10 
To gain third-base experience, McKinney played winter ball for the Mayagüez Indians in the Puerto Rican League. An incident on December 17, 1971, may well have foreshadowed McKinney's Bronx Bomber career. At a beach party in Puerto Rico, he sustained second-degree burns to his right ankle. He returned to Troy, Ohio, for treatment. The Yankees said he was expected to be in spring training.
Before the 1972 season, the Yankees conducted their annual Winter Promotional Caravan. During this weeklong odyssey into parts of Connecticut, Pennsylvania, and upstate New York, the team would offer "meet and greet" opportunities to the local media as a marketing tool. On the first day of the tour, McKinney boarded a bus with general manager MacPhail, public-relations director Bob Fishel, manager Ralph Houk, and other club officials, including assistant PR director Appel. 
Appel wrote, "Rich was 25, curly-haired. … I introduced myself to him. … It was clear to him, I'm sure ,.. that I was a club official."11 During their exchange of pleasantries, Appel could not believe it when McKinney asked where he could buy some marijuana. Shocked, Appel could not believe a player would ask a team official for drug advice or tell a team official he smoked grass.
Although nothing further came of that peculiar incident, newly-minted Bomber McKinney had problems at the plate and at third base. On April 18, 1972, in his Yankee Stadium debut, batting second, he grounded into three double plays against Milwaukee Brewer starter Jim Slaton (twice) and reliever Frank Linzy. Later McKinney commented, "I didn't feel right in batting practice and I didn't expect to have a good night."12 The team's spin cited the baseball strike as an impact upon McKinney's poor performance. (The first players' strike in major-league history ran from April 1 to April 13, 1972.)
Four days later, on the 22nd, McKinney found his swing. He had been dropped to the seventh slot in the batting lineup and went 3-for-4 with a home run. The homer came in the top of the fourth off Boston right-hander Sonny Siebert. In the field it was a different story. In the 11-7 loss at Fenway Park, McKinney made a record-tying four errors. In The Sporting News Jim Ogle wrote, "[I]t is doubtful any other player contributed nine runs to the opposition."13 McKinney lamented, "They were all so easy. … If they had been tough chances, I wouldn't feel so bad, but I couldn't find the handle."14
Afterwards, teammates Bernie Allen and Johnny Callison took McKinney out to dinner. Allen said, "We had one primary purpose: to make him laugh and laugh and laugh. I knew how he felt. Any infielder knew how he felt, since we have all had rough days."15 The outing was good but upon their return, they saw a local TV sports newscast that replayed each error in sequence. Allen recalled, "I'm surprised Mac didn't kick the screen in."16 But manager Ralph Houk said, "One game doesn't make a season. It's not going to leave a mark on him. Rich is a hard-nosed kid with a lot of guts."17
McKinney's very next appearance was at Yankee Stadium; no boos were reported and the crowd gave him an ovation when he successfully handled a fielding chance in the second inning. But the home crowds were not so polite after that contest, and rumblings about "the trade" had begun.
Twenty games later McKinney had gone without an error, but by the end of May he was batting .216 and had only five RBIs. In late May the Yankees optioned McKinney to the Syracuse Chiefs, their Triple-A affiliate in the International League. Houk told The Sporting News, "McKinney got off to a bad start. … We still feel he has excellent potential, but things were just piling up on him."18 Indeed they were, and had been. McKinney, while in the pinstripes, had been playing with a bone chip in his elbow.
In 86 games at Syracuse, McKinney batted .299, with 16 home runs and 53 RBIs. During that interim, GM MacPhail went on the record to state, "There has been criticism of some of the deals we have made. … Just a word of caution here about criticism of the Rich McKinney deal. Neither Ralph nor I have given up on Rich, although we felt it best to send him out. He just got off on the wrong foot, had some personal problems and can't be judged on what he did this year."19
McKinney got a September call-up to the Yankees. He was an insurance policy to fill in for infielders Horace Clarke and Gene Michael, or could be placed in the outfield to cover for Johnny Callison, Bernie Allen, Ron Swoboda, or Hal Lanier. Offensively, McKinney put up no dramatic or magical batting numbers. He ended the year with a .215 batting average in 37 games with the Yankees.
Nonetheless, around the time of the World Series, rumors were reported that the Yankees were receiving inquiries from other clubs about the availability of two players: McKinney and catcher-first baseman Johnny Ellis. On November 24 the Oakland A's traded outfielder Matty Alou to New York for pitcher Rob Gardner and a player to be named later. On December 1 McKinney became that player.
In becoming an Oakland Athletic, McKinney fulfilled his childhood dream to play for a West Coast club. He started the 1973 season with the A's as primarily a role player. He was a backup for third baseman Sal Bando, a replacement second sacker for Dick Green and an occasional pinch-hitter or designated hitter. In one mid-June game, manager Dick Williams benched a slumping Joe Rudi and placed McKinney in left field.
In late July, the 26-year-old was sent to the A's Triple-A affiliate, the Tucson Toros (Pacific Coast League). He was recalled in September and he closed out the season with Oakland. In 48 games, he batted .246.
McKinney spent almost all of the 1974 season with Tucson, except for about two weeks with the A's in July. With Tucson he played in both the infield and the outfield. In 116 games his .285 batting average produced 26 doubles, 65 RBIs, and 7 home runs.
McKinney continued in Tucson in 1975, until he was called up by the A's in August. In 110 PCL games, he batted .297, repeated with 26 doubles, 13 home runs, and 74 RBIs.
In 1976 McKinney was with Tucson for the entire  season. In 129 games, he batted .317, rapped 34 doubles and 6 triples, and had career highs of 95 RBIs and 22 home runs. The batting power scouts had touted about McKinney showed in his plate performance.
The nine-year professional had spent three straight seasons at Triple-A. In 1977 the 30-year-old McKinney was prepared to leave baseball and take a job with a trucking company. That was the plan until Oakland owner Charlie Finley telephoned him. "Mr. Finley called me and told me it would be the best chance I had since I came to Oakland and I would be foolish not to report," said McKinney.20
In spring training McKinney surprised himself and sportswriters by hitting some home runs. Sportswriters commented on how typically McKinney wouldn't hit homers until midseason. Manager Jack McKeon planned to use him as a DH and first baseman. McKinney spent all season with the A's except for two weeks at Triple-A San Jose in the latter half of June. McKinney was in 86 games for the Athletics, 32 at first base, 18 as a DH, ten as an infielder and five in the outfield.
McKinney's last major-league game, on October 2, 1977, was a Sunday contest at Arlington Stadium against the Texas Rangers. McKinney started at third base and batted seventh in the 8-7 loss to the Rangers. In the top of the second against left-hander John Poloni, McKinney grounded into a double play. In the fifth he walked, and scored on a double and an error. In the seventh McKinney grounded out to shortstop. In the eighth, off reliever Roger Moret, he grounded into a double play.
McKinney's final season batting average was.177, with 21 RBIs and 6 home runs. In his seven-year major-league career, McKinney played in 341 games, batted .225, hit 20 home runs, and drove in 100 runs.
Upon his departure from baseball, McKinney drove semi trucks. In the 1980s he and his father owned some farms that produced corn and soybeans and stocked cattle. McKinney also worked some 16 years for Panasonic in one of its manufacturing divisions, from which he retired.
In 2008 Miami East High School, McKinney's alma mater in Troy, Ohio, inducted him into its Hall of Fame.
Sources
August 7, 2014, telephone call with Rich McKinney
Appel, Marty, Now Pitching for the Yankees (Kingston, New York: Total Sports Publishing, 2001).
Shatzkin, Mike, ed., The Ballplayers (New York: Arbor House William Morrow, 1990).
2012 Ohio University (baseball) Media Guide.
Chass, Murray, "On Baseball; The Orioles Lose Out From Coast to Coast," New York Times, January 23, 2005.
Markusen, Bruce, "Observations From Cooperstown: The Yankees and the 1971 Winter Meetings," December 19, 2011, at bronxbanterblog.com/2011/12/19/.
"Former Bobcat baseball coach Bob Wren passes away," ohio.edu/news.
"Illness Nearly Curtails Rich McKinney's Career," Athens (Ohio) Messenger, date not certain, but circa May 10, 1968.
"Yankee Player Suffers Burns at Beach Party," Virgin Islands Daily News, December 20, 1971, 11.
news.google.com/newspapers?nid=1241&dat=19720331&id=H29TAAAAIBAJ&sjid=8IUDAAAAIBAJ&pg=4290,2721625
Notes                                     
1 "Illness Nearly Curtails Rich McKinney's Career,"Athens (Ohio) Messenger, date not certain but circa May 10, 1968.
2 Ibid.
3 Ibid.
4 Ibid.
5 Jerome Holtzman, "McKinney Mighty Big Chisox Plus" The Sporting News, August 21, 1971.
6 "Chisox Sitting Pretty — Catchers Are Swap Bait," The Sporting News,  January 16, 1971, 60.
7 "McKinney Adding Muscle To Anemic Chisox Attack," The Sporting News, May 8, 1971, 17.
8 Ibid.
9 Marty Appel, Now Pitching for the Yankees, (Kingston, New York: Total Sports Publishing, 2001), 79.
10 Ibid.
11 Ibid.
12 -"Yanks' New Kekich — Thinking Pitcher," The Sporting News, May 6, 1972, 7.
13 Jim Ogle, "A Bad Day at Black Rock for a Fumbling McKinney," The Sporting News, May 13, 1972, 2.
14 Ibid.
15 Ibid.
16 Ibid.
17 Jim Ogle, "Yanks Admit Mistake on McKinney," The Sporting News, June 17, 1972, 16.
18 Jim Ogle, "Yanks' MacPhail Lashes at Baying Wolves," The Sporting News, June 17, 1972, 16.
19 Ibid
20 Associated Press, "Here's a Guy Who Likes Charlie Finley," St. Petersburg (Florida) Evening Independent, April 21, 1977, 19.
Born
November 22, 1946 at Piqua, OH (USA)
If you can help us improve this player's biography, contact us.
http://sabr.org/sites/default/files/RichMcKinney.JPG
600
800
admin
/wp-content/uploads/2020/02/sabr_logo.png
admin
2015-09-18 00:00:13
2020-11-20 11:20:18
Rich McKinney