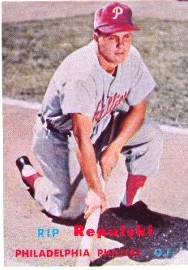 ---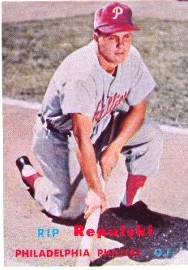 Eldon John "Rip" Repulski was a major-league ballplayer from Sauk Rapids, Minnesota, who enjoyed storytelling. This was especially true after his career with the St. Louis Cardinals, Philadelphia Phillies, Los Angeles Dodgers, and Boston Red Sox came to a close in 1961, and Rip eventually opened a cocktail lounge on St. Germain Street in St. Cloud, Minnesota.
Repulski was a "hands-on" owner of his liquor establishment, frequently coming out from behind the bar to share tales of his baseball career with anyone who might have even a dim connection with the sport.
Never one to allow anything to get in the way of a good story, Rip regaled his audiences with tales of his ball-field exploits: how he escaped death in plane and bus crashes, that he could still hit left-handed pitching, that the Cardinals kept him in the minors too long, and that his lifetime batting average was the same as Yogi Berra's (it wasn't). The stories went on and on until closing time.
"All his life he was like a big kid," recalled Repulski's friend and college teammate, George Smilanich of Hibbing, Minnesota. "All he ever wanted was for people to like him."
Someone in the St. Louis farm system—Repulski couldn't remember who—gave him the nickname "Rip." Until then the popular young athlete from Sauk Rapids was referred to in St. Cloud newspaper reports as "Al" Repulski, not Eldon or El. "He didn't care," recalled Smilanich. "He didn't really like the name Eldon. We called him Al or Alto." Alto? "Al-toe," Smilanich said, "as in Al the Toe. He was our placekicker and a damn good one, too."
"His first love was football," Smilanich says. At Sauk Rapids High School, Repulski attracted the attention of college scouts when he ran for three touchdowns, passed for two more, and kicked extra points in a 43-0 route of Sauk Centre. When it came to enroll in college, he didn't go far. Repulski joined a talented St. Cloud Huskies squad, notable for the number of World War II veterans on the roster.
"Rip was a boy playing with men," Smilanich recalled. In the backfield with Repulski were Smilanich, a decorated veteran in his mid-twenties, and Velko Rajacich, who was approaching 30. Both were graduates of Buhl (Minnesota) High School, a Mesabi Iron Range football and basketball powerhouse. Smilanich said, "We sort of adopted 'Alto.' We kept him out of trouble." A story later circulated that a scout from the Detroit Lions had contacted Repulski, but no confirmation is available.
On October 19, 1946, Repulski's toe accounted for the difference in a 14-13 St. Cloud victory over Winona State Teachers College. But he did more than placekick. Later in the season, he ran up more than 100 yards rushing from his halfback position, scored a touchdown, and kicked two extra points in a 14-0 win over Moorhead State Teachers College. "He was a good football player," said Smilanich, "not a great one."
The threesome of Repulski, Smilanich, and Rajacich also joined the St. Cloud State Teachers College basketball team, coached by Warren Kasch, who was partial to Minnesota Iron Rangers. Smilanich and Rajacich were joined by fellow Buhl alumnus Bob Delich as well as Johnny Kne and Heine Olson from Chisholm. Basketball was not Repulski's strong suit, although he did start a few games but seldom scored more than five points in a game.
No devotee of the academic life, Repulski saw his chances of earning a diploma as slight. "We took one class together," Smilanich remembered. "It was ballroom dancing. He was quite good. I guess he realized his future was in baseball."
Playing on a town-ball team, Repulski led Sauk Rapids to the Lakewood League championship in 1945 and 1946 as a pitcher and outfielder. In the championship game on September 16, 1946, he played center field and went 3-for-4 as Sauk Rapids defeated St. Augusta 4-1.
Repulski was signed to a professional contract by St. Louis Cardinals scout Walter Shannon and assigned to play in West Frankfort, Illinois. "We told him we'd see him some day in the big leagues," said Smilanich. "Although I think he didn't believe us."
His time with West Frankfort, in the Illinois State League at the bottom of the minor-league food chain, did little to boost Repulski's confidence. He played in 111 of the team's 112 games, but West Frankfort was at best a mediocre team. Rip did produce 10 home runs and 74 runs batted in (RBIs) with a .280 batting average.
The Cardinals saw something in the 6-foot, 195-pound athlete and promoted him to Fresno, California, for the following season. In doing so, according to Repulski, the organization had allowed him to escape possible death or disfigurement.
"I was supposed to play minor-league ball with Duluth instead of Fresno," Repulski told a writer in 1974. "But that fell through at the last minute." Had he been a member of the Duluth Dukes in 1948, he believed he would have been a passenger on the team bus that collided with a truck on Minnesota Highway 36 near St. Paul on July 24, 1948. Dukes manager George Treadwell and four of his players were killed at the scene or died later as a result of the accident. Others were severely burned. Only four of the survivors ever played pro ball again. One was Elmer Schoendienst, brother of Red Schoendienst, later a friend and teammate of Repulski.
Far from Duluth, Repulski led the California League in RBIs with 125, total bases (288), and doubles (33) while batting .322 and slugging 23 home runs. Promotion to Omaha of the Western League came in 1949, but Rip slumped badly, hitting only .172, and the Cardinals organization shipped him to Winston-Salem of the Carolina League, where he regained his batting form, hitting .300 with 20 home runs.
Repulski began the 1950 season with Houston of the Texas League but was demoted to the South Atlantic League's Columbus (Georgia) team, where he drove in 95 runs while hitting .323. His play at Columbus caught the eye of the Cardinals front office, and he was invited to major league spring training at St. Petersburg, Florida. "I thought I was ready to make the big club," Repulski recalled. He was 22 years old, in peak shape, and newly married; he had wed his high school sweetheart, Mildred Ellis, on December 30, 1950.
"New manager Marty Marion has invited 10 other players to the proving grounds at St. Petersburg for a chance to win their big league wings," Bob Broeg wrote in The Sporting News on February 14, 1951. "Seven of the players represent faces entirely new to the man on the street in St. Pete or St. Louis." One of the seven was Repulski, and Rip believed he was capable of starting in center field for the Cardinals. He was extremely disappointed when he learned that the Cardinals did not share his view. He started the 1951 season with Houston, but a strong showing got him promoted to Class AAA Columbus (Ohio) of the American Association, where he hit .275 in 115 games.
Spring training came and went in 1952, and Repulski was again dispatched to the minors, this time a lateral move from Columbus to Rochester (New York) of the International League. The St. Louis Cardinals, under new manager Eddie Stanky, would rely primarily on veterans Stan Musial, Enos Slaughter, Peanuts Lowrey, and Hal Rice in the outfield. Rip grumbled and pointed out to friends that pro football advanced players faster than those in major league baseball.
Repulski put his feelings aside and hit .296 with 13 homers for the Rochester Red Wings. "I was hitting a ton, but the Cardinals kept me at Triple-A because the team was fighting to get into the Junior World Series," Rip said. Not only did Rochester get into the Junior World Series, the team won it by defeating Kansas City after the Blues had taken a three-games-to-one lead.
Repulski was 24 when spring training opened in 1953. "I knew things would be different," he said. "They gave me Terry Moore's number [No. 8]. That was quite an honor." (Moore had been the Cardinals' center fielder and team leader in the 1930s and '40s.) He quickly caught the eye of Enos Slaughter. "I like that center fielder, that Repulski," Slaughter told J. Roy Stockton of the St. Louis Post-Dispatch. "He looks real good. He can go get 'em, and he's got power at the plate."
It was Stanky who decided Repulski should wear number 8. After an intra-squad game on March 5, Stanky, impressed by Rip's fielding, described it to Stockton as, "Shades of Terry Moore." According to Stockton, Stanky was referring to an excellent catch made by Repulski, whose "center fielding has been one of the outstanding features of the squad contests."
Stockton described the action: "Hal Rice connected solidly with one of Willard Schmidt's fast balls in the third inning, and it seemed that the ball was one its way to right-center for extra bases. But Repulski ran back, leaped, and arrested the flight of the ball with his gloved hand, then grabbed it before the ball could hit the ground." Stanky and Moore did not get along, but, according to Stockton, "In comparing Repulski's fielding to that of Moore, Stanky showed that regardless of friendship, likes or dislikes, he was comparing Repulski only with the best."
Stanky installed Repulski as his starting center fielder and kept him there throughout the season. He was to hold on to a starting outfield position for the Cardinals for four consecutive seasons. "Rip Repulski," wrote a United Press International reporter, "the big righthander from the town that might have been dreamed up by Sinclair Lewis, patrols center field with the same efficient nonchalance that Terry Moore displayed in the 1930s.
"But he may have more authority in his bat than Terry ever had."
Stan Musial told the writer that Repulski "is a real hitter, and he may become a great one." He added that Repulski was easily capable of hitting the ball to any field. Repulski acknowledged the hitting tips given him by brothers Harry Walker and Dixie Walker, both St. Louis coaches. "I appreciate the work everybody's put in with me," he said. "As long as I keep hitting the ball, I'll do whatever they tell me."
Repulski hit .275 with 15 home runs and 66 RBIs during his rookie year. He also drew attention for hitting a home run in every major-league park in which he played. Researchers for The Sporting News subsequently dug up the fact that Rip had hit a homer in every American Association park when he was with Columbus.
In the outfield, Repulski was flanked by future Hall of Famers Musial and Slaughter. The infield consisted of Steve Bilko at first, Red Schoendienst at second, Solly Hemus at shortstop, and Ray Jablonski at third. The catcher was the dependable Del Rice. On September 1, Rip, Bilko, Musial, and Harry Elliot hit solo home runs in a 12-5 loss to Brooklyn. Bilko hit two of the round-trippers.
The Redbirds' pitching staff in 1953 featured rookie 20-game winner Harvey Haddix, 18-game winner Gerry Staley, and 13-game winner Vinegar Bend Mizell. Bullpen stalwarts were Stu Miller, Al Brazle, and Hal White. Yet, with a formidable lineup and decent pitching, St. Louis was able only to tie the Philadelphia Phillies for third place in the National League, 22 games behind the Brooklyn Dodgers. Repulski, however, was a strong candidate for Rookie of the Year honors until he slumped at the plate in the last three weeks of the season. He finished fourth in the voting behind the Dodgers' Junior Gilliam and teammates Haddix and Jablonski.
"Not only had he become a ranking Rookie of the Year candidate," wrote Broeg, "but manager Stanky flatly predicts that the young man from Sauk Rapids, Minn., will hit .300 next year."
Spring training in 1954 provided no worries for Repulski, for he had established himself as a regular and a member of a group known as the "Polish Falcons," which included Jablonski and Bilko. The big news of training camp, however, didn't involve a Polish player. Fan favorite Enos Slaughter was traded to the New York Yankees for outfielders Bill Virdon and Emil Tellinger and pitcher Mel Wright. St. Louis team owner and beer baron Gussie Busch was bombarded with threatening messages from angry fans and took refuge in his palatial Grant's Farm mansion.
The Slaughter trade also meant that Repulski had to shift to left field as Enos's replacement. Rookie Wally Moon took Rip's place in center. The shift in positions didn't alter his status with the club. In fact, playing left field caused less wear and tear on his legs. He would go on to play in at least 100 games for the next four years.
The Cardinals started the 1954 season well and were in contention for April, May, and most of June, but a string of defeats called to mind the team's failure the previous year. According to sportswriter Bob Broeg, Repulski become demonstrative on a train trip from New York to Philadelphia. "A snub-nosed grinning kid with a blond crew cut and appearance of the All-American boy delivered an impromptu speech in the Pullman aisle," Broeg wrote.
"I'd just love to play in a World Series," Repulski said. "And heck, not because of the money either. It was just like winning the Junior World Series two years ago. All the dough in the world couldn't have brought that thrill."
According to Broeg, Repulski "brought a smile of appreciation from his nearest listener, Vic Raschi, who had just appeared in six World Series with the Yankees. A professional soldier of baseball fortune could—and did—enjoy the amateur attitude of a promising young player."
On June 13, Repulski delivered a pair of hits in each game of a doubleheader against Pittsburgh. This started him on a string of 10 straight games in which he registered at least two hits. During the 10-game span, he got 22 hits in 44 at-bats. Eleven of the hits were for extra bases, including eight home runs.
The Cardinals, however, were going nowhere. Typical of the season was an event that occurred on July 18. The Phillies were in St. Louis for a Sunday doubleheader. The first game was delayed more than an hour by rain in the seventh inning, then went into extra innings with Philadelphia pulling out an 11-10 victory. Repulski led off, played left field, and had three hits in five at-bats. Due to the length of the game, it was 6:50 p.m. as the second game commenced. The Phillies quickly jumped to an 8-1 lead after four innings. Manager Stanky then initiated stall tactics, hoping the game would be called by darkness before it could become official. Pitcher Cot Deal took an inordinate amount of time between pitches, and, when he did throw, he was wild. Next, out of the blue, Cardinals catcher Sal Yvars picked a fight with the unsuspecting Earl Torgeson. Umpire Babe Pinelli blamed Stanky for the shenanigans and forfeited the game to the Phillies. National League president Warren Giles suspended Stanky for five games. (Busch Stadium had lights at this time, but apparently Stanky was counting on a National League rule that did not allow lights to be turned on to complete a Sunday game. However, this rule had been rescinded prior to the 1954 season.)
The season further disintegrated on August 20 when the Cardinals tied a National League record by hitting into six double plays in a loss to the Cincinnati Reds. St. Louis ended the season in sixth place despite leading the league in hits, runs, and batting average (.281). Surprisingly, Stanky was retained to manage the club in 1955. Repulski batted .283 with 15 homers. At one point during the season he had a 16-game hitting streak.
On November 17, 1954, it was announced that Repulski and fellow Polish Falcon Bilko had gone into partnership in a drinking establishment known as the Shamrock at 1929 East Grand Avenue in St. Louis. The Shamrock was Repulski's first experience in the bar business.
As spring training approached, Broeg noted that Repulski had established a reputation for himself as a "slasher" and a "confident hitter." He envisioned Rip as the Cardinals' cleanup hitter, something that suited Repulski just fine. "I also want to be invited down to Grant's Farm with Musial and Schoendienst when they sign their contracts." Broeg revealed that those two Cardinals were the only ones who had their contracts signed personally by owner Busch.
"No one is going to push him around," Broeg wrote and described Repulski as "increasingly aggressive" at the plate. "The Ripper knows he's entitled to his three cuts and takes them."
Repulski's third season in a Cardinals uniform saw him hitting .417 by late April before tapering off. His teammates, however, did not get off to a strong start, and St. Louis was floundering. In a game the Cardinals had just lost to the Cincinnati Reds at Crosley Field, manager Stanky abandoned all control, damaging the visiting team's clubhouse, overturning the postgame meal, and throwing equipment at anyone approaching. Gussie Busch's patience had expired. Stanky was fired on May 27 and replaced by Harry "The Hat" Walker. (In October, Stanky was hired as manager of the Minneapolis Millers for the 1956 season.)
During Repulski's St. Louis years George Smilanich would drive to Chicago and Milwaukee to see his friend play. "He always greeted me as if he hadn't seen me since college," Smilanich said. "First thing, he would always ask was what kind of car I was driving. As if it was the most important thing in the world. I could never figure that out."
The lifeless Cards finished the 1955 season in seventh place with only 68 wins, 30½ games out of first. Repulski's batting average slipped to .270, but his home run total increased to 23. On October 12, however, something happened to the Cardinals organization that would change Repulski's life forever. Gussie Busch replaced general manager Richard Meyer with Frank "Trader" Lane. Lane had just resigned as general manager of the Chicago White Sox. His favorite trading partner had been St. Louis Browns owner Bill Veeck. The pair took particular delight in shuttling a shortstop named Willy Miranda back and forth between the White Sox and the Browns. In 1956, Lane did what fantasy baseball owners do now—make trades just for the sake of making them.
In spring training, Repulski sensed that Lane wanted to get rid of him. Bob Broeg reported that Lane had told him he nearly traded the Ripper to Philadelphia because, according to Lane, "they had what we needed. But they [Philadelphia] backed down." Broeg wrote, "Lane is happy now that the trade didn't go through. By the time Rip rapped a homer off the Giants at the Polo Grounds May 21, touching off a 4-1 St. Louis victory, the six-foot, 185-pound right-handed hitting Repulski led the National League with a .404 average."
"I don't want to be traded," Rip grumbled, "because this club is going places."
Unfortunately for Repulski, the Cardinals, once again, were going nowhere. The team finished in fourth place, 17 games behind third-place Cincinnati, despite a .268 team batting average, best in the National League. General manager Lane proceeded to sabotage, whether intentionally or not, the team with a pair of blockbuster trades. (Before he was done in St. Louis in 1957, Lane had made 26 trades.)
St. Louis is a baseball town. It has had major-league teams since 1882 when 30-year-old entrepreneur Chris Von der Ahe purchased the St. Louis franchise in the American Association. Cardinal fans have been described as the most loyal in baseball, and they are slow to accept change. They form attachments to favorite players and hate it when they move on. Lane upset the balance between St. Louis fans and players when he traded 1955 Rookie of the Year Bill Virdon to Pittsburgh for pitcher Dick Littlefield and outfielder Bobby Del Greco. (Littlefield made only six starts for St. Louis in 1956; Del Greco hit .215 and was benched.)
Then, On June 14, Lane did the unthinkable. He traded away Red Schoendienst to the New York Giants. One of the most popular players in Cardinals history, the redhead thought he would finish his career in St. Louis. (He did return later to manage the Cardinals.) Schoendienst was traded along with Jackie Brandt for Don Blasingame, Alvin Dark, Whitey Lockman, Ray Katt, and Don Liddle.
The highlight of Repulski's 1956 was his selection to the National League All-Star team. He finished the season with a .277 average. Repulski had managed to escape the season without being traded. He could not, however, avoid the offseason. On November 19, Lane finally got the deal he wanted with Philadelphia. He traded Repulski and infielder Bobby Morgan to the Phillies for outfielder Del Ennis.
The offseason also provided a tragic event that would be the source of one of Rip's pet stories. The Cardinals wanted him to play winter ball in Venezuela. "I had the airline tickets for me, my wife, and daughter and was all set to go when my mother-in-law fell and broke her hip. I had to call the Cardinals and tell them to send someone else. They sent an outfielder named Charley Peete."
The plane, a four-engine Constellation, crashed into a fog-shrouded mountain near Caracas. Dead were Peete, his wife, and three children, plus 20 other passengers. Rip's story about cheating death tends to lose credibility because he was traded to Philadelphia on November 19, 1956, and was no longer property of the Cardinals when their plane crashed on November 27. The Sporting News reported that Peete was the first active major- or minor-league player to die in a commercial plane crash.
Repulski's plans for winter ball that offseason also conflict with a news story in the Philadelphia Inquirer by Don Donaghey who reported that the trade to the Phillies caused Rip to miss "a deer hunt in Wyoming." Perhaps he intended to go hunting first, then on to Venezuela.
The Donaghey article also revealed Repulski's misgivings about leaving the St. Louis organization. Rip told Donaghey the trade was devastating to his wife and high-school sweetheart, Mildred, as well as to his only child, five-year-old Nadine. "Daddy, now I guess I'm not a Red Bird any more," Nadine is reported to have said.
"Del Ennis is a fine ball player, and it's a compliment to be traded for him," Repulski said in the piece. But his real concern was for the bar he shared with Bilko in St. Louis. Bilko was no longer a member of the Cardinals' organization, and now neither was Rip. Repulski confessed that he didn't know how he could front a St. Louis cocktail lounge while playing his home games in Philadelphia. The place had been put up for sale. Rip said he would especially miss the bar's clientele. "[They] were good at hitting us up for tickets, and I've been paying for about six dozen baseballs a year to autograph for the customers. They were real big league balls—I got them cut rate for $2.00 through the ball club. Sometimes we raffled the balls. It was good public relations."
While he excelled at raffling baseballs, Rip failed at learning the financial end of running a liquor establishment. "I never got to know much about the business," he lamented. Nevertheless it provided him with a training ground for what would later become his second entry into the bar business.
"I hated to leave St. Louis," Rip said. "It was a great organization. Even with Lane. They have the best fans in the world, too."
The fans in Philadelphia were worse. "Really a bad bunch of characters," Repulski recalled later. "I once got three hits, including a homer, but I popped out with men on base. When I got back to my outfield position, they threw things at me. They would boo the Pope."
In the Phillies' outfield, Repulski was teamed with Harry Anderson and veteran Richie Ashburn. Other stalwarts in the Philadelphia lineup included Granny Hamner, Ed Bouchee, Stan Lopata, and Willie "Puddin' Head" Jones. The pitching staff was anchored by aces Robin Roberts, Curt Simmons, and Jack Sanford. Under manager Mayo Smith, Philadelphia finished in fifth place with a 77-77 record. Roberts lost 22 games and Simmons 11. Repulski, however, led the team with 20 homers and batted .260.
At this stage of his career Rip was relying more on the long ball and less on speed to leg out hits. "With ballplayers, the legs are the first to go," he would later observe. At age 29 in 1958, his batting average slipped to .244 in 1958, and he lost his starting outfield job to Wally Post.
There were occasional flashes of brilliance. On August 24, 1958, Repulski hit a three-run pinch-hit home run that touched off a 13-8 Phillies win over the Chicago Cubs at Wrigley Field. "He would gladly chuck it all for a chance to play regularly," Ray Kelly wrote in the Philadelphia Evening Bulletin. Repulski hit four pinch-hit home runs in 1958, his last year in a Philadelphia uniform.
Rip knew he no longer fit in the Phillies' plans, so it did not surprise him when he was traded to the Los Angeles Dodgers that winter along with pitchers Jim Golden and Gene Snyder. In return for Repulski, Philadelphia got second baseman George Anderson. Anderson, known as "Sparky," batted .218 for the Phillies in 1959, his only year in the big leagues. He soon began a career as a manager that sent him to the Hall of Fame.
Dan Daniel, writing in the New York Times, indicated that Anderson had the reputation of being a "splendid fielder" and that the Dodgers made the trade out of "desperation." As for Repulski, Daniel wrote that he "never was a topflight outfielder. His hop, skip, and jump before throwing the ball has been quite a detriment."
Repulski played in only 53 games for Los Angeles, but being a Dodger in 1959 gave him the opportunity to play in his only World Series. On October 6, he pinch-hit in the fifth game of the series, drawing an intentional walk from Billy Pierce in the Dodgers' 1-0 loss to the Chicago White Sox at the Los Angeles Memorial Coliseum. He subsequently went in to play right field, replacing Wally Moon, who moved over to center.
"The Dodgers are a great organization," Repulski told Dave Anderson of the St. Cloud Daily Times. "They treat you well." On May 6, 1960, the Dodgers traded Repulski to the Boston Red Sox for pitcher Nelson Chittum. An American Leaguer now, Repulski responded on May 10 with a grand-slam home run off Chicago's Don Ferrarese in a 9-7 Red Sox victory. Vic Wertz also hit a grand slam for Boston. In fact, Repulski's home run came after he borrowed Wertz's bat.
Boston used Repulski in 73 games in 1960. After his grand slam, he hit only two more homers and finished the season with a .243 batting average and 20 runs batted in.
"I was lucky in my career in that I got to be teammates with two of the best to ever play the game, Stan Musial and Ted Williams," he said.
"Williams was remarkable. If Ted didn't swing at a pitch, the umpire knew it was a ball. We'd often discuss fishing. He used to tie flies in the Red Sox clubhouse. Fans knew this and would send him feathers from all over the country. The clubhouse smelled like a chicken coop."
Repulski went to 1961 spring training with Boston, but after participating in only 15 regular-season games, he was released. He was 32 years old. This was the first year for the Minnesota Twins, and Rip desperately wanted to catch on with the home-state team, but he only was offered a contract with Syracuse, Minnesota's Class AAA farm team. He accepted the offer, played 78 games in the International League, hit seven home runs, and batted .245.
The Twins signed Repulski to a minor-league contract with their new Class AAA team, Vancouver, and invited him to participate in the team's annual winter caravan. "We teamed him with Jack Kralick," public-relations director Tom Mee recalled. "It was a perfect combination. They both were such great storytellers."
Storytelling proved to be insufficient. In February, he was released by Vancouver. He told The Sporting News that, hoping to catch on as a pinch-hitter, he was going to call the New York Mets or Houston Colt 45's, both expansion teams in 1962. Neither team responded to his request for a spring-training invitation.
"I had a good career, played in the World Series, hit a lot of home runs, and made more than $30,000 one season," he said. "I did better than most."
His ballplaying days over, Repulski opened a bar in St. Cloud. It would only last for four years. Needing a job, he turned to his father, a respected and long-time employee of the Great Northern Railway Company, predecessor to Burlington Northern. John Repulski had worked at the railway's St. Cloud shops for nearly a half-century and saw to it that his company took care of his son with a job at the shops. At the shops in 1974, he told reporters that his major-league lifetime batting average (.269) was the same as Yogi Berra's. Berra retired as an active player in 1965 with a batting average of .285.
Fellow railroad employees absorbed Rip's stories without question. After all, how many times do you get to work next to a major leaguer? "We remembered him as one of the greatest athletes the state of Minnesota ever produced," said D.E. Hall, shop planner for Burlington Northern in St. Cloud.
"When I was a kid, he was my favorite St. Louis Cardinal," said shop superintendent George Montgomery, who spent his formative years in Arkansas, not Minnesota. "I never thought that he would be working for me. I still don't believe it."
When he was in his early 50s, Rip's health began to fail. In a period of six months, he underwent four stomach surgeries. Gradually he withdrew from the public eye. He turned down speaking engagements. He was bitter and confused. He became a recluse.
Repulski died on February 10, 1993, at a nursing home in Waite Park, Minnesota. He was 64.
He had already written his own epitaph: Born Too Soon. "I wish I was younger," he told the Burlington Northern News in 1974. "Look at what some of the players earn now. Many of them never come close to my batting average. Kids don't have to work the way I did, riding old buses and playing in small towns no one ever heard of.
"Boy, if I was 20 again, I'd have it made. And with the designated-hitter rule in the American League, I could stick around until I was 40. You know, I could always hit those left-handers.
"I wish my birthday could have been in 1948 and not 1928."
Note
A version of this biography appeared in the book Minnesotans in Baseball, edited by Stew Thornley (Nodin, 2009).
Sources
Broeg, Bob, "Rip Repulski," St. Louis Post-Dispatch, September 9, 1953.
Stockton, J. Roy, "Shades of Terry Moore," St. Louis Post-Dispatch, March 6, 1953.
Author interview with George Smilanich.
Broeg, Bob, "Rookie of the Year Honors Within Reach," St. Louis Post-Dispatch, August 28, 1953.
United Press International, "Cardinals See Another Moore," March 29, 1953.
http://www.baseball-almanac.com/players.repulri01.
Broeg, Bob, "Rip Repulski," St. Louis Post-Dispatch, June 30, 1954.
Anderson, Dave, "Fans Still Remember Rip Repulski," St. Cloud Times, July 8, 1978.
Kaplan, Stan, Who was on First? Dover, New Jersey: J&J Sports Books, 1988.
Broeg, Bob, "Rip Repulski," St. Louis Post-Dispatch, May 4, 1955.
Stockton, J. Roy, "Slaughter Praises Repulski," St. Louis Post-Dispatch, March 7, 1953.
Donaghey, Don, "Repulski Hitting Just Ducky," Philadelphia Inquirer, November 25, 1956.
Daniel, Dan, "LA Plight Shown by Repulski Deal," New York Times, December 30, 1958.
Associated Press, "Red Sox Get Repulski," May 7, 1960.
Broeg, Bob, "Eldon (Rip) Repulski," St. Louis Post-Dispatch, May 30, 1956.
http://www.superiorwi.us/dsdukes/buscrash.htm.
Associated Press, "Grand Slam Bat Saves Red Sox," May 11, 1960.
United Press International, "Twins Give Repulski Release," February 1, 1962.
United Press International, "Phils Trade Ennis to Cards," November 20, 1956.
Author interview with Tom Mee.
Steele, Tim, The Cardinals Chronology, St. Louis, Missouri: Palmerston & Reed Publishing Company.
Gillespie, Ray, "Future Redbird Stars Being Prepped," Sporting News, July 21, 1948.
http://www.mlb.com.
Broeg, Bob, "Cards Hefty in Pitching at Least on Quantity Basis," The Sporting News, February 14, 1951.
Lewis, Allen, "Hamey Gets His Man for Second Base," The Sporting News, December 31, 1958.
"Cards' Peete, Wife and Three Children Killed in Air Crash," The Sporting News, December 5, 1956.
"No Baseball Clubs Involved in Plane or Train Mishaps," The Sporting News, December 26, 1956.
Briere, Tom, "Muscular Killer Clamps Lock on Hot-Corner Post," The Sporting News, December 6, 1961.
http://www.retrosheet.org/boxesetc/1954.htm.
Rekela, George, "Born Too Soon," Burlington Northern News, April, 1974.
Allenspach, Kevin, "Top 10 Area Athletes of the Century," St. Cloud Times, December 31, 1999.
Hurwitz, Hy, "Righty Rappers Stumble, Bosox Attack Sputters," The Sporting News, May 18, 1960.
Author interview with Glenn Gostick.
Repulski File at the A. Bartlett Giamatti Research Center, Baseball Hall of Fame and Museum.
Gene Hiemenz, "Eldon 'Rip' Repulski," St. Cloud Times, May 21, 2006.
Neft, David and Richard M. Cohen, Sports Encyclopedia, 1990 Edition, New York: St. Martin's Press, 1990.
Tom Briere, "Battey Seeks Svelte Look, Heftier B.A." The Sporting News, February 14, 1962.
"Repulski is 'Best Known' Player," St. Cloud Times, April 25, 1963.
http://www.baseball-reference.com/bullpen/Frank_Lane.
Photo Credit
The Topps Company
Born
October 4, 1928 at Sauk Rapids, MN (USA)
Died
February 10, 1993 at Waite Park, MN (USA)
If you can help us improve this player's biography, contact us.
http://bioproj.sabr.org/bp_ftp/images4/RepulskiRip.jpg
600
800
admin
/wp-content/uploads/2020/02/sabr_logo.png
admin
2012-01-04 20:27:04
2012-01-04 20:27:04
Rip Repulski