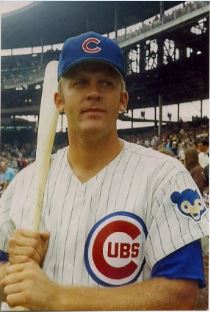 ---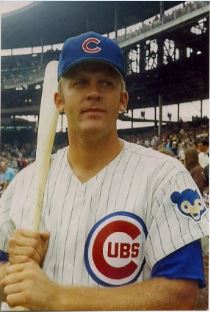 "In my mind's eye, I can still see Joe Torre – he was playing third base for the Cardinals – jumping and the ball going over his glove. Jerry Reuss was pitching. He threw me a slow curve. It was a clean hit. A single down the left-field line. When you get only one hit, you don't forget."1
That was Roe Skidmore in 1986, sharing a laugh with Jerome Holtzman of the Chicago Tribune as he recalled his only plate appearance in the majors. It was September 17, 1970, and the Chicago Cubs were playing St. Louis on a rainy afternoon at Wrigley Field. The Cardinals had knocked Bill Hands out of the box in the third inning, and they were leading 8-1 when Skidmore came up as a pinch-hitter with two out in the seventh inning.
The next batter, Don Kessinger, hit into a force play. Skidmore then came out of the game for a new pitcher. The Cubs had 14 games left to play that season, but he did not get into any of them. He deserved another shot – in fact, he earned it several times over. Yet he never was recalled to the majors in a pro career that lasted five more years in five different organizations. "I always had good years in Triple A, good enough to get traded and to get an invitation to spring training," he said.2 Yet while tinges of regret remained about what might have been, there was not a hint of bitterness.
Robert Roe Skidmore was born in Decatur, Illinois, on October 30, 1945. From birth, he went by his middle name, which came from his father. "My kindergarten teacher called me Bobby," Skidmore recalled, "and I told her in no uncertain terms to call me 'Roe' like my dad!"3 Mike Downey, also of the Chicago Tribune, wrote, "Roe Skidmore – now there's a name. A beauty. So good it sounds made up, like something out of a John R. Tunis children's book. Or a Damon Runyon fable. A real made-for-the-game name."4
Father Roe C. Skidmore was a salesman at Raupp's Shoes, a Decatur institution.5 His wife, Mary (maiden name Austin) never worked outside the home. Roe was the younger of their two children, coming after his sister Sharon.
"I grew up in a house about two blocks from a public park," said Skidmore. "When I was six or seven years old, my mom would let me go to the park and watch high school games, summer league baseball, and softball games. From first thing in the morning until after dark at night, all I wanted to do was play ball. When I was old enough to realize Decatur had a professional team, that sealed the deal."6
From 1901 through 1974, Decatur was a minor-league baseball town. When Skidmore was a boy, his father would often take him to the Commodores games at Fans Field after dinner. "A back exit from the dugout and a short path underneath the bleachers led to the players' clubhouse. In about the eighth inning, Roe would stake out a choice spot to collect autographs from the players."7
The field manager and general manager of the Commodores from 1955 through 1957 was Al Unser, who had played in the major leagues from 1942 through 1945. Unser was an instrumental figure in Decatur baseball and in Skidmore's career. "Indeed, he was the first scout to sign me and was one of the nicest men I met during my baseball days," said Skidmore. "I used to shag balls in the outfield when I was 8-10 years old for the Commodores along with several of Al's sons, one of whom was Delbert Unser. Del and I have been friends all these years and remain good friends today. Del and I both signed in 1966 from our respective college teams and Del went on to have a great big league career."
"Al was well known for his generosity and love for the game. I spent many hours with Al watching me and Del in the batting cage which Al constructed in his backyard in Decatur. Then later, we spent time together during the winter at 'Hot Stove League' gatherings in the Decatur area." 8
"As a kid growing up, I always played shortstop," Skidmore remembered. "Third base in high school."9 He went to Eisenhower High School in Decatur. One of the physical education teachers there, as well as the track coach, was Pete Innis, whose son Jeff pitched for the New York Mets from 1987 through 1993. Roe's friend Del Unser became a high-school rival because Del attended St. Teresa, a Catholic high school in Decatur. In Skidmore's junior year, 1962, Eisenhower won the Illinois state high school baseball championship.10 He told blogger Tom Owens in 2013 that as luck would have it, his high school coach (a man named Clete Hinton) was at Wrigley Field to see his one hit in the majors.11
Skidmore stayed in Decatur to get his college education, going to Millikin University. "I played basketball in high school and one of the reasons I went to Millikin (small school) was so I could play basketball as well as baseball. I played at Millikin for two years before I was drafted, averaging 19+ points my second year in the CCIW conference."12
Playing shortstop once again, Skidmore was captain of Millikin's baseball team in both 1965 and 1966. The physical education major (who earned his degree in 1968) was selected by the Atlanta Braves in the 47th round of the amateur draft in June 1966. Al Unser, who had become a scout in 1963, got him for a bonus of $2,500.13 "Al was very supportive and encouraging to me even after I left the Braves organization and throughout my career," Skidmore said.14
Skidmore was actually drafted as a catcher. "I was only catching," he said, "because the two regulars were hurt."15 When he signed, Skidmore was slated to be the number-one catcher for Rapid City of South Dakota's Basin League.16 This high-quality regional circuit, which boosted the careers of many collegiate and minor-league prospects, was in existence from 1953 through 1973. There was another good option much closer to home, the Central Illinois Collegiate League, but "I never played in the CICL and did not make it to the Basin League."17
Skidmore's first professional experience came with the Yakima (Washington) Braves of the Northwest League. He hit just .193 with no homers and 14 RBIs in 47 games. He started the 1967 season with West Palm Beach in the Florida State League, but played just nine games there.
A bad break then turned into a good break. As Mike Downey put it, "A broken ankle in Florida and a glut of catchers caused the Braves to let Roe go. On a long drive back to Decatur, with a pregnant wife and no prospects, his career appeared over before it really began. But up stepped a Giants scout, Swede Thompson, who signed him."18 Gene Thompson, also known as "Junior" during his days as a big-league pitcher (1939-47), was the first big-leaguer from Decatur to play in the World Series. He scouted for the Giants for 41 years. He went on to scout for three other clubs before retiring at the age of 89.19
"I owe Swede Thompson a lot!" said Skidmore. "He picked me up when I was down and gave me another chance. When Atlanta released me, I felt like my world had ended. But, thanks to Swede, two days after arriving back in Decatur, I was in a Commodores uniform playing first base in a doubleheader against the Quincy Cubs. I went 6-for-7 in that doubleheader, including two long balls out in the street in left field – I was suddenly back on top!"20
As it happened, the Decatur Commodores were then a farm club of the Giants in the Midwest League (Single-A). Playing in front of a hometown crowd, Skidmore maintained his power stroke, hitting 14 homers in 362 at-bats and batting .276. He followed with 27 more homers in 1968, although his average slipped to .246. "It was great playing in my hometown on the nights I hit a home run, however on my 'two strikeout' nights – no fun. Too many people were watching who knew me – ha!"21
"I never caught for the Giants," said Skidmore. "Swede Thompson, who had scouted me at Millikin, always thought that first would be my position. So I played there from the git-go with the Giants."22 Though he was a righty, he proved to be a skillful glove man at first.
In December 1968, the Cubs selected Skidmore from San Francisco in the minor league draft. He jumped to Triple-A Tacoma for the 1969 season and held his own (.261-16-84 in 140 games) – in fact, he was named to the Pacific Coast League's All-Star team. "No way Roe Skidmore didn't deserve a full shot in the big leagues after his '69 season," said his friend, outfielder Mike Floyd. "That field [Tacoma's Cheney Stadium] was cold and damp and the ball didn't travel. "I used to wear plastic zip-lock bags inside my shoes because the outfield was like a marsh and would soak your feet to the bone."23
On August 18, Skidmore took part in an in-season exhibition game between the Cubs and their rival from the South Side of Chicago, the White Sox. The annual Boys Benefit game took place at Comiskey Park before a good crowd of 33,333. The Tribune showed a pregame picture of Ernie Banks demonstrating his batting grip to Skidmore, who later came in to replace "Mr. Cub" at first base.24
Tacoma won the PCL playoffs, and the team got championship rings. They were rather modest pieces, but Skidmore treasures his. "I have it on my ring finger next to my wedding band right now," he said in 2016. "I have worn it every day since we all received it, and I never take it off…even when I work out!"25
He had to wait until after that victory, but Skidmore actually got his first call-up to the majors in September 1969, while the Cubs were in the process of losing the National League East to the New York Mets. He did not get into a game, though. "Mainly we just sat there and waited. [Manager] Leo [Durocher] wouldn't play us [the call-ups]. He didn't deviate from his regular lineup."26 Skidmore left before the season ended to play in the Arizona Instructional League.27
According to Cubs general manager John Holland, "He's so quiet, Leo said that when he reported, he said 'Hello' and that's the last word he heard from him in the two weeks he was up. But, in his own way, he's a determined, hard-nosed kid."28 In retrospect, Skidmore thought that being quiet may have contributed to his lack of opportunity with the Cubs. As David Margolick of the New York Times wrote in 1999, "He thinks Durocher had it right about nice guys finishing last. 'I didn't whine,' said Skidmore."29
In Arizona, Roe followed up with a very strong showing (.305-11-35 in 41 games). That December John Holland said, "We're very high on Skidmore. After seeing him in the Instructional League, Leo is planning on keeping him with us all season. . .With Leo just breaking him in easy, there will be no pressure on him and we feel that he'll make steady progress."30
During camp in March, Durocher said of Skidmore, "He has the greatest opportunity in the world. He can hit the ball out of any park in the world. If he can play, I can rest Ernie [Banks] for a couple of days."31 This echoed Holland's earlier remarks about how Banks had gotten little rest because his backups were not viewed as good fielders. The GM's described Skidmore on defense this way: "very smooth around the bag, has a strong, accurate arm and makes the reverse double play as well as any righthander ever did."32
As the 1970 season developed, however, the Cubs used Jim Hickman at first base more than Banks, who missed time with an arthritic left knee. Willie Smith picked up most of the playing time that was left over, and Joe Pepitone was around after late July too. Durocher's view on young players was ambivalent. Over his career, he backed certain rookies, notably Willie Mays. Yet looking back, Cubs reliever Phil Regan said, "Leo didn't like young guys."33
Skidmore minced no words when it came to The Lip. "Leo Durocher was the most intimidating, foul-mouthed, nastiest, arrogant man I have ever met. Just being honest. He was your typical 'old school' tobacco-chewing hard-nosed baseball man. He didn't like the young players and he let us know it by totally ignoring us. On the other hand, my two Cubs minor-league managers were two fine gentlemen – Whitey Lockman and Jim Marshall. Very knowledgeable about the game, but also respectful, quality individuals."34
Skidmore went back to Tacoma to start the 1970 season, and he went into an early 0-for-31 slump.35 He hit .207-11-37 in 78 games and so went down to Double-A San Antonio. There he rebounded (.316-6-39 in 52 games). It was enough to warrant another call-up when the big-league rosters expanded that September. Again it was a tight race in the NL East, this time a three-way battle with the Pittsburgh Pirates as well as the Mets.
When the opportunity to play came at last, it was not a pressure situation, but "I remember my knees were shaking," Skidmore told Jerome Holtzman. In his 2003 chat with Mike Downey, he gave even more detail. "'I remember going to the bat rack, being so nervous. I grabbed J.C. Martin's bat because I couldn't find one of mine. I had faced Jerry Reuss in the minors. I knew he had this big overhand curve ball. Well, his first pitch was a fastball down the middle. I swung about an hour late. Fouled it to the first-base side.' He took the next pitch, a ball. 'The third pitch, he threw me that overhand curve. He did me a favor.'"36
Skidmore told Holtzman that as he was trotting back to the bench after being forced out, first-base coach Joe Amalfitano ran beside him and handed him the ball. 'Here,' Amalfitano said, 'it's your first hit. Save the ball.'"37 It went up on his mantelpiece, inscribed by his wife, "1st Big League hit," – as David Margolick put it, "not knowing she could have written 'last'' or 'only' too.38
"I thought that was the beginning," Skidmore told Holtzman. "It never occurred to me it was the end." 39 Downey's story added that Roe thought he was going to get a chance to play a couple of innings in the field against Montreal the next day. Another coach, Peanuts Lowrey, had told him to warm up. "The inning ends, I run from the bullpen, almost get to the infield, look up. . .and here comes Willie Smith [the box score shows it was Pepitone]. He got sent in by Leo to play first. I don't know why. Nobody said a word. I just went back to my seat."40
Still, despite his lack of game opportunity in Chicago, Skidmore attracted media attention because of his roots in the state. As he said to Tom Owens, "Jerome Holtzman and Rick Talley were newspaper writers at that time, and they did several articles on me being from Illinois. Jack Brickhouse, Lou Boudreau and Vince Lloyd also had me on the radio pre-game show several times."41 In 2014, he added, "My dad is a staunch Cubs fan and he indoctrinated me early. To get to play for them was beyond my wildest dreams."42
At the end of November 1970, the Cubs traded Skidmore, along with pitchers Pat Jacquez and Dave Lemonds, across town to the Chicago White Sox in exchange for José Ortiz and Ossie Blanco. Blanco was also a first baseman, but the Cubs viewed Ortiz, a speedy center fielder, as the key player in the deal from their point of view.43
Tucson, the top farm club of the White Sox, used Skidmore as an outfielder for part of 1971 because the team was shorthanded. That August, the Tucson Daily Citizen quoted Toros manager Gordon Maltzberger: "'They never complained no matter where I wanted to put them,' said Gordy, and he singled out Roe Skidmore as the prime example of a player who went into the outfield when called although he doesn't like that position. He's a first baseman, period. 'Skidmore is a wonderful fellow to have on the ball club,' Maltzberger said. 'His attitude is just great.'"44
Roe also produced well with the bat in 1971 (.299-20-77 in 125 games). His future as a first baseman with the White Sox became very cloudy, though, when the team traded for Dick Allen that December. On April 28, 1972, Skidmore went to the Cincinnati Reds organization to complete the deal in which Tucson had acquired Tony Muser and Buddy Bradford.45 He had started slowly with the Toros but picked up with Indianapolis, the Triple-A farm club of the Reds. Overall, between Tucson and Indianapolis, he hit .284-13-90. He was named the Indians' Most Valuable Player.
During the winter of 1972-73, Skidmore played winter ball in Venezuela with Cardenales de Lara. He got into 20 games and hit .280-1-12 in 75 at-bats. "My experience in Venezuela was very positive," he said. "I played there only one full winter season, but I got to be in the lineup with Luis Aparicio, Buddy Hunter, Dwight Evans, Johnny Lowenstein, Al Cowens, Bill Lee, and Lew Krausse. It was a great experience for me and my family."46
Skidmore had another good year at Indianapolis in 1973 (.281-19-79 in 125 games), but Tony Pérez was in his prime as Cincinnati's first baseman. On the rare occasions when Pérez was not in the lineup, the primary backup was rookie Dan Driessen, who was playing out of position at third base that year.
After the minor-league season was over, on September 30, 1973, Skidmore went to the Cardinals as the player to be named later in the July trade that had sent Ed Crosby and Gene Dusen to Cincinnati Reds in exchange for Ed Sprague. He started the 1974 season with Tulsa, the top affiliate of the Cardinals, but his contract was sold to the Houston Astros that May. He was assigned to Denver, also in the American Association.
Skidmore was known for his love of country music, as he recalled along with Mike Floyd, who became his teammate in Denver. Skidmore said, "He and I used to sit around and listen to country all the time – everyone else was into the Beatles, etc. We both wore our cowboy boots and were pretty weird for doing so." Even in 2016, Skidmore noted, "I still wear boots every day."47
Floyd added, "He was a quiet, funny guy who enjoyed my humor and we used to talk about the lyrics and laugh. One morning about 6 AM in Tulsa, our phone rang. When I picked it up, a voice said, 'Turn on Channel 10' and I went over and cut the TV on. It was a local access channel with some crazy-looking country band dressed like Bill Monroe with straw cowboy hats creased like butterflies and singing 'Truck Drivin' Man'. It was hilarious."48
Between Tulsa and Denver, Skidmore put up another pretty good year (.286-13-80 in 119 games). Yet again, however, he was traded that December, going to the Boston Red Sox in exchange for Bob Didier. Mike Floyd observed, "Roe and one of his peers, Adrian 'Smokey' Garrett, were always discards wherever they went and I never could see why. Once you got branded as a Triple-A player, it was hard to shake that monkey."49 Skidmore added that Adrian Garrett was his closest friend.
In 1976, Skidmore played in just 12 games for Pawtucket, the top Red Sox farm club. The starter at first base was a prospect named Jack Baker, who made it to the majors for 14 games with Boston in 1976 and 1977. Skidmore was "unhappy about being a benchwarmer for the first time. 'I can't hit very well sitting here with my legs crossed,'" he said.50
"I was new to Boston's organization and felt very much out of place," he recalled. "I felt like no one knew if I could hit or not. This was the first time I hadn't been an everyday player in 10 years. I called Joe Sparks, manager for Houston's Triple-A team in Des Moines, and asked him to please see what he could do to get me out of Pawtucket! Joe pulled some strings and my contract was sold to Des Moines, where I played first base every day the rest of that year."51 Overall, he hit .265-14-52 in 123 games.
At that point, however, Skidmore had had enough. He was 29 years old. "The last year I played, my children were in four different schools from January to June – Decatur, Winter Haven (Florida spring training), Pawtucket, and Des Moines. My only other alternative was to leave my family in Decatur until school was out. No thanks! I missed my kids too much. So I decided to stop putting my family through the struggles any more.
"To this day I have regretted that decision. I wish I would have stayed around as a manager and coach as my career choice. What's done is done and I have no complaints. I have had a good life right here in Decatur."52
In 1976, California Angels beat writer Dick Miller asked the Angels which ballplayers they most admired as a professional. Catcher Ed Herrmann, who knew Roe from their days with the White Sox, gave Skidmore's name, saying "He had good year after good year in the minors and kept trying."53
"I married Jan Hoffman in spring 1993, the second marriage for both of us," said Skidmore. "Our five children are a blended family: Suzi, Roe Jr., Ryan, Natalie, and Brent." After retiring from baseball, Roe went into the insurance business back at home in Decatur. He spent 32 years as an agent with AXA Advisors, becoming a Chartered Life Underwriter, a member of the Centurion Club, and earning lifetime honors as part of the Million Dollar Round Table (MDRT) and the AXA Equitable Hall of Fame. As of 2016, he remained in the business as a senior consultant with New Horizons Insurance Marketing, brokering Medicare Supplement contracts to agents around the country. At age 70, he said, "Just can't sit still!"54
In 1999, Skidmore admitted to David Margolick that "every spring training, a certain hollow feeling [grabbed] his gut. 'I'll go two or three weeks where I don't even want to pick up the paper,' he said. 'I just kind of ignore the fact that it's starting."55 Nonetheless, he remained involved with baseball. In 2005, he became a scout for the Philadelphia Phillies. Though some reports give him credit for the signings of Ryan Howard and Jayson Werth, Skidmore said, "I don't know where that came from. They are both from my area, and I watched both guys play, but that is incorrect."56
In 2011, Skidmore joined the New York Mets organization as a scout. He then moved to the Baltimore Orioles in 2013. As of 2016, however, he was back with the Phillies, helping his friend Scott Trcka, the team's scouting supervisor for the Midwest. "This keeps me going a little in baseball and I can just work when I want to. Scott gives me a name here and there and I give him my opinion on the kid."57
From 1901 through 2015, some 84 players had a career batting average of 1.000 in the majors. Yet perhaps no other man besides Roe Skidmore has attracted as much attention for the feat. "I feel very blessed and privileged to have gotten the opportunity to wear a big-league uniform," he said, "and even more fortunate to have played for all those years."
"Baseball has dominated my thinking my whole life. Not a day goes by that I don't have thoughts of hitting and fielding in the various parks I played in. Bottom line – there is no greater or more fulfilling feeling than hitting a breaking ball high over the left-field scoreboard and running around the bases wishing and hoping that the feeling will never end."58
Last revised: March 21, 2016
Acknowledgments
Grateful acknowledgment to Roe Skidmore for his memories (letters received on March 8 and April 7, 2014, plus subsequent e-mails). Thanks also to Mike Floyd.
Sources
Internet resources
http://www.baseball-reference.com
http://www.retrosheet.org
http://www.newhorizonsmktg.com/team/roe-skidmore
http://www.ihsa.org/SportsActivities/BoysBaseball/RecordsHistory.aspx
http://athletics.millikin.edu
Notes
Born
October 30, 1945 at Decatur, IL (USA)
If you can help us improve this player's biography, contact us.
http://sabr.org/sites/default/files/images/SkidmoreRoe.JPG
600
800
admin
/wp-content/uploads/2020/02/sabr_logo.png
admin
2014-05-21 11:54:21
2022-05-21 05:36:36
Roe Skidmore