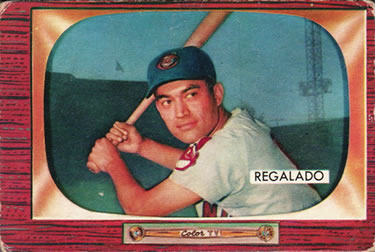 ---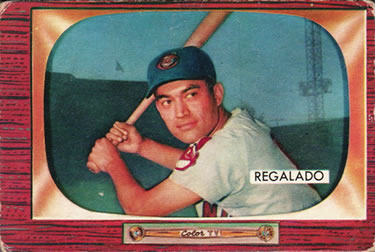 Rudy Regalado is one of few players—perhaps the only player—to have participated in the College World Series, Caribbean World Series, the Junior World Series, and the Major League World Series. He was successful on the diamond on every level from high school to the major leagues. In his career, he was in the company of some of the greatest players in baseball history. His is a unique story of one man whose dreams came true.
Rudy's story starts in Mexico. His grandfather, Stephen, and grandmother, Maria, emigrated from there to the United States. They settled in El Paso, Texas, where Rudy's father, Manuel, was born in 1897. The family eventually moved to Los Angeles, where Stephen found work with the Los Angeles trolley system.
Manuel married Maria Gutierrez from Guadalajara, Mexico, and they had five children, a daughter and four sons. Maria was an admirer of a romantic silent movie star of the 1920s, so when son number four was born on May 21, 1930, she named him Rudolph Valentino Regalado.
Perhaps it was the prejudice of the time or just a misinterpretation of his name, but sportswriters would refer to him as Mexican-Italian or just Italian. "No," he said, "we're all Mexican!"[fn]Unless otherwise indicated, all quotes are from telephone interviews with Rudy Regalado on February 5, 2011, and April 13, 2011.[/fn]
Manuel and Maria worked in a terra-cotta factory, Manuel as a kilnsman and Maria as a laborer. Later Maria worked as a housekeeper. The 1930s and '40s were tough on the family economically, and Manuel lost his job several times. The family had to move three times before Rudy was in the sixth grade. Eventually, times got better and Manuel found a job that he kept for 25 years.
Manuel had a love of baseball and played on and managed teams in the Los Angeles area. His enthusiasm for the sport spread to all his children. He would make baseballs out of socks wound with tape and string and pitch to Rudy. "They would twist and turn, and I guess I learned how to hit the curveball," he said. Rudy's sister, Nellie, played softball at Glendale High School. His oldest brother, Gregory, played in 1946 for Visalia in the California League.
Rudy was a standout shortstop at Glendale High School. Coached by Bud Teachout, a former pitcher for the Chicago Cubs, he hit .390 in his sophomore year, .425 in his junior year, and a whopping .561 his senior year.
Players from several area high schools would meet on Saturdays in Griffith Park for pickup games. The boys would coach and umpire their own games. The level of play was high enough to attract the attention of Babe Herman and Casey Stengel, among others.
In 1947, his senior year, Regalado was one of two high-school players selected from the Los Angeles area to be a part of the USA All-Stars, teams made up of players from across the country that played a game in New York's Polo Grounds. Honus Wagner and Oscar Vitt were the coaches for Rudy's team. Also on the All-Stars were future major leaguers Billy Harrell, Gino Cimoli, Harry Agganis, Bill "Moose" Skowron, and Don Ferrarese. Babe Ruth was there, too. "He sat in the first row. He was kind of feeble, but he threw out the first ball from the stands," Regalado said in a telephone conversation in 2011.
By vote of the high-school coaches, Regalado was named to the California Interscholastic Federation's All C.I.F. Baseball Team three years in a row. Among the other players selected were future major-league stars Del Crandall and Dick Williams.
Rod Dedeaux, longtime baseball coach at the University of Southern California, encouraged Regalado to stay in school and get his education before going into a professional baseball career. Rudy graduated from high school in 1947. He enrolled at Glendale Junior College, where he played on the baseball team and batted .375. The next year Dedeaux got him a baseball scholarship at USC. "We didn't have much money," Regalado said. "My dad couldn't afford to send me to a university. Rod was like my second dad. He really helped me out. He got me a job on campus…I was grateful for that." Regalado was paid about $150 a month. Out of that he paid $75 for tuition and $72 to the Kappa Sigma fraternity house for room and board. "So I had three bucks to live it up with!" he recalled.
Dedeaux installed Regalado at first base. He immediately made an impact, batting .411 his first (sophomore) year and winning the California Intercollegiate Baseball Association batting championship. He followed that with another outstanding year as a junior, batting .375.
In 1949 USC won its conference championship, beat Colorado State to win the West Coast championship, and went to the College World Series in Wichita, Kansas. The Trojans lost to Wake Forest, beat St. John's of New York, then lost again to Wake Forest and were eliminated from the tournament. Among Regalado's teammates at USC were four players who spent some time in the major leagues. Wally Hood, Jr. pitched two games for the New York Yankees, Hank Workman played two games at first base for the Yankees, Gail Henley was in the outfield for 14 games with Pittsburgh, and Jim Brideweser spent seven seasons as an infielder, mostly with the Yankees. Another teammate, Bill Sharman, played in the minor leagues but became famous with the Boston Celtics.
The Korean War began in June 1950. In September Regalado's National Guard unit, the 40th Infantry Division, was activated and he was sent to Japan. While in Japan he was the player-manager on the 40th Division G.I. championship baseball team, which played Japanese teams from Hokkaido, Sendai, Osaka, and Yokohama. From Japan the division was sent to Korea, where it was close to the front lines for several months. Regalado's unit, the 223rd Regiment, was involved in the Inchon landing in January 1952. One of his jobs was keeping the records of soldiers who had been killed.[fn]Cleveland Press, April 28, 1954.[/fn] "That was a tough job because one of the names that came across my desk was a guy I had played against in high school," he recalled. He was promoted to corporal before returning to the US in May 1952.
After his discharge Regalado still had a year of college eligibility left and wanted to go back to USC. Along with several other USC players, he spent the summer with the Fergus Falls Red Sox of the semipro West Central League. One night Cy Slapnicka, the legendary scout for the Indians, who had signed Bob Feller, visited Rudy and offered him a $10,000 bonus to sign with the Indians. Regalado called Rod Dedeaux and his father for advice. Told that the Indians were offering a $10,000 bonus, Dedeaux said, "Forget your last year at USC; you can always make it up. Take the money," Regalado recalled.
Regalado began his professional career in 1953 with the Reading Indians of the Class A Eastern League. The powerhouse team, which had nine future major leaguers, including Rocky Colavito and Herb Score, won the league championship. Regalado was not around for the finish. After batting .318 in 89 games, he was promoted to the Triple-A Indianapolis Indians, where he played in 36 games and batted. .325.
The next year Regalado wrote his way onto the Cleveland roster. The Indians held spring training in Tucson, Arizona. Rudy had been assigned to Indianapolis, which was to train in Daytona Beach, Florida. He sent a letter to Indians general manager Hank Greenberg asking if he could work out in Tucson on his way to Florida. Greenberg agreed and Regalado joined the Indians, where he soon established himself as a reliable infielder and hitter. "He's going to stay with us a while. I like him a lot," said manager Al Lopez.[fn]"Batting Around." Cleveland Plain Dealer, February 25, 1954:,21.[/fn] In the Indians' first intrasquad game, Regalado hit a home run and a single. Increasingly impressed, Lopez tried Regalado at third base, although he was given little chance there as All-Star Al Rosen seemed firmly entrenched. Regalado also worked at second base as Bobby Avila was a brief holdout and, after he reported, came down with stomach troubles. There was also talk of moving Regalado to first base, although it was pointed out that there were already three players vying for that position, Luke Easter, Bill Glynn, and Rocky Nelson. The discussion continued throughout spring training. Though several prospects were sent to the minor-league camp at Daytona Beach, Regalado remained in Tucson.
Because he was supposed to have been in Daytona Beach, Regalado's bats had been sent there. He had to borrow bats from other players. Asked whom he borrowed from, he said, "I don't remember. They were good bats because they worked." On March 8, against the Chicago Cubs, he hit two home runs, a double, and a single. The next day he hit two more home runs, another double, and another single against the Cubs, and his batting average for the exhibition season stood at .591 (13-for-22) with 11 runs batted in. (But at second base he was having trouble with the pivot on double plays.)
Press speculation heightened. There was talk of moving Rosen to first base and installing Regalado at third. On March 24 Regalado hit another home run against the Cubs and on the 25th he hit two more. Plain Dealer sportswriter Gordon Cobbledick wondered if Regalado could be a spark for the Indians.[fn]Gordon Cobbledick. "Regalado Could Be Spark That Tribe Lacks." Cleveland Plain Dealer, March 31, 1954: 25.[/fn]
On March 28 Regalado hit another pair of home runs and two singles against the New York Giants. He was hitting.481 with nine home runs and 19 RBIs. In the Cleveland Press Frank Gibbons referred to him as "Rudy the Red Hot Rapper."[fn]Frank Gibbons. "Rudy Makes Varsity – as Utility Player." Cleveland Press, April 6, 1954.[/fn] The speculation that Rosen would be moved to first base and Regalado would take over at third grew serious.
Then, inexplicably, Regalado was virtually benched. He got little playing time for the rest of spring training. Cobbledick criticized the team for not playing him.[fn]Gordon Cobbledick, "Indians Management Appears Determined to Prove Regalado Isn't Big League." Cleveland Plain Dealer, April 1, 1954: 27.[/fn] He urged the Rosen switch, but noted that Rod Dedeaux said Regalado's natural position was at first base.
On April 6 the Tribe purchased Regalado's contract from Indianapolis. As spring training ended, the Plain Dealer called Regalado the best hitter and the most surprising player of spring training.[fn]"Batting Around," Cleveland Plain Dealer, April 12, 1954: 29.[/fn] The Press featured a cartoon that depicted Al Lopez being asked by everyone from the bellboy to the cab driver where he intended to play Rudy.[fn]Lou Darvas. "Regalado Rigoletto" (cartoon), Cleveland Press, April 12, 1954.[/fn]
The season began on April 13 with the Indians in Chicago to face the White Sox. Regalado made his first major-league appearance when he was inserted as a pinch-runner for Hank Majeski in the eighth inning. His first appearance at home and his first appearance at the plate came on April 17, when he replaced Avila at second base late in the game. He went hitless in one at-bat and had two assists at second base.
On April 25 it was announced that the much-discussed Rosen-Regalado switch would take place. That afternoon Al Rosen moved to first base and Regalado was at third base in his first major-league start. In a 10-9 extra-inning victory over Detroit, Regalado hit a double and two singles and scored twice. He walked in the tenth inning and came home on Dave Philley's home run. In the field he had two putouts and one assist.
On the 29th, in the sixth inning of a game with the Boston Red Sox at Fenway Park, Regalado pulled a muscle in his right leg as he ran to first base on a sacrifice bunt. It was May 6 before he could work out again at third base. He got back into the lineup for a game against the Yankees on May 12 when he pinch-hit and struck out.
On the 13th Regalado hit his first major-league home run, off the Washington Senators' Mickey McDermott. He was part of a rally in the ninth that sent the game into extra innings. The Indians prevailed in the 11th, 8-7.
On May 20 there was a report that Regalado's leg "remains tender."[fn]Cleveland News, May 20, 1954.[/fn] Nine days later he hit his second home run, against Detroit's Ralph Branca. "He threw me a curve that didn't curve very much, and I hit it over the left field fence. So, Bobby Thomson and I have something in common," Regalado said. It turned out to be his last home run in the major leagues.
Regalado continued to hit for a while but then slumped and was benched. Thereafter he appeared mostly as a pinch-hitter. "They started throwing the curveball to me," he said in 2011. "I'd never seen such great curveballs as they had in the big leagues."
The Indians were on a tear, winning games at a torrid pace. The Yankees kept pace for a while, but in a critical doubleheader in Cleveland late in the season, the Indians won both games and the Yankees were through. The pennant-winning Indians finished with 111 wins. Regalado got into all four games of the World Series as the Indians were swept by the Giants. To an interviewer in 2011 he admitted to "a little bit of terror and nervousness" at coming into a Series game.
In Game One Regalado ran for Vic Wertz in the tenth inning..He got the first of his three World Series at-bats in Game Two, hitting into a force play in the ninth inning. Regalado pinch-hit for Art Houtteman in Game Three and grounded out to third. In the seventh inning of Game Four, with Cleveland trailing 7-3, Regalado pinch hit for Don Mossi and singled in a run off Don LIddle. "It was a slider and I hit it hard, right through the box." Regalado's RBI was the Indians' last Tribe postseason RBI for 41 years.
After the series, Regalado took his $6,712.50 World Series share back to California, where he re-entered USC. (He gradually acquired his credits, finishing his degree in physical education in 1956.) That winter he played for the Rosabell Plumbers, a semipro team in Los Angeles. They won the Triple-A Baseball League championship in December.[fn]"Rosabell Wins Winter Loop Race." The Sporting News, December 29, 1954: 29.[/fn]
In 1955 Regalado failed to make the Indians in spring training. He was sent back to Indianapolis, where he continued to hit, ending the year with a batting average of .316 with nine home runs. He was called up to the Indians for only ten games. After the season he joined the Tomateros de Culiacán team in the Mexican Pacific League. Other American major-league players were there, too. The Indians' Russ Nixon and Hank Aguirre were teammates. The team won the league's seasonal championship with a record of 33-25.[fn]www.baseball-reference.com/bullpen/Mexican_Pacific_Coast_League (accessed April 14, 2011). Additional information and statistics on Culiacan via e-mail from Jesus Alberto Rubio and Alfonso Araujo, April 17, 2011.[/fn]
In 1956 Regalado was again in Indianapolis, hitting .322 with 14 home runs in 95 games. He played only 16 games for Cleveland. They were his last major-league games. At Indianapolis he roomed with Roger Maris, and the two players remained close friends until Maris's death in 1985. The Indianapolis club was a powerhouse; 24 of the team's players had had or would have major- league experience. The Indians defeated Minneapolis and Denver to win the league championship, then swept the Rochester Red Wings of the International League in the Junior World Series. Regalado was 8-for-16, with a home run, triple, and double.[fn]Bob Bailey. History of the Junior World Series. Lanham, Maryland: Scarecrow Press, 2004.[/fn]
In November, Regalado started the winter season in the Dominican Republic on the Estrellas Orientales team. "One of our outfielders got hurt. I called Roger [Maris] and he said he just got married. 'Congratulations,' I said. 'Why don't you come down here and spend your honeymoon.'"[fn]Regalado interview, February 5, 2011; Tom Clavin and Danny Peary. Roger Maris: Baseball's Reluctant Hero. New York: Touchstone/Simon and Schuster, 2010: 83.[/fn] And he did.
Regalado did not spend much time with the Marises. After a month in the Dominican Republic he left to join the Leones de Caracas team in the Venezuelan Professional Baseball League. The team won the championship of Venezuela and qualified for the Caribbean World Series, which was held in Havana. The Leones beat Puerto Rico, then lost to Panama. It was a double round-robin tournament, and when they lost to Cuba, they were out of contention. Regalado hit.292 in the tournament (7-for-24).[fn]E-mail from Alberto Rondon, April 13, 2011, with information supplied by Jorge Figueredo; All Venezuelan statistics from Enciclopedia del Béisbol en Venezuela, 1895-2006. Caracas, Venezuela: Impresión Arte, C.A., 2007.[/fn]
Regalado was optioned to the San Diego Padres of the Pacific Coast League for the 1957 season. Playing with such future Indians as Gary Bell and Mudcat Grant, Rudy had another good year at the plate, hitting .306 with 50 RBIs and eight home runs. He was named the best third baseman in the minor leagues, and appeared on TV's Ed Sullivan Show. (This was his second appearance on the show, the first being after the 1954 World Series.) After the season Regalado returned to Venezuela, this time with the Pampero club, where he won the league batting title with a .368 average.[fn]"Venezuelan Vitamins." The Sporting News, February 11, 1959: 25. [/fn]
Midway through the 1959 season, Regalado was traded to the Seattle Rainiers of the Pacific Coast League. The 16 home runs he hit for both teams were the most he ever hit in a season. After the 1960 season the Rainiers sold Regalado's contract to Jersey City. Rather than travel across the country, Rudy hung up his spikes.
Back in California, Regalado met an executive of XETV, a television station based in Tijuana, Mexico, that served the San Diego market. The executive, Julian Kaufman, offered him a 90-day trial as a salesman at $400 a month if he would also play shortstop for the station's softball team. "It wasn't until years later I figured that those 90 days would be just about the end of the softball season!" Regalado said. The 90-day trial turned into a 25-year career.
During the 1954 season, through Hal Naragon, an Indians backup catcher, Regalado had met Marilyn Hall, a third-grade teacher in the South Euclid-Lyndhurst school system, outside Cleverland. In 1958 Marilyn moved to La Jolla, California, to teach. The couple were married on February 11, 1961. "Thank God she liked baseball!" Regalado said. They had three sons. Two, Perry and Gary, went into teaching. The third son, Rudy, was a two-time All-American golfer at Redlands University and became a salesman for the Cleveland Golf Company. A nephew, Samuel Regalado, is a college professor and has written a book on Latin American baseball.
The Regalados invested in apartment houses in the San Diego area. It proved to be a lucrative opportunity and gave them financial security. After retiring from XETV and the apartment business, they moved to the small desert community of Borrego Springs, where they bought a condominium that overlooks a golf course.
They keep busy, Rudy said in 2011, playing golf on the course, driving for Meals on Wheels, and reading Scripture to nursing-home patients. Deeply spiritual, they are active in their church and several charitable organizations.
On September 18, 2010, the Seattle Mariners invited Regalado to throw out the ceremonial first pitch before their game with the Texas Rangers. The game was to "pay tribute to the contributions Latin American players have made to the game of baseball."[fn]Seattle Mariners press release, September 16, 2010.[/fn] "I warmed up … for about nine days," throwing tennis balls against a wall by their condo. "So I was ready!" The Mariners flew Rudy and Marilyn to Seattle. He was given a jersey with "Marineros" on the front and his name and number 8, his old Indians number, on the back. When the moment came, he stood on the mound and threw a perfect strike.
This biography is included in the book Pitching to the Pennant: The 1954 Cleveland Indians (University of Nebraska Press, 2014), edited by Joseph Wancho. For more information, or to purchase the book from University of Nebraska Press, click here.
Sources
Newspapers
Cleveland Plain Dealer
Cleveland News
Cleveland Press
New York Times
The Sporting News
Websites
www.baseball-reference.com
www.sandiegohistory.org
www.retrosheet.org
Books
Bob Bailey. History of the Junior World Series. Lanham, Maryland: Scarecrow Press, 2004.
Tom Clavin and Danny Peary. Roger Maris: Baseball's Reluctant Hero. New York: Touchstone/Simon and Schuster, 2010.
John Thorn, Pete Palmer and Michael Gershman, eds. Total Baseball, Seventh Edition. New York: Total Sports Publishing, 2001.
Interviews
Rudy Regalado, telephone interviews, February 5 and April 13, 2011.
Full Name
Rudolph Valentino Regalado
Born
May 21, 1930 at Los Angeles, CA (USA)
If you can help us improve this player's biography, contact us.
http://sabr.org/sites/default/files/RegaladoRudy.jpg
600
800
admin
/wp-content/uploads/2020/02/sabr_logo.png
admin
2012-01-04 20:31:38
2012-01-04 20:31:38
Rudy Regalado