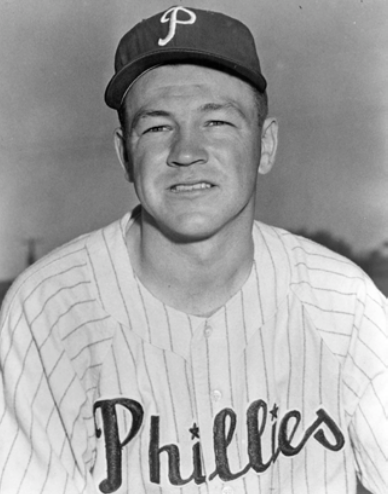 ---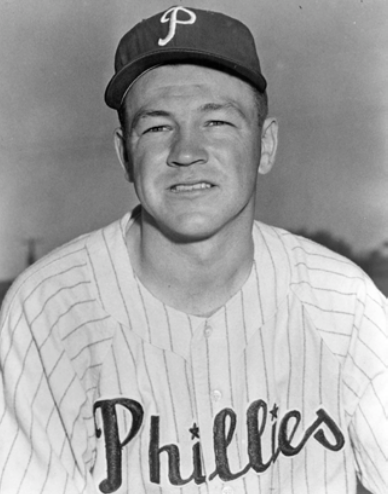 Three days before World War II ended, Philadelphia Phillies scout Fred Mathews convinced the mother of Stephen George Ridzik that she should let her 16-year-old son become a professional baseball player.1 Julia Ridzik agreed to sign the contract, provided that Steve finish his last two years of high school. Thus began a 22-year pitching career for Ridzik, who pitched for the 1950 Whiz Kids and four other league champions, won 166 games in the major and minor leagues and at least 22 more in winter ball, and had a winning major-league record.
Born on April 29, 1929, in Yonkers, New York, Ridzik was the youngest of seven brothers and sisters. His father, Daniel Ridzik, was a native of Galicia in Eastern Europe, but emigrated to America and at the time of Stephen's birth worked as a driver for an ice and coal service (he is listed in the 1930 US Census as a chauffeur for the company). His wife, Julia, was a native of Austria. Both spoke Russian as their native language; all of their children were born in New York. By 1940 Daniel worked as a spinner in a carpet mill. Stephen attended Public School 7 and Longfellow Junior High School in Yonkers. He played sandlot baseball for Gleuner AC in the Yonkers Recreational League and later played for St. Nicholas of Myra in the Catholic Youth Organization (CYO) league and for Hollow AC and the Boilermakers AC in other local leagues. An excellent basketball and baseball player at Saunders Trade and Roosevelt High School. Ridzik led the baseball team to three city championships.2
Throughout his career, Ridzik had managers who praised his potential but demanded better results. He traveled back and forth between the major and minor leagues and had a history of injuries. He was compassionate and determined, an ideal teammate, and a tough competitor. "Steve may not have the equipment the others have," wrote Washington Senators beat writer Bob Addie, "but nobody tops him in dogged persistence, sometimes called guts. … (He) gives you a battle all the way and you're always sure of an honest effort when he's around." 3
In the summer of 1945, Ridzik went 0-3 for the Greensboro (North Carolina) Patriots and in 1946 3-4 for the Class-C Schenectady Blue Jays. Amazingly, he managed to keep it a secret that he was a professional and continued to pitch for his high school team, leading it to three city championships.4 In his senior year at Roosevelt High, Ridzik won 18 games and lost 2 in the spring of 1947, then won nine and lost three for the Blue Jays that summer. In 1948 he joined 29 minor leaguers at the Phillies' spring training base in Clearwater, Florida. Other hopefuls included Robin Roberts, Richie Ashburn Stan Lopata, Mike Goliat, and Bubba Church — all future 1950 Whiz Kids. Ridzik started the season for the Triple-A Toronto Maple Leafs.
On April 25 Ridzik combined with Church to beat Baltimore, 10-3, but when the Phillies assigned him to the Wilmington (Delaware) Blue Rocks of the Class-B Interstate League, he viewed it as a demotion and packed his bags and took a train home to Yonkers. Bob Carpenter, the Phillies' owner, called Ridzik and explained that they had just called Robin Roberts up to the parent club and, since the team was fighting for a pennant, they needed someone to replace him.5 He then proceeded to win 10 games for the Blue Rocks, including the pennant clincher on the season's final day.
In 1949, his first full professional season, Ridzik won 15 and lost 12 in 238 innings for the Utica Blue Sox of the Class-A Eastern League with a 2.99 ERA. It seemed he was fulfilling his promise when an injury while pitching batting practice during spring training on March 5, 1950, almost ended his career. Bill "Swish" Nicholson hit him on the left knee with a line drive but Ridzik shook it off and continued to throw. A couple of days later while pitching in an intrasquad game, he felt a pop pain in knee that sounded like a gunshot to those around him. An X-ray the next day revealed a fractured kneecap that Ridzik probably dated back to Nicholson's line drive. Trainer Frank Wiechec wired his kneecap back in place and the club flew him to Philadelphia, where he was operated on the next day. His leg was in a cast for six weeks and then he worked with Wiechec to get his knee in shape.
After rehabbing the knee, Ridzik was assigned to Toronto and won eight games for the Maple Leafs in 1950 without fully regaining his fastball. The Phillies, whose pitching staff had been depleted by injuries and the loss of Curt Simmons to the National Guard, called him up in early September, and he worked with Wiechec some more to restore the knee. He had originally signed with the Phillies for $150 a month and no bonus, just before the team started doling out large bonuses to the likes of Simmons and Robin Roberts. When Ridzik joined the Phillies late in 1950, Bob Carpenter greeted him with a check for $1,000, telling him that he was a big leaguer now and that he needed to go buy some clothes so that he could dress like a big leaguer.6
The looseness did not return and Ridzik's back was sore and tight.7 In his September 4 debut at Shibe Park, Ridzik worked three innings and allowed two runs, one on a home run by the Giants' Monte Irvin in a 9-0 loss. Ridzik missed with his first three pitches before the home run. "I had pitched against Irvin in the International League, but I was tight, tense," he remembered. Catcher Stan Lopata came out to the mound. "C'mon, you'll be all right," he said. "Get the ball over the plate." "So I let up on the next pitch," said Ridzik, "and Irvin knocked it on the roof, at least 420 feet."8 It was his only appearance with the Phillies for the season.
In 1951 the Phillies were still without Curt Simmons and Ridzik vied for his spot in the starting rotation behind Robin Roberts. Sportswriter Stan Baumgartner wrote that Ridzik was one of three youngsters who "may develop overnight into a ten-game winner."9 A few weeks later manager Eddie Sawyer made a list of 23 players to undergo tests to make the squad and Ridzik was not on it, though he had apparently recovered from his knee injury. The Phillies sent Ridzik to its Baltimore farm club, where he won five and lost 11, walking 76 batters in 133 innings. On June 21 he pitched three scoreless innings against Ottawa but left with a sore arm and was not called to the big club, still suffering from a stiff back from pitching with a surgically repaired knee. In desperation, Ridzik opened the Yellow Pages and blindly picked out an osteopath who discovered nine slight dislocations and adhesions that kept Ridzik's muscles from functioning smoothly. After five weeks of treatment, the osteopath told him, "Now you're ready. Go to spring training and cut loose like you did three years ago."10
In 1952 Sawyer noticed Ridzik's coolness under fire and a good fastball with excellent control that developed a "hop" during spring camp. Apparently a curfew violation after Ridzik had gotten hungry and gone out for Friday fish, returning at 12:15 A.M., 15 minutes late, ended up having a positive impact.
"I understand that you were late getting in last night," Sawyer said. "Just a few minutes, Skipper," Ridzik replied. "When I say midnight, I don't mean one or two minutes after midnight. Get to the mound and pitch batting practice until I tell you to stop." Ridzik cut loose fastballs, showing greater speed and more stuff than he had all spring, wrote Baumgartner. Sawyer told his coaches, "This is what we have been looking for. Now he's ready." New York Yankees scout Paul Krichell called Ridzik the most promising twirler he had seen that spring.11
Ridzik made the team by pitching an exhibition game no-hitter against the St. Louis Cardinals to beat Vinegar Bend Mizell, 3-0, before 4.500 fans in Savannah, Georgia, on April 4. Ridzik mixed a fastball and curve with a palmball — a change of pace that reliever Jim Konstanty taught him. According to Stan Lopata, Ridzik was wild early on with his fastball and hung his curveball, plunking three batters and sending center fielder Richie Ashburn way back to track down two 400-foot drives off Stan Musial's bat. Ridzik was nervous about his no-hitter by the seventh inning. "My control was bad in the early innings and I was hit hard," he said, "but the boys gave me great support and that is what counts."12
Ridzik's gem made his extended family famous. The 16-member clan had no doubt that Steve would make the major leagues someday. "The Phillies didn't pay him five cents for signing," his brother John said. "But he wasn't worried about money. He just wanted to play ball."13The family wondered why people called them with congratulations on the no-hitter. While the family butcher wondered why Steve spent so much time playing baseball as a kid ("He'll never make anything of himself that way"), his high-school coach, Alex Joyner, wondered why it took him so long to make it. 14
Wildness and gopher balls plagued Ridzik when he pitched for real. He finally won a start on July 23 when he beat Pittsburgh's Bob Friend, 4-1, and finished his rookie season 4-2 with a 3.01 ERA. The Phils expected great things in 1953. "He showed me enough at the end of the season to make me believe he can win 12 or 15 games if we give him an opportunity to start regularly," said manager Steve O'Neill, who had replaced Sawyer in late 1952.15 Ridzik struggled in spring training and for the first two months of the season, often not lasting more than four innings. In some cases he contributed more at the plate, belting a homer off Brooklyn's Preacher Roe on June 30 and winning two consecutive games in relief against the Pirates on July 11-12, getting a hit in each game, "swinging from the end of the bat, a la Babe Ruth."16 Ridzik finished 9-6 but was named in a possible offseason trade that would send him to the Giants along with outfielder Del Ennis for shortstop Alvin Dark and third baseman-outfielder Bobby Thomson.17
The trade never happened and Ridzik pitched winter ball in Puerto Rico in 1953-54, expecting to compete for a starting job in the spring. He lost his first five decisions for Ponce then won two straight, beating Cincinnati Redlegs hopeful Howie Judson of Mayaguez-Aquadilla, 1-0, and scoring the winning run as 10,877 fans looked on. Ridzik then beat Caguas, a team featuring Hank Aaron, the league's leading hitter, and eventually made the American Puerto Rican All-Star team a.k.a. the Imports All-Star team. Ridzik finished 8-8, losing to future Redlegs Judson and Brooks Lawrence.
The Phillies gave Ridzik a raise in his 1954 contract but the season did not live up to expectations. He won a B-squad spring-training game on March 15 but lost three exhibition games in which he gave up home runs. In the regular season, Ridzik started at Brooklyn on April 21, faced five batters, retired none and walked three in a 6-3 loss. He pitched better in 29 relief appearances but failed to win any of his six starting assignments. A disappointing 4-5 record convinced management that winter ball seemed to hurt rather than help Ridzik, who had even experimented with a knuckleball in Puerto Rico but did not perform as expected. Near the end of the season, a Phillies official blamed winter ball for the poor performances of Ridzik and Thornton Kipper. As a result, the Phils began to give permission for winter ball only in unusual cases, like that of bonus baby Ted Kazanski, who sat on the bench the entire 1954 season and needed experience.18
Ridzik made the 1955 team out of spring training and pitched against the Brooklyn Dodgers on April 20 at Ebbets Field. He lost a no-hitter on Sandy Amoros' sixth-inning bloop double and loaded the bases in the seventh on two walks and a fastball that struck Jackie Robinson in the head. Robby had moved up in the box, expecting to deposit a curve in right field. "The pitch hit him between the eyes, and he laid on the field for a few minutes before he went down to first base," recalled Ridzik, who then walked Duke Snider to force in a run and was removed from the game. A Gil Hodges single off reliever Lynn Lovenguth pinned the loss on Ridzik. Eleven years later, Robinson told Ridzik "Steve, I knew you weren't throwing at me. When you hit me in the head, I was guessing (curve) and I was done. I never guessed on you again."19
Ten days later, Ridzik was traded with catcher Smoky Burgess and outfielder Stan Palys to the Cincinnati Redlegs for outfielders Jim Greengrass and Glen Gorbous and catcher Andy Seminick. New manager Mayo Smith had apparently given up on Ridzik. "He's had four years to prove he has major league ability," wrote Franklin W. Yeutter in the Philadelphia Evening Bulletin. "Until leaving the Phillies, he hadn't established himself in that category."20 Sportswriter Dick Young noted that Ridzik had earned the nickname "Thomas Edison" in Philadelphia because he was always experimenting. "That's the reason they traded him," Young concluded.21 Ridzik made the writers' words ring true with an 0-4 record. In July the Reds sent Ridzik to the San Diego Padres of the Pacific Coast League.
Ridzik revived his career that winter in Puerto Rico, pitching for manager Herman Franks' Santurce club that included right fielder Robert Clemente and veteran pitcher Ruben Gomez. Ridzik won nine of his first 10 games and Franks persuaded the Giants to select Ridzik off the Seattle PCL club in the Rule 5 draft at a price of $15,000. 22 By December 18, Ridzik had an 11-2 record. In a letter to The Sporting News, Phillies scout Fred Mathews, who originally signed Ridzik, wrote, "I am still confident that Ridzik will establish himself as a successful major league pitcher."23 When Ridzik shut out Mayaguez-Aquadilla, 1-0, for his 14th win, Giants roving instructor Carl Hubbell said, "He's only 26. Many pitchers do not pitch well that early. You're looking at one."24
Santurce won its division and Ridzik (14-3) won the second game of the playoff series with Caguas, beating Tommy Lasorda, 1-0, but lost the decisive sixth game, 8-3. The Giants hoped Ridzik could become a "Dodger Killer" because of his right-handed stuff, despite his two April losses over the past two seasons. Ridzik believed he could win 15 games. "Down in Puerto Rico, I was able to get ahead of the hitters and make them hit my curve or palm ball," said Ridzik. "Of course, that's the formula for beating all clubs, not just Brooklyn."25
The Dodgers won the 1956 pennant and the Giants finished sixth. Ridzik (6-2) won a bizarre game with the Cincinnati Redlegs on June 1 at Crosley Field that involved a rarely-enforced rule and Rookie of the Year Frank Robinson. A called second strike irked the slugger, who stepped out of the batter's box. By rule, umpire Larry Goetz ordered Robinson to get back in the box and hit or he would call Ridzik's next pitch a strike, no matter where it was. Robinson continued to squawk and Ridzik delivered strike three. Cincinnati second baseman Johnny Temple and eventual losing pitcher Joe Nuxhall argued with umpire Frank Secory and got tossed. Ridzik won, 3-2.26
A slow start in 1957 bought Ridzik a ticket to the Giants' Minneapolis farm club, where he won seven straight games. Before a game against Charleston, Ridzik had undergone an X-ray examination for a stomach ulcer and got ill from the fluid used to make his digestive system visible. He started anyway and trailed, 2-1, when Orlando Cepeda won the game with a home run.27 After an 8-6 record, Ridzik pitched winter ball in 1957-58 for Escogido and Mayaguez in the Dominican Republic.
The Cleveland Indians acquired Ridzik on April 8, 1958, but he developed a sore arm and was sold to San Diego of the Pacific Coast League, where he won four and lost six. The following season, Ridzik hurled his glove into the dugout after manager George "Catfish" Metkovich hooked him in the eighth inning of a start. Ridzik was soon sold to Triple-A Fort Worth of the American Association, a Chicago Cubs affiliate, where he went 15-8 with a 2.74 ERA.28
When Ridzik reported to spring training in 1960, Cubs manager Charlie Grimm said, "With Don Elston out there as my number 1 man and Ridzik and possibly Art Ceccarelli to help him out, I'll have three in the bullpen who really know how to pitch."29 But Ridzik never pitched for the Cubs and the Toronto Maple Leafs bought him for $15,000. The Leafs won 100 games and the International League flag with a roster that included future major leaguers Chuck Tanner and George "Sparky" Anderson. Owner Jack Kent Cooke, had formed the team as a potential entry into Branch Rickey's proposed Continental League. Ridzik (14-10) had a 0.82 ERA in his first 22 innings, shut out the Miami Marlins three times in the season's first half, and blanked Richmond August 6 for Toronto's 25th shutout of the season. In the Junior World Series against the American Association champion Louisville Colonels, Ridzik won the second game, 10-1, on a four-hitter, but lost the decisive sixth game, departing after Frank Torre touched him for a two-run homer.30
Ridzik pitched in Venezuela the winter of 1960-61 and rejoined Toronto, was released, then returned to post a 12-11 record, finishing second in team MVP voting. In 1962 he won 11 and lost 10 for the Leafs, who lost to Atlanta in a six-game playoff series.
Ridzik returned to the Puerto Rican League in 1963 and then was 7-6 with Toronto when the Washington Senators sent a minor-league pitcher and cash there to obtain the veteran right-hander to bolster a young and injury-ridden staff. It was his first appearance on a major-league roster in five years. "They were running a lot of guys through Washington," remembered left-hander Pete Burnside. "They pitched us hard, on short rest. You threw everything you could."31 Ridzik started 10 games and relieved in 10 that season, winning five and losing six with a 4.82 earned-run average for a last-place team.
In his 20th season of Organized Baseball, Ridzik had a celebratory year with Washington in 1964. He beat a powerful Minnesota Twins club for his first victory and received a Chevrolet and a set of golf clubs from family and friends from Yonkers on Steve Ridzik Day, May 2 at Yankee Stadium. Ridzik got the victory over the eventual American League champions on ex-Yankee Moose Skowron's 10th-inning single.32 Ridzik posted a 5-5 record with a 2.89 ERA in 112 innings, his highest major-league total since he worked 124 innings in 1953. He made 49 appearances and won his fifth game on August 4 at Cleveland when he worked 7⅓ innings in relief, at one point retiring 17 batters in a row. Other than that, success was fleeting. From May 4 to June 26, the Senators lost every game Ridzik worked except one. On June 19 he served up Kansas City A's pitcher Wes Stock's first major-league hit after 42 at-bats. On August 18, Twins first baseman Don Mincher hit two homers in a game off Ridzik for the second time in his career.
"(He would) send me oranges and grapefruit in the winter because he didn't want me to get sick," Ridzik recalled.33
Ridzik was a veteran whom young players looked up to. He cured pitcher Jim Duckworth of his fear of flying and once loaned a car to a training-camp employee who had been in an accident. On Ridzik's way to a luncheon for new Senators Frank Howard and Bob Chance, a motorist made a wrong turn and struck his car. "I guess I had better get a railroad train instead of a car next time," Ridzik mused. "I understand those old cabooses can take a lot of punishment."34
On January 8 Ridzik signed his 1965 contract and decided to make his home in the Washington area. The previous October, he had married Charmaine Beland, a French-Canadian woman he had met in Toronto. The couple had three children, daughters Elizabeth and Karen and a son, Stephen Daniel.35 While in Washington, Ridzik held baseball clinics for Help Retarded Children, Inc.36 In his final full major-league season, Ridzik made a career-high 63 appearances, won six of 10 decisions and saved eight games. After a brief bout with pleurisy — possibly from a team trip to Mexico City March 12-14 — Ridzik worked five straight games in May. On September 10 he topped 100 innings with a four-inning save against the California Angels.37
In the offseason, Ridzik helped sell season tickets and Christmas gift certificates. One of 15 pitchers invited to spring training in 1966, the 36-year-old Ridzik came in at 201 pounds and dropped five more before the weigh-in, eating a breakfast of black coffee, orange juice, and dry toast. Avoiding a $10-a-pound fine, Ridzik wondered if he deserved a rebate for coming in under the 200-pound limit.38
Ridzik returned to Philadelphia when the Phillies bought him for above the waiver price.39 There was no Whiz Kid reprise or Comeback Player of the Year story. Ridzik worked 2⅓ innings, pitched his last major-league game on May 10, and was sold to San Diego, where he ended his long career on August 11 with a scoreless ninth inning at Phoenix.40
Ridzik won 166 games in 22 seasons, 11 in the majors and 11 in the minors. "I hate to leave the game," he said, "but I'll hang it up at the end of the season … unless I get another chance at the majors."41 That chance never came.
After baseball, Ridzik lived in Virginia and worked as a military food broker for Trinity Marketing Corporation, supplying military base exchanges and commissaries around the world. When he retired in 1988, Ridzik moved to Bradenton, Florida, and met his second wife, Nancy, through Pittsburgh Pirates beat writer Chuck Feeney and his wife. Steve and Nancy married in 1999. (Steve and Charmain had divorced in 1986.) In 2012 Ridzik's daughter Karen Luiggi died unexpectedly. Ridzik had four grandchildren.
In 2000 Ridzik attended the 50th-anniversary reunion of the 1950 Whiz Kids. "We all wore a Phillies shirt with our old number during the ceremony, and about 40,000 people in Veterans Stadium went crazy when we were introduced," he recalled. "You could tell people were in awe," Nancy said. "As Steve and his teammates rode around the stadium, it looked like the wave was going on as fans cheered each of the players."42
In 1982 Ridzik and former Senators teammate Chuck Hinton were instrumental in forming the Major League Baseball Players Alumni Association (MLBPAA), a charitable organization.43 Jim Hannan, a past MLBPAA board chairman and a former teammate of Ridzik with the Senators, said, "Steve played an integral part in the formulation of our strategic plan. Through his business relationships, he was able to raise sponsorship money for the annual Cracker Jack Classic game in Washington," a game between squads of former major leaguers. Hannan remembered Ridzik as a consummate professional who was "without a doubt the hardest worker on the team. Steve was a lot of fun to be around but he was a no-nonsense guy on the field."44
Ridzik raised funds for a variety of charities in the Bradenton area. In one day, a celebrity golf tournament that featured Robin Roberts and other former teammates raised $51,000 for the Manatee Memorial Hospital in Florida.45
In retirement, Ridzik rarely started baseball conversations but did not need to. "Everybody brought it up, "Nancy said. "And he had so many stories, I can't keep track of all of them."46
Stephen Jr. enjoyed occasionally tossing the baseball around with his dad, despite doctor's orders after Ridzik had begun to have heart trouble the last 15 years of his life, undergoing triple-bypass surgery in 1978. Stephen saw his dad play in the Cracker Jack Old-Timers Game at RFK Stadium in the mid-1980s and batted against him at age 14 in a Little League park. "I got a couple of hits off him," Stephen recalled. "I couldn't hit his curveball but I did take him over the fence once."
Ridzik started to lose his battle with congestive heart failure in October 2007, attending his son's wedding in a wheelchair. "He had always been this larger-than-life guy," Stephen recalled. "His personality was still there but he could not stand without help."47 Three months later, on January 8, 2008, Stephen G. Ridzik died at TideWell Hospice and Palliative Care in Sarasota, Florida.48 He was 78 years old.
This biography appears in "The Whiz Kids Take the Pennant: The 1950 Philadelphia Phillies" (SABR, 2018), edited by C. Paul Rogers III and Bill Nowlin.
Notes
1 Ridzik had gone to Pittsburgh to work out with the Pirates but was called home when his father died. He signed with the Phillies when he came home for the funeral. Robin Roberts and C. Paul Rogers III, The Whiz Kids and the 1950 Pennant (Philadelphia: Temple University Press, 1996), 201.
2 cityofyonkers.com/playdepartments-s-w/parks-recreation-conservation-home/sports-hall-of-fame/1976-steve-ridzik-baseball. Accessed February 11, 2015.
3 Bob Addie, "Capital Quacking over Duckworth's Fine Relief Wing," The Sporting News, May 9, 1964: 18.
4 His high-school coach was very upset when he finally learned that Ridzik was a professional because he had college scholarships lined up for Steve to play basketball and baseball. Roberts and Rogers, 201-02.
5 Carpenter also told Ridzik that he could advance directly from Wilmington to the majors, just as Roberts had done. Roberts and Rogers, 202.
6 Roberts and Rogers, 205-06.
7 "Steve Ridzik fractures knee," The Sporting News, March 15, 1950: 35. Stan Baumgartner, "Verbal Scorching Fired-Up Ridzik, Red Hot Rookie," The Sporting News, April 9, 1952: 17.
8 Mike Henry, "A Wonderful Life. Bradenton's Steve Ridzik looks back fondly on his career in the major leagues," Sarasota Herald. October 22, 2000: Sports10.
9 Stan Baumgartner, "Who'll Replace Curt? Phillies' Big Puzzler," The Sporting News, January 10, 1951: 12.
10 Baumgartner, "Verbal Scorching."
11 Ibid.
12 Stan Baumgartner, "Spring Three-Ring no-Hit Show Featured by Ridzik's Solo Act," The Sporting News, April 16, 1952: 21.
13 Zander Hollander, "Ridzik Family, All 16 of 'Em, Knew Steve Would Make Major Grade," The Sporting News, April 23, 1952: 7.
14 Ibid.
15 Stan Baumgartner, "Stout Steve Selects Ridzik to Round Out Phillies' Big 4," The Sporting News, March 4, 1953: 14.
16 Stan Baumgartner, "Smoky Burgess' Bat Blaze Helps to Fire Up Phillies in Steaming N.L. Flag Chase," The Sporting News, July 22, 1953: 11.
17 Stan Baumgartner, "Ennis in Phillies' Package Offer for Dark, Thomson," The Sporting News, October 14, 1953: 18.
18 Stan Baumgartner, "Phil Bosses to Give Icy Stare to Pleas to Play Winter Ball," The Sporting News, September 22, 1954: 14.
19 Henry.
20 Tom Swope, "Reds Expect Smoky to Apply Torch to Snoozing Sluggers," The Sporting News, May 11, 1955: 17.
21 Dick Young, "Clubhouse Confidential," The Sporting News, May 18, 1955: 16.
22 "Draftee Ridzik Impressed Giants' Brass in Puerto Rico," The Sporting News. December 7, 1955: 22.
23 Pito Alvarez de la Vega, "Santurce Clings to Lead Despite Casualty Streak," The Sporting News, December 28, 1955.
24 Pito Alvarez de la Vega, "Player Shifts Liven Race in Puerto Rico," The Sporting News, January 18, 1956: 21.
25 Michael Gaven, "Giants Put Steve Ridzik Into Dodger-Killer," The Sporting News, February 29, 1956: 19.
26 Joe King, "Mastermind Record Set in Giant-Red Inning," The Sporting News, June 13, 1956: 25.
27 "American Association," The Sporting News, August 28, 1957: 36.
28 The Sporting News, September 30, 1959: 44.
29 Edgar Munzel, "Grimm Wheels Out Ellsworth for Kiddie Unit," The Sporting News, December 23, 1959: 9.
30 Johnny Carrico, "Classy Curvers Lead Colonels to World Series Crown," The Sporting News, October 12, 1960: 35-36.
31 Author interview with Pete Burnside, March 2, 2015.
32 Bob Addie, "Bennie Eyes Threat of Trip to Minors — Wow! He's Nat Ace," The Sporting News, May 16, 1964: 19; Henry, October 22, 2000.
33 Henry.
34 "Ridzik Does Another Favor — Another Car Is Smashed," The Sporting News, January 30, 1965: 15.
35 Author interviews with Nancy Ridzik and Stephen D. Ridzik, March 26, 2015.
36 "Twins' Seats Go Down Before Capacity Goes Up," The Sporting News, February 27, 1965. 14.
37 "Fast-Moving Nats Booked for Mexico, Puerto Rico," The Sporting News. February 27, 1965: 6. 1965; baseball-reference.com/players/gl.cgi?id=ridzist01&t=p&year=1965. Accessed February 12, 2015. "American League Averages," The Sporting News, September 25, 1965: 28.
38 Bob Addie, "Gil's Message Got Through — Nats Trim Fat," The Sporting News, March 5, 1966: 26.
39 Allen Lewis, "There's No Stopping Slugger Richie," The Sporting News, April 30, 1966: 20.
40 "Pacific Coast League," The Sporting News, July 16, 1966: 53; Pacific Coast League, The Sporting News. August 20, 1966: 25; "Pacific Coast League," The Sporting News, August 27, 1966. 36.
41 "Padre Hurler Ridzik, 37, Says He's Going to Retire," The Sporting News, September10, 1966: 27.
42 Henry, October 22, 2000.
43 mlbpaa.mlb.com/mlbpaa/index.jsp. Accessed December 17, 2014.
44 Henry, October 22, 2000.
45 Marv Zaboulek, "Retired pitcher always happy to give back," Sarasota Herald Tribune, January 16, 2008. Accessed December 17, 2014.
46 Author interview with Nancy Ridzik, March 26, 2015.
47 Author interview with Nancy Ridzik, March 26, 2015.
48 thedeadballera.com/obits./Obits_R/. Accessed December 16, 2014.
Born
April 29, 1929 at Yonkers, NY (USA)
Died
January 8, 2008 at Bradenton, FL (USA)
If you can help us improve this player's biography, contact us.
https://sabr.org/sites/default/files/RidzikSteve.png
600
800
admin
/wp-content/uploads/2020/02/sabr_logo.png
admin
2012-01-04 20:00:51
2012-01-04 20:00:51
Steve Ridzik