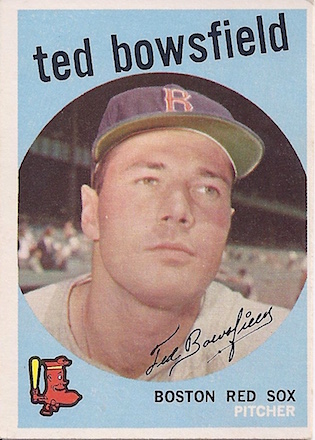 ---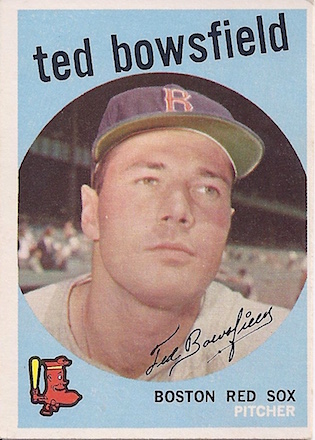 Left-hander Ted Bowsfield spent seven seasons in the big leagues, initially signing with the Red Sox but later becoming arguably the best pitcher in the first year of Los Angeles Angels baseball. He later became director of stadium operations and team travel for the Angels, then head of the Kingdome in Seattle.
Bowsfield was born in Vernon, British Columbia, on January 10, 1935. Baseball records have long shown him as born on the same date in 1936. He explained that when he first came to the big leagues, someone urged him to "cheat on your birthdate a little bit. It might keep you around a little bit longer if they think you're a bit younger."1
The family moved to Penticton, BC, when he was just a year old.2 He was raised there, attending the Penticton public schools through graduation and then two years studying accounting at the Penticton College of Commerce. His father Frank Oliver Bowsfield worked as a salesman. His mother was listed on the 1935 BC voter list as "Mrs. Frank Oliver" Bowsfield. Her actual name was Queene Bowsfield.3 Frank Bowsfield later got into the insurance and real estate business in Penticton, a town of 12,000 closer to Spokane than to Vancouver.
It was a town where hockey and basketball reigned. "There wasn't even a high school baseball team," Bowsfield later recalled. "But for some reason, I don't know why, I liked to throw a ball."4 His mother was often the one with whom he played catch. A 2013 article explained, "His mother and her two sisters all played on a girls' baseball team during the war years. 'I think my athleticism comes from that side of the family,' he said."5 Vernon was at the time a relatively small town, but the women's baseball team was a very good one and often took on men's baseball teams in the area. A third, younger, sister of his mother also played on the team at times.6
Accounting was not Ted's field of choice; he wanted to play baseball. His father encouraged him, organizing from scratch a four-team league when Ted was 8 or 9 years old. "He used to jam 10 or 12 kids in his big Hudson," Bowsfield later recalled.7 There were some trips as far as Vernon, some 75 miles away.
Les Edwards, a former minor-league pitcher, organized a semipro league when Ted was about 14.8 "He told me I should concentrate on pitching."9 "I could throw really hard. That was the thing that got me noticed. Sam Drossos was my semipro catcher. He was really important in molding my career. When I was inducted into the Canadian Baseball Hall of Fame, he was the one who did the presenting. He was as good at baseball as I was or better. He had all the tools."10
Red Sox scout (and a former southpaw) Earl Johnson, who handled the Pacific Northwest area for Boston, signed Bowsfield. "They gave me a bonus of $4,000."11
Though a lefty on the mound, Bowsfield batted right-handed. He wasn't much of a hitter, with a career .127 major-league batting average (and .193 on-base percentage) in 199 plate appearances. He wasn't even a particularly good fielder; his five errors with the Angels in 1961 led the league and he had a lifetime .916 fielding percentage. But he won 37 games as a big-league pitcher. He stood 6-feet-1 and was listed at 190 pounds.
After signing, his first pro ball placement was with the San Jose Red Sox in the Class-C California League. He got his feet wet with 16 games (five starts), recording an earned run average of 4.95 with a record of 2-3. He nearly tripled his innings count in 1955, working 117 innings and improving his ERA to 3.00. His won/loss record was 9-7.
Bowsfield joined the Boston team in Sarasota at the start of spring training in 1956.12 He was then elevated to the San Francisco Seals of the Pacific Coast League, but he suffered a bad break – almost literally – in his very first game of the year, when he severely dislocated his ankle sliding into second base. He was on the disabled list most of the year, and his record was a very disappointing 0-3 (3.80). On the next-to-last day of September, he married Lila Ann McDonald.
In 1957, Bowsfield pitched for the Texas League's Oklahoma City Indians. It was Double-A baseball and he had a very good 2.57 ERA in 19 starts and six relief stints. After the season, two picked teams – Oklahoma City and Austin – played seven games in Mexico City, for which each player received $250. Bowsfield benefitted from more than just the money. "Down there on that trip, I found my curve control. The control started to come along at the end of the season. I wasn't convinced, however, until I pitched three games in Mexico."13 At the time, his wife was pregnant with their first son, Ted Jr. The couple later had a second child, Bradley. The marriage ended in divorce, after 13 years.
In 1972, he married Marilyn Holden. They were married for 41 years.
Promoted to Triple A and the Minneapolis Millers, Boston's top farm club, in 1958, Bowsfield started strong, with a 2.62 ERA and an 8-4 record.
The Red Sox were in fairly desperate need of pitching and on July 14 brought up Bill Monbouquette and Bud Byerly to the staff. Bowsfield was a year older than Monbouquette "and had been regarded as the best pitching prospect in the farm system of the Red Sox. So – apparently to keep from injuring Bowsfield's morale — the Sox two days later decided to bring him up, too."14 All three pitchers signed their contracts in the general manager's office, and all met Tom Yawkey, on the same day.
Bowsfield's big-league debut came in the first game of a Sunday doubleheader, Boston hosting Detroit. The Tigers held a 3-0 lead after eight innings. Manager Mike Higgins asked Bowsfield to pitch the ninth. He gave up a single to the first batter – Gus Zernial – but then retired the next three. Had the Red Sox scored four runs in the bottom of the ninth, he would have earned his first win – but not only did the Sox fail to score a run, they never managed a hit in the entire game. Jim Bunning had no-hit the Red Sox.
After several fine relief outings, he got his first start on August 3, in Cleveland, allowing two runs in four innings. One week later, on August 10 in Yankee Stadium, he got another start. Though he gave up three runs in seven innings, the Red Sox scored nine and Bowsfield earned his first major-league win. In front of nearly 56,000 people, he held the Yankees hitless through 6 1/3 innings until Norm Siebern lined a clean single to right field in the bottom of the seventh.
He beat the Yankees at Fenway Park on August 15. On the 20th, he only lasted a third of an inning, but was fortunate to have a no-decision. Bowsfield went to 3-0 with a complete-game 4-2 win in New York on September 1. In a 22-day span, he had beaten the Yankees three times. New York manager Casey Stengel said, "No left-hander the Red Sox have had since [Mel] Parnell was able to do that. Not that many people beat the Yankees just like that."15
He lost a couple of road starts, but closed his season 4-2 with a 4 1/3-inning win in Washington, in relief on September 28. His ERA for his first major-league season was 3.84. The Boston Chapter of the Baseball Writers Association of America voted him Red Sox rookie of the year.16
Bowsfield was, to this point, an alien pitching for the Red Sox. (His alien registration number was All 839 368.) On February 22, 1959, he was admitted to permanent residence in the United States. He became a naturalized U. S. citizen on June 30, 1967, and 50 years later still retains dual citizenship.
He built a pitching tunnel where he could pitch indoors during the cold British Columbia winters and enlisted a neighbor to catch. John Murphy of the Red Sox had urged him to keep throwing some over the wintertime, keep his muscles stretched out. His plan was to show up ready for work in the spring of 1959, with a bit of a boost in pay. He said his most important pitch was the change-up. "Keep that hitter off stride," he said. "Don't let him get set."17
His sophomore season was something of a disaster. His first appearance of 1959 was, perhaps appropriately, against the Yankees at Fenway on April 18. He retired the side 1-2-3 in the top of the first, but began the next inning by yielding two singles and a walk to load the bases. Andy Carey singled to drive in a pair. After two strikeouts, he was asked to walk Hank Bauer intentionally to load the bases and set up a play at any base. He did walk him, but then walked the next two batters as well (Siebern and Mickey Mantle), and Higgins pulled the plug. He lost the game, his only decision of the year. He only worked in five games, a total of nine innings, and had a 15.00 ERA. On May 18, the Red Sox sent him to Minneapolis.
In retrospect, Bowsfield says the polyethylene-covered pitching tunnel was "the worst mistake I ever made in my life." It wasn't so much the cold as he had not built it wide enough. It should have been two or three feet wider. He was cramped when he threw, and was bundled up, too. "That spring, there was a definite knot in my pitching shoulder that I never did get rid of. From that time on, I was basically pitching with a sore arm."18
Nonetheless, Bowsfield acquitted himself very well with the Millers – a 10-5 record and a 2.45 ERA. He helped Minneapolis reach and win the American Association playoffs. The Millers and the International League's Havana Sugar Kings faced off in the Junior World Series. The series lasted seven games; because of the weather in Minnesota, the last five games were all played in Havana. The Cuban Revolution had just triumphed at the beginning of 1959. Bowsfield told baseball historian Stew Thornley, "Young people not more than 14 or 15 years old were in the dugout with us, waving their guns around like toys. Every once in a while, we could hear shots being fired outside the stadium, and we never knew what was going on."19
Bowsfield remembers Fidel Castro coming into the stadium from center field for each game. "He would talk to us. He was very cordial, but he always wore these two pearl-handled guns on his hips. I pitched the sixth game in the series, I believe, and we won that game. Before the final game, Castro came through center field. We had a pitcher named Edo Vanni. He was quite a character. He only had one eye. Castro stopped to chat with us and he said, 'Tonight, boys, Cuba wins!' And he put both his hands on his pistols. And Edo Vanni said, 'If I get in the game, no problem. You're going to win.' We all laughed like hell at the time. Castro laughed, too. Gene Mauch said to me later, 'If I'd had the rotation set up differently, I would have pitched you in the seventh game, but in hindsight, maybe it was a good thing we didn't win.'"20 It was the last professional baseball game played in Cuba.
In the winter of 1959/60, he went to a warmer climate and pitched in Venezuela, where he was 14-4.
He made the Red Sox again in 1960, but was not impressive. He appeared in 17 games, all but two in relief. He earned a couple of saves, but blew two and also blew a lead. He won his first start, 12-3, in the second game of the Memorial Day doubleheader at Memorial Stadium in Baltimore, but lost his only other start, to the Yankees, 8-3, lasting only a third of an inning and giving up four runs.
On June 13, with an ERA of 5.14 and a 1-2 record, he was traded to the Cleveland Indians with Marty Keough, for Carroll Hardy and Russ Nixon. He pitched in 11 games for the Indians, six of them starts, and was 3-4 with a 5.09 ERA. He was sad to leave Boston, saying that his wife and he would talk things over "back home in Boston" during the offseason.21 Coach Del Baker told him to buck up: "You're one of the best left-handed pitchers in the game."22
On July 29, the Indians optioned him to Indianapolis. There he was 0-5 with a 6.09 ERA.
The Indians elected not to protect him when it came time for the expansion draft in December 1960. He was drafted by the Los Angeles Angels as the 17th pick of the draft. Oddly, though, he was returned the same day. Come February 1, 1961, however, when catcher Red Wilson announced his retirement (Wilson was one of the players the Angels had drafted from Cleveland), the Indians sent Bowsfield to fulfill their commitment.23 Angels GM Fred Haney had observed Bowsfield while broadcasting for NBC. "I remembered his work and inasmuch as we needed a southpaw, Ted was our pick. We're glad to have him."24
He was welcomed by manager Bill Rigney. Bowsfield worked in 41 games (21 starts), throwing 157 innings. He had four complete games, one of them a shutout.
The Angels finished eighth in what had in 1961 become a 10-team league. They were 70-91. Ken McBride had the most wins (12-15) but an ERA of 3.65. Tied for second-most wins were Eli Grba (11-13, 4.25) and Bowsfield (11-8, 3.73). McBride's WHIP (walks and hits per inning pitched) was 1.370 to Bowsfield's 1.382. Bowsfield was the only starter with a winning record.
Looking back more than 50 years later, Bowsfield expressed the same thing many players – pitchers, in particular – from earlier days have said: "There was not a lot of teaching going on. I never did really have a mentor. The best pitching coach I ever had was Marv Grissom, the pitching coach for the Angels in '61, '62. He taught me the changeup, which helped me a lot. It probably kept me in the big leagues at least another year, that pitch."25
Bowsfield came up with a sore arm at the end of spring training in 1962, and his first appearance was on April 28, a 7-6 win in Detroit. His record for May was three losses and two no-decisions. He missed the last week of May and he first two in June because of a medical scare – and he understood he had been diagnosed with polio. "His left arm was so weak he couldn't lift a three-pound weight…there was a chance Bowsfield might never pitch again."26 He couldn't throw the ball all the way to home plate. Fortunately, it was said to be a mild form of the disease, and he had had Salk anti-polio shots beforehand. Some electro-shock therapy helped and his strength came back.27 Two days later, Angels physician Dr. Robert Woods said it was a misunderstanding – that Bowsfield had been told, "You've got an arm like a man with polio" – but it was just a weakness of his throwing arm.28
Then he won three in a row. By season's end, he had a 9-8 record and a 4.40 ERA. The Angels, in only their second year, finished in third place. Three Angels pitchers had double-digit wins, and the team's ERA was 3.70. In November, the Angels sent Bowsfield to the Kansas City Athletics as the player to be named later in a deal made back on July 21.
He pitched two years in Kansas City. They were both subpar years, with losing records and an ERA below team average – he was 5-7 (4.45) in 1963. That's not to say there weren't good moments. On May 11, 1963, in Minnesota pitching against the Twins, he had a no-hitter going through nine innings. The Athletics led 5-0 going into the bottom of the ninth. Bowsfield walked the first batter, Zoilo Versalles. Vic Power then singled Versalles to third, snapping the no-hit bid. Versalles scored on a 6-4-3 double-play groundball. Bowsfield then got the final out. After the game, he praised K.C. manager Eddie Lopat. "I've never felt I was good enough to pitch a no-hitter," he said. "Mediocre pitchers aren't meant to pitch no-hitters." He added his appreciation to Lopat for rescuing him from the scrapheap: "If it weren't for Lopat, I wouldn't be pitching."29
"He kept fighting for me to stay in the big leagues and he's one of the guys responsible for me qualifying for the pension. At that time, it took five years to qualify. We had a nice celebration in Cleveland when I did."30
His next game was a three-hit shutout.
In 1964, Bowsfield was 4-7 (4.10). In 1965, after a sore arm in the springtime, he was activated on May 12 and played a few games for the Vancouver Mounties but then developed both bronchitis and a knot on his left shoulder. He was dealt to Spokane but was soon returned to Vancouver. Cortisone shots had helped get him through a couple of seasons, but the arm problems had become too persistent to continue pitching at a high enough level. "At age 29, I was done."31
He left baseball and took up work as a partner in a liquor store.32 The store did fine until a Safeway was installed in the same shopping center and undercut them on prices.
He soon found work in baseball, thanks to Cedric Tallis. "I was looking for a job, and he hired me. He had to go through a lot of hoops to hire me. He had to get Fred Haney to approve it. He had to talk to Gene Autry." Bowsfield was hired as assistant to the director of stadium operations in Anaheim. Tallis, he says, "taught me everything He was the type of individual who involved you in everything he was doing. He gave me the opportunity to work with Disneyland, Knott's Berry Farm, the City of Anaheim, the County of Orange. Cedric became the general manager for the Kansas City Royals expansion team and left the Angels. Fred Haney offered me his position. I consider myself a very fortunate individual, and if I've had any successes in the management of facilities, and in consulting, it was through this man. He really grounded me in all of the things that you needed to know to run a facility. That includes negotiating with the city, the union negotiations, the concessionaire, the parking, security. He allowed me to learn all the ins and outs of running a facility, first-hand."33
Bowsfield worked as Tallis's assistant in 1966 and 1967 and then early in 1968 became the director. In 1973, he also took on the role of traveling secretary.34
In July 1974, he resigned to take another position – as director of Seattle's King County Stadium, then under construction.35 As such, he played an important role in bringing major-league baseball to Seattle (after the short-lived Seattle Pilots), the team that became the Mariners.36 The cost of the dome was reportedly $67 million. It opened in March 1976. The Kingdome was one of the first facilities in the United States to have four prime tenants – the Supersonics, Mariners, Seahawks, and the Sounders soccer team. "Financially, it never took one nickel out of the County's coffers. The Kingdome was the only dome that I know of – ever, to this day – to succeed financially without having to incur any costs for the taxpayer."37
In 1980, as head of the Kingdome, he became embroiled in a lawsuit when the Mariners sued King County to have their lease with the county voided so they could play elsewhere. Among other things, Bowsfield was alleged to have made "false and disparaging comments" about the Mariners owners.38
In 1984, the Kingdome hosted the NCAA basketball Final Four, which Bowsfield called "the biggest single event in the history of the Kingdome."39
At the end of 1985, Bowsfield resigned to become director of the Tacoma Dome. He knew the Mariners and Seahawks were trying to privatize the Kingdome "and I'm sure that the privatization operation did not include Ted Bowsfield."40 His new position made him director of Tacoma's Department of Public Assembly Facilities.
He also worked with Bob Walsh and Ted Turner to bring the Goodwill Games to Seattle, helped to launch the Yakima Dome, and managed some smaller arenas in the Tri-City area of Pasco, Kennewick, and Richland, Washington. The Okanagan Life noted, "While running a consulting business he worked on BC Place Stadium and Toronto's SkyDome."41
Around 1998, his wife's parents pled for the Bowsfields to relocate closer to them, in the San Diego area. For 17 years, Ted Bowsfield worked part-time at the Cypress Ridge Golf Course near his home in Nipomo, California. He lost his second wife, Marilyn, to complications of cancer a few years ago; she had battled cancer for 26 years, though fortunately with one 16-year stretch of remission. "If anybody had a big impact on my life, it was probably her because she made me a better person."42 Bowfield expresses pride in both sons, J.R. and Bradley, J.R.'s wife Janice, and his two granddaughters.
In 2017, Bowsfield still keeps active and runs a golf tournament three Sundays a month at Cypress Ridge.43 "I've been a very fortunate individual," he says. "When you think of where I came from in Penticton where all I really had was the gift of a really good left arm. I'm very blessed."44
Last revised: June 13, 2017
Acknowledgments
This biography was reviewed by Phil Williams and fact-checked by Kevin Larkin.
Sources
In addition to the sources noted in this biography, the author also accessed Bowsfield's player file and player questionnaire from the National Baseball Hall of Fame, the Encyclopedia of Minor League Baseball, Retrosheet.org, Baseball-Reference.com, Rod Nelson of SABR's Scouts Committee, and the SABR Minor Leagues Database, accessed online at Baseball-Reference.com.
Notes
Born
January 10, 1935 at Vernon, BC (CAN)
If you can help us improve this player's biography, contact us.
https://sabr.org/sites/default/files/BowsfieldTed.jpg
600
800
admin
/wp-content/uploads/2020/02/sabr_logo.png
admin
2017-06-13 13:39:12
2017-06-13 13:39:12
Ted Bowsfield