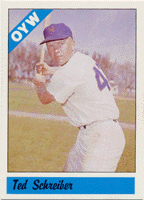 ---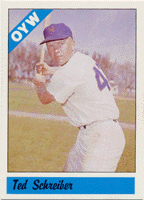 Infielder Ted Schreiber was #10 in the long list of New York Mets third basemen. He played just 39 games as a utilityman for Casey Stengel in 1963. Of his 55 plate appearances, the most significant was his next to last — the final regular-season out made in the Polo Grounds. Second base was his best position, but Schreiber felt he never got a real chance to make his mark in the majors. After 1963, he played just two partial seasons in the minors while finishing his college degree at St. John's. The New Yorker then went on to a long career as a schoolteacher in his native Brooklyn.

Theodore Henry Schreiber was born on July 11, 1938, in Brooklyn Hospital. His father, Carl Schreiber, was a lithographer. Schreiber remembers, "Before the job was computerized, he used to mix paints for printing on metal — a candy box, say. It was a hard job. It would get to be 130 degrees near the ovens in the factory, and summer was a killer." His mother, Helen Maar Schreiber, had three children. Ted was in the middle, coming six years after his brother Fred and a year ahead of his sister Trudy.

As one might expect, young Schreiber was a Brooklyn Dodgers fan. He went to Ebbets Field three or four times a year while growing up in the Marine Park neighborhood. The Torre brothers — Rocco Torre, Frank Torre, and Joe Torre — lived there too. As for favorite players, Schreiber says, "Everybody loved Mickey Mantle. I liked all three of the New York center fielders then — Mantle, Willie Mays, and Snider. I got to know Duke Snider when he was on the Mets with me — a real class guy."

Schreiber played softball as a young boy; he didn't play hardball until he was 15 years old. He was then attending James Madison High School, which has graduated Nobel Prize winners, U.S. Senators, a Supreme Court justice — and at least two other big-leaguers, Cal Abrams and Frank Torre, as well as Players Association director Marvin Miller. "I made the team as a pitcher," Schreiber notes, "but I wanted to play every day. I started playing all over."

The local sandlot scene had a lot to do with his development too. "There was a team called the Avons. It was just a bunch of kids who liked to play ball, but we had a tremendous coach. He was a lawyer named Lou Weil who also coached barnstorming teams and was a real presence at the Parade Grounds [a part of Brooklyn's Prospect Park with several baseball diamonds]."

"Joe Torre [who is two years younger than Schreiber] was a good friend of mine. He was with a team called the Cadets, which also had Bob Aspromonte. Joe was just a super player and even then he had all the confidence in the world. He looked fearsome, but he was a nice guy. Joe was heavy at that time. He could hit like Ernie Lombardi, but he always hit to the opposite field. Lou Weil gave him a tip on how to pull the ball."

In the fall of 1956, Schreiber went east to Queens and St. John's University. "I was All-City in basketball — that's how I got my scholarship. Fuzzy Levane scouted me. I played for Joe Lapchick." These men shaped New York City basketball history. Both Levane (a Madison and St. John's alum) and Lapchick played pro hoops and coached the New York Knicks. Lapchick became a member of the Basketball Hall of Fame.

As a sophomore, Schreiber started at second base for the varsity baseball team. The next year, in the spring of 1958, the team got to play four home games in a special place: Ebbets Field. Although the Dodgers had departed at the end of 1957, the lovable old ballpark in Crown Heights still saw occasional use for various events before it was demolished in 1960. College baseball was among those activities, thanks to Long Island University coach William "Buck" Lai, a Dodgers scout and instructor.

Even now, Schreiber clearly recalls the two-run homer he hit to beat Manhattan College on April 24, 1958: [1]

"I remember it almost like it was yesterday. I just got through basketball season and I was struggling for hits. Most of my career, I never saw the ball hit the bat. But a lefty was pitching, so the angle was good, and the ball was out in front of the plate. My concentration was so keen, I didn't look up, I was running hard to first base. Then I heard a rattle, and I knew it had to be the ball in the seats. The crowd was just a handful, people who loved college ball — that time of year wasn't conducive to real good baseball.

"And you know what was special? The field was so smooth! The regular places I played in Brooklyn, the Parade Grounds was good, but get in front of a ball in Marine Park, you deserve combat pay. I was impressed. As soon as you come out of the tunnel, you see the lights and it takes hold. It was very exciting to be on a major-league field." [2]

After school let out, five Redmen played in assorted NCAA-sanctioned leagues that summer. St. John's coach Jack Kaiser made the arrangements. Schreiber, who had batted .321, returned to South Dakota's Basin League. [3] This high-quality regional circuit existed from 1953 to 1973. Well over 100 of its players (mostly college men, but some pros) went on to the majors, including Hall of Famers Bob Gibson, Jim Palmer, and Don Sutton. Schreiber was with the Winner Pheasants in 1957 and the Pierre Cowboys in 1958.

"What a league! There was a tremendous amount of talent," Schreiber confirms. "One team [the 1957 Mitchell Kernels] had Eddie Fisher, Jim O'Toole, and Don Schwall on its staff. Dick Radatz was there. Frank Howard played for Rapid City. Johnny Edwards was my roommate in Pierre. As I recall, I hit .383."

In the summer of '58, a scout from the St. Louis Cardinals approached Schreiber. Previously, though, he had given his word to Frank "Bots" Nekola, a longtime scout for the Boston Red Sox. [4] Nekola, who pitched briefly for the Yankees in 1929 and the Tigers in 1933, lived on Long Island. He made his beat productive. That same year, Nekola signed Nassau County's Chuck Schilling, Schreiber's opposing second baseman at Manhattan College. Better yet, he got Carl Yastrzemski from the potato fields of Suffolk County. Three years later, Nekola found Rico Petrocelli in Brooklyn.

"Lou Weil told Bots Nekola about me," Schreiber notes. "Lou also steered me away from St. Louis — he said it's difficult to play for long in that heat. But I went with Boston because really, if I didn't have my word, what did I have?" On August 24, the Red Sox announced that they had signed Schreiber to a pro contract. [5] Boston paid him a bonus of $50,000 spread over four years. "I signed first, then Chuck Schilling, then Yaz," Schreiber remembers. "Yaz was a shortstop back then. He fielded the ball like he was picking potatoes, bending over without crouching."

Schreiber recalls going to Fenway Park for a workout. "There was nobody in the stands — you could really hear the crack of the bat, what a wonderful sound. I met Jimmy Piersall there, and he said to me, 'Hit those SOBs for all the money you can!' The Sox were a class operation, though."

The brief UPI notice on Schreiber's signing said that he would be assigned to a Triple-A club. That would have been the Minneapolis Millers, but Schreiber broke his hand on a slide in spring training. Thus he started the 1959 season with Allentown in the Class A Eastern League. He hit .233 with 3 homers and 13 RBIs there — not so bad, despite his injury — but the organization decided to send him down to Class D in early July. Schreiber remembers the day he reported to Waterloo, Iowa in the Midwest League:

"Arriving just prior to a game, he was welcomed by the manager [Elmer Yoter]. 'I'm glad you're here,' he told Schreiber. 'You're playing tonight.' Then he scanned the locker room and finally pointed to one player, 'you, you're released, give this guy your uniform.' Years later Schreiber was still incredulous at the memory. 'He looked for a guy my size to release, even made him give me his sanitary stockings.'" [6]
Schreiber hit .266 with 5 HR and 19 RBIs for the Waterloo Hawks, although he was slowed again by a broken finger. One of his teammates was pitcher Galen Cisco, behind whom he would also play with the '63 Mets.

Schreiber returned to Allentown for the 1960 season. He made a respectable .257-13-76 showing with the A-Sox, despite a bad case of the flu. He finally got to Minneapolis at the end of the year, going 4 for 6 in three games. With Carl Yastrzemski in left field, he was in right. He remained at Triple-A in 1961, but since the Millers had folded to make way for the Twins, Boston's new top affiliate was Seattle. Yet another injury, this time a broken wrist from a pitched ball, held Schreiber back with the Rainiers (.265-0-23). He returned to the Eastern League in late July, going .304-2-25 with Johnstown. In 1962, he spent the full year with Seattle (.279-5-50).
Schreiber had now spent four seasons in the minors, and the outlook with the Red Sox wasn't bright. Chuck Schilling became Boston's starting second baseman in 1961 and would remain the incumbent for two more seasons. Even worse, though, Schreiber had not gotten along with Seattle manager Johnny Pesky throughout his time there. [7] The nicest thing he has to say about Pesky today is, "He was such a hard driver. He expected everyone to be like him, and he drove his players to exhaustion. Guys got called up at the end of that season. I wasn't one of them."

Schreiber needed a change of scenery — and got it via the annual major-league draft on November 26.

Johnny Murphy, who had run the Red Sox farm and scouting systems for 13 years, was dismissed after the 1960 season. The next year, he joined the New York Mets as an aide to president/general manager George Weiss. The expansion team's woeful first season gave them the first pick in the 1962 Rule V draft. Al Worthington, who had several productive seasons ahead of him as a reliever, thought he would be taken. [8] To Worthington's surprise and relief, though, Murphy urged Weiss to select Schreiber. [9] Boston was surprised too — "'We never thought Schreiber would be drafted,' says a Red Sox official." [10]

"To him baseball's draft is like a big Christmas present. . .Ted is enthused about being with the Mets because it's the big leagues, and he has two children," wrote Frank Eck, sports editor for the Associated Press. "He feels his luck has turned because 1962 marked his first full season with one club. He even went without injury. 'I never got hurt in college,' says Schreiber." [11]

Just a few days before Christmas, in fact, Schreiber joined Weiss and Gil Hodges for a press conference in the club offices at 680 Fifth Avenue (later the Commissioner of Baseball's headquarters). Hodges was a Brooklyn resident; at that time Schreiber lived in the Belle Harbor section of the Rockaways while still taking social science classes at night. Newspaper photos show Gil and Ted together in front of a drawing of the future Shea Stadium; in one, Hodges is crowning the baby-faced 24-year-old with a Mets cap.

Veteran New York sportswriter Dan Daniel covered the conference. For their $25,000, said Daniel, the Mets got "no model of versatility. [Schreiber] plays second base, and only that. But he is fast, [and] a good double-play man. Schreiber will be thrown into competition with Ron Hunt, .311 with Austin in the Texas League, Rod Kanehl, and Charlie Neal." [12]

During the 1963 training camp in St. Petersburg, Florida,Schreiber won praise from Mets coach Cookie Lavagetto. The old Dodger said, "The boy has the physical qualities. He has a good arm, good hands, and knows how to swing a bat. He stays in there with a pitcher and hits a ball with more power than his record shows." Schreiber added, "That's a big park in Seattle and the ball doesn't seem to carry too well there at night. But I did hit 33 doubles and 11 triples." [13]

Schreiber continued, "I don't believe I'll win any batting titles, but I do believe I can hit at least .270." He was confident in his range too, though he did admit to a little trouble with turning the force on balls to his left and with slow rollers. [14]

Sheriff Robinson, then managing the Mets' Single-A club, was also in that camp. Robinson, Schreiber's skipper at Allentown in both 1959 and '60, summed him up this way: "Great scrapper. Good power to right-center. Adequate speed. Good arm. Very cocky." [15] Prior friction over coaching explains that last comment. Robinson tried to change Schreiber's swing, but the bonus boy felt that it was a mistake to change what had gotten him signed.

Another contender for the second-base job was also in camp, Larry Burright, who had come in a trade with the Dodgers. Ron Hunt beat them all out, though; while a swollen gland under his arm shelved him briefly around Opening Day, Hunt would start 142 games at second in '63. He finished second to Pete Rose in voting for NL Rookie of the Year.

Echoing comments he made to author Bill Ryczek, Schreiber observes, "I never had a rabbi with the Mets. Larry Burright had Lavagetto. Ron Hunt had Solly Hemus, though I've got to say, he was a really good ballplayer. Another thing against me was that the Daily News and Journal-American were on strike that spring. They might have backed the local boy. If it wasn't for Charlie Neal giving me some time in spring training, I wouldn't have had a chance."

Mostly, though, Schreiber just never saw eye to eye with Casey Stengel. In the prior fall's draft, The Old Perfesser had wanted Al Worthington, whom Mets coach Rogers Hornsby had called the most deserving minor-leaguer. [16] Even so, "Schreiber shaped up as a good line-drive hitter and Stengel wanted to hold on to the St. John's University alumnus to get a further look at him." [17] The rookie made his big-league debut — playing third base, not second — at Milwaukee's County Stadium on April 14. Batting leadoff, he went 1 for 4 and handled seven chances cleanly as Roger Craig lost a 1-0 duel in the 10th inning to Bob Hendley.

Schreiber started twice more at third and pinch-hit once over the next three days. He "gave a creditable account of himself both in the field and at bat," going 2 for 8 with one harmless error. After that, though "he appeared to have won himself regular work for a spell anyway," [18] he got to pinch-hit just twice more before the Mets got down to the roster limit. Before going to Triple-A Buffalo on May 9, he had been idle for 17 days.

Schreiber hit well for the Bisons (.279-7-31 in 71 games) and was recalled on July 18. Again, however, he remained rooted at the end of Casey Stengel's bench. "Where I was positioned, I needed a long bat if I was going to hit," Schreiber remarks. "I even asked Johnny Murphy if he could help, but it didn't do any good."

He appeared in 33 games the rest of the season, starting just eight times. In the end, he played only three times at his best position; he appeared in 17 games at third and nine at shortstop. He got two hits in a game once, on August 4 at Milwaukee; a friendly word from old Brooklyn buddy Joe Torre boosted Schreiber's confidence.

On September 18, 1963, the Mets played the last regular-season baseball game at the Polo Grounds against the Philadelphia Phillies. (However, major-leaguers set foot there once more on October 12, in the one and only Latin American players' game.) AP wire photos show Stengel imploring the heavens and forlornly surveying the empty bleachers. Just 1,752 fans turned out, amid no ceremonies. It's likely that far fewer were left when Schreiber batted for his fellow St. John's alum Larry Bearnarth with one out in the ninth inning. He grounded sharply into a double play, as Cookie Rojas "made a great play on a hit up the middle."

Schreiber had just one more at-bat in the majors; he finished at 8 for 50 (.160) with no extra-base hits and 2 RBIs. "The toughest guy I ever faced, without a doubt," he states, "was Juan Marichal. You ask a lot of hitters from that time and they'll agree with me. I didn't know whether to swing at his leg, his shoe, or his arm. He threw hard and he had terrific control."

On the last day of the season, in Houston on September 29, Schreiber saw the writing on the wall. While 18-year-old Colts rookie John Paciorek was going 3 for 3 in his only game in the majors, the Mets were begging out for a quick start home. Stengel let the starter at third base, Jim Hickman, leave in the eighth inning. Casey looked up and down the bench for a replacement — it took him a long time to decide. Finally he said, "Schreiber, go play third." Ted recalls, "He had to. I was the only man he had left!"

Schreiber played ball in Nicaragua with the Bóer Indians during the winter of 1963-64. Joe Hicks, his Mets teammate, brought him down along with Choo Choo Coleman that November. Hicks had played several seasons for Bóer already and had married a Nicaraguan woman. That season, though, he served as non-playing manager — to start with, at least. In January, Hicks activated himself, and Schreiber was placed on the reserve list for a second time. [19, 20]

"Joe Hicks was a great guy with a lot of class," Schreiber recalls. "I went down there with a sore arm, though, and I was babying it, taking cortisone shots. It's not an excuse, it's a reality. I wasn't good. Finally, in one game an infielder made a great play on me. I was running down the line, fell just short, fell flat on my face, and broke a toe. To this day I can't wear a regular shoe on that foot. Bert Campaneris took my place."

Ron Hunt, who became the first Met to start in the All-Star Game in 1964, had the Mets second-base job sewn up. More importantly, though, Schreiber now had three children to think about. So that spring, he pursued his studies at St. John's instead of playing ball. [21] He joined Buffalo after the end of the college term in June and posted very modest .211-0-15 stats in 79 games. It was much the same story in 1965; Schreiber passed up baseball for more college. In early June, though, Larry Burright quit pro ball. "With the Bisons roster thus cut to 17 players, an SOS was put in for Ted Schreiber. . .Schreiber, who had been working out with the St. John's team, reported at once and played both games of a double-header at Atlanta." [22]

In early August, the Rochester Red Wings (Baltimore's Triple-A team) purchased Schreiber from Buffalo to fill Dave Johnson's roster spot. Then playing shortstop as well as second, Johnson had been lost for the year when a pitch broke his hand. [23] Between Buffalo and Rochester, Schreiber hit .223-1-16. After that season, he called it a career.

"I wasn't good in '64, or to start '65," Schreiber states matter-of-factly. "I was good with Rochester, and we almost got into the Little World Series. They wanted me back — I could have made it to the Orioles' World Series team the next year. But with my family situation, I couldn't go." Schreiber's marriage had broken up, and he was looking after the children.

Schreiber then went on to teach math and gym at Charles Dewey Junior High School in one of Brooklyn's tougher neighborhoods, Sunset Park. There he remained for 27 years. He is well remembered by his students. For one, a man named Bill DelGaudio stated, "I was living in a bad family environment that was both physically and emotionally dangerous. One day I had nothing better to do so I went to school. Mr. Schreiber stopped me after class and said, 'Bill, you are a smart kid, why haven't you been coming to school?' He was the only adult who asked and listened. That day he saved my life."

Schreiber remarried in 1968. He and his second wife, Lilia Monsalvo, raised the four Schreiber children — Louise, William, Neil, and Theodore — on Staten Island, where they lived for nearly 30 years. In his sixties, he still enjoyed playing baseball with a group of friends who called themselves "The Old Boys of Summer."

Lilia passed away in 1997, but thanks to a friend, Schreiber recovered from this great loss and found happiness again. He and Dazier "Daisy" Laverde, a native of Bogotá, Colombia, got married in August 1998. In 2002, they moved to the town of Centerville, Georgia, where they found a nice retirement home with a back porch overlooking a lake.

Looking back on his baseball career, Schreiber has some choice words over his lack of opportunity at the top level. He remarks, "I knew I could play. The better the competition, the better I played." Nonetheless, a sour tone doesn't come through in his voice. If not jovial, a sort of defiant Brooklyn humor leavens his stories.

Grateful acknowledgment to Ted Schreiber for his personal memories (telephone interviews on January 13, 2006, March 24-25, 2008, and April 21, 2008). Thanks also to SABR member Andy Mele, Ted's friend of many years, for the introduction and further information.


Notes

[1] "Schreiber's Two-Run Circuit Drive Enables St. John's to Beat Manhattan," New York Times, April 25, 1958, p. 38.

[2] Rory Costello, "Twilight at Ebbets Field," The National Pastime, Society for American Baseball Research, 2006.

[3] "Busy Summer," Berkshire Eagle, July 26, 1958, p. 10.

[4] Andrew Paul Mele, "Stepping Up to the Plate with the Amazins' Ted Schreiber," Star Reporter Newspapers (Staten Island, NY), April 19, 2006, p. 19.

[5] "College Star Signed," United Press International, various newspapers, August 25, 1958.

[6] Mele, op. cit.

[7] Mele, op. cit.

[8] Earl Lawson, "Worthington's Tip to Reds: 'I Start Slow, Finish Fast'", The Sporting News, December 22, 1962, p. 9.

[9] Dan Daniel, "Mets Size Up Schreiber as Draft Phenom," The Sporting News, December 8, 1962, p. 24.

[10] Frank Eck, "At Last, Mets May Make Some DPs with Schreiber," The Evening Standard (Uniontown, PA), December 11, 1962, p. 9.

[11] Ibid.

[12] Daniel, op. cit.

[13] "Mets' Cookie Feels Rookie Can Take Job," Charleston Gazette, March 4, 1963, p. 12.

[14] Ibid.

[15] Barney Kremenko, "Met Camp Rates Huge Bouquet in Eyes of Sheriff," The Sporting News, March 16, 1963, p. 34.

[16] Louis Effrat, "Only 595 See Mets Lose 119th As Also-Forlorn Cubs Win, 3-2," New York Times, September 29, 1962, p. 25.

[17] Barney Kremenko, "Casey gives Bat Diploma to Kranepool," The Sporting News, April 20, 1963, p. 10.

[18] Barney Kremenko, "Met Defense and Hurling OK; How About the Hitting? Awful!" The Sporting News, April 27, 1963, p. 24.

[19] Horacio Ruiz, "Boer Skipper Hicks Corrals U.S. Talent," The Sporting News, October 26, 1963, p. 24.

[20] Horacio Ruiz, "Pilots Friol, Hicks Swing Torrid Bats," The Sporting News, January 25, 1963, p. 23.

[21] Cy Kritzer, "Marvelous Marv Balking Over 50% Slash in Salary," The Sporting News, April 11, 1964, p. 40.

[22] "Burright, Buffalo Second Sacker, Quits Club, Flies Home to California," The Sporting News, June 19, 1965, p. 44.

[23] "Wings Lose Dave Johnson," The Sporting News, August 21, 1965, p. 36.


Sources

Professional Baseball Players Database V6.0

William J. Ryczek, The Amazin' Mets, 1962-1969 (Jefferson, NC: McFarland & Company, 2008)

www.retrosheet.org

www.baseball-reference.com

www.ultimatemets.com

http://www.usfamily.net/web/trombleyd/BasinHistory.htm (Online history of the Basin League, by SABR member David Trombley)


Photo Credit

Larry Fritsch Cards
Born
July 11, 1938 at Brooklyn, NY (USA)
If you can help us improve this player's biography, contact us.
http://bioproj.sabr.org/bp_ftp/images2/SchreiberTed.gif
600
800
admin
/wp-content/uploads/2020/02/sabr_logo.png
admin
2012-01-04 20:27:38
2012-01-04 20:27:38
Ted Schreiber