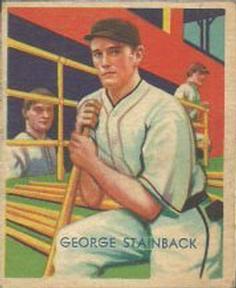 ---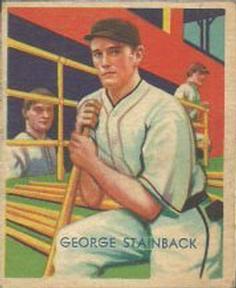 Playing on seven different teams across 13 major league seasons, outfielder Tuck Stainback acquired a reputation as a player "who ought to be great, but never will be." The weight of expectations affected him, as it did many other touted talents.1 During the 1930s, Stainback was considered one of the fastest runners in the National League. Simultaneously, he was also regarded as one of the most absentminded players, based on his habit of often leaving the locker room without watch, wallet or keys. Stainback was generally acknowledged to possess one of the finest throwing arms in the game — he was said to have "thrown out more men than a beer-garden bouncer"2 — yet he was also known for often throwing to the wrong base. These lapses prompted sportswriter Warren Brown to reference him as "a man of suspended animation," a friendly phrase he used to describe Tuck's eccentricity.3
Stainback hit over .300 as a big-league rookie in 1934 but never did so again. And though he had shown some power in the minors, he was a singles hitter in the majors, hitting just 17 homers and slugging just .333 while batting .259 for his career. He didn't strike out much but walked very seldom, and despite his speed, he stole just 27 bases.
George Tucker Stainback was born in Los Angeles on August 4, 1911. Although named after his paternal grandfather, everyone simply referred to him as Tuck. The Stainback family had left their native Germany in the decade following the Civil War, when massive grain exports from the United States made it increasingly difficult for European farmers to compete.4 Initially settling in Mississippi, they farmed in Tennessee prior to setting down permanent roots in sunny California.
The 1920 census listed family patriarch Ira Stainback, a farmer, along with his spouse, C.P. Stainback, as the parents of Clara May (13), Edward (11), George Tucker (9), Arthur (7), and Joseph (5).5
Attending Fairfax High School in Hollywood, the young athlete Tuck excelled at track, football, basketball, swimming and eventually baseball. His broad jump mark of 22' 11½" set a state record in 1929, a title he'd hold for two years.6 The event took place at the Los Angeles Coliseum; thirty years in the future, that venue would be the home of the relocated Dodgers.
Right-handed all the way, Stainback's sports resume didn't include baseball until his senior year. He was originally a pitcher, but his batting prowess quickly warranted a move to center field, where his speed made tracking long fly balls look easy. Runners generally thought twice before challenging his strong arm.
As graduation approached in 1931, Tuck considered several career paths. Despite being awarded football and track scholarships to USC, economic conditions prompted the young athlete to drop-out of school. The country was mired in the Great Depression, making an offer of a Pacific Coast League contract a seemingly safe bet. Signing on with his hometown Angels, Tuck was subsequently assigned to the Bisbee Bees in the Class D Arizona-Texas League, where he hit .315 and slugged .447 in 114 games, while gaining valuable professional experience.
Sticking with the Angels in 1932, the 5-11, 165 pound Stainback quickly settled in, "becoming a fan favorite, as a colorful and hard-working addition to the team."7 Los Angeles area sportswriters sporadically referred to him as 'Tut,' an alternate nickname that stuck for the balance of his career.8 All the excitement abated, courtesy of an errant line drive breaking his left cheekbone. The accident caused a sinus condition that Tuck would endure for the rest of his life.9
The nature of Stainback's injury jarred Angels' majority owner P.K.Wrigley (also owner of the Chicago Cubs). Wrigley purchased a $75,000 insurance policy, protecting his investment against future mishaps. The coverage broke down at 25,000 for Stainback's right arm, with the same valuation on each leg.10 Tuck returned to feast on PCL pitching, hitting .356 and slugging .503 in 1932 (walk statistics are not available).
Back with Los Angeles in 1933, he again posted a fine batting average at .335. Simultaneously, the Cubs were seeking outfield help to spell an aging Riggs Stephenson. On January 20, 1934, Los Angeles sent Stainback to the Cubs for Ed Baecht, Marv Gudat and cash. Tuck made his major league debut that season, hitting .306/.327/.379 in 104 games with the third-place Cubs. His playing time generally came when he subbed for the lefty-hitting Chuck Klein and Babe Herman, if a tough lefty was scheduled to pitch.
The year 1934 ended on a celebratory note for Stainback; on December 16 he married Alice Jones, who had also gone to Fairfax High.11
In addition to his diamond exploits, Stainback generally played a round or two of golf each week, carding in the mid-80s. Tuck's semi-regular partner on the links was orchestra leader Wayne King ("The Waltz King"), a baseball fan and also his new brother-in-law.12 King was married to Alice's sister Dorothy, an actress of some note.13
Charlie Grimm's Cubs captured the National League pennant in 1935, finishing 100–54. Stainback saw action in 47 games. The primary outfielders were Klein, Augie Galan, and Frank Demaree, with Kiki Cuyler as the main reserve.
The Detroit Tigers won the American League flag and ultimately took the fall classic, 4 games to 2. Game Three of the series was characterized by harsh verbal exchanges, courtesy of players from both teams. The fracas ended when umpire George Moriarty cleared both benches; Stainback was one of the players taking an early shower.14 However, he did not get into any games.
Tuck hit a very light .173/.235/.253 in 44 games as a reserve outfielder with the second-place 1936 Cubs. Galan and Demaree remained starters, and Ethan Allen came in a four-player trade that May involving Klein.
The 1937 Cubs again finished second; however, Stainback got more playing time (72 games) and his numbers improved modestly (.231/.268/.288). Rookie Joe Marty joined Galan and Demaree in the Cubs outfield that year.
On April 16, 1938, a blockbuster trade dominated sports news, when the Cardinals sent pitcher Dizzy Dean to the Cubs, for Curt Davis, Clyde Shoun and Stainback; a staggering $165,000 accompanied the trio of players. Tuck opened 1938 hitless in ten at-bats, earning a trip to the waiver list.
Claimed by the Phillies, Stainback debuted with his new team on May 28 at the Polo Grounds, with Giants lefty Carl Hubbell on the mound. Stainback contributed a walk and single, becoming the only Philadelphia player to reach base in an 11-0 loss. Traded to the Dodgers on July 11 for Gibby Brack, Tuck enjoyed one of his best stretches in the majors, hitting .327/.346/.442 in 35 games.
In the winter of 1938, Stainback accompanied Gabby Hartnett, Billy Herman, Roy Johnson, Stan Hack and Larry French on an off-season boar-hunting trip. The contingent trekked into a cold and desolate stretch of Montana to try their luck. Soliciting players for off-season sojourns made Tuck aware of the struggles endured by many players during the tough economic times.15 Indeed, during the Great Depression, Stainback teamed up with Frank Crosetti to organize a pension system for destitute players — the first of its kind, according to Stainback's obituary. Former major leaguers were contacted and asked to contribute $250 each, as seed money to start the fund.16
Despite no longer being a Cubs player, Stainback remained an off-season employee for Wrigley as part of the sales and promotions department. Downtime in winter meant tackling unglamorous assignments, such as painting sections of Wrigley Field.17
Stainback carried both a still and movie camera as part of his traveling gear during the season. He delighted friends in the off-season, showing film shot at various ballparks. Tuck narrated the flickering images, adding his own brand of humor-laced commentary.18
A few instances of Stainback's quirky behavior had occurred in his time with the Cubs. He was playing right field versus Philadelphia one day, Once after the Phillies were retired and the Cubs came up to bat; the leadoff hitter stepped into the batters box, and noticed 10 men on the field. The extra player was Stainback, still chatting in right field with his Phillies counterpart.19
Once when the Cubs were in New York to play the Giants. Tuck arrived late at the ballpark and noticed Cincinnati hitting and Dodgers players on the field. After a moment of confusion, he realized that driving to Ebbets Field was a mistake; his team was scheduled to play at the Polo Grounds.20
On July 1, 1939, Stainback, Babe Phelps, and Van Mungo attended the New York World's Fair. The ballplayers were guest instructors, conducting a baseball class, as part of the fair's sports program. This genuinely entertaining trio of Brooklyn Dodgers offered amusing responses to various baseball questions posed by the youngsters. An inquiry regarding which team would prevail in a Yankees-Dodgers World Series left all three at a loss for words.21 As it turned out, Stainback's Dodgers finished third in the NL
Stainback played most of the 1940 season with the Dodgers' AA farm team in Montreal. He made his American League debut that July after the Detroit Tigers purchased his contract. However, he got into just 15 games for Detroit. Returning to the Tigers in 1941, Stainback spent the whole year in the majors and played in 94 games.
Following the declaration of war in December 1941, Tuck received a 3-A classification; deferred as over 30, married and the father of a young child. His off-season job at an arms production plant was considered essential to the war effort.
The New York Yankees acquired Stainback in 1942, specifically to play against left-handed pitching and for his defensive abilities. Following his arrival, an errant pitch broke a bone in his left hand. Sent to the AA Newark Bears to recuperate, he hit a respectable .300/.323/.367 prior to rejoining the Yankees.
New York captured the 1942 American League flag; however, the St. Louis Cardinals would prevail in the five game Series. Stainback recovered sufficiently from his hand injury to be used as a pinch-runner for Bill Dickey in two games, with no plate appearances. Both were pivotal ninth-inning moments, with nobody out and Stainback representing the tying run. In Game Two, right fielder Enos Slaughter cut him down at third with a great throw. In Game Five, Stainback was on first when Walker Cooper picked Joe Gordon off second base.22
Back on the pennant-winning Yankees in 1943, Tuck appeared in 71 games. As New York defeated the Cardinals four games to one, he got his only World Series plate appearances. He hit .176, alternating with Bud Metheny against left-hand pitching.
On May 3, 1944, New York was playing the A's in Philadelphia. Attempting to steal second base, Stainback heard a sickening pop while sliding and knew it was bad. He'd suffered an oblique fracture at the lower end of the fibula, and remarked from Presbyterian Hospital, "Just when I get a chance to play regularly, this had to happen."23 At the time, Stainback was hitting a solid .400. Sportswriter Dan Daniel commented, "If those things running down Stainback's cheeks weren't tears, he was perspiring much too profusely."24 Tuck was out for the balance of the season, replaced by Johnny Lindell. Stainback's injury-shortened 1944 season lasted only 30 games.
Late in 1944, Tuck became part of a baseball troupe, touring military installations in the South Pacific. Accompanying Stainback were Lindell, umpire Beans Reardon, and Tigers manager Steve O'Neill. The troupe spent time playing ball, umpiring games and showing baseball movies to the soldiers and sailors; they averaged 16-hour days, performing over 150 shows. Returning for the start of the 1945 season, Stainback went on to appear in 95 games with the Yankees.
New York released Tuck at the end of the war. He caught on with the Philadelphia Athletics in 1946, playing 91 games while platooning with Elmer Valo and Barney McCosky in the A's outfield. Released by the A's on January 9, 1947, Tuck inked a deal back where he started, with the PCL Los Angeles Angels, for whom he played in 87 games.
The Angels released Stainback in November 1947, saying that the veteran didn't fit into their plans.25 In April 1948, he joined a semipro team in California called the Rosabell Plumbers.26 But being out of pro ball appears to have hit him hard. Alice divorced him in April 1949, testifying that he slept half the day and would not accept any household responsibilities.27 She also told the judge — in another sign of Stainback's eccentricity — that he once said to her, "I would like to get rid of both you and the government."28
As a single man once more, Stainback got back into Organized Baseball at age 37, hitting .360 in 101 games for Spokane in the Class B Western International League. He worked out with Sacramento of the PCL in March 1950 in a long-shot bid to prolong his career.29 That brought his playing days to a close.
It's not certain what Stainback did for a living in the early to mid-1950s. He may have remained in P.K. Wrigley's employ or retained his factory job. However, he remained visible on baseball's social circuit. In September 1952, he was one of 14 men who'd played in the World Series invited to the third annual banquet of the Pasadena Sports Ambassadors. Jerry Priddy told a funny story about how an errant throw by Stainback during a pregame warmup sailed into the dugout and struck manager Joe McCarthy in the eye. According to Priddy, Stainback came running in, ready to pack his bags.30
The Brooklyn Dodgers hired Stainback in 1956 to set up a ticketing office in anticipation of the move to Los Angeles. Tuck worked 14-hour days, seven days a week, as a dedicated executive. "I didn't even have time to develop an ulcer."31 Under his leadership, a highly successful group sales program, geared toward civic clubs and organizations, was initiated. Stainback directed group sales until his retirement in 1977.
Tuck Stainback succumbed to a stroke, suffered at his home in Camarillo, California, on November 29, 1992. He was 81 and his remains were cremated. Survivors included his former high school sweetheart (and second wife) Mary Lou Simonson, whom he married on October 7, 1961. Family included daughter Sandra Finch, stepson Bill Kozel, and granddaughters Susan and Kristen Kozel. Services were private, with donations directed toward the Baseball Assistance Team in New York.
Mary Lou provided a fitting memory of her husband upon his death. "Tuck loved baseball and thought it was a wonderful life. Tuck was a great, fun-loving person, but also a serious person."32
Acknowledgments
This biography was reviewed by Rory Costello and Norman Macht and fact-checked by Stephen Glotfelty.
Sources
Additional source material included content form the Stainback file, provided by the helpful staff at the National Baseball Hall of Fame. Also sourced was information from baseball-reference.com and the SABR Minor Leagues Database.
Notes
1 "The Old Scout," August 1, 1940, Baseball Hall of Fame Library, Tuck Stainback player file.
2 Tuck Stainback player file, unaccredited.
3 Warren Brown, Tuck Stainback player file, undated.
4 https://www.nationalgeographic.org/immigration 1870-1900.
5 All available references show only the initials for Stainback's mother's name.
6 Dave Camerer, New York World-Telegram, July 11, 1938.
7 Camerer
8 Dave Camerer, "Tut Barely Missed Being Banker" New York World Telegram. July 19, 1938.
9 Camerer
10 Tuck Stainback player file,, January 26, 1933.
11 "Stainback Weds," Salt Lake Tribune, December 16, 1934.
12 "Behind the Box Score," Tuck Stainback player file, undated.
13 "Dorothy Jones King," Quad-City (Iowa) Times, March 13, 2010.
14 Unaccredited, stamped New York World Telegram, October 5, 1935.
15 Tuck Stainback player file,, undated.
16 Patrick McCartney, "George Stainback Dies; Baseball Player, Executive," Los Angeles Times, December 1, 1992.
17 John N. Sabo, Hall of Fame File, April 20, 1941.
18 Warren Brown, Tuck Stainback player file, undated.
19 "Frothy Facts," New York World Telegram, June 4, 1939.
20 "Frothy Facts."
21 "World's Fair Class Hears Three Dodgers," New York World Telegram, July 1, 1939.
22 Mannie Pineda, "Series Thrills and Laughs Recalled at Pasadena Party," The Sporting News, October 8, 1952: 25.
23 "Broken Leg," James P. Dawson, New York Times, May 3, 1944.
24 "Stainback's Broken Leg Keeps Him Out 2 Months" Dan Daniel, New York World Telegram, March 16, 1944.
25 "Angels Release Stainback," The Sporting News, November 12, 1947: 24.
26 "Caught on the Fly," The Sporting News, April 21, 1948: 33.
27 "Stainback Divorced," San Bernardino County Sun, April 8, 1949.
28 "Stainback Divorced," Boston Globe, April 8, 1949.
29 "Vet Ex-Cubs with Sacs," The Sporting News, March 8, 1950: 26.
30 Pineda, "Series Thrills and Laughs Recalled at Pasadena Party."
31 Jeanne Hoffman, Tuck Stainback player file, undated.
32 McCartney, "George Stainback Dies; Baseball Player, Executive."
Born
August 4, 1911 at Los Angeles, CA (USA)
Died
November 29, 1992 at Camarillo, CA (USA)
If you can help us improve this player's biography, contact us.
https://sabr.org/sites/default/files/StainbackTuck_0.jpg
600
800
admin
/wp-content/uploads/2020/02/sabr_logo.png
admin
2019-09-05 14:11:21
2020-04-09 14:37:30
Tuck Stainback