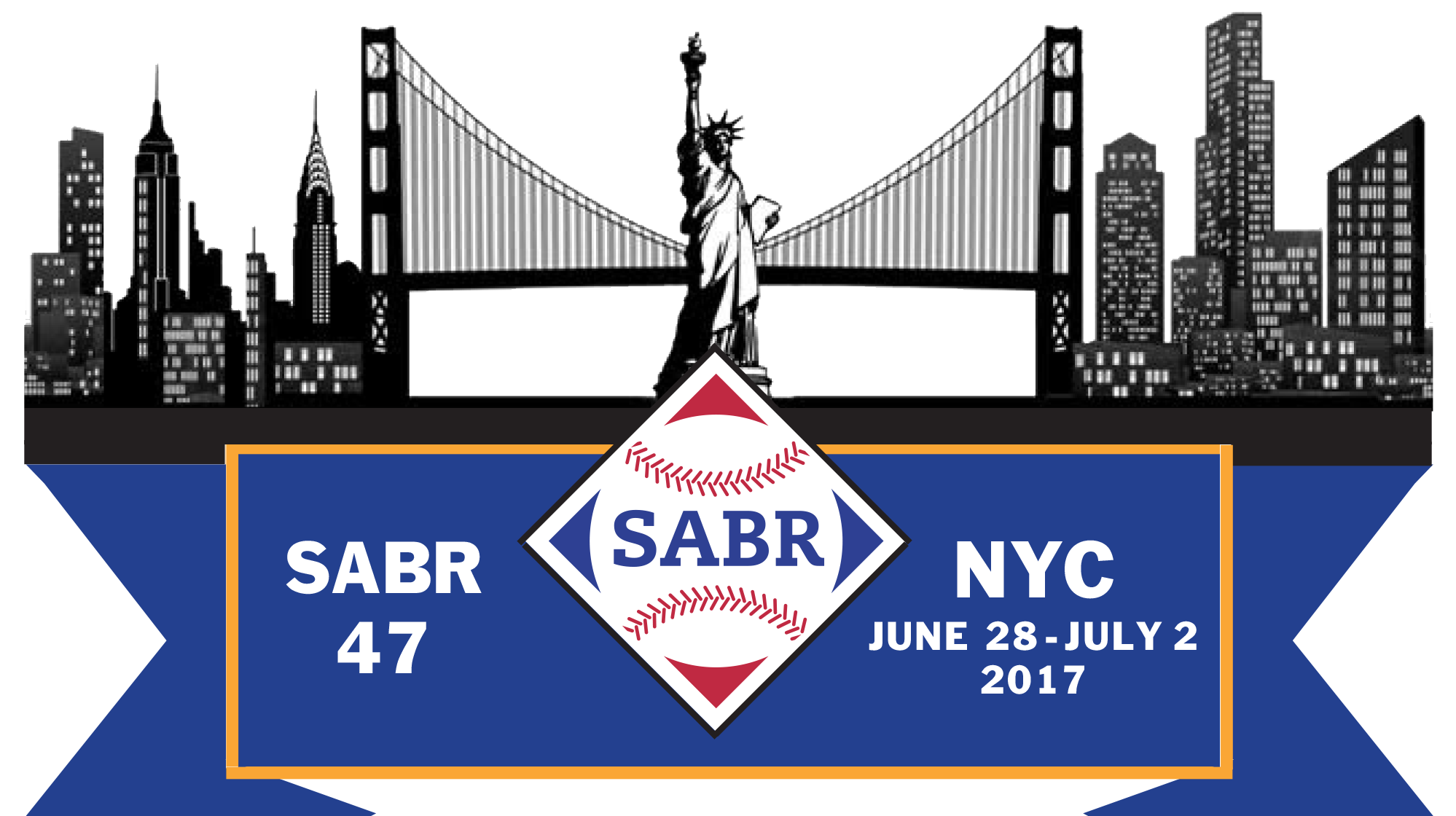 Here is the schedule of research presentations for SABR 47, which will be held June 28-July 2, 2017, at the Grand Hyatt New York. Full research abstracts and presenter bios can be found below. Click on a link below to listen to audio highlights or view PowerPoint slides (where available.)
Click here to learn more about the SABR 47 poster presentations.
Thursday, June 29
11:45 a.m.-12:10 p.m. (Empire State Ballroom)
RP01: Dodger Stadium Redux: A Conversation with Janet Marie Smith, Los Angeles Dodgers Senior Vice President of Planning & Development and Jean Hastings Ardell
Jean Hastings Ardell and Janet Marie Smith
Dodger Stadium stands alone as the only mid-century moderne baseball park in the major leagues. Carved into the hills of Chavez Ravine, it defies conventional approaches to expansion and renovation. Today it is a celebrated symbol of the 1960s, but it didn't even make it into architectural guides of Los Angeles until it was 50 years old. What changed our perception of this era? When did corrugated metal and concrete block become elegant building materials to be preserved and protected? How do you expand concourses to create fan-friendly areas when there are no concourses, only berms shaped by the landscaped park around the stadium? How do production crews showcase plays with a hexagonal shaped scoreboard? How do you double the size of clubhouses when the barrier for growth is a granite hillside nine stories down? These were a few of the challenges Janet Marie Smith faced when the Dodgers hired her in 2012 to oversee renovations for MLB's third oldest ballpark. Smith, whose interest in architecture is matched by her passion for urban planning and spaces, has been transforming our ballpark experiences for nearly 30 years. The session offers attendees the opportunity to hear from a person who has worked in the vanguard of ballpark design about the inner workings of our "Green Cathedrals."
Jean Ardell <jeanardell@yahoo.com> was awarded the USA Today/Baseball Weekly 1999 Award for Baseball Research. In 2011 she co-edited, with Andy McCue, Endless Seasons: Baseball in Southern California for SABR. Each March, she co-chairs the NINE Spring Training Conference in Tempe, Arizona. For the past several years, she has moderated the "Skirting the Game: Women in Baseball" panel at the Cooperstown Symposium on Baseball and American Culture. She is the author of Breaking into Baseball: Women and the National Pastime and the co-author with Ila Jane Borders of Making My Pitch: A Woman's Baseball Odyssey (University of Nebraska Press).
Architect and urban planner Janet Marie Smith <jmsmith@dodgers.com> was named the Los Angeles Dodgers' senior vice president of planning and development in 2012. She oversees the renovations to 1962 Dodger Stadium. This past offseason, the Dodgers re-dedicated Campo Las Palmas in the Dominican Republic, which under Smith's direction, underwent a major renovation to make it one of the best Latin American facilities in baseball. Smith is best known in baseball for her work on Oriole Park at Camden Yards, which set the standard for a new wave of ballparks after its opening in 1992. She also worked for the Boston Red Sox to oversee the renovations to Fenway Park from 2002-2009 and the Atlanta Braves to oversee the conversion of the 1996 Olympic Stadium to Turner Field. Other non-baseball projects include Philips Arena and CNN Center in Atlanta, Pershing Square Park in Los Angeles, Battery Park City in New York, and harbor redevelopment in Baltimore.
11:45 a.m.-12:10 p.m. (Ballroom I)
RP02: Does Changing Leagues Affect Player Performance, and How?
Chuck Hildebrandt
Major League Baseball has attempted to bring more uniformity between the National and American leagues in recent years, such as interleague play and the creation of a single set of umpires across both leagues. Chuck reviews the recent seasons of the new millennium, and studies whether going from one league to the other during the offseason currently has any effect on those batters' and pitchers' performances, and if so, to what degree.
Chuck Hildebrandt <chuck.sabr@gmail.com> has served as chair of the Baseball and the Media Committee since its inception in 2013. Chuck won the 2015 Doug Pappas Award for his oral presentation " 'Little League Home Runs' in MLB History," and received an honorable mention for his 2014 oral presentation, "The Retroactive All-Star Game Project," which was also the cover story for the Spring 2015 Baseball Research Journal. Chuck lives in Chicago with his lovely wife, Terrie. Chuck is also a Chicago Cubs season ticket holder, although he is a proud native of Detroit. So, while Chuck's checkbook may belong to the Cubs, his heart belongs to the Tigers.
12:15-12:40 p.m. (Empire State Ballroom)
RP03: Roosevelt Stadium: The Forgotten Ballpark
David Krell
Jersey City sits across the Hudson River from Manhattan, lost in the shadows of New York City's baseball history. Krell will reveal the importance of this Jersey City landmark to baseball, architecture, and social progress. Debuting in 1937, Roosevelt Stadium began as a WPA project during the Depression. Nine years later, as the International League ballpark of the Jersey City Giants, it was the site of Jackie Robinson's first professional baseball game on April 18, 1946. After the Giants left Jersey City, the stadium hosted 15 Brooklyn Dodgers games in 1956 and 1957, Jersey City's other squads in the International League and the Eastern League, and high school football games with traditional rivalries. Demolished in 1985, just before the resurgence in ballparks designed to reflect their ancestors that predated the emergence of cookie cutter stadiums, the decaying stadium emblemized Art Deco design embraced by architect Christian Ziegler, who conceived several Jersey City landmarks in this style.
David Krell <david@davidkrell.com> is the author of 1962: Baseball, Hollywood, JFK, and the Beginning of America's Future. It is scheduled to be published by University of Nebraska Press in 2019. David's book Our Bums: The Brooklyn Dodgers in History, Memory and Popular Culture (McFarland, 2015) won Honorable Mention for SABR's Ron Gabriel Award in 2015. David has lectured at SABR's Annual Convention, Jerry Malloy Negro League Conference, 19th Century Inter-Disciplinary Symposium, and Frederick Ivor-Campbell 19th Century Conference. He has also spoken at the Mid-Atlantic Nostalgia Convention and the New Jersey State Bar Association. David's work has appeared in Memories and Dreams (Official Magazine of the Baseball Hall of Fame), Black Ball: A Negro League Journal, Base Ball: A Journal of the Early Game, The Sports Post website, New York State Bar Association Journal, and New York State Bar Association's Entertainment, Arts and Sports Law Journal.
12:15 -12:40 p.m. (Ballroom I)
RP04: Southside Hitmen: A 40th Anniversary Celebration of a Memorable Season
Don Zminda
In 1977, an expansion year and the first season of free agency in baseball, the Chicago White Sox, who had finished in last place in 1976, put together a colorful and exciting team that grabbed first place and captured the attention of the city of Chicago like few teams in franchise history. Under the leadership of team president Bill Veeck, the season became a year-long festival, with nightly surprises and a level of interaction between fans and team that seldom had been seen — especially on the South Side of Chicago. Although the team faded in the stretch and ultimately finished in third place, it remains to this day one of the most beloved teams in Sox franchise history. Zminda was one of the fans who fell in love with the Southside Hitmen in 1977. That year, he brought his camera to the park on a nightly basis and eventually put together a photographic story of the team, its fans, its broadcasters (led by Harry Caray), and its opponents, with sound clips from games and historical data.
A SABR member since 1979, Don Zminda <dzminda@gmail.com> recently retired after two-plus decades with STATS LLC, where he served first as Director of Publications and then Director of Research for STATS-supported sports broadcasts that included the World Series, the Super Bowl and the NCAA Final Four. Don has also written or edited over a dozen sports books, including the SABR BioProject publication Go-Go to Glory: The 1959 Chicago White Sox. A Chicago native, he lives in Los Angeles with his wife Sharon.
12:45-1:10 p.m. (Empire State Ballroom)
RP05: The Integration of Baseball Cards and Chicano Pop Art: An Appreciation and Interpretation
Anthony Salazar
In 2005, the Oakland (CA) Museum debuted an exhibit held in conjunction with the community's annual Dia de los Muertos celebration. Featured among the exhibit pieces were a collection of unique paintings by a local artist who created a series he called, "Baseball Muertos Art." For inspiration, the artist looked to his Chicano culture: Dia de los Muertos (Day of the Dead), which is a remembrance of family and friends who have passed on to the next world. Its iconography is celebrated in artwork featuring calaveras (skeletons). The artist also looked to the artwork of baseball cards to complete this intersection. The result is a collection of five calavera-themed paintings ballplayers created to resemble their respective baseball card. Visit Salazar's discussion on the intersection of baseball and pop culture as demonstrated through these works within a social-historical construct. "Baseball Muertos" are important pieces of history to both baseball and the Chicano/Mexican communities that represent an interpretation of the calavera icon. "Baseball Muertos" will be on display.
Anthony Salazar <salazar8017@yahoo.com> is the chairman of SABR's Latino baseball committee and is editor of its publication, La Prensa del Béisbol Latino. He has authored numerous articles on the Latino experience in baseball, and has consulted with teams, media networks, productions companies, museums, and other organizations looking to tap into the Latino market. Salazar has also served on SABR's national Board of Directors.
12:45-1:10 p.m. (Ballroom I)
RP06: The Death and Life of Harry Pulliam
Steven A. King
Harry Pulliam, the president of the National League during the first decade of the 20th century, is largely remembered for his death in New York City in 1909. This has usually been considered a suicide that has almost universally been attributed to the strain resulting from the controversy following his ruling in the famous Merkle game in 1908, and the subsequent fall out. This included the report of the attempted bribery of the umpires in the make-up game to decide the National league pennant that year. There has even been speculation that Pulliam was being blackmailed or may have actually been murdered due to attempts to cover up the truth regarding these. As a result, Pulliam's important contributions to baseball have often been overlooked resulting in his being relegated to a minor place in baseball history and probably has prevented his even being considered for election to the Hall of Fame.
Steven A. King, M.D. <kingpain@gmail.com> is a pain management physician. He has authored over a hundred publications on the subject, has been involved in numerous national and international professional organizations' efforts to improve pain management, is an editor of the journal Pain Medicine and writes the pain management column for PatientCareonline.com, an online journal for primary care physicians. The major focus of his baseball research is baseball in New York City at the beginning of the twentieth century and he has published several articles on this topic.
1:15-1:40 p.m. (Empire State Ballroom)
RP07: How to Determine Winners In Sports Memorabilia
Leila Dunbar
In the past two decades, the sports memorabilia and card market has appreciated dramatically to where high grade sports cards of Mickey Mantle, Roberto Clemente and Willie Mays are selling at auction for more than their yearly playing salaries ($200,000-$500,000); and for the highest graded Honus Wagner cards, more than their total career earnings ($1.3 million-$3.1 million). This presentation explores the major factors that determine value in memorabilia and cards. They include: the historical importance of the player, team and/or event; rarity, desirability, condition, authenticity and provenance. Dunbar uses the comparative sales method via auction results to show the quantitative value differences between game used items, awards and cards from Hall of Fame players and lesser players; legendary World Series teams and also-rans; game used jerseys from otherwise journeymen players (Kirk Gibson, Don Larsen) used in top World Series winning moments are compared to their regular season jerseys; demonstrating the effect of historical importance and desirability
From 1999-2008, Leila Dunbar <leiladunbar@aol.com> served as Director of Sotheby's Collectibles Department, selling more than $75 million of collectibles and pop culture memorabilia. Highlights include the bat that Babe Ruth used to hit the first home run ever on Grand Opening Day at Yankee Stadium, for a record $1.25 million; the 1919 contract selling Ruth from the Red Sox to the Yankees for $996,000; and Dr. James Naismith's 1891 Original Rules of Basketball, for $4.38 million, a record for a sports document. Upon leaving Sotheby's in 2008, Leila founded her appraisal business and has valued more than $500 million in pop culture memorabilia, related books, art and wine, including $250 million in sports memorabilia. Since 1996 Leila has participated as an appraiser on the PBS series "Antiques Roadshow". In 2011 Leila created the Sports Memorabilia certification exam for the Appraisers Association of America (AAA). She has spoken to numerous groups, including SABR NYC, National Golf Collector's Society and the Baseball Hall of Fame Symposium.
1:15-1:40 p.m. (Ballroom I)
RP08: Doc Adams: A Founding Father of Baseball
Marjorie P. Adams
From 1839 to 1862, Daniel Lucius "Doc" Adams played base ball in New York City and was a pioneering influence on the development and growth of our National Pastime. From 1845-1862 he was a member of the Knickerbocker Base Ball Club, serving many years as its President, Vice President and Director. During his years with the club Doc Adams authored the "Laws of Base Ball" in 1857 that (in part) specified: 90 feet between bases and 45 feet from pitcher's base to home; 9 innings of play; 9 players per side; no wagering by anyone involved in the game being played; and the "Fly-game". He also created and developed the shortstop position, personally made all the balls for the club, supervised the manufacture of the bats, and presided over the convention of NYC clubs to standardize the rules of the game. Marjorie Adams draws on her family archives and ephemera in addition to more traditional sources to provide an in-depth look into the man John Thorn called "the true father of baseball – and you've never even heard of him!"
Marjorie P. Adams <info@docadamsbaseball.org> was born in NYC between the year Jackie Robinson signed with the Brooklyn Dodgers and the year he won the National League MVP. As a child, she was never interested in sports of any kind but the sounds of a Yankees game on the radio were always comforting because it meant her father was home and 'puttering' around the house doing chores for her mother and so all was right in her little world. She much preferred playing with her dolls and reading American History: the latter remains one of her main interests. She graduated from Stephens College in Columbia, Missouri (BA '71) and most of her career was spent in the furniture industry. While coming late to an interest in the history of our National Pastime, she's playing catch-up as fast as she can and enjoying every minute of it. Over the last six years she has attended vintage baseball games from Maine to Pennsylvania to see and learn how the game was played in Doc Adams's day and to educate people on his contributions to the game. The Doc Adams website, www.docadamsbaseball.org, thanks to SABR member Roger Ratzenberger (and many others), contains a wealth of information on Doc. In honor and memory of her father and grandfather (Doc's youngest child), it is Marjorie's mission to see Doc Adams inducted into the National Baseball Hall of Fame.
4:15-4:40 p.m. (Empire State Ballroom)
RP09: Heroes, Goats, and Myths: 1926 World Series, Game Seven
Steve Steinberg
Some ballplayers are remembered forever as Goats for their mistakes, while others get "passes" for theirs. And Heroes are sometimes created out of an exaggeration of what really happened. Myths are intertwined with both. Steinberg looks at these concepts from the perspective of Game Seven of the 1926 World Series, in which the Cardinals' Grover Cleveland Alexander struck out the Yankees' Tony Lazzeri to help preserve St. Louis's first world championship. Steve attempts to clarify the numerous iconic events that occurred in this game, and comments on the power and function of myths, addressing supposedly key events that never actually happened.
Steve Steinberg <ssteinberg@trinorth.com> is a baseball historian of the early 20th century. He has co-authored two award-winning books with Lyle Spatz, 1921: The Yankees, the Giants, and the Battle for Baseball Supremacy in New York and The Colonel and Hug: The Partnership that Transformed the New York Yankees. His latest book, Urban Shocker: Silent Hero of Baseball's Golden Age, was published by University of Nebraska Press earlier this year. Steve has also published more than 20 articles, many in SABR journals. He also has presented at several SABR national conventions.
4:15-4:40 p.m. (Ballroom I)
RP10: Ball of Confusion: Dick Allen, the Arkansas Travelers and the Integration of Little Rock
Jacob Goldfinger
If every hero has an origin story, Dick Allen's begins in Little Rock, Arkansas as the civil rights movement encountered increasingly violent opposition. Before he became one of the most feared power hitters in baseball and the most polarizing player of his generation, Allen endured a trial by fire in Arkansas. In 1963, the 21-year-old Allen was sent to Little Rock, tasked with integrating the Arkansas Travelers and saving baseball in the city. After not fielding a team the year before, admission to the AAA International League for a single season was conditioned on the Travelers putting together a racially integrated team for the first time. Business and political leaders' efforts to bring back baseball were part of a larger, secret plan to desegregate facilities in downtown Little Rock. Civil rights activists were even invited to Arkansas to provide cover for business leaders wary of seeming too progressive on race relations. According to Allen's own account, his experience in Arkansas left him wary of baseball management and determined to live on his own terms.
Jacob Goldfinger <jacoblgoldfinger@gmail.com> is a native Philadelphian and former reporter who studied journalism at Temple University.
4:45-5:10 p.m. (Empire State Ballroom)
RP11: "The Dictionary Definition of Perfidy": Del Webb, Branch Rickey and the American League expansion of 1961
Andy McCue
In 1960, a decade of reaction to national demographic change came to a head for Major League Baseball. Five of the established 16 franchises had moved in the previous eight years. The country's biggest market — New York City — was without a team in the game's oldest league. Branch Rickey and William Shea formed the Continental League and recruited wealthy and politically connected owners to back the eight projected franchises: New York, Houston, Toronto, Minneapolis/St. Paul, Denver, Atlanta, Buffalo and Dallas/Ft. Worth. In August, 1960, the two major leagues agreed to expand and promised to take the new ownership groups from the Continental League's members. The league collapsed as its ownership groups rushed for the expansion franchises. The National League moved rapidly, interviewing ownership groups and surveying markets. By mid-October, they had accepted applications from the teams that became the New York Mets and Houston Colt .45s. The N.L.'s action finally energized the A.L. Del Webb frantically announced the league would add franchises in Los Angeles and Washington while allowing the existing Washington Senators to move to Minneapolis/St. Paul. McCue will examine why Del Webb made promises to the Continental League which he knew he could not keep.
Andy McCue <agmccue44@earthlink.net> is the author of the Seymour Medal-winning Mover and Shaker: Walter O'Malley, the Dodgers, and Baseball's Westward Expansion. He's a former president of SABR and the winner of the 2007 Bob Davids Award. He is currently researching a book on the American League owners management of their affairs from the 1950s to the 1980s.
4:45-5:10 p.m. (Ballroom I)
RP12: Philadelphia vs. New York: A Rivalry in the Negro National League
Courtney Michelle Smith
Smith offers an overview of the rivalry between factions in the Philadelphia and New York metropolitan areas in the Negro National League. This rivalry first emerged in the immediate aftermath of the Philadelphia Stars' league championship in 1934 and continued until the Newark Eagles folded in 1948. The rivalry between the two factions shaped decisions concerning leadership of the Negro National League, and it revealed tensions concerning the involvement of white booking agents, specifically Eddie Gottlieb. The rivalry, furthermore, provides insight into the leadership that Effa Manley exerted over both the Newark Eagles franchise and the Negro National League. Smith uncovered evidence that the Stars' controversial victory in the 1934 league championship triggered a backlash from league officials from the New York metropolitan area. That backlash resulted in the installation of a New York-based commissioner, Ferdinand Q. Morton, and the ouster of Philadelphia-connected W. Rollo Wilson.
Courtney Michelle Smith <cms392@cabrini.edu> is an Associate Professor of History and Political Science and the Assistant Dean for the School of the Humanities and Social Sciences at Cabrini University. She is a Cabrini alumna and earned her M.A. and Ph.D. in American History from Lehigh University. She has authored an article on Ed Bolden for Black Ball: A Journal of the Negro Leagues. Her other publications include Ed Bolden and Black Baseball in Philadelphia and a chapter on sports in Colonial Philadelphia in Philly Sports: Teams, Games, and Athletes from Rocky's Town.
Friday, June 30

11:15 a.m.-11:40 a.m. (Empire State Ballroom)
RP13: The Seventh Inning is the Key
David W. Smith
It is now nearly universal for teams with a 9th inning lead of three runs or fewer (the definition of a save situation), to bring in a specialist (a "closer") to pitch. This strategy reflects the belief that the chances of winning the game are enhanced by the pitching change. Smith has previously demonstrated that there is no significant improvement in the chance of winning by this reliance on new pitchers for the 9th inning. Since so few games are decided in the 9th inning, the logical question is to ask at what point in the game does the winning team take the decisive lead. The aggregate pattern is that once a team gets a lead it most often maintains it. Smith examined all games from 1909 through 2016 found this pattern to be remarkably consistent. In modern times, the average winning margin is over three runs. Over one third of games have a lead of this size after six innings. Starting pitchers have averaged less than 6 innings pitched for more than 20 years, largely because of increased monitoring of pitch counts. Therefore, relief pitcher usage in the 7th inning becomes crucial and this is often the decisive point in most games.
David W. Smith <dwsmith@retrosheet.org> joined SABR in 1977 and has made research presentations at 20 national SABR conventions and many more at regional meetings. In 2001, he won the USA Today Sports Weekly Award (now the Doug Pappas Award) for his presentation on the 1951 NL pennant race. He won the Doug Pappas award again in 2016 for his presentation on the myth of the closer. In 2005 he received SABR's highest honor, the Bob Davids Award, and in 2012 he was honored with the Henry Chadwick award. A past co-chair of the statistical analysis committee and recipient of the first SABR Special Achievement award, he is also the founder and President of Retrosheet, a non-profit organization dedicated to the collection, computerization and free distribution of play by play accounts of Major League games. He is an Emeritus Professor of Biology after 40 years of service at the University of Delaware.
11:15 a.m.-11:40 a.m. (Ballroom I)
RP14: Civil Rights Brings Jackie Robinson and Martin Luther King Jr. Together
Dennis Corcoran
Corcoran discusses how Jackie Robinson's integration of MLB in 1947 can be viewed as the beginning of the Civil Rights Movement, showing how that movement brought Robinson and Rev. Dr. Martin Luther King Jr. together. He covers Jackie and his wife Rachel's fundraisers for King's Southern Christian Leadership Council (SCLC), such as the afternoon Jazz Concerts held at their Stamford, Connecticut home. Dr. King and the SCLC showed their appreciation of Robinson, honoring him five days before his induction into Cooperstown with a testimonial dinner and fundraiser at the Waldorf Astoria. Jackie stood with Dr. King on the steps of the Washington Monument and greeted visitors prior to King's famous "I Had a Dream" speech at the March on Washington the following year. Robinson later said, after seeing thousands of blacks and whites marching together, "I have never been so proud to be a Negro and an American." Dr. King later told Don Newcombe, Jackie's black teammate,"You'll never know what you, Jackie and Campy did to make it possible to do my job." Shortly thereafter, King was assassinated and Robinson wrote in a column for the Amsterdam News, "It was sad to say farewell to a man who died clinging to a dream of integration and peace and non-violence."
Dennis Corcoran <djcinductionguru@gmail.com> is the author of Induction Day at Cooperstown: A History of the Baseball Hall of Fame Ceremony. He has been a member of SABR since 2002 and he is a retired social studies teacher with more than 40 years in the classroom. He also writes a blog called "I Left My Heart in Cooperstown."

11:45-12:10 p.m. (Empire State Ballroom)
RP15: Another Look at the 2011 Boston Red Sox Season
Tom Tippett

Former Boston Red Sox analyst Tom Tippett will give an insider's look at the controversial 2011 Red Sox season, which ended in turmoil on the final day of the regular season.
Tom Tippett is an analyst who provides baseball software to major-league teams. From 2003 to 2016, he worked for the Boston Red Sox, most recently with the title of Senior Baseball Analyst, assisting in a variety of technology and baseball research projects for three World Series championship teams. He was the Founder and President of Diamond Mind, Inc. and developed its baseball simulation software.
11:45-12:10 p.m. (Ballroom I)
RP16: Louis Armstrong – Swinging
Douglas Schoppert
Twenty years before the Mets moved into nearby Shea Stadium, Louis Armstrong purchased a home in Queens. In 1969, Armstrong was present at Shea when the Mets shocked the world by downing the Orioles in five games. But his ties to baseball went back to his early years in New Orleans when he played the game as a child. In the 1930s, Armstrong sponsored a Big Easy team which became known as Armstrong's "Secret Nine" — even throwing out the first pitch at one of their games. In later years, he befriended several Dodgers players. And while on a 1957 tour of Argentina, Armstrong wore Yogi Berra's catcher mask to protect his valuable chops from overeager fans. Schoppert, a volunteer docent at the Louis Armstrong House Museum in Flushing, Queens for over ten years, has a unique perspective on Armstrong's ties to baseball.
Doug Schoppert <dsc11218@gmail.com> grew up in the Washington, D.C. area and was orphaned by the new and old Senators before he could vote. Now he follows the Nats from afar as he has lived in Brooklyn for the past twenty years. Doug has been a volunteer docent at the Louis Armstrong House in Corona, Queens since 2006. The museum is just two subway stops and a long fly ball from the site of Shea Stadium. He is deeply indebted to Ricky Riccardi, Armstrong biographer and the House's resident expert on all things Louis. Ricky's 2013 exhibit, Swingin' With the All Stars, is the inspiration for this presentation.
12:15-12:40 p.m. (Empire State Ballroom)
RP17: Defensive Evaluations of Team Constructs in the Ball-in-Play Data Era
Chris Dial
Thirty years ago, John Dewan and Bill James started a movement to capture all the batted ball information to understand how the game worked. STATS Inc. began publishing Zone Rating in 1987-88 to evaluate fielders based on a grid-based layout on each ballpark, and recording where on the field the ball was caught. It removed the bias associated with errors because the data recorded was only about where the ball was, without judgment of whether a fielder should have caught the ball. A summary of plays made or not is a separate tally. In the mid-90s, Dial turned this value into a run based system, and began ranking players based on defensive runs saved, creating a database of all defensive performances in MLB since STATS, Inc. began keeping the data. Using over 30 years of data, Dial discusses how teams have changed their success by improving their defensive performance, considering examples such as the 2016 Cubs. Dial addresses how the Mets have been near-misses for several years, and why their defense has been one of the reasons. With the Mets and other teams, he considers where and how do they make a change to win? Could a positional review of current players, and available players get the team over the hump? And if so, who? Dial's run system is currently used to vote for the Rawlings Gold Glove Awards, as well as the Platinum Awards, and is weighted equivalent to Baseball Info Systems DRS.
Chris Dial <pfeiffer86@gmail.com> is the developer of a statistical measure called Runs Effectively Defended (RED), a defensive analysis system based on STATS, Inc. batted ball data, and used in the formation of the SABR Defensive Index (SDI) for Rawlings Gold Glove balloting. He helped create and develop the SABR initiative of Chartered Communities. He is co-chair of the Baseball Think Factory chartered community, and President of the Carolina Chapter (NC), and has served on the SABR Board since 2014. He is the inventor of the material that saved Alex Rodriguez's plane in a 2006 Burbank crash. He is also a lifelong Mets fan.
12:15-12:40 p.m. (Ballroom I)
RP18: Charlie Dressen's Pacific All Stars Tour of 1945
Karl Cicitto
On December 12, 1945, Dodger Coach Charlie Dressen departed LaGuardia Airport with twelve Major League players, one trainer and a journalist. They changed aircraft in Washington, D.C. and flew west on a military C-5 4E. Their destination was the South Pacific where they played 22 games on a USO Tour of Military Camps. Dressen's team was called the NL All-Stars by the newspapers. Some actually were All-Stars, if not top stars. Among others, the roster included Tom Seats, Clyde King, Ralph Branca, Red Barrett, Whitey Kurowski, Frank McCormick, Bill Voiselle and Mike Sandlock. They hopped from Oahu to Kwajalein, Guam, Manila, Batangas, San Fernando on Luzon, and tiny Johnston Island. They flew 18,000 air miles and entertained 223,000 servicemen. Their trip lasted 50 days, beginning and ending in New York City. Newspapers provide a clear narrative of the first 13 games. After January 6, the game stories largely ceased to appear in the papers. Just one story for the remaining nine games was discovered. Cicitto introduces new source material: a 4,000 word daily diary of the tour by Sandlock, courtesy of Mike Sandlock Jr., and family, that sheds light on the remaining games.
Karl Cicitto <kcicitto@cox.net> is a multimedia consultant with Digital First Media and Connecticut Magazine. He is a chapter leader of the Smoky Joe Wood (CT) Chapter. Karl was an editor and contributor on the SABR book, 100: The 100 Year Journey of a Baseball Journeyman, Mike Sandlock, and has the same roles for an upcoming SABR book, Jeff Bagwell in CT, a consistent lad in the land of steady habits. He is grateful to Len Levin and Bill Nowlin for their support and skills. Cicitto is honored to speak at SABR. Special thanks to Mike Sandlock Jr.
12:45-1:10 p.m. (Empire State Ballroom)
RP19: Statcast and the Value of Defense
Jonathan Dine
Dine describes how we can use the new data provided by Statcast to assess defensive value for individual players. He shows how Statcast data can be used to quantitatively determine defensive value, by using the random forests predictive model created by Bill Petti to find when the probability of a hit was 80% or greater and then examine situations where a hit matching those conditions was instead an out. Based on these situations we can then quantitatively determine the impact of an out in this situation based on the probability of a run scoring if the ball had fallen for a hit as expected per the model and thereby determine how many runs were saved by the ball falling for an out instead of a hit. By utilizing Statcast data combined with run scoring probabilities, we can arrive at a metric which improves on DRS (defensive runs saved) in qualitatively assessing the value of particularly outstanding defense in baseball. This new metric will also produce a list of players whose offensive metrics (like wRC+ or wOBA) may be low but who could overall improve a team's fortunes during the season due to their defensive skills.
Jonathan Dine <jdine88@gmail.com> is a Washington, DC-based Associate at Booz Allen Hamilton where he focuses on data analytics, data science, and IT transformation projects. He is a graduate of the University of Chicago, a lifelong baseball fan, and has attended a Major League Baseball game every summer since he was 6 years old.
12:45-1:10 p.m. (Ballroom I)
RP20: The Dodgers in Jersey City: The Giants Games
John J. Burbridge Jr. and John R. Harris
In the 1950s Walter O'Malley, the principal owner of the Brooklyn Dodgers, was concerned about the long term ability of the Dodgers to compete successfully due to a major change in the National League. The Boston Braves had moved to Milwaukee which resulted in much greater revenues and profits for the Milwaukee franchise. The Dodgers ballpark, Ebbets Field was old, and the neighborhood surrounding the ballpark was changing. Finally, there was very little parking for Dodger fans who were becoming more accustomed to automobile transportation. O'Malley proposed a new stadium in Brooklyn that he would build. New York City needed to provide the land. O'Malley was rebuffed in these negotiations. During 1955, O'Malley made a rather surprising announcement that the Dodgers would play seven games in 1956 and 1957 at Roosevelt Stadium in Jersey City, New Jersey. Burbridge and Harris first look a possible rationale for O'Malley's decision. The games played in Jersey City with particular emphasis on the two Dodgers-Giants games will then be discussed.
Dr. John J. Burbridge Jr. <burbridg@elon.edu> is currently Professor Emeritus at Elon University where he was both a dean and professor. While at Elon he introduced and taught Baseball and Statistics. A native of Jersey City, he authored The Brooklyn Dodgers in Jersey City which appeared in the Baseball Research Journal. John has also presented at SABR Conventions and the Seymour meetings. He is a lifelong New York Giants baseball fan (he does acknowledge they moved to San Francisco). The greatest Giants-Dodgers game he attended was a 1-0 Giants' victory in Jersey City in 1956.
John R. Harris <harrisfoto@gmail.com> is a writer, photographer and the Senior Producer of the B&H Photography Podcast. In addition to writing on baseball history, he has written extensively on photography and camera technology. His photographs have appeared in the New York Times and have been exhibited at the International Center of Photography, Museum of Modern Art and Victoria & Albert Museum. A book of his documentary photographs, Garzon, was published in 2011. A lifelong Indians fan, he had a short stint with the baseball team of his alma mater, Fordham University. John can also be reached on Instagram @jrockfoto.
1:15-1:40 p.m. (Empire State Ballroom)
RP21: Are There "Pitchers" Umpires and "Hitters" Umpires?
Mark Pankin
In his first three Abstracts, Bill James showed the strikeouts and walks per game for each of the umpiring crews. Using Retrosheet data, Pankin applies this idea to individual umpires by looking at the strikeout and walk rates for games when they are behind the plate. Those rates will be compared to their league averages in each season to see if some have consistently higher K-rates and consistently lower BB-rates, the pitchers' umpires, and the other way around to determine the hitters' favorites. While most of the focus will be on those who worked in the past 50 years, Pankin also looks at the 16 who were former major league players. Did the pitchers tend to be kinder to hurlers and the position players favor the batters? Since 2000 all umpires were put under the authority and supervision of major league baseball rather than the two leagues. One reason for the change was to make performance, particularly calling balls and strikes, more uniform. In 2001, QuesTec was introduced in some parks, and later Pitch f/x was installed in all parks. Have these developments resulted in more consistent ball and strike calling?
Mark Pankin <sabr@pankin.com> is the retrosheet.org webmaster and has made numerous presentations at SABR meetings, many based on mathematical models he has developed. More recently his research interests have broadened to historical aspects such as the postseason "city series" played in the first half of the last century. He has a Ph.D. in math and works out of his house in Arlington, Virginia as an investment advisor. One of his treasured possessions is his "NO DH" license plate.
1:15-1:40 p.m. (Ballroom I)
RP22: Bats, Balls, Boys and Dreams: All-Star Sandlot Games in New York and the Players Who had a lasting impact on the New York Landscape (Baseball and Otherwise)
Alan Cohen
During the darkest days of the Depression and World War II, towns across the country promoted youth baseball and as the country began to emerge from World War II, three publications were pivotal in bringing youth to New York City to play in All-Star Games. The players had the time of their lives and several of them, including five Hall-of-Famers, would go on to play in the big leagues. In the summer of 1944, Esquire Magazine put together a network of 28 newspapers from across the nation. Newspapers from Boston to Miami in the east to Seattle, San Francisco, and Los Angeles in the West sent players to the Polo Grounds. Two other publications got into the act in 1946 and left an indelible mark on the New York landscape. Brooklyn was home not only to the Dodgers, but also to the Brooklyn Eagle. The paper's sports editor, Lou Niss, brought players from around the country to face Brooklyn's finest. But the longest-living event, played through 1965, was the brainchild of Max Kase of the New York Journal American. 12 Hearst Papers from coast to coast sent their best players to New York to be the U. S. All-Stars. They faced the best players from New York's sandlot leagues. This is the story of Bats, Balls, Boys and Dreams from the famous to the obscure. Some remember each detail. For others, it was a footnote to a lifetime full of successes.
Alan Cohen <adc0317@comcast.net> has been a SABR member since 2011, and serves as Vice President-Treasurer of the Connecticut Smoky Joe Wood Chapter. He has written more than 35 biographies for SABR's BioProject, and has contributed to several SABR books. He is expanding his research into the Hearst Sandlot Classic (1946-1965), an annual youth all-star game which launched the careers of 88 major-league players. He graduated from Franklin and Marshall College with a degree in history. He has four children and six grandchildren and resides in West Hartford, Connecticut with his wife Frances, one cat and two dogs.
Saturday, July 1

11:30 a.m. – 11:55 a.m. (Empire State Ballroom)
RP23: Where Have You Gone, Master Melvin? A Re-Appreciation of Mel Ott
Steve Treder
In his playing days, the New York Giants' Mel Ott was celebrated throughout baseball as a brilliant superstar. He was an 11-time All-Star, and captured MVP votes in 13 seasons. Following his retirement in 1947, Ott was elected to the Hall of Fame in 1951 with 87.2% of possible votes, the second-highest percentage of any player between 1937 and 1961 – just slightly lower than the 88.8% achieved by Joe DiMaggio in 1955. Modern and sophisticated sabermetric analysis agrees that Ott is among the elite all-time greatest players. Ott led his league in position-player WAR in five separate seasons. Yet in current-day discussions of great players of the past, Mel Ott's name is seldom remembered. Treder examines the various factors that have combined to obscure the baseball world's memory of Master Melvin Ott: circumstances involving his "nice guy" personality and his tragic premature death, as well as sports media's reliance upon narratives of celebrity based on charisma, conflict, and convenience.
Steve Treder <stevet@wmgnet.com> wrote a weekly column for The Hardball Times from its inception in 2004 through 2013. He is the only writer to have contributed to every Hardball Times Annual book from the 2004 original through 2017. His articles have appeared in The National Pastime and in NINE, and he has presented at many SABR national conventions. When he grows up, he hopes to play center field for the San Francisco Giants.
11:30 a.m. – 11:55 a.m. (Ballroom I)
RP24: All in Good Fun? The Emasculating Rituals of MLB Players
Allison Levin
Athletes have the power to influence society both implicitly and explicitly. Some athletes and teams use their influence positively by choosing, among other actions, to draw attention to important causes and creating domestic and global foundations to help people. While the media has been overwhelmed by controversies where athletes and teams are portrayed as having a negative influence on society, such as domestic violence, child endangerment, and player safety concerns, other subtle negative messages are ignored. In particular, one of the long-held traditions of professional sports is rookie hazing. Over time teams have encouraged veteran players to move away from physical hazing that could be dangerous if emulated by fans and instead, the trend moved towards the emasculating of rookie players. Prior to the 2017 season, the Office the Commissioner as part of its inclusion and diversity efforts provided teams and players with specific guidelines that must be followed when it comes to activities that could be considered hazing. Levin looks at hazing and similar clubhouse activities over the years to see how the rituals have changed. She then examines the 2017 season to see whether the new rule has had any perceivable effect on player and team activities, and determines if the media response to the rituals changed at all. Her research shows that the problems of diversity and inclusion that MLB claims to be addressing start on the playground and in youth sports. Thus the effectiveness of the new rule as well as whether it fosters any change in media coverage must be examined to continue the discussion of how to affect real change on and off the field.
Allison R. Levin (MA, JD) <allison.levin@gmail.com > is a Professor of Sports Communications and Management at Webster University in St. Louis, Missouri. Her research builds upon an eclectic background in political science, economics, women's studies, communications, and law. In recent years, she has focused on the effects of social media on pop culture, communications and sports. She has been invited to present her work at conferences both nationally and internationally. Her research on athlete's use of social media appears in Casing Sport Communication (2016). Allison also consults with leagues, teams, and players using her research to help them navigate social media and analytics.
12:00-12:25 p.m. (Empire State Ballroom)
RP25: Baseball's Age of Aquarius: Milestone Transformations of 1968-1969
Paul Hensler
Major League Baseball at the end of the 1960s was enduring an upheaval of sorts consistent with contemporaneous events, although without the violence of war, riots, or assassinations. The national pastime was positioning itself to cross a threshold into a new era whereby it would try to shed the lethargy into which it had fallen. By implementing updates to its league structures, image, playing rules, and stadiums, baseball braced to meet the competition of other sports, and the changes enacted by baseball in the late 1960s made this period one of the most dynamic in the game's history. Just as America's milieu was restive during the late 1960s while the nation tried to maintain its place as the world's preeminent democracy, baseball was forced to confront the challenges it faced to remain first and foremost in the minds of the country's sports fans. The dynamism of the era saw baseball ushered from its languid and disquieting condition of 1968 into a revitalized and retooled state beginning in 1969. The national pastime endured a period of adjustment, yet it was better prepared to move into the 1970s and beyond because of the changes it embraced.
Paul Hensler <route6a@comcast.net> received his Master's degree in History from Trinity College in Hartford, Connecticut, and is a member of SABR as well as the Phi Alpha Theta National History Honor Society. A contributor to several SABR publications and NINE: A Journal of Baseball History and Culture, Paul will have his second book, The New Boys of Summer: Baseball's Radical Transformation of the Late Sixties, published by Rowman & Littlefield in late 2017. For more information, please visit www.paulhensler.com.
12:00 -12:25 p.m. (Ballroom I)
RP26: Happy Felton
Rob Edelman
Happy Felton, an all-around entertainer of a long-gone era, aggressively and successfully marketed his skills as a dance-band leader, musician, master of ceremonies, actor, comedian, and radio-stage-vaudeville performer for two decades beginning in the late 1920s. Then in television's infancy, he won fame as the creator and host of Happy Felton's Knothole (or, Knot-Hole) Gang, a kiddie-oriented television program broadcast live from Ebbets Field, that is as much a part of the Golden Age of post-war Brooklyn — and the era's Dem Bums nostalgia — as Jackie and Pee Wee, Newk and Gil and Hilda Chester. Happy Felton's Knothole Gang premiered on WOR-TV on April 21, 1950 — and was an immediate hit. Its focus was on its intended viewers: young Brooklyn Dodgers fans and sandlot ballplayers who were intent on improving their athletic skills. Edmonds discusses one particular episode in which the boys meet and are tutored by none other than Jackie Robinson.
Rob Edelman's <robre25@yahoo.com> books include Great Baseball Films, Baseball on the Web, and (with Audrey Kupferberg) Meet the Mertzes and Matthau: A Life. He often contributes to Base Ball: A Journal of the Early Game, offers film commentary on WAMC Northeast Public Radio, and is a Contributing Editor of Leonard Maltin's Movie Guide. His byline appears in dozens of publications (from Total Baseball to NINE: A Journal of Baseball History and Culture) and on the DVD Reel Baseball; he is interviewed on the director's cut DVD of The Natural and teaches film courses at the University at Albany. He currently is coediting (with Bill Nowlin) a book on baseball players and the arts.
12:30-12:55 p.m. (Empire State Ballroom)
RP27: Bedsheet Bedlam: Chronicling New York Mets history through the team's Banner Day tradition
Dirk Lammers
The expansion 1962 New York Mets provided little to cheer about, leaving followers to find inventive ways to pass time at the Polo Grounds. Some fans turned to expressing themselves by hand painting bedsheets and cardboard signs and waving them in stands. Mets president George Weiss, a stoic chap who led the New York Yankees to seven world titles in 13 seasons before being cast off in 1960, felt a ballpark was no place for such tomfoolery. Mets manager Casey Stengel, a fellow Yankees castoff forced to survive an infamous 40-120 season in 1962 on only his sense of humor, took a more laissez faire approach to the "placards." "If a banner got in your way, you didn't mind missing a play, because it was something bad anyway," Stengel quipped. Mets management found a compromise by creating Banner Day, an annual Sunday doubleheader in which fans would get to parade their messages on the field between games to compete for prizes. Lammers gives a multimedia-rich presentation that chronicles this tradition that ran from 1963 through 1996. The tradition died out when ball clubs stopped scheduling doubleheaders, forcing the parades into a pre-game time slot, removing the audience from the mix. Banner Day made a brief comeback in the name of nostalgia from 2012-2015, but few fans were motivated to march with signs to empty Citi Field stands.
Dirk Lammers <dirkl@lammers.net> is the author of Baseball's No-Hit Wonders: More Than a Century of Pitching's Greatest Feats, published by Unbridled Books in March 2016. He also contributed a biography of the Oakland Athletics' Dallas Braden and a Games Project story on Braden's 2010 perfecto for SABR's upcoming no-hitters book. Lammers is an award-winning journalist, formerly with the The Associated Press, and blogs at NoNoHitters.com.
12:30-12:55 p.m. (Ballroom I)
RP28: "Take Me Out to the Ball Game": The Story of Katie Casey, Suffrage, and Our National Pastime
George Boziwick
"Katie Casey was base ball mad, Had the fever and had it bad; Just to root for the home town crew, ev'ry sou Katie blew. On a Saturday, her young beau called to see if she'd like to go, To see a show but Miss Kate said 'no, I'll tell you what you can do …' "Take Me Out to the Ball Game" was Katie Casey's answer — a refrain that would be echoed by generations of baseball fans, most of them unaware of the significance of the rarely heard opening verse. As the "new woman" emerged into the arena of equal rights in the early 1900's, the support across class and gender lines that guaranteed the success of the women's movement was the same formula that allowed "Take Me Out to the Ball Game" to endorse and disseminate the inclusive message that a woman could and should be seen and heard at the ball park. Boziwick links the song with suffrage and women in the public sphere, noting that the song's broader message of inclusion and empowerment lies hidden in plain sight in the song's long forgotten verses that are rarely performed. Boziwick also finally answers the question, why do we sing "Take Me Out to the Ball Game" when we are already at the game?
George Boziwick <gboziwick@gmail.com> is Chief of the Music Division of The New York Public Library for the Performing Arts. In 2008 George curated a Library exhibit on "Take Me Out to the Ball Game." In 2012, his article '"Take Me Out to the Ball Game:' The Story of Katie Casey and Our National Pastime,'" was published by MLB Historian John Thorn in Base Ball: A Journal of the Early Game. George is co-founder with Trudy Williams of The Red Skies Music Ensemble which has presented research based programs on a variety of subjects including "Take Me Out to the Ball Game."
3:15-3:40 p.m. (Empire State Ballroom)
RP29: Ejection Diaries: John McGraw Battles the National League's Umpires and Executives
Daniel Levitt
John McGraw was one baseball's greatest managers and one of New York's most celebrated figures. He could be charming and generous. Alternatively, he often found himself in the middle of physical confrontations and bitter controversies, frequently from his abuse of the umpires. The details of many of McGraw's clashes with the umpires can now be unearthed in the massive Garry Herrmann collection at the Baseball Hall of Fame, only relatively recently organized and processed for researchers to use. Levitt combed these reports to find the umpires' descriptions in their own words of their confrontations with McGraw and their consequences. These include first-hand accounts of incidents from Bill Klem and Bill Byron. Levitt sheds new light on McGraw's complex personality and Deadball Era baseball.
Dan Levitt <danrl@attglobal.net> is the author of several baseball books and numerous essays. He is a longtime SABR member and a recipient of the Bob Davids Award and the Henry Chadwick Award. His books have won the Larry Ritter Book Award, the Sporting News-SABR Baseball Research Award, and have twice been finalists for the Seymour Medal.
3:15-3:40 p.m. (Ballroom I)
RP30: Changing Trends in Baseball Salary Arbitration
Ed Edmonds
During the past five years, there have been changing trends involving baseball salary arbitration. Edmonds tracks the resolution of exchanged figures cases between teams and players dividing them into four categories: multiyear deals and settlements at, above, and below the midpoint. From 2010-2013, the largest number of settlements in each of the four categories was below the midpoint, matching the historical resolution of exchanged figures cases over two decades. From 2014-2017, the results shifted dramatically. In all four years the largest number of settlements each year was above the midpoint. Edmonds explores the reasons for these changes, including the new "file-and-trial" strategies and the expanded use of advanced metrics. Edmonds leverages records from all 541 hearings conducted since 1974, and discusses the availability of repositories of this data.
Ed Edmonds <ebedmonds@comcast.net > is Professor Emeritus of Law at the Notre Dame Law School. He served as the law library director at William & Mary, St. Thomas (MN), and Notre Dame. He has taught sports law for 30 years. He is the co-author with Frank Houdek of Baseball Meets the Law, published in 2017. He has written numerous articles on labor and antitrust issues involving baseball as well as salary arbitration. He is a frequent speaker at the Nine Spring Training Conference and the Cooperstown Symposium.
3:45-4:10 p.m. (Empire State Ballroom)
RP31: 1969: A Baseball Centennial
Mark Armour
In 1968 baseball suffered through a difficult season. Marked by its lowest offensive totals in decades and terrible attendance, there were national stories about how baseball was rudderless, terribly dull and lagging behind football in the hearts of the nation. For the nation, it was a year of assassinations, rioting, and war, and a joyless presidential election. What baseball needed, what the country needed, was a miracle. The core of Armour's talk is a description of the mid-summer centennial celebrations, including a new logo, still in use, worn on the sleeves of every major league team; a postage stamp – 6 cents; a record album of all-time radio highlights, narrated by James Stewart; and a three-day celebration at the All-Star break in July. He will discuss the effects of rules changes on the offense of the game and the cute little story of the early season Mets that became serious in August and took over the sports pages in September. If baseball needed a miracle, this was it. The longest of longshots, in the country's biggest city, put on a pennant run for the ages, and ended up beating one of history's greatest teams in the World Series. He interweaves the story of Apollo 11 (which was making history at exactly the same time the country was celebrating baseball), and compares Richard Nixon and Bowie Kuhn, both new at their jobs, both taking over struggling entities, and both aided immensely by the dual miracles taking place on their watch.
Mark Armour < markarmour04@gmail.com> was the founder and longtime director of SABR's Biography Project, and now serves as Co-Chair of SABR's Baseball Card Committee.
3:45-4:10 p.m. (Ballroom I)
RP32: Getting to the Money in Moneyball: Better Understanding Revenue per Win Across Different Baseball Market
James Goldstein and Paul Sauer
In his book, Diamond Dollars: The Economics of Winning in Baseball, Vince Gennaro (2007) examines the relationship between the number of games that a team wins and the amount of revenue that it earns. Goldstein and Sauer expand on and further demonstrate Gennaro's conclusions, examining differences in revenue earned per win across four market sizes. Their key findings are that, before revenue sharing, larger market teams were far less dependent on wins to generate revenue than small market teams. After revenue sharing, the dependency of small market teams on wins to generate revenue dropped dramatically. A better understanding of the revenue earned per win can assist management in budgetary decision-making. Goldstein and Sauer's results provide a valuable stepping stone to researchers exploring concepts such as "dollar cost per WAR" by providing insight into the revenue side of the marginal WAR puzzle. Their results also provide insight into the effects of revenue sharing per market size over time.
James Goldstein <goldste3@canisius.edu> grew up in Syracuse, New York, where he spent his formative years cheering on the AAA Syracuse Chiefs and parent club Toronto. After graduating from Binghamton University, Jim relocated to the New York City area, where he spent many evenings after work decompressing at old Yankee Stadium. His research publications center on risk management and performance measurement. This is his first formal foray into baseball economics. On a sunny day, he can be found on the third base line of Coca-Cola Field, home to the AAA Buffalo Bisons.
A specialist in marketing research and marketing communications, Paul Sauer <sauer@canisius.edu> has served as a consultant to a variety of businesses and non-profit organizations to improve their ability to understand customer needs. He is a business professor at Canisius College, a private Jesuit school in Buffalo, New York, and is the author or co-author of over 50 articles and papers that have been presented at conferences around the world and published in textbooks and academic journals. His research spans the spectrum of marketing issues. A lifelong sports fan, Paul is excited to be presenting at SABR.
For more information on SABR 47, visit SABR.org/convention.