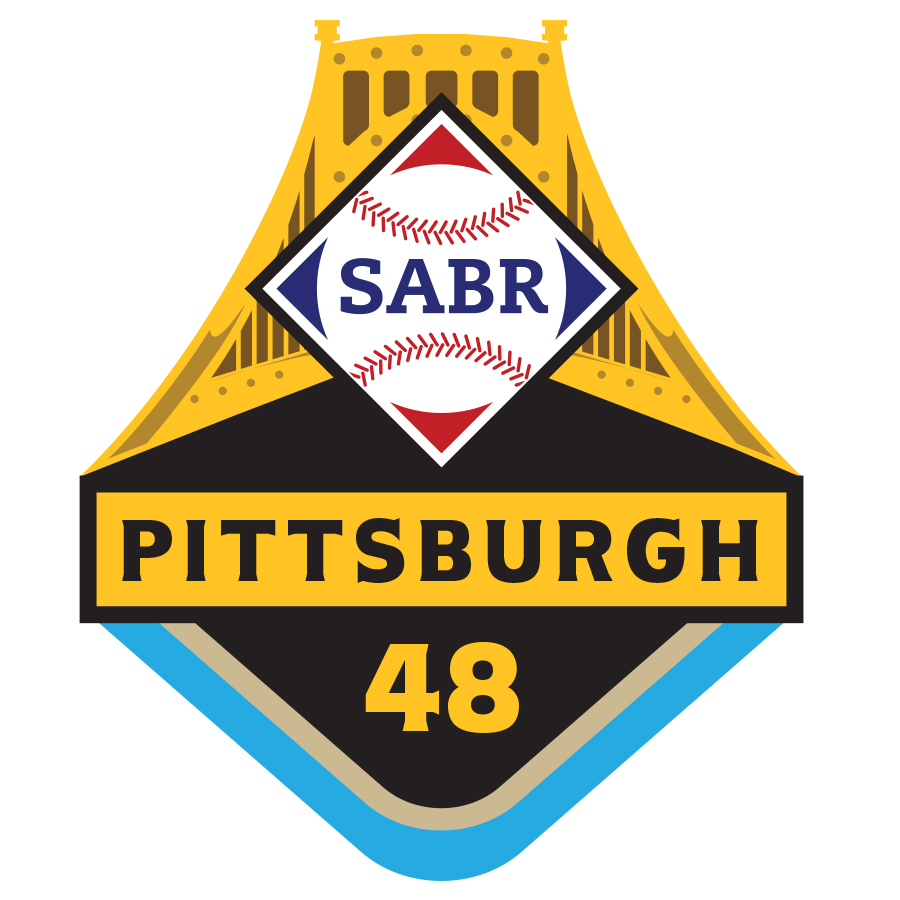 Here are our featured speakers and panelists for the SABR 48 national convention, which was held June 20-24, 2018, at the Wyndham Grand Downtown Pittsburgh.
Click on a link below to listen to highlights and view photos from each session.
Opening Remarks: Frank Coonelly
9:30-10:30 a.m., Thursday, June 21
Frank Coonelly is President of the Pittsburgh Pirates, where he is responsible for day-to-day operations of the team. Prior to joining the Pirates in 2007, he served for nearly a decade in the Commissioner's Office as Senior Vice President and General Counsel of Labor. He previously practiced labor and employment law as a partner with Morgan, Lewis & Bockius. He graduated with high distinction from Penn State University and earned his JD from Catholic University Law School in Washington, DC.
The Great One: The Life and Legacy of Roberto Clemente
10:30-11:30 a.m., Thursday, June 21
Duane Rieder is the Executive Director and Curator of the Roberto Clemente Museum in Pittsburgh. An accomplished photographer, Duane has meticulously renovated Engine House 25 in the Lawrenceville section of Pittsburgh to showcase the world's largest exhibited collection of baseball artifacts, works of art, literature, photographs, memorabilia, and related materials which focus on Roberto Clemente, his teammates, his personal life, and his humanitarian causes. Duane is also currently working on a personal project documenting Major League Baseball. His baseball book is a very rare and intimate glimpse into the world of the big leagues, with personal portraits of Mark McGwire, Alex Rodriguez, Vladimir Guerrero, Greg Maddux, Ozzie Smith, and others.
Danny Torres is a writer for LatinoSports.com and LaVidaBaseball.com. Since 2010, Danny has been a contributing writer to the National Baseball Hall of Fame's official magazine, Memories and Dreams. His work has also appeared at MLB.com and in Mets Magazine. In 2011, Danny participated in a panel discussion that coincided with the Smithsonian Institution's traveling exhibition, Beyond Baseball, The Life of Roberto Clemente. He was featured in a 2012 series on the legacy of Roberto Clemente for El Diario/La Prensa. In 2017, Danny was invited to introduce the ESPN short film, One More Game For You, Mom, during the National Baseball Hall of Fame Film Festival. A lifelong Mets fan and a proud native of the Bronx, Danny is a high school teacher and can be reached on Twitter at @DannyT21.
Moderator: Adrian Burgos Jr. is the Editor-in-Chief of La Vida Baseball, a digital platform on Latinos and baseball in partnership with the National Baseball Hall of Fame. A Professor of History at the University of Illinois, he specializes in US Latino history, sport history, and urban history. He is the author of Cuban Star: How One Negro League Owner Changed the Face of Baseball (2011) and Playing America's Game: Baseball, Latinos, and the Color Line (2007), which won the Latina/o Book Award from the Latin American Studies Association and was a SABR Seymour Medal finalist. Adrian was the subject of a 2016 Big Ten Network documentary Playing America's Game, and he has appeared on ESPN, MLB Network, and NPR, as well as national and local programs talking about Latinos in baseball, Negro League baseball, and race and sports, among other topics. He has consulted on the National Baseball Hall of Fame's Viva Baseball exhibit, Smithsonian's Latinos and Baseball: From the Barrios to the Big Leagues exhibit, and on numerous documentaries, including Bernardo Ruiz's Roberto Clemente and Ken Burns' The Tenth Inning and Jackie Robinson.
Wendell Smith of the Pittsburgh Courier: His Life and Legacy
3:00-4:00 p.m., Thursday, June 21
Chris Lamb, a professor of journalism at Indiana University-Indianapolis, is the author of nine books, including four on race, sports, and the media, including Conspiracy of Silence: Sportswriters and the Campaign to End Segregated Baseball. His next book is a history of sports journalism, which will be published by Northwestern University Press in early 2019.
Larry Lester is chair of SABR's Negro Leagues Research Committee and CEO/President of NoirTech Research, which provides sports scholarship to the news media, professional sports teams, educational institutions, and museums. Lester is the author/co-author of nine baseball books, and research contributor to more than 180 books on sports history. He chairs the annual SABR Jerry Malloy Negro League Conference.
Pamela E. Walck, a professor in the media department at Duquesne University, has authored and presented numerous journalism history conference papers examining the role of the black press in America, with a particular focus on how the media reported race and race relations during World War II. A 16-year veteran of the newsroom, she is currently working on a book about the Pittsburgh Courier.
David K. Wiggins is a professor at George Mason University. Primarily interested in studying the interconnection among race, sport, and American culture, he has published many articles and books on the topic over a nearly 40 year academic career. His next book, scheduled to be published by Rowman & Littlefield in August 2018, is titled More than a Game: A History of the African American Experience in Sport. He is also president-elect of the North American Society for Sport History.
Media Panel
9:15-10:15 a.m., Friday, June 22
Greg Brown is in his 25th season as the Pittsburgh Pirates' play-by-play announcer. A lifelong Pirates fan who began his association with the team as an intern in the promotions department in 1979, he held numerous positions in the front office, including as the public-address announcer in 1987, before moving into broadcasting. After spending five years as the play-by-play announcer for the Pirates' AAA affiliate in Buffalo, he got the call to the big leagues in 1994. He is best known for his catchphrase, "Raise the Jolly Roger," after every Pirates victory. 
Steve Blass is in his 33rd season as a color commentator for the Pittsburgh Pirates and his 59th year of involvement in the organization. He pitched for 10 seasons in the major leagues, winning 103 games and recording two complete-game victories in the 1971 World Series. In 1983, he joined the Pirates' broadcast booth and has been an analyst on radio and TV ever since. He released an autobiography in 2012 called A Pirate for Life with co-author Erik Sherman. 
Lanny Frattare spent a team-record 33 years as the Pittsburgh Pirates' play-by-play announcer, calling more than 5,000 Bucs games before retiring in 2008, when he was a finalist for the Baseball Hall of Fame's Ford C. Frick Award for baseball broadcasting excellence. He joined the Pirates' broadcast crew in 1976 and became a beloved figure for two generations of fans in Pittsburgh, calling two Pirates no-hitters, the 1979 World Series championship, and the first game at PNC Park.  
Joe Block is in his third season as the Pittsburgh Pirates play-by-play broadcaster. He spent four seasons working alongside Bob Uecker with the Milwaukee Brewers. He previously served as a studio host for the Los Angeles Dodgers postgame show on KABC radio and the NBA's New Orleans Hornets. He is a graduate of Michigan State University.
Moderator: Curt Smith is a longtime SABR member and prolific author whose most recent books include The Presidents and the Pastime: The History of Baseball & the White House (2018); A Talk in the Park: Nine Decades of Baseball Tales from the Broadcast Booth (2011), and Pull Up a Chair: The Vin Scully Story (2010). He also has contributed to SABR publications with biographies on broadcasters Russ Hodges, Dick Stockton, Ken Coleman, and others. Outside of baseball, he is a GateHouse Media columnist, award-winning radio commentator, and senior lecturer of English at the University of Rochester. He also has hosted Smithsonian Institution, SiriusXM Radio, and National Baseball Hall of Fame and Museum series, written ESPN's "Voices of the Game" documentary series, and written more speeches than anyone for former President George H.W. Bush.
SABR 48 ballpark session
2:30-4:30 p.m., Friday, June 22
PNC Park
(Please note: SABR 48 convention registration and a Pirates game ticket will be required for early entry into PNC Park.)

Clint Hurdle is in his eighth season as the manager of the Pittsburgh Pirates. He led the Pirates to three consecutive postseason berths in 2013-15, ending the franchise's 21-year absence from the postseason. In 2013, he earned National League Manager of the Year honors in leading the Pirates to 94 wins and the NL Division Series. He also spent eight seasons managing the Colorado Rockies from 2002-09, leading the Rockies to their only NL pennant in 2007. Hurdle was a first-round draft choice by the Kansas City Royals in 1975 and was featured on the cover of Sports Illustrated in 1978 as a "can't-miss" prospect. He played for parts of 10 seasons in the major leagues from 1977-87 before moving into the coaching ranks.
Neal Huntington is in his 11th season as Executive Vice President and General Manager of the Pittsburgh Pirates. He is the second-longest tenured GM in team history behind Joe L. Brown and he helped lead the Pirates to the postseason for three consecutive seasons in 2013-15. Baseball America named the Pirates the 2015 Organization of the Year. Previously, Neal worked for 16 seasons in the front offices of the Montreal Expos and Cleveland Indians. He played college baseball at Amherst College before receiving a master's degree in sports management from the University of Massachusetts-Amherst.
Dan Fox is the Senior Director of Baseball Informatics for the Pittsburgh Pirates. He is in his 11th season with the Pirates and he is responsible for the architecture, development, and dissemination of information systems and predictive analytics within the baseball operations department. Previously, he worked as a computer programmer and wrote for Baseball Prospectus and The Hardball Times. He earned a bachelor's degree in computer science from Iowa State University.
Joe Block is in his third season as the Pittsburgh Pirates play-by-play broadcaster. He spent four seasons working alongside Bob Uecker with the Milwaukee Brewers. He previously served as a studio host for the Los Angeles Dodgers postgame show on KABC radio and the NBA's New Orleans Hornets. He is a graduate of Michigan State University.
Thomas E. Kennedy was the project executive for the Sports & Exhibition Authority of Pittsburgh and Allegheny County, overseeing the public interest in the construction of PNC Park and Heinz Field. He has also served as the Director of Capital Projects at the University of Pittsburgh Medical Center.
Pirates Player Panel
9:15-10:15 a.m., Saturday, June 23
John Candelaria spent 19 seasons as a pitcher in the major leagues, winning 177 games and helping the Pittsburgh Pirates capture the 1979 World Series championship. A fan favorite in Pittsburgh known as the "Candy Man," he threw a no-hitter at Three Rivers Stadium in 1976, made the National League All-Star team with a league-leading 2.34 ERA in 1977, and pitched six shutout innings in Game Six of the 1979 World Series to help the Pirates rally from a 3-1 deficit and defeat the Baltimore Orioles. He later pitched for the California Angels, New York Yankees, Los Angeles Dodgers, and four other teams, retiring in 1993. He now lives in North Carolina.
Grant Jackson was a valuable reliever for three pennant-winning clubs during his 18 seasons in the major leagues. He made four scoreless appearances in the 1979 World Series, helping the Pittsburgh Pirates win their most recent championship, and also pitched for the Baltimore Orioles in the 1971 fall classic and the New York Yankees in 1976. He debuted with the Philadelphia Phillies in 1965 and made the NL All-Star team in 1969. He also coached in the Pirates, Orioles, Cubs, and Reds organizations until his retirement in 2002.
Moderator: Joe Block is in his third season as the Pittsburgh Pirates play-by-play broadcaster. He spent four seasons working alongside Bob Uecker with the Milwaukee Brewers. He previously served as a studio host for the Los Angeles Dodgers postgame show on KABC radio and the NBA's New Orleans Hornets. He is a graduate of Michigan State University.
Branch Rickey: The Pittsburgh Pirates Years
1:00-2:00 p.m., Saturday, June 23
Frank Thomas played for 16 seasons with the Pittsburgh Pirates and six other teams during the 1950s and '60s. After growing up in the shadow of Forbes Field, he made his major-league debut with the Pirates in 1951 and was named to the National League All-Star team three times. As Bob Hurte wrote in his SABR biography, Thomas's "negotiations with Branch Rickey became legendary around the Steel City. ... Much of his career was spent bickering with management over his worth to them." He finished with 1,671 hits and 286 home runs. In retirement, he has been an active member of the Pittsburgh Pirates' Alumni Association and has participated in a number of fantasy baseball camps.  
Jeffrey Flannery is the Head of the Reference and Reader Services Section in the Manuscript Division of the Library of Congress, where he has worked since 1985. Prior to his current role, he worked in the Inquiry Section of the Library's Congressional Research Service and served as a senior manuscript reference librarian. A graduate of Temple University, he also earned a master's degree in history from Duquesne University and an MLS from the University of Pittsburgh.
Jack Bowen, son of Rex Bowen, legendary scout for Branch Rickey's teams with the St. Louis Cardinals, Brooklyn Dodgers, and Pittsburgh Pirates; Baseball America named Rex as one of the top 10 scouts of the 20th century. Jack's son, also named Jack, has been a baseball scout for more than three decades and is currently a national crosschecker for the Pittsburgh Pirates.
Moderator: Lee Lowenfish is the author of Branch Rickey: Baseball's Ferocious Gentleman, which won SABR's Seymour Medal in 2008. His first book, The Imperfect Diamond: A History of Baseball's Labor Wars, is now in its third edition and is a pioneering work of baseball labor history. He has contributed many articles to SABR journals and he also teaches sport history in Columbia University's graduate sports management program. His work has appeared in the New York Times, the New York Daily News, the NINE journal, and many other publications.
For more coverage of SABR 48, visit SABR.org/convention.