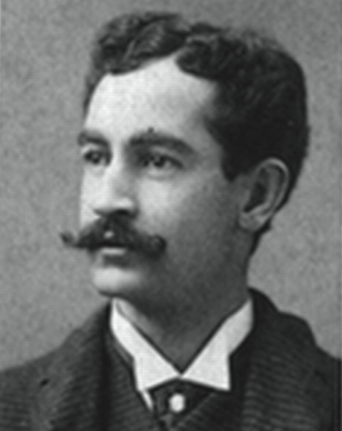 April 20, 1886: The triumphant return of Tony Mullane
---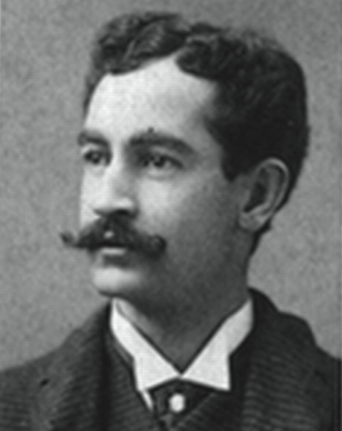 On the afternoon of April 20, 1886, some 3,500 fans gathered in Eclipse Park to see if the homestanding Louisville Colonels could capture a third straight victory in the season-opening series against the visiting Cincinnati Reds. Hometown hopes were pinned on promising youngster Tom "Toad" Ramsey, a left-handed fireballer with a "puzzling drop curve."1 But in reality, all eyes were focused on his opposite number: Cincinnati ace Tony Mullane, making his first pitching start after sitting out a one-year suspension.2
Talented but high-strung and often a handful for the game's establishment, Mullane had entered American Association ranks with a rush, winning 30 games for Louisville in 1882. The right-hander3 switched ballclubs annually thereafter but he remained highly productive, winning 30-plus games for St. Louis (1883) and Toledo (1884). Mullane's reneging on an agreement to return to St. Louis for the 1885 season, however, antagonized the wrong man, powerful Browns club boss Chris Von der Ahe.4 Ultimately, the vindictive and strong-willed Von der Ahe saw to it that a one-year suspension and a $1,000 fine were imposed on Mullane for his transgression. So when Mullane took the ball against Louisville that April afternoon, he had not pitched a game in Organized Baseball for almost 18 months, and many wondered whether the handsome "Apollo of the Box" still had his stuff. Mullane soon settled that question, decisively.
After a scoreless first inning, Cincinnati broke the seal to take a 1-0 lead in the second via a walk, a single by Reds catcher Pop Snyder, and a run-scoring passed ball by Louisville backstop John Kerins. In the third, the hard-throwing Ramsey ensured that no further damage was done by his defense by striking out the side. But the Reds struck for two more runs in the fourth, with Ramsey again victimized by shoddy Louisville defensive work. A double by Frank Fennelly, a groundball error by Colonels third baseman Joe Werrick, singles by Pop Corkhill and Snyder, and another Kerins passed ball extended the Reds' lead to 3-0.
Cincinnati broke the game open in the fifth when Ramsey was further injured by his defense. With two on and two out, a muffed fly ball by Colonels center fielder Pete Browning plated both Reds baserunners. A double by Corkhill then stretched the Cincinnati advantage to 6-0. In the bottom of the frame, Mullane returned the favor, his own throwing error prolonging Louisville at-bats long enough for Ramsey to smash a two-run double and bring the home side a bit closer, now down 6-2.
After the clubs traded goose eggs for two innings, Cincinnati clinched the game with a three-run eighth-inning rally that featured three more Louisville fielding miscues and a two-run double by the Reds' Long John Reilly. From there, Mullane cruised to the finish line, setting the Colonels down in order over the last two innings to close out a 9-2 Cincinnati victory.
Although Tom Ramsey had been touched for 13 base hits, he had acquitted himself decently, striking out seven Reds batsmen and allowing only two earned runs. Eight Louisville fielding errors and three passed balls by Kerins had been his undoing. Still, the Colonels' defensive ineptitude had not really spelled the difference in the game's outcome. The deciding factor had been the pitching of Tony Mullane. Showing little effect from his long pitching layoff, the Reds ace had been superb — aside from his fielding. Had it not been for Mullane's own fifth-inning throwing error, Louisville would have been blanked. Spacing four hits and three walks, Tony had been in control the entire way, striking out four and holding Louisville totally at bay but for the error-prolonged fifth inning.
Mullane's triumphant return to the box was a precursor of things to come, as he would go on to a 33-win season in 1886 and register his fifth consecutive 30-plus-victory season the following year. Before his 13-season major-league career was over, Mullane would compile 284 wins, and today he is considered by many nineteenth-century baseball aficionados to be Cooperstown-worthy. Mullane's attaining that honor seems unlikely, but his Hall of Fame case is an arguable one.5 In any event, on April 20, 1886, Tony Mullane put to rest any misgivings about the effects that his year-long suspension might have upon his pitching talents, returning to the game in triumph.
Sources
The above is primarily based on next-day game accounts published in the Cincinnati Enquirer and Louisville Courier-Journal, April 21, 1886. The writer is indebted to Nineteenth Century Research Committee colleague Alan Cohen for providing him with this reportage.
There are differences in the next-day game box scores published in the Courier-Journal and the Enquirer. Because their differing stats cannot both be correct, discrepancies have been resolved in favor of the Courier-Journal because its box score is supported by a detailed and credible inning-by-inning account of game action. The box score of the Cincinnati Enquirer is accompanied by a hyperbolic special dispatch of unknown etiology that does not provide specific game details or otherwise impress the writer as factually reliable.
Notes
1 The description of Ramsey's out-pitch in "Another Exploded Phenom," Cincinnati Enquirer, April 21, 1886: 2.
2 Three days earlier, Mullane had returned to the game in the Cincinnati outfield.
3 Because the athletically gifted Mullane threw the odd major-league game left-handed, modern baseball references often list him as pitching ambidextrously. For more on Tony Mullane, see his BioProject profile by Ray Birch.
4 With the financially failing Toledo club headed for dissolution, Mullane had signed a contract for the 1885 season with the American Association Cincinnati Reds. But this violated a previous agreement that Mullane had entered to pitch for St. Louis in 1885.
5 In 2015 Tony Mullane was the Nineteenth Century Research Committee's selection as Overlooked Legend worthy of Hall of Fame consideration.
Additional Stats
Cincinnati Reds 9
Louisville Colonels 2
---
Eclipse Park
Louisville, KY
Corrections? Additions?
If you can help us improve this game story, contact us.
Tags
https://sabr.org/sites/default/files/images/Mullane-Tony.png
600
800
sabr
/wp-content/uploads/2020/02/sabr_logo.png
sabr
2020-08-06 01:36:00
2020-08-06 01:37:04
April 20, 1886: The triumphant return of Tony Mullane