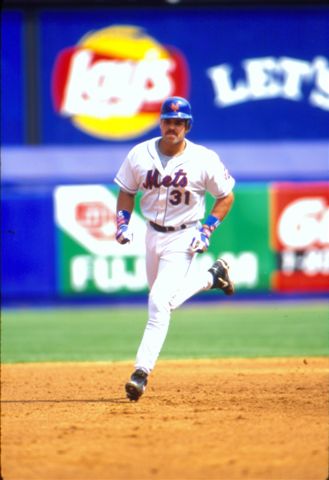 April 28, 1999: Mike Piazza homers in ninth to win it for Mets
---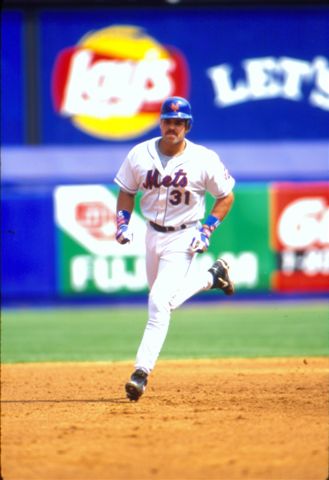 The Mets were on a three-game losing streak and had fallen behind the Atlanta Braves for the early lead in the National League East. They needed a win to avoid falling further behind the Braves. The San Diego Padres arrived in town with an 8-10 record. They beat the Mets on the previous night to avoid ending up in the National League West cellar.
Al Leiter started for the Mets. Leiter entered the game with a 1-2 record and was hoping to get back on track after a slow start to the season. Sterling Hitchcock was the Padres' starter. He also struggled in April, arriving in New York with a 1-1 record and a loss in his previous appearance.
The Padres jumped out to the lead in the first inning. Leiter walked Tony Gwynn. Gwynn scored when Phil Nevin hit a double to deep center field. The Mets tied the game in the bottom of the first when John Olerud hit a solo blast over the right-field fence.
The Mets scored again in the fourth. Olerud led off with a single, his second hit of the night. He was out when Mike Piazza hit a groundball to third baseman Dave Magadan, who threw to second for the force. Piazza took second when Hitchcock threw a wild pitch. After Hitchcock walked Robin Ventura, Piazza scored when Edgardo Alfonzo hit a line drive down the third-base line for a double. Hitchcock then walked Mike Kinkade to load the bases. He was able to get out of the inning when Rey Ordonez grounded into a double play, leaving the Mets with a 2-1 lead.
Leiter settled down and allowed only three hits over the next six innings. When he left the game in the middle of the seventh, it looked as though he was back on track. In his previous two outings, he had allowed only two runs in 13⅓ innings.
Although the Mets had the lead, they could not add to it even though Hitchcock gave them several opportunities. When Ricky Henderson hit a groundball down the first-base line in the fifth, Hitchcock bobbled the ball as he tried to throw to first. (The scorer gave Henderson a hit.) Henderson then stole second and Hitchcock walked Jermaine Allensworth. But Hitchcock recovered and got Olerud to line out to left and Piazza to pop to first on the first pitch as the Mets left two men on base.
In the sixth, Hitchcock gave up consecutive singles to Alfonzo and Kinkade, then walked Ordonez to load the bases with one out. Hitchcock knuckled down and struck out Leiter, then got Henderson to pop out on the first pitch to get out of the jam. "We were frustrated offensively," Piazza said later as he expressed the Mets frustrations. "We were unable to get the big hit. It's been like that the last three games. Everybody was pressing and taking bad swings and unfortunately we weren't executing."1
When Armando Benitez relieved Leiter to start the eighth, Leiter may have been hopeful that he would get another win. Benitez had not allowed a run in April. He entered the game with a 0.00 ERA and 15 strikeouts in nine appearances.
But Benitez struggled from the start. He walked Quilvio Veras, who stole second base. After striking out Reggie Sanders, Benitez gave up consecutive doubles to Gwynn and Nevin. Gwynn's double, the 500th of his career, tied the game. After Nevin's double scored Gwynn, the Padres led, 3-2. Benitez continued to struggle. He intentionally walked Wally Joyner to set up a possible double play. Benitez finally settled down. First he got Dave Magadan to hit a short pop fly to the right side of the infield. Then he struck out Ruben Rivera to end the inning.
The Mets had another opportunity in the bottom of the eighth but once again, they couldn't score. Left-hander Ed Vosberg was on the mound for the Padres. He gave up a single to pinch-hitter Todd Pratt. After getting pinch-hitter Luis Lopez to fly out to left field, the Padres called in righty Dan Miceli. He walked Henderson to put Pratt in scoring position but managed to get out of the inning when he struck out pinch-hitter Brian McRae.
After Turk Wendell got the Padres out in order in the top of the ninth, the Mets came to bat with the game on the line. San Diego called on its closer, Trevor Hoffman, to shut down the Mets. He entered the game with three saves in seven appearances in April.
The first batter Hoffman faced, Olerud hit a one-hopper toward rookie shortstop Damian Jackson. Jackson tried to make a backhand stab, matador style, instead of playing it safe and getting in front of the ball. When he couldn't handle the ball, Olerud ended up on first.
Piazza stepped to the plate. He had gone 0-for-4 so far. Hoffman's first pitch was a fastball and Piazza drilled the ball into the Mets' bullpen.
Piazza said he knew he would have to be aggressive against Hoffman. "I decided I wasn't going to let him get me in a hole. He's got a lot of options and he's got that great changeup. He just gave me a pitch that I liked and I did what I could with it," said Piazza.2
"It's a great feeling. You go deaf from the crowd. And to see your teammates like that, it's a thrill," Piazza said.3 He had been struggling. The previous night he had come up with seven runners on base and failed to get any home. "I might have been trying too hard," he said after that game.4
Hoffman told reporters that "[I threw] a ball that Mike could hit out of any park in America, including Yosemite."5 The Mets' win ended a Padres streak. They had won 181 games when they were leading after eight innings. When reporters told Hoffman about the streak, he said "That's not worth a hill of beans tonight. You're only as good as your last outing."6
This was the second walk-off home run Piazza had hit off Hoffman. He hit his first when he was playing for the Dodgers in 1995. That home run was a three-run blast to give the Dodgers an 8-5 win.
Leiter was watching from the clubhouse when Piazza homered. "It sounds like the bat shatters when he hits it so hard," he said.7 Benitez was doing his postgame work in the weight room and trying to forget his blown save. "I came in, looked for that guy right here," he said later as he pointed to Piazza. "and I said, 'Thank you!'"8
"I'll take a win any way possible," Mets manager Bobby Valentine said. "But that one was kind of fun."9
Sources
In addition to the sources cited in the Notes, the author used Baseball-Reference.com and Retrosheet.org, for box score, player, team, and season information as well as pitching and batting game logs, and other pertinent material.
baseball-reference.com/boxes/NYN/NYN199904280.shtml.
retrosheet.org/boxesetc/1999/B04280NYN1999.htm.
Notes
1 "Piazza's Home Run Stuns Padres," CBSNews.com, April 28, 1999.
2 Ibid.
3 Jason Diamos, "Piazza Produces Last-Inning Lightning," New York Times, April 29, 1999.
4 Mark Hermann, "It's Piazza Time / Home Run Lifts Mets in the Ninth," Newsday, April 28, 1999.
5 Ibid.
6 Ibid.
7 Diamos.
8 Hermann.
9 Diamos.
Additional Stats
New York Mets 4
San Diego Padres 3
---
Shea Stadium
New York, NY
Box Score + PBP:
Corrections? Additions?
If you can help us improve this game story, contact us.
Tags
https://sabr.org/sites/default/files/images/PiazzaMike-195.99_FL_Ponzini.jpg
600
800
admin
/wp-content/uploads/2020/02/sabr_logo.png
admin
2018-05-10 13:54:19
2020-04-17 10:24:47
April 28, 1999: Mike Piazza homers in ninth to win it for Mets