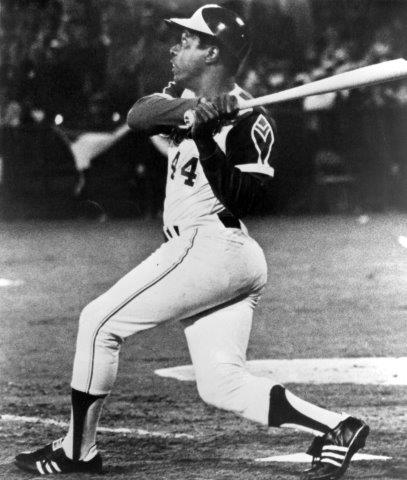 April 8, 1974: Hank Aaron hammers historic 715th home run to break Babe Ruth's record
---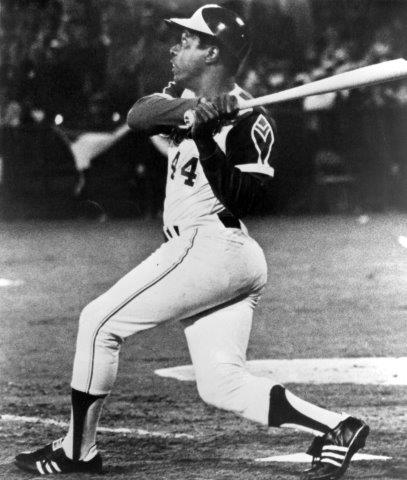 Baseball is a game of inches, but it is also a game of numbers. On April 8, 1974, Number 44 hit Number 715. Every baseball fan in America knew what that meant: Hank Aaron had just surpassed Babe Ruth to claim the career home-run record. The Atlanta Constitution showcased Aaron's feat on its front page, reporting, "Undaunted by the swirl of controversy surrounding his quest for baseball immortality, Hank Aaron became the game's all-time home run king Monday night when he smashed his 715th."1
Number 714 had been hit just four days earlier, on Opening Day in Cincinnati.
A sellout crowd of 53,775 packed Atlanta Stadium for the chance to watch Aaron break what he himself called "the Cadillac of baseball records."2 By all accounts, this was the largest home crowd to see the Braves since the team arrived from Milwaukee. Anticipation was high in this, Atlanta's home opener. Mrs. Herbert Aaron, Hank's mother, bragged to the press, "He does what his momma tells him and I told him to go out there tonight and hit. He's going to hit it tonight."3 The fans, including Governor Jimmy Carter, Mayor Maynard Jackson, and entertainer Sammy Davis Jr., were hoping she was right. They all braved the cold weather and tornado warnings to hear Pearl Bailey sing the National Anthem and to then watch history being made.
Another Number 44, Al Downing, was pitching for the Los Angeles Dodgers. Atlanta countered with Ron Reed.
Leading off the bottom of the second, Aaron never took his bat off his shoulder, walking on five pitches. Dusty Baker stroked a double to left, and when Bill Buckner made a fielding error, Aaron came around to score the game's first run. (Baker was thrown out trying to advance to third base.) This, too, set a record. It was career run number 2,063, breaking Willie Mays' National League record. Aaron eventually scored 2,174 runs, the exact same number as Ruth.
The Dodgers responded in the third by starting with three straight hits: Steve Garvey singled, Bill Russell doubled, and then Downing drove a single into center field, plating Garvey and sending Russell to third. Davey Lopes grounded a ball to third baseman Darrell Evans, who fired home in time to get Russell. After Buckner popped out, Jim Wynn scorched a double to left, good for two more runs. The Dodgers quieted the crowd with their 3-1 lead.
However, the next time up, Aaron was greeted by "a rousing, standing applause that rocked the house."4 Evans reached on an error by shortstop Russell. Aaron took ball one, and then at precisely 9:07 P.M., local time, he swung his bat for the first time in the game, sending the "homer heard round the world"5 out of the park. It was a no-doubter, headed over the fence in left. Braves reliever Tom House jumped up from his seat in the left-field bullpen and "made a dazzling one-handed catch against the auxiliary scoreboard."6 The score was tied, but the home-run record was not.
The first person to shake Aaron's hand was Lopes, the Dodgers' second baseman. Shortstop Russell patted Hank on the back. As the new Home Run King continued his 360-foot trip around the bases into the record books, he was joined by two exuberant fans. And as he neared home plate, his teammates amassed around the dish, waiting to congratulate him. However, it was Aaron's father, 65-year-old Herbert Aaron Sr., who "jumped out of the family's special field-level box and outraced everybody to the man who had broken Babe Ruth's record."7 After hugging his parents and wife, Hank addressed the cheering crowd, saying, "I just thank God it's all over."8 What else was going through Aaron's mind? He confessed after the game, "When I hit it tonight, all I thought about was that I wanted to touch all the bases."9
Hall of Famer Monte Irvin, representing Commissioner Bowie Kuhn, gave Aaron a diamond-studded wristwatch with the number 715 imprinted in gold. The crowd booed loudly, aiming those jeers at the absent Kuhn. After Aaron had tied Ruth's mark in Cincinnati, Braves officials tried to have Aaron sit out for the next two games, wanting to insert the 40-year-old hero back into the lineup when the team returned to Atlanta on Monday, April 8. However, when Aaron did not see action on Saturday, April 6, Kuhn ordered the Braves to play Aaron on Sunday. Aaron was 0-for-3 with two strikeouts. The next night, back in the Braves' home clubhouse, Aaron said, "Let me get this off my chest. I stated last winter and again a few weeks ago that I wanted to hit my 715th home run here. If God hadn't wanted me to hit it here I would have hit it somewhere else."10
Amid the celebration, the Braves' scoreboard flashed the following message, "George Herman Ruth also shares this great moment with all of us tonight — by setting the standard of 714 which made the great chase possible."11 After a "thunderous ovation and special ceremonies of 11 minutes the game was resumed."12
The Braves continued their celebration in the batter's box, at the expense of a rattled Downing. Both Baker and Davey Johnson walked, prompting Walter Alston, LA's manager, to make a pitching change, and Mike Marshall trotted to the mound. Vic Correll hit a grounder to Lopes, who fired across the diamond to third, but , and everybody was safe. Marshall then walked Frank Tepedino, bringing Baker home. There was still nobody out. Reed popped to short and then Ralph Garr lifted a fly to left, driving in Johnson with the Braves' fifth run.
Fans continued their serenade as Aaron trotted out to left field in the top of the fifth. The standing-room-only crowd stuck around for one more at-bat by Aaron. In the bottom of the fifth, he grounded out, third to first, and the spectator exodus began. By the sixth inning, about 20,000 fans had departed.13 They missed the Dodgers tallying a run in the sixth with singles by Willie Crawford and Cey and Reed's wild pitch.
Within a half-hour of the historic homer, 60 congratulatory telegrams had been sent to the ballpark.14 President Richard Nixon telephoned the stadium shortly after the smash. Aaron was in left field when the call came through. Braves manager Eddie Mathews, a longtime teammate of Aaron's, sent word that Hank could take the call between innings, and in the bottom of the sixth, the president and the ballplayer exchanged a dialogue,15 while the Braves continued to put runs on the board. Johnson singled but was forced at second by Correll. Marty Perez singled to right, and Correll sped to third base. Johnny Oates pinch-hit for Reed and hit a routine double-play ball to short, but Lopes dropped the throw at second and everyone was safe. (Correll scored.) Garr laid down a sacrifice bunt, but catcher Ferguson made an error, loading the bases. for the second out as Perez scored. Soon after Aaron finished his phone call, the score was 7-4.
Buzz Capra pitched the final three innings for Atlanta, setting down nine of the 10 batters he faced. He allowed a walk to Buckner but struck out six Dodgers hitters. The Braves had ensured that Aaron's historic feat would be remembered with a victory.
Back in the locker room after the game, doors were initially locked to keep folks out. The champagne that had remained corked in Cincinnati was finally flowing. Atlanta Braves owner Bill Bartholomay, National League President Chub Feeney, and Mathews each offered a toast to Aaron. When the staff finally let reporters in, Aaron told them, "Right now I'm happy that this home run contributed to a win. The win is the most important thing that happened tonight."16 Someone brought up his jersey number, and Hank said, "I asked for a low number at the start of my first spring-training camp, because I'd notice that guys with high numbers usually weren't around too long. But after a while, I figured I'd stay and so I took number 44 at random."17
Downing absorbed the Dodgers' first loss of the season. Only three of Atlanta's runs were earned, as the Dodgers made six errors. Downing admitted that he didn't have good control, but he quickly added that Aaron "is a great hitter and when a great hitter gets his pitch and goes after it, he will generally hit it good."18
On the day Henry Louis Aaron was born in Mobile, Alabama (February 5, 1934), George Herman Ruth (born February 6, 1895) was 39 years old and had already swatted 686 major-league home runs. Aaron humbly told reporters, "Babe Ruth will still be regarded as the greatest home run hitter who ever lived. And I expect someone else to tag me some day."19 Walter Alston praised Aaron with, "This man's bat has spoken well throughout his career. He's been the complete player. But even more than that, he's done it in a gentlemanly way."20
Sources
In addition to the sources mentioned in the notes, the author consulted baseball-reference.com and retrosheet.org.
baseball-reference.com/boxes/ATL/ATL197404080.shtml.
retrosheet.org/boxesetc/1974/B04080ATL1974.htm.
Notes
1 Wayne Minshew, "Aaron Hammers No. 715 And Moves Ahead of Ruth," Atlanta Constitution, April 9, 1974: 1.
2 "Modest Man Alone at the Top," New York Times, April 9, 1974: 50. Hereafter referred to as "Modest Man."
3 Jeff Nesmith, "Yowie! Yowie! Yowie!" Atlanta Constitution, April 9, 1974: 1.
4 Jesse Outlar, "'Hammer' Flips a Page in History," Atlanta Constitution, April 9, 1974: 57.
5 Ibid.
6 Joseph Durso, "Aaron Hits 715th, Passes Babe Ruth," New York Times, April 9, 1974: 1. House ran to home plate and gave the ball to Aaron, disappointing the hundreds of fans in the bleachers hoping to catch the ball, which might have been worth tens of thousands of dollars. Aaron, a spokesman for Magnavox Co., later said that House would receive a free Magnavox television for making the catch.
7 Ibid.
8 Minshew.
9 Durso.
10 Ross Newhan, "No. 715 … It Belongs to Aaron and Nobody Else," Los Angeles Times, April 9, 1974: 41, 44.
11 Ibid.
12 Outlar.
13 "Crowd Thins Out After 715," Atlanta Constitution, April 9, 1974: 62.
14 Ibid.
15 "Aaron Is Congratulated by Nixon After Homer," New York Times, April 9, 1974: 50.
16 Newhan.
17 "Modest Man."
18 Newhan.
19 "Modest Man."
20 Newhan, "No. 715… It Belongs to Aaron and Nobody Else."
Additional Stats
Atlanta Braves 7
Los Angeles Dodgers 4
---
Atlanta Stadium
Atlanta, GA
Box Score + PBP:
Corrections? Additions?
If you can help us improve this game story, contact us.
Tags
https://sabr.org/sites/default/files/AaronHank-715-homer-1565.81-NBL-photo.jpg
600
800
admin
/wp-content/uploads/2020/02/sabr_logo.png
admin
2018-05-29 21:40:16
2021-01-22 10:25:17
April 8, 1974: Hank Aaron hammers historic 715th home run to break Babe Ruth's record