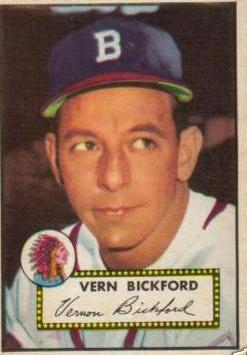 August 11, 1950: Vern Bickford pitches no-hitter at Braves Field
---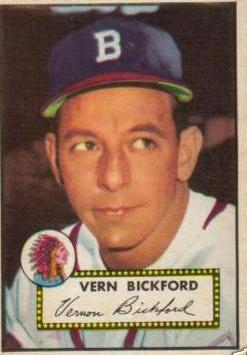 Vern Bickford came close to a no-hitter on September 5, 1947, pitching eight hitless innings in the American Association as a Milwaukee Brewer against the Minneapolis Millers, losing the no-hitter on a lead-off single in the ninth by pinch-hitter Andy Gilbert. But he would not be denied on August 11, 1950, seven days before his 30th birthday, pitching a no-hitter against the Brooklyn Dodgers at Braves Field. The no-hitter was the only one during the 1950 season.
There was some question about Bickford's availability for the starting assignment that night. Four days before, he had been hit on the elbow by a ball hit by Pete Reiser during batting practice. But he was given the okay to start.
The 1948 pennant chant of "Spahn and Sain followed by rain" wasn't needed in 1950. After Bickford's no-hitter, the Braves trio had won 44 of the Braves' 59 victories, and Bickford accounted for 14 of them. The 1950 Braves were in a pennant race, entering the game in second place, six games behind the Philadelphia Phillies and leading the Dodgers by a half-game.
A raucous crowd of 29,008 fans packed Braves Field to watch Bickford square off against Carl Erskine, making his first start since being recalled by the Dodgers from Montreal.
Bickford breezed through the first inning, striking out Pee Wee Reese and getting groundouts off the bats of Gene Hermanski and Duke Snider. The Braves had a two-out uprising in the bottom of the inning. With Sam Jethroe on first base after a walk, back-to-back doubles by Bob Elliott and Walker Cooper, then a single by Sid Gordon on which Duke Snider made an error, gave the Braves a 3-0 lead.
Bickford set down the Dodgers in the second, getting Jackie Robinson and Carl Furillo on groundouts and striking out Gil Hodges. Furillo's groundball was sharply hit and after the game third baseman Bob Elliott recalled, "It took one big hop and was stung pretty good. I guess maybe it was the best shot they had all night."1 In the bottom of the inning the Braves added another run, on a two-out single by Roy Hartsfield, an error on a pickoff attempt by Erskine, and a single by Sam Jethroe. Dodgers manager Burt Shotton had seen enough and brought in Joe Hatten, who struck out Earl Torgeson.
The no-hitter was almost lost in the third inning when Hatten blooped a pitch into right-center field. Jethroe, Hartsfield, and Willard Marshall all converged on the ball. Jethroe and Hartsfield fell down and Marshall made a diving catch. After the game Hartsfield said, "Any one of the three of us could have had it, but when we got close to it, the only one who hollered was Marshall. He said, 'I got it,' so I fell to the ground to keep away from the ball. When I hit the ground, somebody toppled over me and I guess it was Jethroe."2 Marshall said, "There was a collision between the two fellows just as I reached for the ball. I caught it about hip high and then I bumped into Jethroe when he was falling over Roy, but I didn't juggle the ball at all. I just sort of brushed against Sam's side when I caught it."3
In the fourth inning Bickford lost his perfect game, issuing a one-out walk to Gene Hermanski.
The Braves added another run in the fifth inning. Earl Torgeson stroked a one-out single and advanced to second base on yet another error on a pickoff attempt by a pitcher, this time by Hatten, and scored on a single by Bob Elliott, giving the Braves a 5-0 lead.
Two more Braves runs came across the plate in the seventh inning. Torgeson drew a walk from Dan Bankhead, Elliott singled and went to second as rifle-armed Carl Furillo tried in vain to get Torgeson at third. Both scored on a single by Sid Gordon for a 7-0 Braves advantage. The eighth inning was very easy for Bickford, who retired Gil Hodges, Roy Campanella, and Billy Cox on six pitches. The Braves got two hits in the bottom of the inning but didn't score.
Bickford entered the ninth inning having thrown only 77 pitches. He had to throw 19 more to nail down his no-hitter. He walked pinch-hitter Jim Russell, got Pee Wee Reese on a fly ball to center, then walked Gene Hermanski. "All I wanted was the game," Bickford said later. "That was all. No, I didn't think anything about it for eight innings but truthfully, I did in the ninth. Especially when I walked those two hitters. Nobody had said a word all through the game to me. I didn't hear anything. I guess the Dodgers were yelling something at me, but I didn't pay any attention to them."4
With Russell and Hermanski on base, the next hitter was the dangerous Duke Snider. The first pitch was a ball, high and wide. Bickford evened the count with a slow curve. The count went to 2-and-1 with a pitch in the dirt. After two foul balls, one of them a long drive down the left-field line that went foul aided by the wind, Bickford threw another curveball. Snider hit it to shortstop Buddy Kerr, who turned it into a game-ending double play. "Boy, what a feeling that was when Snider hit the ball to me," Kerr said. "I was right close to second base as I put my left foot on it and threw to Torgy. I just coaxed the throw right to him and I felt like jumping a mile high when I saw the out sign by the umpire."5
Of that last pitch, Bickford said, "I guess you could call it the happiest pitch I ever threw in my life."6 Bickford's no-hitter was the first in the major leagues since the Dodgers' Rex Barney no-hit the Giants on September 9, 1948, and the first by a Brave since knuckleballer Jim Tobin accomplished the feat against the Dodgers on April 27, 1944. The Braves stormed out of the dugout and carried Bickford off the field to the accompaniment of cheers of "Bickie!"
Manager Billy Southworth said, "It was a great pitching performance. He had wonderful stuff." 7 Catcher Walker Cooper thought that "Bickford had everything. I'd say he had the best curve ball he had all year, but he threw everything good. It was a hell of a game he pitched. I don't think they hit any balls real good."8
Bickford gave credit to his teammates. Pointing to Cooper, he said, "That's the guy who pulled me through, and don't forget those great plays by Bob Elliott and Willard Marshall."9
It was a long but happy postgame for Bickford as well-wishers, telegrams, and phone calls congratulated him on his effort.
Nine months later, on May 6, 1951, the Braves were no-hit themselves in the second game of a doubleheader at Braves Field by the Pirates' Cliff Chambers.
Bickford's no-hitter was the first night game no-hitter in Boston, a feat that would not be repeated until June 26, 1962, when the Red Sox' Earl Wilson no-hit the California Angels.
This article appeared in "Braves Field: Memorable Moments at Boston's Lost Diamond" (SABR, 2015), edited by Bill Nowlin and Bob Brady. To read more articles from this book, click here.
Sources
In addition to the sources mentioned in the Notes, box scores for this game can be seen on baseball-reference.com, and retrosheet.org at:
http://www.baseball-reference.com/boxes/BSN/BSN195008110.shtml
http://www.retrosheet.org/boxesetc/1950/B08110BSN1950.htm
Notes
Additional Stats
Boston Braves 7
Brooklyn Dodgers 0
---
Braves Field
Boston, MA
Box Score + PBP:
Corrections? Additions?
If you can help us improve this game story, contact us.
Tags
http://bioproj.sabr.org/bp_ftp/images3/BickfordVern.jpg
600
800
admin
/wp-content/uploads/2020/02/sabr_logo.png
admin
2017-06-25 02:13:08
2020-04-17 10:25:48
August 11, 1950: Vern Bickford pitches no-hitter at Braves Field