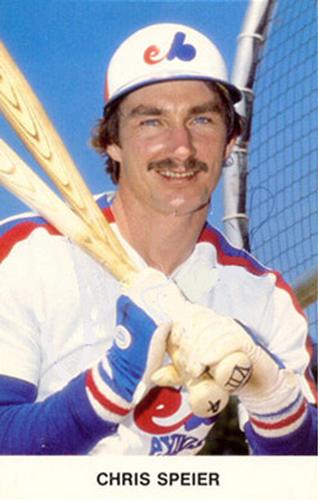 August 24, 1980: Speier, Expos prevail in 'a dumb man's game'
---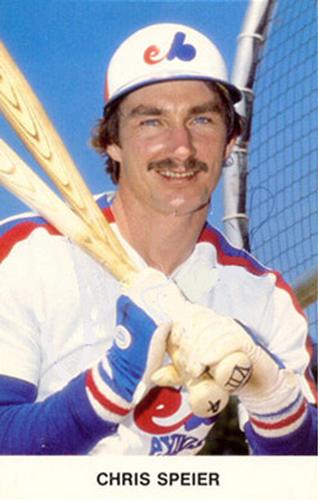 This game featured five future Hall of Famers, yet Montreal Expos manager Dick Williams likened it to one of his son's Little League games.1
"(The) last time I was at a Little League game (to watch one of his sons) the Commissioner threw me out for going on the field," said Williams. "I haven't been close to a Little League game since — not until today."2
Williams's assessment came after witnessing a 3½-hour marathon in which the teams combined for 21 runs, 27 hits, 3 errors, 16 walks, 94 plate appearances, 10 pitchers, and a seven-run lead blown in one inning. One can only imagine what Williams's take on the game would have been if the Expos had lost. As it was, it completed a sweep of the Padres. Nonetheless, Montreal remained two games behind the National League East Division-leading Pittsburgh Pirates, who had taken their brooms with them on the road to Cincinnati.
It's possible that the game's starting pitchers, Charlie Lea for the Expos and Bob Shirley of the Padres, had premonitions that the game was going to be a slugfest and wanted to minimize their role in the carnage. Lea had made his major-league debut just two months earlier, going eight innings in a 9-1 victory over San Diego on June 12 at Olympic Stadium. The Padres players wanted revenge because they pounded Lea for four earned on three hits in just 1⅔ innings.
Lea gave up only one run in the first, although how it was scored indicated to Williams that it was going to be a long day. After getting the first two batters out easily, Lea gave up a double to right fielder Dave Winfield, then walked the next three batters in succession, first baseman Willie Montanez, center fielder Jerry Mumphrey, and third baseman Luis Salazar, to give the Padres a 1-0 lead.
Lea zipped through the first two batters again in the second but, as in the first, gave up a double to the third hitter, left fielder Gene Richards. Ozzie Smith singled, scoring Richards, and advanced to third on a two-base error by Expos right fielder Jerry White. Winfield singled, scoring Smith, at which point Lea surrendered and was replaced by Stan Bahnsen. Bahnsen provided Montanez with his second free pass, then gave up run-scoring singles to Mumphrey and Salazar before striking out catcher Gene Tenace to end the frame.
Shirley (it's okay to call him that) meanwhile breezed through the first two innings but couldn't make it through the third, even with a 5-0 lead. He started off by giving up a single to Bobby Ramos, who was pinch-hitting for Bahnsen. Then the track team that was the top of the Expos order went to work. Left fielder Ron Leflore, who led the National League in stolen bases that season with 97, singled, as did second baseman Rodney Scott, who stole 63 on the year. With the bases loaded, Shirley walked center fielder Andre Dawson to drive in Ramos for the Expos' first run of the game. Third baseman Larry Parrish drove Leflore home with a sacrifice fly to make the score 5-2 San Diego after three innings.
The fourth and fifth innings were uneventful, but all hell broke loose in the sixth as the Padres built up a seemingly insurmountable lead and the Expos proved why Yogi Berra was right when he said it ain't over 'til it's over. Hal Dues, on the mound since the fourth, started off by walking Winfield. After Montanez popped up to second, Mumphrey singled, allowing Winfield to reach third. Mumphrey then showed the Expos that they weren't the only team with good base stealers when he swiped second.3 Salazar singled to score Winfield. Mr. Fiore Gino Tennaci, better known as Gene Tenace, was the next batter and he cleared the bases with his 11th home run of the season to drive in three more. The inning ended with the Padres up 9-2.
Now it was time for the Expos to have some fun. John Curtis was on the mound, having retired seven straight batters since replacing Shirley (we don't know what Padres manager Jerry Coleman was calling him after his performance) with two gone in the bottom of the third. Gary Carter was the first batter up and he ended Curtis's streak quickly by singling to left. White walked, then first baseman Ken Macha reached on an error by Smith to load the bases. Shortstop Chris Speier followed that with a bases-clearing double to bring the Expos back into the game at 9-5. But Nos Amours weren't finished. Curtis struck out the next two batters, but Scott came up and singled to left, driving in Speier. After a rattled Curtis hit Dawson with a pitch, Eric Rasmussen replaced him, and promptly allowed Scott to steal third. Scott scored on Parrish's single. Carter came up for the second time in the inning and doubled to left, scoring Dawson and Parrish and tying the game at 9-9. Fingers replaced Rasmussen, who had failed to record an out.
"This is a dumb man's game," is how Speier analyzed his at-bat in that inning. "You're not supposed to think too much. Guys get in a slump and worry about moving their foot or dropping their arm. They think too much. You just go up there and try to meet the ball solidly."4
The Expos gave another clinic on the effectiveness of small ball in the seventh. Macha led off with a single. Speier went up and met the ball solidly again for another single that sent Macha to third. Pinch-hitter Warren Cromartie hit yet another one-bagger to give the Expos their first lead of the game. Rollie Fingers walked Leflore to load the bases, at which point Coleman had seen enough and brought in Gary Lucas.
It's usually a good idea to emulate a future Hall of Famer, but not when he has just walked a batter, and especially not when that free pass drives in another run. Nonetheless that's exactly what Lucas did, giving up a bases-loaded base on balls to Scott, scoring Speier. After Dawson moved the runners up on a fielder's choice, Parrish drove in the third run of the inning on a sacrifice fly, making the score 12-9 Expos. That's how the game ended.
Baseball is similar to figure skating in that it can be graceful and elegant when played well. Fortunately for the Expos that day, they didn't have to worry about style points or what score the French judge would give them. In a game where they displayed more klutz than lutz, the Expos got a win they needed to stay in the 1980 pennant race.
This article appeared in "Au jeu/Play Ball: The 50 Greatest Games in the History of the Montreal Expos" (SABR, 2016), edited by Norm King. To read more articles from this book, click here.
Sources
In addition to the sources listed in the notes, the author consulted:
Baseball-Reference.com
SI.com.
Box scores for this game can be found on baseball-reference.com, and retrosheet.org at:
http://www.baseball-reference.com/boxes/MON/MON198008240.shtml
http://www.retrosheet.org/boxesetc/1980/B08240MON1980.htm
Notes
Additional Stats
Montreal Expos 12
San Diego Padres 9
---
Olympic Stadium
Montreal, QC
Box Score + PBP:
Corrections? Additions?
If you can help us improve this game story, contact us.
Tags
https://sabr.org/sites/default/files/SpeierChris.jpg
600
800
admin
/wp-content/uploads/2020/02/sabr_logo.png
admin
2017-10-03 12:53:10
2020-04-17 10:25:43
August 24, 1980: Speier, Expos prevail in 'a dumb man's game'