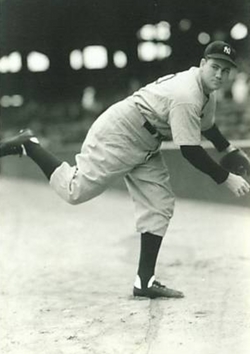 August 27, 1949: Tiny Bonham's last game
---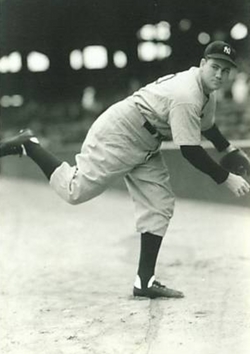 The Pittsburgh Pirates were firmly entrenched in sixth place heading into their August 27, 1949, game in Philadelphia against the fourth-place Phillies. The Pirates, near the middle of a long road trip, had taken two of the first three of the four-game series heading into the Saturday afternoon tilt. Thirty-six-year-old Ernie Bonham, known throughout baseball as Tiny,1 was to take the mound for the Pirates against another veteran, 39-year-old Schoolboy Rowe, who was playing out the string with the Phillies after starring for the Detroit Tigers in the 1930s.
After posting a 6-10 record for the Pirates in 1948, Tiny Bonham experienced a resurgence during the first half of the 1949 season. The right-handed Bonham had been a star twirler for the New York Yankees during the war years, winning 21 games in 1942, but had been plagued by back and arm injuries through much of his career. Although beset by those issues early in 1949, he won six decisions in a row in June and July before hitting a rough patch in August. As a result, he entered the August 27 game having not won a game in a month and with a 6-4 record and a 4.50 earned-run average. But none of the 6,070 in attendance in Shibe Park that day could have imagined that this would be Bonham's last game and that 19 days later he would be dead.
Rowe managed to escape the first inning unscathed despite two Phillies errors, one by Schoolboy himself when he mishandled Johnny Hopp's bunt attempt. After a scoreless inning and a half, the Phillies struck first when with two outs in the bottom of the second Willie "Puddinhead" Jones launched a drive into the left-center-field seats for a solo home run. Mike Goliat followed with a double to left and Andy Seminick walked before Bonham escaped further trouble by getting Rowe to ground to third baseman Pete Castiglione, who threw to second to force Seminick.
In the top of the third, Rowe gave up a two-out triple to right field to Hopp before retiring Tom Saffell on a fly to right to end the frame. In the bottom of the inning Bonham allowed only a one-out single to Granny Hamner and the teams headed into the fourth with the game shaping up like a bona-fide pitchers' duel.
Rowe, however, had been inconsistent both in and out of the bullpen and entered the game with a 3-6 record. He was making only his sixth start of the year and in the fourth the roof caved in. By the time the dust settled, the Pirates had scored four runs on a double by Wally Westlake mixed in with three singles and three Phillies errors, all before an out was recorded. Two of the errors were on bunts, meaning that the fumble-fingered Phillies defense botched three Pittsburgh bunts on the day.2 When Bonham broke a 0-19 streak with a liner to left for his first hit of the season to drive in two runs, Rowe's day was done.3 Blix Donnelly relieved and retired Stan Rojek on a sacrifice bunt for the first out of the inning. Hopp then smacked a fly to deep center field to drive in Clyde McCullough, who had reached base on one of the Phillies' errors, with the fifth run of the frame.
Bonham pitched a shutdown inning in the bottom of the fourth following his teammates' rally by retiring Bill Nicholson, Jones, and Goliat in order. Ralph Kiner then led off the Pittsburgh fifth with a line drive deep into the upper deck in left field to extend the lead to 6-1. It was his eighth home run in his last 15 games and his league-leading 37th of the year.4 Bonham mowed down the Phillies in their fifth, allowing only a one-out walk to Stan Hollmig, who was pinch-hitting for Donnelly.
Ken Trinkle in relief set the Pirates down in order in the sixth. In the bottom of the frame, Bonham got off to a shaky start, allowing leadoff singles to Dick Sisler and Del Ennis. But Nicholson lined out to Westlake in right and Jones grounded into an around-the-horn double play to keep the five-run lead intact. The Pirates, however, were not through with their sticks and touched Trinkle for two runs in the seventh to expand the lead to 8-1. Castiglione had the big blow, a two-run, two-out single that drove in Kiner, who had walked, and Westlake, who had doubled for the second time.
Bonham allowed only a leadoff single to Goliat in the Phillies' seventh but in the eighth was touched for a run on a Richie Ashburn single and a two-out double to center by Ennis. Meanwhile 21-year-old bonus baby Charlie Bicknell retired the Pirates in order in the eighth and ninth innings.5
In the bottom of the ninth Bonham kept the Phillies at bay despite allowing one-out walks to Goliat and Seminick. With runners on, he struck out pinch-hitter Stan Lopata for the second out. Ashburn tried to bunt his way on but catcher McCullough pounced on it and threw to first to end the game and secure Bonham's seventh win of the season by the score of 8-2. Pitching to contact, Bonham scattered eight hits, striking out only one and walking four6 in a game that took 2 hours and 14 minutes.
The Pirates played errorless ball in the rout while the Phillies uncharacteristically made five errors. But the Phillies would rebound from their shoddy performance to win 12 of their next 16 games and would finish in third place, a precursor to their 1950 pennant-winning season as the Whiz Kids. The Pirates, on the other hand, were headed nowhere fast and remained in sixth place, finishing a dozen games below .500.7
For much of the summer, Bonham had been telling teammates that he intended to retire to his California farm after the season.8 However, he began experiencing abdominal pain during the long road trip and told manager Billy Meyer that he felt tired all of the time.9 He was admitted to Presbyterian Hospital in Pittsburgh for an appendectomy on September 8. The doctors, however, found intestinal cancer and performed additional abdominal surgery. After rallying, Bonham took a turn for the worse and died on September 15.10 He was survived by his wife, Ruth, 6-year-old daughter, Donna Marie, and 4-year-old son, Ernie Jr.
Bonham's untimely death at the age of 36 shocked the baseball world, including his former teammates on the Yankees, for whom Tiny had pitched for seven years. Longtime New York shortstop and coach Frankie Crosetti called him "a great Yankee."11 The Pirates, also stunned by the sad news, had to play on and on September 16, after a moment of silence for Bonham, defeated the Brooklyn Dodgers 9-2 behind southpaw Bill Werle.
This article appears in "Moments of Joy and Heartbreak: 66 Significant Episodes in the History of the Pittsburgh Pirates" (SABR, 2018), edited by Jorge Iber and Bill Nowlin. To read more stories from this book at the SABR Games Project, click here.
Notes
1 Bonham was listed as 6'2" tall and 215 pounds "with a torso like blacksmith." Warren Corbett, Tiny Bonham, SABR BioProject: https://sabr.org/bioproj/person/d7503bf4.
2 Two of the bunts were botched by Rowe.
3 Although that was Bonham's only hit for the year and his batting average for 1949 was .045, for his career he hit .161.
4 Les Biederman, "Kiner Hits 37th, Pirates Win, 8-2," Pittsburgh Press, August 28, 1949: 35.
5 It was arguably the best outing of Bicknell's brief major-league career. Because of the bonus rule then in effect, the Phillies were forced to carry Bicknell on their major-league roster in 1948 and 1949. Manager Eddie Sawyer relegated Bicknell to mopup duty, typically bringing him in in lost causes like this game. For his career Bicknell appeared in 30 games and, remarkably, the Phillies were 0-30 in those games. He started only one game, the only time he appeared when the Phillies were not already losing. His lifetime record was 0-1, reflecting that one short-lived start.
6 Bonham was uncharacteristically wild that day. For his career he walked just 1.67 batters per nine innings.
7 In 1950 the Pirates recorded only 57 wins and fell to the National League cellar.
8 Chester L. Smith, "The Village Smithy," Pittsburgh Press, September 16, 1949: 41.
9 Warren Corbett, Tiny Bonham, SABR BioProject: sabr.org/bioproj/person/d7503bf4.
10 "Ernie Bonham, Buc Pitcher, Dies," Pittsburgh Press, September 15, 1949: 1.
11 Oscar Fraley, "Yanks Stunned by Death of Ernie Bonham," Pittsburgh Press, September 16, 1949: 41.
Additional Stats
Pittsburgh Pirates 8
Philadelphia Phillies 2
---
Shibe Park
Philadelphia, PA
Box Score + PBP:
Corrections? Additions?
If you can help us improve this game story, contact us.
Tags
http://bioproj.sabr.org/bp_ftp/images4/BonhamTiny.jpg
600
800
admin
/wp-content/uploads/2020/02/sabr_logo.png
admin
2019-02-06 11:20:09
2020-04-17 10:23:39
August 27, 1949: Tiny Bonham's last game