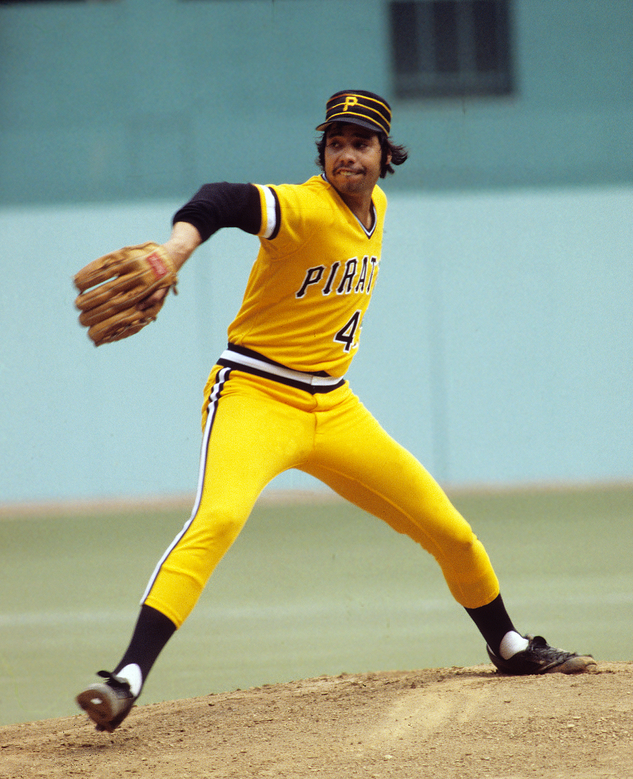 August 9, 1976: John Candelaria pitches Pirates' first no-hitter in Pittsburgh in seven decades
---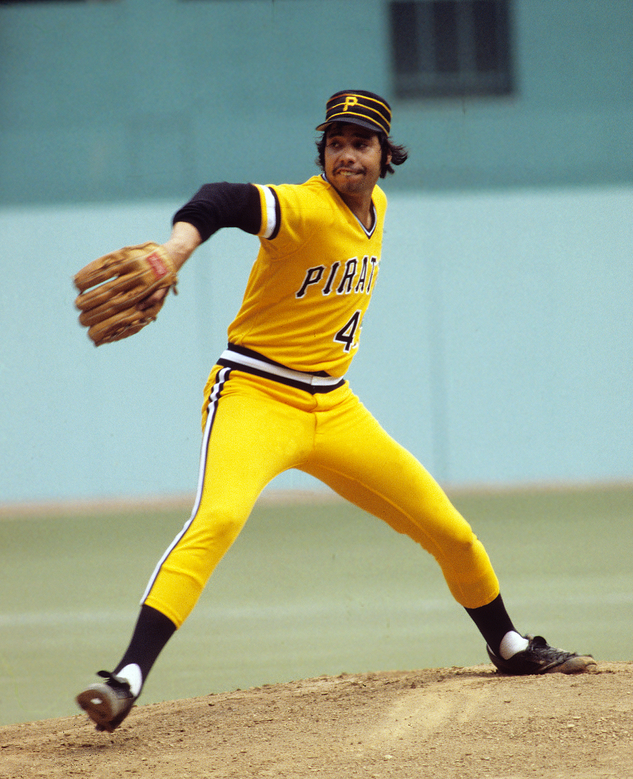 John Candelaria, pitching in his second major-league season in 1976, recorded the Pirates' first no-hitter in Pittsburgh in nearly seven decades, frustrating the Los Angeles Dodgers with fastballs and curves and retiring the final 19 batters he faced in a 2-0 victory on "Candy Night" at Three Rivers Stadium on August 9.
In September 1907, Pittsburgh's Nick Maddox no-hit the Brooklyn Superbas1 at Exposition Park.2 The Pirates moved to Forbes Field two seasons later and remained until June 1970. Over that span, through 4,728 games, no pitcher, home or visitor, threw a no-hitter at Forbes Field.3 In August 1971, thirteen months after the Pirates relocated to Three Rivers Stadium, Cardinals Hall of Famer Bob Gibson recorded the first no-hitter in Pittsburgh since Maddox's gem.4
Almost 69 years had passed since the Pirates' last no-hitter at home when Candelaria faced the Dodgers in the opener of a three-game series.5 The 22-year-old left-hander, known as Candy and The Candy Man,6 capped an auspicious 1975 debut with 14 strikeouts against Cincinnati in Game Three of the National League Championship Series.7 He maintained his upward trajectory in 1976, carrying a six-decision winning streak into the start against Los Angeles.8
Winners of five division titles between 1970 and 1975, Pittsburgh now lagged 14 games behind first-place Philadelphia in the National League East Division. A youth knothole promotion augmented the midsummer crowd of 15,131.9 Pittsburgh's D.L. Clark Company provided giveaway candy bars, coinciding with Candelaria's start.10 The author of the city's most recent no-hitter looked on: Gibson, retired in 1975 and pursuing a broadcasting career,11 was a commentator on ABC's Monday Night Baseball telecast.
Dodgers leadoff hitter Davey Lopes hit Candelaria's second pitch of the game solidly to left-center, but center fielder Al Oliver caught it a few steps short of the warning track.12 Ted Sizemore popped to shallow right; Dave Parker ran far for a thigh-high catch, just inside the foul line. Bill Russell's groundout ended the inning.
In action for the first time since a 1-0 loss to Houston's J.R. Richard on August 4,13 27-year-old left-hander Doug Rau started for the Dodgers. They had lost five in a row, including a disheartening four-game sweep at home by Cincinnati, and trailed the Reds by 13 games in the NL West.14 Rau's pickoff of speedy shortstop Frank Taveras kept Pittsburgh scoreless in the first.15
Three formidable right-handed batters fortified the middle of Los Angeles' lineup: Steve Garvey, Ron Cey, and Dusty Baker. Garvey and Cey were enjoying strong seasons;16 Baker, hindered by an offseason knee injury, struggled in his first year in Los Angeles after coming from Atlanta in a November 1975 trade.17 Candelaria retired all three in order in the second: Taveras backhanded Garvey's grounder in the hole; Cey watched a full-count fastball for strike three; and Baker, jammed by the pitch, popped to second.
After Rau dismissed the Pirates in the second, Los Angeles mounted a slow-developing threat in the third. Bill Buckner, the lineup's only left-handed-batting position player, checked his swing awkwardly at Candelaria's one-strike curveball and left the game with a hand injury.18 Lee Lacy replaced Buckner and took the next pitch for strike three. Steve Yeager walked on a full count, but Taveras turned Rau's slow bouncer into the second out.
Lopes hit a routine hopper to Taveras, but he bobbled the ball for an error. Sizemore, starting at second after an injury to regular right fielder Reggie Smith forced a three-position personnel shuffle,19 hit a smash off third baseman Bill Robinson's glove for another error, loading the bases. But Candelaria escaped the jam: Russell grounded the first pitch to Taveras, who caught it cleanly and threw to second for the inning-ending force.
Rau struck out the side in the third. Candelaria again sailed through the middle of the order in the fourth, striking out Garvey on a foul tip and Cey on a high and inside fastball.
Oliver's one-out single in the fourth snapped Rau's string of seven batters retired in a row,20 but Willie Stargell hit a weak bouncer to Sizemore, who tagged Oliver and threw to first for the double play. Candelaria sustained the scoreless duel by retiring the bottom of the order in the fifth.
The Pirates offense broke through in the bottom of the fifth. Richie Zisk jumped on Rau's first pitch and lined a single to left. Parker ducked a high-and-tight fastball, then muscled an inside pitch for an opposite-field single. Robinson came to bat with two on, none out.
The 33-year-old Robinson had revived his career after a 1975 trade brought him from Philadelphia. Primarily an outfielder during 16 major-league seasons, Robinson was Pirates manager Danny Murtaugh's choice at third for five weeks in July and August 1976, his surge of productivity coinciding with regular third baseman Richie Hebner's slump.21 Rau threw Robinson a breaking ball; Robinson lashed it down the left-field line.22 Zisk scored from second. The ball caromed off the bullpen fence and bounced away from Lacy. Parker scored from first. Pittsburgh had a 2-0 advantage.
Now protecting a lead, Candelaria needed just six pitches to dispatch Los Angeles in the sixth. Taveras, positioned perfectly for Sizemore's sharp liner,23 handled all three outs. Rau kept it close with a clean inning of his own in the bottom of the sixth, pitching around another infield error and a stolen base.
Candelaria faced the middle of the lineup for the third time in the seventh and finished off the three righties on eight pitches. Garvey chased a ball off the plate for a strikeout. Oliver tracked down Cey's fly in right center, a step from the warning track.24 Baker hit a harmless bouncer to Taveras. Candelaria had surpassed his previous best no-hit bid, spoiled by Atlanta with two outs in the seventh in August 1975.25
After Rau's final inning, a perfect seventh,26 Lacy began the eighth with a grounder back to Candelaria. The 6-foot-7 pitcher reached down, deflected the ball, picked it up with his bare hand, and threw out Lacy by three steps.27 Yeager bounced to Robinson, who backed up, gathered the second hop, and fired to first for the second out. Los Angeles manager Walter Alston summoned Rick Auerbach to pinch-hit for Rau. With the count 2-and-2, Auerbach swung through a high fastball for Candelaria's seventh strikeout. Lanny Frattare, a young broadcaster for Pittsburgh's flagship radio station KDKA, hurried from the press box to field level, 50-foot electrical cord in hand, eyeing an on-field postgame interview with Candelaria.28
Three outs from a no-hitter, Candelaria batted in the eighth and received an ovation before flying out to left field. The game moved to the ninth, with the top of Los Angeles' order due. No Dodger had reached base since the third. Swinging at the first pitch, Lopes grounded to Taveras, who threw to Stargell for the first out. Sizemore took a curve for a strike and lofted the second pitch to right. Parker, crossing into foul territory, secured the second out.
Russell was Los Angeles' last hope. In Candelaria's only previous start against the Dodgers, on May 14, he took a perfect game into the sixth inning, but Russell broke it up with a home run.29 This time, Candelaria started the 27-year-old shortstop with a curveball, catching the outside of the plate. The next pitch was a fastball, well outside for a ball.30
Candelaria's 101st pitch of the night arrived low and inside.31 Jammed, Russell popped it toward short center, a zone of unoccupied Tartan Turf divided ambiguously between the center fielder and shortstop.32 Oliver sprinted in toward the falling ball.33 Taveras turned and sprinted out, bound for the same destination.
Avoiding collision, Oliver took charge and caught the final out.34 Candelaria jumped for joy. Catcher Duffy Dyer hugged him. Their teammates joined the celebration. Pittsburgh's home-field no-hit drought, dating to Nick Maddox's 1907 mastery of Brooklyn, had ended against the Superbas' renamed and relocated descendants.35
Frattare interviewed Candelaria for radio; Gibson interviewed him for television. Candelaria headed to the clubhouse. There, his teammates celebrated his accomplishment with a display of white towels, topped by candy bars.36
"I was thinking no-hitter from the first inning on," Candelaria said, enjoying the afterglow of the major leagues' third no-hitter of 1976.37 "And any pitcher who tells you different isn't telling the truth. You get those first three outs, look up at the scoreboard and see those zeroes, and what else is there to think but no-hitter?"38
"He had two great pitches that he could throw for strikes all night," catcher Dyer observed. "His curve was as great as his fastball and he kept them both down."39
"It'll probably be some time before this really sinks in," Candelaria said. "But I don't know how I can be any higher that I am right now, how I could feel any better than I do. I mean how many kids dream of pitching a no-hitter in the bigs like I did and then have that dream come true?"40
Sources
In addition to the sources cited in the Notes, I consulted the Baseball-Reference.com and Retrosheet.org websites for pertinent material and the box scores noted below. Other sources included recordings of the ABC-TV and KDKA-AM game broadcasts, available at the YouTube links noted below, and telephone interviews with Al Oliver, Pittsburgh's center fielder in the game, and Lanny Frattare, an announcer for KDKA-AM's broadcast of the game.
baseball-reference.com/boxes/PIT/PIT197608090.shtml
retrosheet.org/boxesetc/1976/B08090PIT1976.htm
youtube.com/watch?v=4w3CxGQfINg
youtube.com/watch?v=gS-ZmYDjxWQ
Notes
1 Brooklyn's National League team was known as the Superbas between 1899 and 1909. After intermittently using Superbas, Dodgers, and Robins for many years afterward, the franchise solely became the Dodgers in 1932. The Dodgers relocated from Brooklyn to Los Angeles after the 1957 season. Ed Coen, "Setting the Record Straight on Team Nicknames," SABR Baseball Research Journal, Vol. 48, No. 2 (2019): 67-75.
2 Maddox was a 20-year-old rookie, making his third major-league start. "Maddox Proves Bright Star in Sensational Slab Battle: Pitches First Hitless Game in History of Pittsburgh Baseball Club," Pittsburgh Post, September 21, 1907: 7.
3 Pittsburgh's Bob Moose, Candelaria's teammate with the 1976 Pirates, had the closest no-hit bid at Forbes Field. In June 1968 Moose, then a 20-year-old rookie making his fifth major-league start, held the Houston Astros hitless until former Pirate Julio Gotay singled with two outs in the eighth inning; Moose finished with a two-hitter and a 3-0 win. Les Biederman, "Moose Barely Misses No-Hitter, 3-0: Astros Hitless until Two Out in 8th Inning," Pittsburgh Press, June 15, 1968: 8.
4 Neal Russo, "Gibson Fires First No-Hitter," St. Louis Post-Dispatch, August 15, 1971: 1B.
5 The Pirates had three road no-hitters during that period: Cliff Chambers against the Boston Braves in 1951, Moose against the Mets in 1969, and Dock Ellis against the Padres in 1970.
6 Sammy Davis Jr.'s song "The Candy Man" appeared in the 1971 motion picture Willy Wonka and the Chocolate Factory and topped Billboard's Hot 100 singles chart in June 1972. Fred Bronson, The Billboard Book of Number 1 Hits (New York: Billboard Books, 2003), 313. Pittsburgh newspapers referred to Candelaria as "The Candy Man" as early as his fourth major-league start, in June 1975. Dave Fink, "Candelaria Lights Up on Stennett HR, 5-2," Pittsburgh Post-Gazette, June 27, 1975: 12.
7 After Candelaria left the October 7 game in the eighth inning, Cincinnati won 5-3 in 10 innings, completing the three-game NLCS sweep. Charley Feeney, "Reds Score Two in 10th, Eliminate Bucs, 5-3," Pittsburgh Post-Gazette, October 8, 1975: 22.
8 "When Candy first came up, he had awesome stuff," Al Oliver, Candelaria's Pittsburgh teammate from 1975 to 1977 and the Pirates center fielder in this game, remembered in 2020. "Any time he took the mound and had his slider going, he was almost unhittable. That's how good he was. When he had his location, we knew that we didn't need too many runs. When he came up, I thought that he was capable of throwing a no-hitter on any given day." Al Oliver, telephone interview with author, May 22, 2020.
9 The paid attendance was 9,860; the Pittsburgh Post-Gazette reported that 5,271 youths attended through the knothole program. Charley Feeney, "Candy No-Hits Dodgers; 1st Modern Buc Here," Pittsburgh Post-Gazette, August 10, 1976: 12.
10 The D.L. Clark Company produced candy products from 1886 to 1999, operating for most of that time from Pittsburgh's North Side, near Three Rivers Stadium. Its signature product was the Clark Bar, flavored with peanut butter and chocolate and packaged in a red and blue wrapper. Jonathan D. Silver, "Billions of Candy Bars Later, Clark Quietly Closes," Pittsburgh Post-Gazette, May 2, 1999: C-1.
11 Neal Russo, "One More Year for Gibby," St. Louis Post-Dispatch, January 27, 1975: 1B.
12 "That was the best play of the game," Candelaria said afterward. "I thought it was going to fall in." Bob Smizik, "Candy Bars LA from Hit Column: Sweet Night for Big John," Pittsburgh Press, August 10, 1976: 21.
13 Ross Newhan, "Dodgers Have a Nothing Night with Astros, 1-0," Los Angeles Times, August 5, 1976: Part III, 1.
14 Ross Newhan, "All That's Left for L.A. is the Concession Speech: Needing a Sweep, the Dodgers Are Swept; Reds Lead by 13," Los Angeles Times, August 9, 1976: Part III, 1.
15 Taveras's 37 stolen bases entering the game tied Cincinnati's Joe Morgan for the National League lead. He ultimately stole 58 bases in 1976, third in the league behind Morgan and Lopes.
16 Garvey batted .317/.363/.450 in 1976 and finished sixth in the National League Most Valuable Player voting; his 4.7 Wins Above Replacement (WAR), as determined by Baseball-Reference, were ninth among National League position players. Cey batted .277/.386/.462 and finished 23rd in the MVP race; his 6.1 Wins Above Replacement were fifth among NL position players.
17 The Dodgers acquired Baker, a California native, in a six-player trade with the Braves. Two weeks later he injured his knee in a pickup basketball game. Jason Turbow, They Bled Blue: Fernandomania, Strike-Season Mayhem, and the Weirdest Championship Baseball Had Ever Seen (Boston: Houghton Mifflin Harcourt, 2019), 228-9. Baker batted .242/.298/.307 in 1976 and had negative 0.4 WAR, making it his least productive season between earning his first regular role in 1972 and retiring in 1986.
18 The injury sidelined Buckner for the next night's game, but he returned to the Dodgers' lineup on August 11. Ross Newhan, "Buckner Says He's Wasted; L.A. Wins, 2-0," Los Angeles Times, August 12, 1976: Part III, 1.
19 Smith had bruised his left rib cage, knee, and hip in a catch that denied Cincinnati's George Foster of a home run at Dodger Stadium on August 7. Ross Newhan, "Foster Leaves the Dodgers Bruised, 4-1," Los Angeles Times, August 8, 1976: Part III, 1. In Smith's absence, Los Angeles manager Walter Alston, piloting the Dodgers in the final season of his 23-year tenure, moved Baker from center field to right field, shifted Lopes from second base to center, and inserted Sizemore at second base. As writer Jason Turbow observed in They Bled Blue, the Dodgers, dating back to Branch Rickey's time running the organization while in Brooklyn, followed the developmental practice of "taking dramatic liberty in shifting ballplayers all over the diamond with little regard to the positions they'd be trained to play." Turbow, They Bled Blue, 18.
20 "What Doug had going for him was great control," Oliver, who batted .250/.294/.469 in 35 career regular-season and postseason plate appearances against Rau, remembered in 2020. "He was not necessarily overpowering, but he had good location with his breaking ball — he never left it up." Al Oliver, telephone interview with author, May 22, 2020.
21 Bob Smizik, "Now Is the Time for Bill Robinson," Pittsburgh Press, July 6, 1976: 23.
22 Robinson had two hits in each of Rau's previous 1976 starts against Pittsburgh, including a solo home run on May 15 at Three Rivers Stadium. Russ Franke, "Medich Cools Off Dodgers, 4-2: Moose, Giusti Apply Stitches to Grave Situation in Ninth," Pittsburgh Press, May 16, 1976: D-1.
23 "That was their best-hit ball," Candelaria said. Bob Smizik, "Candy Bars LA from Hit Column."
24 "If he pulls it, it's gone," Candelaria said. Smizik, "Candy Bars LA from Hit Column."
25 Rowland Office broke up the no-hitter in Atlanta's 6-2 win. Vince Leonard, "How Sweet It Wasn't for Bucs' Candy Man," Pittsburgh Post-Gazette, August 28, 1975: 16.
26 Rau threw 84 pitches in seven innings. He followed this outing with a third consecutive hard-luck loss: Ray Burris and the Cubs beat him 2-0 on August 14. In seven starts between August 4 and September 5, Rau allowed only seven earned runs in 55⅓ innings — a 1.14 ERA — but won just four of seven decisions. He finished 1976 with a 2.57 ERA, second in the National League behind John Denny's 2.52 ERA.
27 "Candy's big feet saved him," Pirates catcher Duffy Dyer said. "His size 13s saved him. The ball hit him in the foot. If he wears a size nine or 10 it might have gone right past him." Bob Smizik, "Candy Bars LA from Hit Column."
28 After the 1975 season, Westinghouse Broadcasting, which owned KDKA-AM, the Pirates' flagship station, fired popular broadcasters Bob Prince and Nellie King. Veteran play-by-play man Milo Hamilton and Frattare, who had called games for Pittsburgh's Triple-A Charleston (West Virginia) team in 1975, served as KDKA-AM's broadcast team in 1976. During that season, Frattare handled play-by-play in the third and seventh innings for radio-only games, including this one. In a 2020 interview, Frattare indicated that postgame radio interviews were customarily conducted in the clubhouse, but that Hamilton sent him to the field in hopes of catching Candelaria before ABC-TV's interview. Frattare broadcast Pirates games through 2008. Bill Utterback, "No Doubt About It: Frattare's Boyhood Dream Has Come True in the Majors," Pittsburgh Press, April 2, 1989: D3; Lanny Frattare, telephone interview with author, May 13, 2020.
29 Candelaria pitched a complete game on May 14 at Three Rivers Stadium, but lost 3-2 on home runs by Russell and Yeager. Russ Franke, "Pirates 'KO' John, but LA Lands Final Punch: Yeager, Russell Homer in 3-2 Victory," Pittsburgh Press, May 15, 1976: 6.
30 "My legs were shaking," Candelaria reported afterward. Bob Smizik, "Candy Bars LA from Hit Column."
31 The Pittsburgh Post-Gazette reported that Candelaria recorded 71 strikes in 101 pitches. Charley Feeney, "Candy No-Hits Dodgers; 1st Modern Buc Here."
32 "Geez, what a way to lose it," Candelaria reported thinking as the ball headed toward the outfield. "Oh my goodness," Dyer thought. "It might drop in." Bob Smizik, "Candy Bars LA from Hit Column."
33 "That's the fastest I've run all year," Oliver said afterward. "Lucky we didn't collide or someone might have got killed." Smizik, "Candy Bars LA from Hit Column."
34 "What was Frankie doing out there?" Oliver exclaimed in 2020, when remembering the final out. "Frankie and I came a lot closer to each other than you can tell from watching the film. I didn't even know Frankie was there. As a center fielder, you have to come hard when a guy gets jammed. I was fortunate to get a good jump on the ball. I definitely had it all the way, no question about it." Al Oliver, telephone interview with author, May 22, 2020.
35 The Dodgers had not been no-hit in a regular-season game since Vern Bickford of the then-Boston Braves held the then-Brooklyn Dodgers hitless in August 1950. Hy Hurwitz, "Vern Bickford Pitches No-Hitter, Walks Four; Braves Win, 7-0," Boston Globe, August 12, 1950: 1. Don Larsen of the Yankees pitched a perfect game against the Brooklyn Dodgers in Game Five of the 1956 World Series.
36 David Fink, "Candy Bar Night a Sweet Affair," Pittsburgh Post-Gazette, August 10, 1976: 1.
37 Larry Dierker of the Astros pitched a no-hitter against the Expos on July 9. Blue Moon Odom and Francisco Barrios of the White Sox combined for a no-hitter in Oakland on July 28. Later, on September 28, John Montefusco of the Giants pitched a no-hitter in Atlanta.
38 Ross Newhan, "Candelaria Throws a No-Hitter at Dodgers: Pittsburgh 'Candy Man' Never Threatened, 2-0," Los Angeles Times, August 10, 1976: Part III, 1.
39 Fink, "Candy Bar Night a Sweet Affair."
40 Newhan. Candelaria finished 1976 with a 16-7 record and 3.15 ERA. In 1977 he won 20 games and led the National League with a 2.34 ERA. Candelaria pitched in 19 major-league seasons, winning 179 games, including one 1979 World Series game for the Pirates and one 1986 American League Championship Series game for the Angels.
Additional Stats
Pittsburgh Pirates 2
Los Angeles Dodgers 0
---
Three Rivers Stadium
Pittsburgh, PA
Box Score + PBP:
Corrections? Additions?
If you can help us improve this game story, contact us.
Tags
https://sabr.org/sites/default/files/CandelariaJohn.png
600
800
sabr
/wp-content/uploads/2020/02/sabr_logo.png
sabr
2020-07-28 17:44:15
2021-08-09 15:41:17
August 9, 1976: John Candelaria pitches Pirates' first no-hitter in Pittsburgh in seven decades