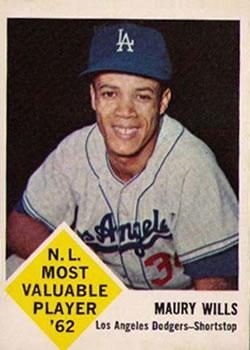 July 10, 1962: Maury Wills sprints for National League's All-Star Game win in D.C.
---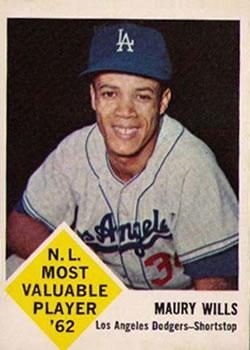 Baseball's All-Star Game was played at Griffith Stadium in 1937 and 1956, and now it was time for another generation of local baseball fans to gather at the new District of Columbia Stadium to watch the feats of the greats. History told us later that the 1962 All-Star Game featured 18 future Hall of Famers.1
D.C. Stadium, built at a cost of $24 million, was unique to professional sports. As a multisport facility hosting both baseball and football, it was the first to capture a circular "cookie-cutter" design. The expansion Washington Senators played the last game at Griffith Stadium on September 21, 1961, in front of 1,498 fans, the smallest crowd of the season. Ten days later, the Washington Redskins, in the midst of a two-year, 10-game losing streak, hosted the New York Giants in the inaugural sporting event at the new stadium. The Y.A. Tittle-led Giants overcame a three-touchdown deficit to defeat the Redskins and rookie quarterback Norm Snead, 24-21, in front of a record-breaking but disappointed crowd (36,767).2
When the Senators opened the 1962 season with the first baseball game at D.C. Stadium, President John F. Kennedy was there to throw out the first pitch. He well knew that baseball games lasted at least nine innings. After a 22-minute rain delay in the first inning, JFK had to make an important decision in the eighth inning with the Senators on the cusp of a 4-1 season-opening victory over the Detroit Tigers. He postponed a meeting with the Laos ambassador, Prince Tiao Khampao. "It let him stay to the end, as the president did whenever he saw a big-league game, enamoring those who liked baseball, and that day avoid a region that already made him ill."3
In order to increase funding for its pensions, the Players Association supported adding a second All-Star Game each season starting in 1959 to increase its income. "As purists and commentators scoffed, customers simply bought it and the players made the 'sacrifice' of playing an extra game."4 By 1962, that concept of two All-Star showcases per season had run its course and scheduling returned to a single game in 1963.5
NL skipper Fred Hutchinson's choice to be the starting pitcher on this day was an obvious one, Don Drysdale. Drysdale (15-4, 2.88 ERA) was in the midst of a career year. Two days earlier, he retired the Giants' Orlando Cepeda and Felipe Alou with the bases loaded in the ninth to save a 2-0 victory for Sandy Koufax and edge the Dodgers back into first place. Drysdale's pitching stats for the 1962 season included a major-league-leading 25 wins in 41 starts, as well as 19 complete games, and earned the future Hall of Famer the National League Cy Young Award.
Detroit's Jim Bunning (9-4, 3.59 ERA) was the choice of AL skipper Ralph Houk to start the game. He finished the season with 19 wins and his Hall of Fame career included much success with the Philadelphia Phillies. Bunning found new work just a few blocks from D.C. Stadium 25 years after this visit to the nation's capital. He represented Kentucky, first in the House of Representatives, then the Senate, from 1987 to 2011.
Both starters commended themselves well in their three innings of work. Drysdale yielded only one hit, a leadoff triple by Luis Aparicio to deep right-center in the third inning, but left Aparicio stranded after two infield popups and a strikeout. Meanwhile, Roberto Clemente was the only batter to reach base against Bunning on a double down the right-field line in the first inning.
In fact, when the scoreless game entered the sixth inning, a dubious distinction was already in the books. No All-Star Game had ever been a scoreless affair after five innings.6 But a hometown son was about to change that. Stan Musial, playing in his 22nd All-Star Game, pinch-hit for Juan Marichal to lead off the sixth with a single to right off Camilo Pascual. Maury Wills, a graduate of Cardozo High School in Washington ran for the 41-year-old Musial and stole second base on Pascual's first pitch without a throw from catcher Earl Battey. Wills scored on Dick Groat's single to center field and Clemente singled Groat to second with both runners advancing a base on Willie Mays' fly out to deep center. Third baseman Rich Rollins threw out Orlando Cepeda on an infield dribbler, but Groat scored to give the National League a 2-0 lead.
The American League had a chance to respond in its half of the sixth inning against Bob Purkey, the third NL pitcher. Rollins opened with a single blooped over the head of first baseman Ernie Banks. Billy Moran lined a single to left-center and Rollins advanced to third. Roger Maris's drive to deepest right-center over 400 feet away seemed destined to clear an eight-foot wire fence. Instead, Mays jumped, hit his back against the fence and caught the long sacrifice fly, the only run the American League scored all day.
Wills had stayed in the game at shortstop after running earlier for Musial and he was still running in the eighth inning. He opened the inning with a single to left off Dick Donovan. When Jim Davenport followed with a single to left, Wills rounded second and sprinted to third base as Rocky Colavito hesitated and threw to second behind the runner. Wills was safe despite the protestations of third baseman Brooks Robinson. Felipe Alou followed with a fly down the right-field line that Leon Wagner caught in foul territory moving away from home plate. The speedy Wills slid under an attempted tag by catcher John Romano and the National League led 3-1 to complete the scoring.
The American League had another chance in the bottom of the ninth and tested Bob Shaw in his second inning of work. With two outs and a runner on first, Romano came to bat as the tying run and singled to left field. That brought Aparicio to the plate, remembering his third-inning triple to deep right-center. Aparicio hit another drive to nearly the same spot as the sixth-inning shot by Roger Maris. It was probably fitting that the game ended with the speed and grace of Willie Mays. As Frederick Lieb of The Sporting News put it, "Mays sprinted for it, made another fine catch, and ran grinning for the exit gate."7 The National League had cut the American League's margin in All-Star Games to 16-15-1 and Maury Wills had sprinted all the way to win the All-Star Game MVP award.
The fact is that Maury Wills never stopped running in 1962, passing Ty Cobb's 1915 record of 96 steals with a new record of 104. Wills had set a season's goal of 50 stolen bases at a time when no major leaguer had reached even 60 steals since the Washington Senators' George Case swiped 61 bases in 1943.8 Wills played in all 165 regular season games for the Dodgers, a record not likely to be broken.9 It was an MVP season for Wills — 208 hits in 695 plate appearances, .299 BA, 10 triples, and a career-high six home runs — and the baseball writers voting for the NL award agreed.
Author's note
Baseball-Reference.com documents that over 19,000 players have lived the American dream of playing major-league baseball since 1876. In that time, all manner of conversation and writing among fans, journalists, and others alike have debated the relative merits of players and teams from different baseball eras. Shirley Povich, renowned sports columnist and reporter for the Washington Post, joined that debate after this All-Star Game.
While pondering an account of the first All-Star Game (1933), he wondered whether any of the 1962 players would have cracked the starting lineups in 1933. He judged that only outfielders Willie Mays and Mickey Mantle and third baseman Ken Boyer would have done so. He was also careful to note, "This is said in the awareness that affection for old heroes, and old things, is often dangerously progressive, which is why antiques bring high prices."10
Sources
The author accessed Baseball-Reference.com for box scores/play-by-play information (baseball-reference.com/allstar/1962-allstar-game-1.shtml) and other data, as well as Retrosheet.org (retrosheet.org/boxesetc/1962/B07100ALS1962.htm). A game-summary video11 highlights President Kennedy's first pitch, the scoring plays, and the defensive prowess of Willie Mays. A radio broadcast12 is also available for interested readers and researchers.

Notes
1 "Washington, DC and the All-Star Game," Washington Nationals 2018 Media Guide, 284. Those future Hall of Famers in the 1962 game were Hank Aaron, Luis Aparicio, Richie Ashburn, Ernie Banks, Jim Bunning, Orlando Cepeda, Roberto Clemente, Don Drysdale, Bob Gibson, Sandy Koufax, Mickey Mantle, Juan Marichal, Willie Mays, Bill Mazeroski, Stan Musial, Brooks Robinson, Warren Spahn and Hoyt Wilhelm.
2 "Tittle-Led Giants Rally, Nip Skins," Milwaukee Sentinel, October 2, 1961: S2/3.
3 Curt Smith, The Presidents and the Pastime, The History of Baseball and the White House (Lincoln: University of Nebraska Press, 2018), 167.
4 Leonard Koppett, Koppett's Concise History of Major League Baseball (New York: Carroll & Graf Publishers, 2004 edition), 283.
5 On July 30, 1962, the All-Stars played again, at Chicago's Wrigley Field. This time the American League prevailed, 9-4. Leon Wagner was named MVP with three hits, including a two-run home run.
6 "Capital Capsules," The Sporting News, July 21, 1962: 18.
7 Frederick G. Lieb, "N.L. Stars Shine Behind Mercury Maury," The Sporting News, July 21, 1962: 7.
8 Glen Sparks, "Maury Wills," in Maxwell Kates and Bill Nowlin, eds., Time for Expansion Baseball (Phoenix: Society for American Baseball Research, 2018), 189.
9 Each major-league team played a 162-game regular season for the first time in 1962. A three-game regular season playoff between the Giants and the Dodgers was needed to determine the National League pennant winner. The Giants won the playoff series. In the third game, Maury Wills stole three bases in a losing cause.
10 Shirley Povich, "Only Three '62 Stars Rated Nod as '33 Starters," The Sporting News, July 21, 1962: 12. (This column was originally published in the Washington Post.) The starting lineups for the first All-Star Game, on July 6, 1933 in Chicago — National League: 3B, Pepper Martin; 2B, Frankie Frisch; RF, Chuck Klein; LF, Chick Hafey; 1B, Bill Terry; CF, Wally Berger; SS, Dick Bartell; C, Jimmie Wilson; P, Bill Hallahan; American League: LF, Ben Chapman; 2B, Charlie Gehringer; RF, Babe Ruth; 1B, Lou Gehrig; CF, Al Simmons; 3B, Jimmy Dykes; SS, Joe Cronin; C, Rick Ferrell; P, Lefty Gomez.
11 "1962 All-Star Game- JFK throws first pitch," PublicDomainFootage.com, accessed January 21, 2019, youtube.com/watch?v=0_1csSHxcvs.
12 "July 10, 1962 All-Star Game One in Washington, DC," ClassicBaseballOnTheRadio.com, accessed January 21, 2019, youtube.com/watch?v=jU5QSSizRgU.
Additional Stats
National League 3
American League 1
---
D.C. Stadium
Washington, DC
Box Score + PBP:
Corrections? Additions?
If you can help us improve this game story, contact us.
Tags
https://sabr.org/sites/default/files/WillsMaury-1962.jpg
600
800
admin
/wp-content/uploads/2020/02/sabr_logo.png
admin
2019-05-12 23:19:01
2020-04-17 10:23:35
July 10, 1962: Maury Wills sprints for National League's All-Star Game win in D.C.