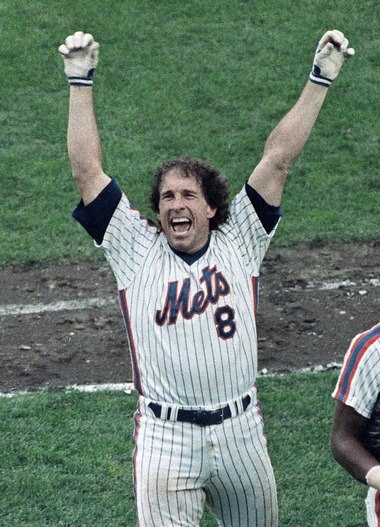 July 11, 1986: Mets brawl, bash Braves behind Gary Carter's two homers
---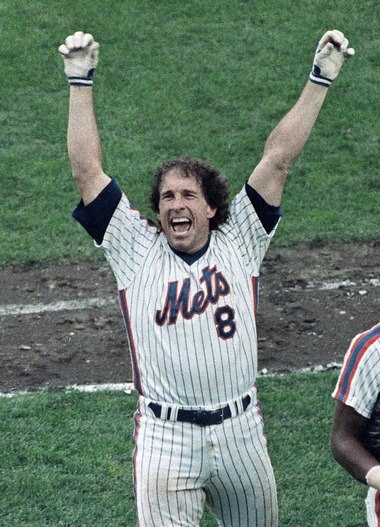 The 1986 Mets led the NL in scoring, but pitching was the club's backbone. The staff was anchored by four legitimate All-Stars, right-handers Dwight Gooden and Ron Darling, and southpaws Sid Fernandez and Bob Ojeda, each of whom won at least 15 games, logged in excess of 200 innings pitched, and had a winning percentage of .714. Though Gooden, coming off a phenomenal season in 1985 with 24 wins and a 1.53 ERA, garnered most of the media's attention, Fernandez, the stocky Hawaiian affectionately known as "El Sid," tossed the team's best game of the season as the Mets pulled out all of the punches.
Skipper Davey Johnson's Mets were in a bad mood as they prepared to play a four-game set with the Atlanta Braves heading into the All-Star break. They had just been swept by player-manager Pete Rose's Cincinnati Reds in a three-game set at Shea Stadium, and had lost four of five games. Ojeda ended the team's hitherto longest losing streak of the season by tossing a seven-hitter to beat Atlanta in the first game, but the club was out to prove that its hot start was no fluke. The Mets (56-25) led the NL East by 10½ games. Chuck Tanner, in his first season as Atlanta's pilot, had his club playing inspired ball. Coming off a 96-loss season in '85, the Braves had been four games above .500 on July 3 before losses in six of seven games dropped them to 42-43, in fourth place in the NL West.
Enjoying a breakout season, Sid Fernandez entered the game tied with the Dodgers' Fernando Valenzuela and the Phillies' Shane Rawley for the NL lead in victories with 11. The Mets had high expectations for the 23-year-old hurler, acquired in a trade with Los Angeles in December 1983. After an early season call-up in 1985, Fernandez won six of his final nine decisions and led the NL in fewest hits allowed (5.7) and most strikeouts (9.7) per nine innings. "I don't think we're as surprised as Joe Fan is [about Fernandez's success]," said Mets pitching coach Mel Stottlemyre. "After last year, several people thought he had a chance to win 20. Maybe we're surprised with the consistency of the stuff he's had, but we're not surprised he's won 11."1
Like many left-handers, Fernandez sometimes struggled with his control despite a robust 2.89 ERA in 109 innings. He had issued at least five walks in six of his 16 starts thus far in '86. Ken Griffey (not yet known as Senior), drew a two-out walk in the first and stole second, but the hard-throwing Fernandez whiffed sluggers Dale Murphy and Bob Horner to end the inning.
The Mets wasted no time attacking David Palmer, a 28-year-old right-hander who entered the game with a 5-7 record (3.17 ERA) and a 43-33 record in parts of seven big-league seasons. After Lenny Dykstra drew a leadoff walk, Wally Backman beat out a drag bunt by evading first baseman Horner's diving tag. Both runners moved up on Keith Hernandez's groundout. Gary Carter, the Mets' inspirational team leader and Palmer's former teammate with the Montreal Expos, clouted a home run to deep left field, sending the partisan crowd of 39,924 into a loud, raucous standing ovation. A fan favorite, Carter came out of the dugout for a customary curtain call. According to New York Times sportswriter Joseph Durso, he "raised his fist" triumphantly to the crowd.2
Some fans in the vibrating stadium probably knew what was coming. With his next pitch, Palmer plunked Darryl Strawberry in the back. "Without hesitating," wrote Durso, "[Strawberry] ran straight to the mound," while Palmer flung his glove at the charging batter as the benches emptied.3 The Braves catcher, Ozzie Virgil, tackled Strawberry while several players subdued Palmer. No punches were landed, and after a few minutes order was restored. Neither Strawberry nor Palmer was ejected. "They act as though they won the seventh game of the World Series," said Palmer after the game. I told Keith Hernandez when we were scuffling around: I don't care if you hit 15 home runs, but don't show me up."4 On a team with a tough-guy attitude that never shied away from a brawl, Strawberry had no apologies. "You have to protect yourself," he said. "When a guy hits you, then stares at you, what are you supposed to do?"5 Palmer didn't find any support from his former batterymate either. "I was his catcher for six years in Montreal," said Carter. "He was frustrated and he took it out on Strawberry."6
Palmer regained his composure to retire the next two batters, but his evening only got worse. The Braves failed to take advantage of Terry Harper's leadoff single in the second when Fernandez sandwiched two more punchouts around an infield popup. In the bottom of the second, with Fernandez on first via an infield single, Backman lined a two-out, seeing-eye single to move the stout, 6-foot-1, 225-pound hurler to third. Backman took second on Palmer's wild pitch and the bases were loaded after Hernandez walked. Up stepped Carter. "The Kid" sent an 0-and-2 pitch over the left-field fence for his 10th of 11 career grand slams to give the Mets a 7-0 lead. And just as he did an inning earlier, Carter made another curtain call, doffing his cap as the Mets faithful stood and cheered. His seven RBIs were a career high, and one off the Mets' record, set by Dave Kingman in 1976.
The Mets waited an inning to slug reliever Craig McMurtry, who struck out Strawberry to end the second. In the bottom of the third with Ray Knight on third via a triple and Kevin Mitchell occupying first on a walk, it was Fernandez's turn to take a swing. He belted a double down the left-field line, driving in Knight and making it 8-0. Dykstra followed with another double, driving in two more. After Hernandez walked, Carter blasted what looked like his third straight home run, to deep center field, but Dale Murphy ran it down for the last out of the frame. McMurtry was there to take one for the team and eat some innings. In the fourth Knight knocked in the Mets' 11th and final run on a single, driving in Strawberry, who had reached first on an error by shortstop Andres Thomas.
Staked to an insurmountable lead, Fernandez baffled the Braves with his assortment of fastballs, hard and slow curves, and changeups. He had a peculiar, deceptive delivery in which he hid the ball behind his back and drove to the mound in a long stride. After yielding his second hit, in the third inning (a double by Thomas), Fernandez hurled 6⅔ hitless innings. He had a hiccup in the eighth when he issued a leadoff walk to Ken Oberkfell and hit Ted Simmons with two outs. Perhaps Fernandez was still a little winded after legging out a double down the left-field line to lead off the seventh. He tossed a 1-2-3 ninth to complete the game in 2 hours and 39 minutes.
New York "brutalized" the Braves, opined Durso, as El Sid fanned nine and walked three in his first of nine career shutouts and five career two-hitters in 300 starts, and also collected a career-best three hits.7 (He never threw a one-hitter or no-hitter). Described as the "ace of the brilliant Met staff," Fernandez was arguably the hottest pitcher in the league.8 He won his career-best seventh consecutive start in a dominating stretch during which he crafted a 1.76 ERA and held opponents to a .182 batting average. Earlier in the week Fernandez became the first Hawaiian-born athlete in any US sports league to be named an All-Star when Whitey Herzog selected him to his first of two straight NL All-Star squads, joining teammates and starters Carter, Hernandez, and Strawberry, as well as Gooden. It was widely believed that Fernandez would get the starting nod, but that honor went to Gooden, whose 10-4 record and 2.77 ERA was impressive in their own right.
The Mets took the next two games from the Braves (10-1 and 2-0) to sweep the series and conclude a weekend of festivities, which included an old-timers' reunion prior to the game on Saturday, and a celebration for Rusty Staub on Sunday, to commemorate their 25th season. Through 2017, the Mets' 59-25 record at the All-Star break was the best in club history.
This article originally appeared in "The 1986 New York Mets: There Was More Than Game Six" (SABR, 2016), edited by Leslie Heaphy and Bill Nowlin.
Notes
Additional Stats
New York Mets 11
Atlanta Braves 0
---
Shea Stadium
New York, NY
Box Score + PBP:
Corrections? Additions?
If you can help us improve this game story, contact us.
Tags
/sites/default/files/images/CarterGary-Mets.jpg
600
800
admin
/wp-content/uploads/2020/02/sabr_logo.png
admin
2016-12-27 15:45:17
2020-04-17 10:25:57
July 11, 1986: Mets brawl, bash Braves behind Gary Carter's two homers