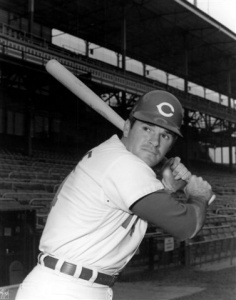 July 18, 1964: Pete Rose drives in six runs as Reds hammer first-place Phillies
---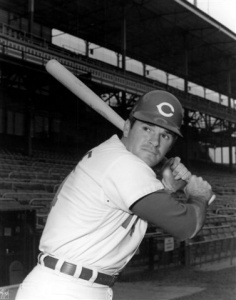 A "sticky wicket" of summer heat1 shrouded Crosley Field as the third-place Cincinnati Reds and the league-leading Philadelphia Phillies met on Saturday, July 18, 1964. The squads were pairing up for the 10th time this season in the second game of a five-game series. So far, the Phillies were up on the Reds six games to three. Save for one day, Philadelphia had been no lower than in second place for the first half of the campaign, while Cincinnati had bounced between third and fourth since early June. Seven teams in the National League were no more than eight games out of first place with less than half of their schedules remaining.
Reds leadoff hitter Pete Rose was happier now with his offensive numbers. The hustling switch-hitter and reigning NL Rookie of the Year had three hits while reaching base four times during a tough loss to the Phillies the previous night. This season had not been "rosy" at the plate for the competitive product of the Queen City. A little over a month before, "Charlie Hustle" was struggling at .214 and wearing the label of simply another once-promising player whose second season was afflicted by the sophomore jinx. Before and during a six-game road trip to Pittsburgh and Chicago, Rose made a pair of late-June off day visits to Dayton, Ohio, seeking batting advice from his uncle, Buddy Bloebaum.2 Uncle Buddy's mentoring worked well as Rose embarked on a 10-game hitting streak, from June 26 through July 4, and raised his batting average to .253.
The Phillies remained the surprise of the league in 1964, and were 51-34 with a one-game lead over the San Francisco Giants. Exactly a year earlier, they were languishing in eighth place, but finished the season in fourth place, just ahead of the Reds, to remove their longtime decal of "perennial doormat." Skippered by Gene Mauch, the Phillies were winning in ways not relished by their long-suffering fans since the early 1950s. Buoyed by top-notch starting pitchers in Jim Bunning and Chris Short, slugging rookie third baseman Dick Allen, and All-Star right fielder Johnny Callison, Mauch was guiding them toward a storybook season as patrons flocked to Connie Mack Stadium in record numbers.3
Before the Reds game Mauch had his "hot button" pressed when someone mentioned that the Giants seemed poised to go into one of their midseason slumps. "I know better than that," he snapped. "They'll be real tough to beat. Competition in this league is real tough. Any club can go into any other park in the league, play two or three games and come up empty. Look at what happened to the Reds in New York last Sunday."4 Mauch was referring to the last-place Mets' shocking doubleheader sweep of the Reds at Shea Stadium on July 12.
Cincinnati manager Fred Hutchinson had not offered any alibis for the Queens disaster (1-0 and 5-1 setbacks). "It was just a repeat of the age-old story – failure to come through with the big hit in the clutch," the Reds' pilot lamented.5 Hutchinson, fresh off service as a coach in the July 7 All-Star Game, was facing a much bigger "elephant in the room" than a box-score result. The straight-talking 44-year-old field boss was pondering the effects of a serious cancer diagnosis that had him considering a lengthy leave of absence from his managerial duties.6
The 90-degree forecast was cause for the small paid crowd of 8,251; a ladies day promotion swelled the gathering to 13,730.7 The pitching opponents would be a pair of right-handers – John Tsitouris (5-6, 3.70) for Cincinnati and Ray Culp (7-6, 3.27) for Philadelphia. Nine days earlier, the 28-year-old Tsitouris had struck out a career-high 11 batters but lost a one-run game because of one bad inning. Culp, 22 and in his second major-league season, had been 1-5 with a 5.67 ERA before turning his mound performance around in mid-June.
The Phillies' starting first-base position kept Mauch concerned, with John Herrnstein slumping and Roy Sievers hurt. This day the bag was being covered by 22-year-old Costen Shockley. The left-handed rookie had made his debut the night before and contributed to Philadelphia's victory, despite committing a ninth-inning error. Don Pavletich started at catcher for the Reds after being summoned from the minors. Regular backstop Johnny Edwards was still nursing an arm injury,8 and veteran Hal Smith was hitting just .129.
Tsitouris allowed a leadoff double to left-handed-swinging former Red Tony Gonzalez. The ball was stroked hard to the opposite field, a skill the hard-hitting Cuban outfielder was known for. Gonzalez moved to third on Shockley's grounder, and trotted home on Callison's double to right. With two outs, Tsitouris came inside on 0-and-2 with an errant slider to Wes Covington. The left-handed-batting Covington could not get out of the way and was struck on the back of the skull just below his helmet. His protective lid went flying and the outfielder dropped to the ground. Covington grabbed the back of his head, but remained conscious as he was given first aid before being removed on a stretcher and taken to a hospital.9 Herrnstein went in to run, and was inserted for Covington in left field. Tsitouris retired Clay Dalrymple on a foul to Pavletich as the Phillies led 1-0.
Culp went to the mound with a great deal more on his mind than the game. At 6 A.M., his wife had given birth to their first child in Austin, Texas. Although the baby girl was three weeks premature, both mother and daughter were doing fine.10 Rose walked, and moved to third on Vada Pinson's one-out double. With Frank Robinson up, Rose scored and Pinson took third when Culp uncorked a wild pitch. Pinson came home to make it 2-1 on Robinson's scratch single to left. Deron Johnson followed with a towering drive that hit the screen above the left-field wall for his 10th home run, and the first inning concluded with Cincinnati up 4-1.11
After retiring the Phillies in order in the second, Tsitouris topped a one-out routine grounder to Allen at third. Allen fumbled it, then threw it past Shockley into the seats for two errors on the play with Tsitouris advancing to second. Rose banged a run-scoring double off the center-field wall, moved to third on Pinson's infield hit, and came home on another single by Robinson.12 The pair of unearned runs made it 6-1 as Mauch went to the mound and motioned for right-hander Dallas Green. Culp departed after 1⅔ innings with his team behind 6-1.
In the third, Shockley blasted his first major-league homer, into the Sun Deck13 in right field to trim the deficit to 6-2. Green fared no better on the hill than Culp: Pavletich doubled, moved to third on an infield hit by Leo Cardenas, and rumbled home on a squeeze bunt by Tsitouris.14 Cardenas scored to make it 8-2 after Rose singled to center; the apparent rout was tempered when Callison gunned Rose down at third after fielding Marty Keough's safety.
Scoreboard reckonings took a break through the top of the fifth until Cincinnati broke out the lumber again during the bottom half. A one-out walk was followed by singles by Steve Boros and Tsitouris to load the bases. Rose, first-pitch swinging, belted Green's curveball15 into the Sun Deck for his third home run and first career grand slam for a 12-2 cushion. In the sixth, Dalrymple tagged Tsitouris for another clout that peppered the Sun Deck occupants with his third home run to make it 12-3. Pavletich answered that knock, and solidified the afternoon shellacking, by blasting a two-run drive over the center-field wall after Gordy Coleman was hit by a pitch.16 It was Pavletich's first round-tripper of the season and upped the blowout to 14-3.
Tsitouris was nicked for a meaningless run in the ninth and the 14-4 drubbing of the Phillies ended in 2 hours and 20 minutes as the Reds improved to 49-40, 3½ games back. The line score for Cincinnati read 14 runs, 17 hits, and no errors while Philadelphia's was 4 runs, 9 hits, and 2 errors. Rose stretched a new hitting streak to 11 games, enjoyed a perfect 4-for-4 day with a career-high six RBIs, and raised his batting mark to .274. The Phillies were relieved that Covington's x-rays were negative, and he would be available for the next day's doubleheader.17
Two new features at Crosley Field had quite the workout during and after the contest. Susanne Slenk, Linda Mussino, and Sharon Ross made their debut as cheerleaders for Cincinnati and were due to appear at frequent intervals during the season.18 Also, a locomotive bell was donated by the Baltimore & Ohio Railroad was installed next to the visiting dugout. The noisemaker would sound out after each victory with the number of runs scored by the Reds.19
Consequently, both of the new additions at the ballpark were indeed busy this afternoon.
This article was published in "Cincinnati's Crosley Field: A Gem in the Queen City" (SABR, 2018), edited by Gregory H. Wolf. To read more articles from this book at the SABR Games Project, click here.
Sources
In addition to the sources cited in the Notes, the author also accessed Retrosheet.org, Baseball-Reference.com, Newspapers.com, SABR.org/bioproj, and The Sporting News archive via Paper of Record.
https://www.baseball-reference.com/boxes/CIN/CIN196407180.shtml
http://www.retrosheet.org/boxesetc/1964/B07180CIN1964.htm
Notes
1 Cincinnati Enquirer, July 18, 1964: 11.
2 David M. Jordan, Pete Rose: A Biography (Westport, Connecticut: Greenwood Press, 2004), 31.
3 Mel Marmer and Bill Nowlin, eds., The Year of the Blue Snow, The 1964 Philadelphia Phillies (Phoenix, Arizona: Society for American Baseball Research, 2013), 296.
4 Lou Smith, "Tsitouris, Culp on Mound Today," Cincinnati Enquirer, July 18, 1964: 17.
5 Lou Smith, "Reds Home With Houston; Mets Game Is Rained Out," Cincinnati Enquirer, July 14, 1964: 29.
6 Earl Lawson, "Hutch Granted 'Leave'; Sisler Red Road Boss," The Sporting News, August 29, 1964: 15.
7 Smith, "Reds Lay It on Phils, 14-4," Cincinnati Enquirer, July 19, 1964: 1-E.
8 Smith, "Tsitouris, Culp."
9 Allen Lewis, "Covington Not Seriously Hurt, May Play Soon," Philadelphia Inquirer, July 19, 1964: 61.
10 Lewis, "Covington Not Seriously Hurt."
11 Smith, "Reds Lay It on Phils."
12 Ibid.
13 Philip J. Lowry, Green Cathedrals (New York: Walker & Company, 2006), 66. The right-field bleachers were called the Sun Deck for day games and the Moon Deck for night games.
14 Allen Lewis, "Reds Pound 17 Hits to Crush Phils, 14-4," Philadelphia Inquirer, July 19, 1964: 61-62.
15 Smith, "Reds Lay It on Phils."
16 Ibid.
17 Lewis, "Covington Not Seriously Hurt."
18 Smith, "Tsitouris, Culp."
19 "Here's a First – Reds' Cheerleaders," Cincinnati Enquirer, July 18, 1964: 17.
Additional Stats
Cincinnati Reds 14
Philadelphia Phillies 4
---
Crosley Field
Cincinnati, OH
Box Score + PBP:
Corrections? Additions?
If you can help us improve this game story, contact us.
Tags
https://sabr.org/sites/default/files/RosePete-1323-92_Bat_CSU.preview.jpg
600
800
admin
/wp-content/uploads/2020/02/sabr_logo.png
admin
2019-10-07 14:57:31
2020-04-17 10:22:29
July 18, 1964: Pete Rose drives in six runs as Reds hammer first-place Phillies