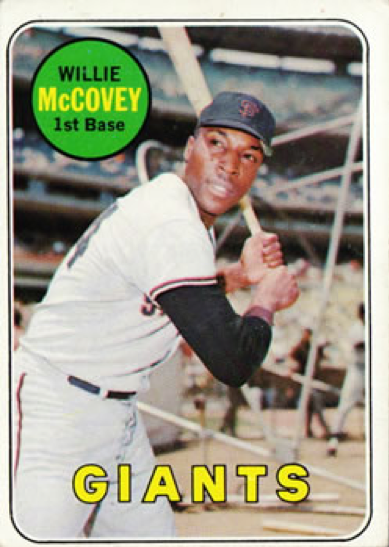 July 23, 1969: Willie McCovey's two homers power National League to All-Star win
---
"But the first time Howard came to bat … he hit a ball that if it ever came down, would be one of the longest home runs in RFK Stadium. It did, and it was." — Shirley Povich1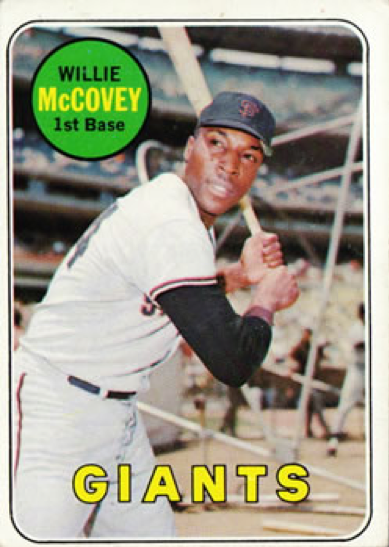 Nearly 50 years before Bryce Harper won the 2018 Home Run Derby2in front of the hometown fans at Nationals Park, another generation of Washingtonian baseball fans at the 1969 All-Star Game gathered at RFK Stadium to watch the feats of baseball's greats, including 19 future Hall of Famers.3The All-Star Game is a celebration of baseball history, its past heroes and its current stars. Invariably, the thunderous ovations and the flow of emotions are at their peak when players from the host team are introduced and honored.4
Change abounded in the game and elsewhere: The raw memory of the 1968 assassinations of Robert Kennedy and Dr. Martin Luther King Jr. and the rioting in American cities, including Washington, DC, were still fresh in our minds. In 1969, the Montréal Expos and San Diego Padres were new franchises in the National League and the Kansas City Royals and the Seattle Pilots debuted in the American League. Each league was divided into two divisions, permanently altering postseason play and the path to the World Series.
The year also marked the centennial of professional baseball, 100 years since the Cincinnati Red Stockings began paying salaries to their players. Sports-management executive and author Marty Appel noted that Major League Baseball was just embracing serious marketing of the game under new Commissioner Bowie Kuhn, including an All-Star Game in the nation's capital complete with a US postage stamp.5The logo designed to be worn on all uniform sleeves remains as the MLB logo of today.
What better way to connect the generations of baseball fans — and create some debate along the way — than by greatest-player-ever polls across the country, announced in conjunction with the 1969 All-Star Game.The greatest all-time team included Lou Gehrig at first, Roger Hornsby at second, Honus Wagner at short, Pie Traynor at third, Babe Ruth, Ty Cobb, and Joe DiMaggio in the outfield, Mickey Cochrane catching, Walter Johnson as the right-handed pitcher, and Lefty Grove as the left-handed pitcher. John McGraw was the manager. A second poll identified the greatest living players: George Sisler and Stan Musial (tied) at first, Charlie Gehringer at second, Joe Cronin at short, Traynor at third, DiMaggio, Ted Williams, and Willie Mays in the outfield, Bill Dickey catching, Bob Feller right-handed pitcher, Grove left-handed pitcher, and Casey Stengel, manager. Mays was the only player still active at the time.6
The game was scheduled for Tuesday night, July 22, but it rained and rained and rained, flash thunderstorms bringing Washington more than three inches of rain in less than one hour. The game was postponed until Wednesday afternoon. Rain began to fall 90 minutes before the first pitch and the infield was covered, but thankfully the rain stopped and the All-Star Game was ready to begin, even though the on-the-field introduction of the greatest living players had to be canceled.
There were two significant changes to the "starting lineups." President Richard M. Nixon had headed out for 12 days of worldwide diplomacy, so Vice President Spiro T. Agnew threw out two first pitches, one to NL catcher Johnny Bench and the other to AL catcher Bill Freehan.7Mel Stottlemyre (14-7, 2.61 ERA, 13 complete games) started for the American League in place of Denny McLain (14-5, 2.50 ERA, eight complete games). McLain was back in Detroit for a three-hour dental appointment and didn't arrive at the ballpark until the second inning.8 Cardinals pitcher Steve Carlton (12-5, 1.65 ERA, six complete games) was honored with the start for the National League.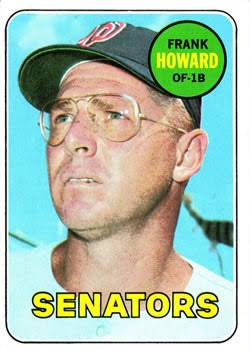 The National League jumped out early against Stottlemyre with a little of everything. Matty Alou hit Stottlemyre's first pitch to left-center for a leadoff single, advancing to second base on a groundout and to third on a wild pitch. Hometown hero Frank Howard had been introduced moments earlier to a sustained standing ovation.9Unfortunately, he played Hank Aaron's pop fly to left with substantial uncertainty and the error gave the NL an early 1-0 lead.10 In the top of the second, Cleon Jones hit another leadoff first pitch for a single. When Johnny Bench powered a two-run home run into the mezzanine in left field, the National League had a 3-0 lead at about the time that McLain showed up in the dugout. Minutes later, Howard atoned for his error by hitting a prodigious solo home run to the center-field mezzanine, 440 feet away.11 Local radio/television sports-talk host Phil Wood, attending the game as a fan, noted, "The place went nuts, obviously. His eyes were glistening as he rounded third."12 All was forgiven.
Unfortunately for the locals, any faint hopes of the American League to end a six-game losing streak were dashed by the NL stars in the top of the third inning against Blue Moon Odom. Aaron singled to left on Odom's first pitch, soon followed by Willie McCovey's two-run, 400-foot home run off the center-field scoreboard for a 5-1 lead. One out later, Cleon Jones reached on Rico Petrocelli's boot of a grounder and Johnny Bench singled him to third. When Felix Millan doubled down the left-field line, scoring two, and Steve Carlton doubled into the left-center alley scoring Millan, Odom was done for the day. Darold Knowles retired the last two batters in the inning but the damage was done and the AL trailed 8-1.
Bill Freehan opened the bottom of the third with a home run off Carlton and the left-field mezzanine. So when McLain entered the game in the fourth inning, dental work and all, the score was 8-2. He managed to strike out Aaron just before McCovey lined his second home run in consecutive innings over the right-field fence. McCovey joined Arky Vaughan, Ted Williams, and Al Rosen in hitting two home runs the same day in the 40 All-Star games.13
Bob Gibson replaced Carlton in the bottom of the fourth. The AL scored on a walk to Howard and singles by Sal Bando and Freehan to make the score 9-3. The crowd of 45,259 had just seen the teams hit five home runs so it was hard to believe that the last five innings would be scoreless. In fact, Dave McNally, Sam McDowell, and Ray Culp limited the National Leaguers to one hit and Bill Singer, Jerry Koosman, Larry Dierker, and Phil Niekro allowed only two hits to the American Leaguers. The National League's All-Star Game record improved to 22-17-1.
Willie McCovey's two home runs made him the obvious choice for the game's most valuable player. Johnny Bench, a 21-year-old in his second All-Star Game, was a worthy runner-up with a home run, single, and walk. And what about the hometown hero, Frank Howard? He was clearly moved by the reception he received before the game and the thrill of hitting another booming home run in RFK Stadium. He made no excuses about committing that first-inning error. "I just butchered it," Howard said. "It wasn't the field, it wasn't the sun. It was my play all the way and I butchered it."14 SABR biographer Mark Armour called him a gentle and humble man.15 He was that … and he could also hit booming home runs!
Some baseball feats can mark a fan's memory of a day at the ballpark for a lifetime. The ninth inning leading to a no-hitter, the exhilaration of a walk-off home run or even the rare occasion of a triple play become indelible. Moments in history can have that same effect. Three days before this All-Star Game, the world watched on television as Neil Armstrong became the first person to walk on the moon. At the same time, the New York Mets reached the All-Star break as credible pennant contenders, having beaten the first-place Chicago Cubs in two three-game series in early July. As New York Times sportswriter and author Leonard Koppett observed, "If that moon walk didn't suggest that anything was possible, what could?"16 The rest is part of baseball history.17
Author's note
The Sporting News was an invaluable resource for the author's research. Its print coverage noted that seven new All-Star Game records were set and 17 records were tied.18The author was left to smile curiously while examining the list of club batting records that were tied.
Fewest three-base hits, game, one club and both clubs — 0
Fewest sacrifice hits, game, one club and both clubs — 0
Fewest stolen bases, game, one club and both clubs — 0
Fewest hit by pitcher, game, one club and both clubs — 0
We can only draw one conclusion. Some baseball records will never be broken!
Sources
The author accessed Baseball-Reference.com for box scores/play-by-play information (baseball-reference.com/allstar/1969-allstar-game.shtml) and other data, Baseball-Almanac.com (baseball-almanac.com/asgbox/hrderby3.shtml), as well as Retrosheet.org (retrosheet.org/boxesetc/1969/B07230ALS1969.htm).
Notes
1Shirley Povich, "This Morning…," Washington Post, July 24, 1969: C1.
2Steven C. Weiner, " July 17, 2018: American League Wins Home Run-Happy All-Star Game in Extra Innings," SABR Baseball Games Project. The first Home Run Derby was held in 1985 at the Hubert H. Humphrey Metrodome in Minneapolis and was won by Cincinnati's Dave Parker with six home runs.
3"Washington, DC and the All-Star Game," Washington Nationals 2018 Media Guide, 284. Those future Hall of Famers in the 1969 game were Hank Aaron, Ernie Banks, Johnny Bench, Rod Carew, Steve Carlton, Roberto Clemente, Bob Gibson, Reggie Jackson, Harmon Killebrew, Juan Marichal, Willie Mays, Willie McCovey, Phil Niekro, Tony Perez, Brooks Robinson, Frank Robinson, Ron Santo, Tom Seaver,and Carl Yastrzemski.
4For example, when an iconic player of hometown fame is honored, the atmosphere is electric. Such was the case in 1999 at Fenway Park when that honor was bestowed upon Ted Williams (Dan Shaughnessy, "Ted Williams the Star as All-Stars Come to Fenway Park, BostonGlobe.com, July 14, 1999, accessed December 30, 2018, bostonglobe.com/sports/1999/07/14/ted-williams-star-baseball-showcase/h202nQNc3jEy6XU9NtEGKI/story.html).
5Marty Appel, "National Pastime Museum: Baseball's Centennial 'Greatest Players Ever Poll' Poll, AppelPR.com, accessed December 30, 2018, appelpr.com/?page_id=466.
6Appel.
7Leonard Koppett, "Agnew Pitches Twice in Relief," New York Times, July 24, 1969: 28.
8Joseph Durso, "5 Clouts Are Hit in All-Star Game," New York Times, July 24, 1969: 28.
9Merrell Whittlesey, "It's Cakewalk — Not Moonwalk — for N.L. Stars," The Sporting News, August 9, 1969: 7. "The ovation for Hondo when he was introduced was a wonderful tribute, warm and lasting and sincere, and he was touched as he stood head down, pawing the ground."
10Durso.
11Durso.
12David Driver, "Howard Had Memorable All-Star Moment in 1969 at RFK Stadium," Washington Times, July 12, 2018, washingtontimes.com/news/2018/jul/12/frank-howard-had-memorable-all-star-moment-1969/.
13Durso. The first All-Star Game was played on July 6, 1933, at Comiskey Park in Chicago. No game was played in 1945 due to World War II and two games were played in each season from 1959 to 1962.
14"Howard Takes Blame," The Sporting News, August 9, 1969: 8.
15Mark Armour, "Frank Howard," SABR Baseball Biography Project, sabr.org/bioproj/person/789d55a7.
16Leonard Koppett, Koppett's Concise History of Major League Baseball (New York: Carroll & Graf Publishers, 2004 edition), 344.
17The Mets swept the Atlanta Braves in three games to win the very first National League Championship Series. They became 1969 champions by winning their very first World Series in five games over the Baltimore Orioles.
18"7 New All-Star Marks," The Sporting News, August 9, 1969: 8.
Additional Stats
National League 9
American League 3
---
RFK Stadium
Washington, DC
Box Score + PBP:
Corrections? Additions?
If you can help us improve this game story, contact us.
Tags
https://sabr.org/sites/default/files/WillieMcCovey.png
600
800
admin
/wp-content/uploads/2020/02/sabr_logo.png
admin
2019-04-23 11:03:48
2020-04-17 10:23:36
July 23, 1969: Willie McCovey's two homers power National League to All-Star win