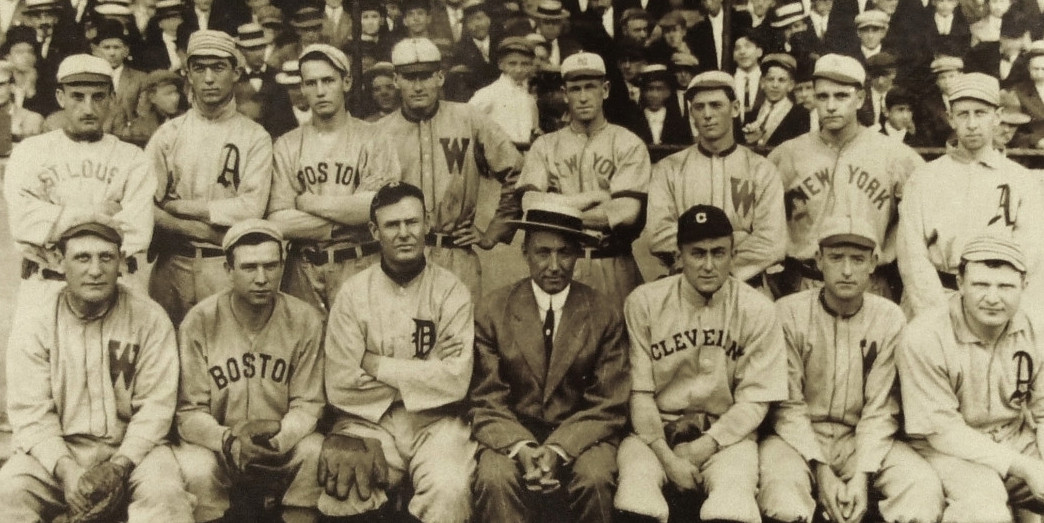 July 24, 1911: 'Galaxy of Stars' takes the field in Cleveland in honor of Addie Joss
---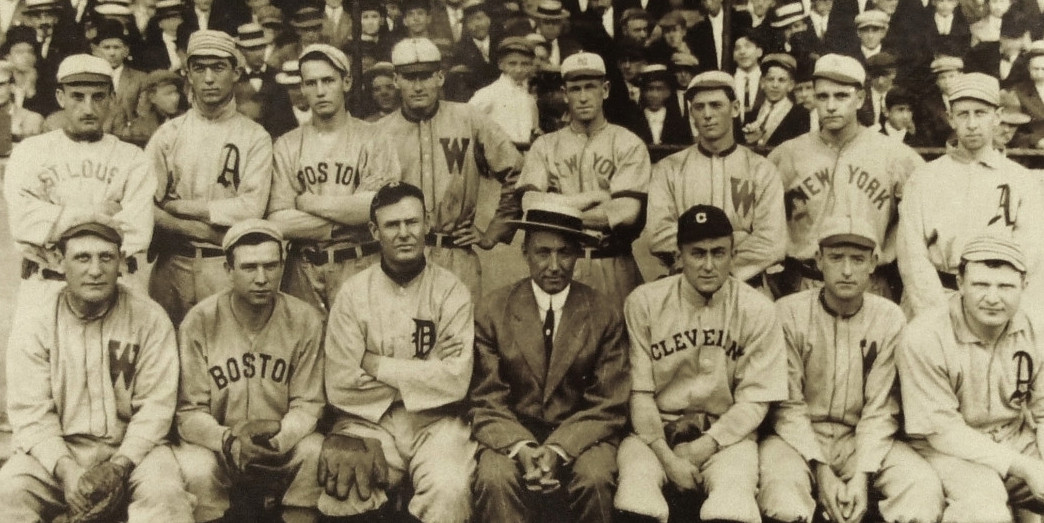 It said a lot about who Addie Joss was that the Cleveland Indians were willing to risk suspension — or worse, given American League President Ban Johnson's capriciousness — to attend his funeral.
And the event that was organized three months later as a benefit said even more about who Joss was as a pitcher, teammate, and human being.
Joss had fallen ill as the Indians — then still known as the Naps, in honor of their best player, Napoleon Lajoie — were coming north from spring training. He returned to his adopted hometown of Toledo, where he'd started his professional baseball career pitching at Armory Park, and died of bacterial meningitis on April 14, 1911 — two days after his 31st birthday.
The Naps had a game scheduled three days later in Detroit, the day of Joss's funeral, and Johnson had no interest in canceling the game — until team secretary E.S. Barnard said that the players were going to the funeral, and were willing to forfeit the game to do so.1 The entire Naps team attended the funeral at the Masonic temple — not far from Armory Park — as did several Tigers players.2
Ballplayer-turned-preacher Billy Sunday, who had preached that weekend at Swayne Field, which had supplanted Armory Park as the home of the Mud Hens two years earlier, gave a stem-winder of a sermon. Joss's teammates wept as he was laid to rest with full Knights Templar honors at Woodlawn Cemetery.3
Within a week of Joss's death, Naps owner Charles Somers decreed that there would be a benefit for the late pitcher's family at League Park at some point that summer. The committee to plan it included Barnard and sports editors Ed Bang of the Cleveland News and Henry P. Edwards of the Plain Dealer. 4
Even at that point in baseball history, Joss wasn't the first active major leaguer to die. And he wasn't even the first player to have a benefit in his honor. A benefit in 1909 at Shibe Park in Philadelphia involving the American League's four Eastern teams — the Red Sox, Highlanders, Athletics, and Senators –earned $8,000 for the family of Athletics catcher Doc Powers.5
But Joss was so well-regarded that the luminaries of baseball practically fell over themselves to volunteer. Umpire Billy Evans — who like Joss worked for a newspaper in the offseason — suggested that the entire American League umpiring staff take part.6 "I'll do anything they want for Addie Joss's family," said rival Walter Johnson.7 Johnson's manager, Jimmy McAleer, volunteered to manage the team opposing the Naps, saying, "The memory of Addie Joss is sacred to everyone with whom he ever came in contact. The man never wore a uniform who was a greater credit to the sport than he."8
The game was set for July 24, a Monday and an open date for every American League team, and Tris Speaker and Smoky Joe Wood — both of whom would later play for the Indians — stayed behind after the Red Sox game against the Naps the previous day to ensure that the team would be represented at the game.
In advance of the game, Barnard solicited donations from various players, teams, and civic and athletic organizations. Ty Cobb contributed $100 — the largest single donation by a player, equaling the sum proffered by Naps owner Somers. "Ty requested his name be kept out of the papers, but Vice President Barnard called him over the phone and secured his consent to use the story for all it was worth," the Plain Dealer reported.9 Other donors included Brooklyn owner Charles Ebbets and some of his players, the Cuyahoga County Sheriff's Office, the staff of each of the city's four newspapers and Osborn Engineers, the firm responsible for the design of League Park and many of the new ballparks being built.10
The game was heralded as "the greatest array of players ever seen on one field" by the Plain Dealer. It wasn't mere hyperbole. Every team except the White Sox — whose travel schedule precluded their attending — was represented. Nine future Hall of Famers — Lajoie, Johnson, Cobb, Speaker, Eddie Collins, Wahoo Sam Crawford, Bobby Wallace, Frank "Home Run" Baker, and Cy Young — took the field, as did Shoeless Joe Jackson, whose Hall qualifications are unquestioned even as his candidacy remains a topic for debate. And there was at least one future Hall of Famer in the stands — George Sisler, a recent Akron high school graduate who was visiting his uncle.11 "A press agent, one of the dyed-in-the-wool kind with all the polysylabic [sic] descriptive adjectives ever invented by the promulgators of the dictionary on his tongue's end could not do it justice," the Plain Dealer wrote the day of the game. "It is safe to say that never before in the history of the national game have so many real ball players appeared on one lot for a single game of the pastime."12
And fans turned out. Attendance was 15,272, even with grandstand tickets costing as much as $1.25. Joss's son Norman, 9, attended the game with Abe Holt, Joss's partner in a pool hall in Toledo.13 The atmosphere was muted but not funereal, wrote the next day's Plain Dealer. "There was no mourning, save that the flag hung at half mast from the pole in center field," J.P. Garvey wrote. "No drab coloring decorated the big grand stand."
The game itself was anticlimactic. "Cleveland was beaten as early as the first inning," Garvey wrote. Speaker led off the game with a single off Young into shallow center field — where he would be found patrolling for the Indians before the decade was out. Collins tripled to score Spoke, and Cobb — coming to bat wearing a Naps road uniform; his Tiger togs were apparently lost in transit — singled to plate Collins but was thrown out after going too far around first base. Baker reached on an error, but Crawford flied out and Baker was caught stealing to end the inning.14
The Naps went down in order in the first inning, and the all-stars padded their lead in the second. Hal Chase singled to lead off the frame and came around to score on a sacrifice fly by Wood. The Naps got their first hit of the game in the bottom of the second when George Stovall singled. Another single, by Joe Birmingham, combined with a fielding error by Speaker, let Stovall come around and score to put the Naps on the board.
The all-stars scored again in the fourth when Chase drove in Baker with a sacrifice fly, and again in the seventh when Clyde Milan doubled and scored on a single by Collins. The Naps pushed two runs across in the eighth, but it was too little, too late.
The game, described by Baseball Magazine as "the greatest tribute ever given a player's memory,"15 raised a total of $12,914.60 for the Joss family. "I cannot express my gratitude in words, but I do want to thank each and every person who had to do with the event," Joss's widow said in the next day's Toledo News-Bee.
The game demonstrated the public appetite for an all-star game — an appetite that wouldn't be sated again for another 22 years, when Chicago Tribune sports editor Arch Ward touted a similar event in connection with the city's World's Fair. Expected to be a one-off, it's been a part of baseball summers since. But more than that, the game served as a fitting tribute to a good pitcher and a good man.
"It seemed as if every player in the league were anxious to show how much he loved Joss by doing something to help in making the day a success," Barnard said. "If all the volunteers who offered their services for the Joss Day could have been accepted, we would have had enough players to furnish several teams. It merely went to show how universally Addie was esteemed by his fellow players."16
Notes
1 "Cleveland Team Strikes for Sake of Dead Comrade," Toledo News Bee, April 17, 1911: 1
2 baseball-almanac.com/tsn/add ie_joss_benefit_game.shtml.
3 "Men Wept Unashamed as Joss' Body Was Borne to the Tomb," Toledo News Bee, April 17, 1911: 1.
4 "Officially Decided to Have a 'Joss Day," Cleveland Plain Dealer, April 22, 1911: 10.
5 John McMurray, "Addie Joss and the Benefit Game," Base Ball 10: New Research on the Early Game, McFarland & Co. 2018. books.google.com/books?id=KYliDwAAQBAJ&pg=PT19&lpg=PT19&dq=george+sisler+addie+joss+benefit+game&source=bl&ots=cm2D5Hbpa0&sig=ACfU3U3BltAFKU3FC-TbTwWBRa3tRdr04g&hl=en&sa=X&ved=2ahUKEwjqi875kdXoAhULIDQIHZ-ECzsQ6AEwDXoECAsQKQ#v=onepage&q=george%20sisler%20addie%20joss%20benefit%20game&f=false
6 Henry P. Edwards, "Live Sport Talk," Cleveland Plain Dealer, April 25, 1911: 10.
7 baseball-almanac.com/tsn/addie_joss_benefit_game.shtml.
8 baseball-almanac.com/tsn/addie_joss_benefit_game.shtml.
9 "Speaker and Wood to help Joss Day," Cleveland Plain Dealer, July 21, 1911: 11.
10 "Joss Fund Almost $3,000," Cleveland Plain Dealer, July 23, 1911: 21.
11 McMurray.
12 "Galaxy of Stars to Be Here Today," Cleveland Plain Dealer, July 24, 1911: 6.
13 "In Tears, Mrs. Joss Speaks of Gratitude," Toledo News-Bee, July 25, 1911: 8.
14 McMurray.
15 digital.la84.org/digital/collection/p17103coll2/id/3085.
Additional Stats
American League All-Stars 5
Cleveland Naps 3
---
League Park
Cleveland, OH
Corrections? Additions?
If you can help us improve this game story, contact us.
Tags
https://sabr.org/sites/default/files/1911-Addie-Joss-benefit-NBHOF.jpg
600
800
admin
/wp-content/uploads/2020/02/sabr_logo.png
admin
2020-05-21 20:02:49
2022-08-10 15:36:08
July 24, 1911: 'Galaxy of Stars' takes the field in Cleveland in honor of Addie Joss