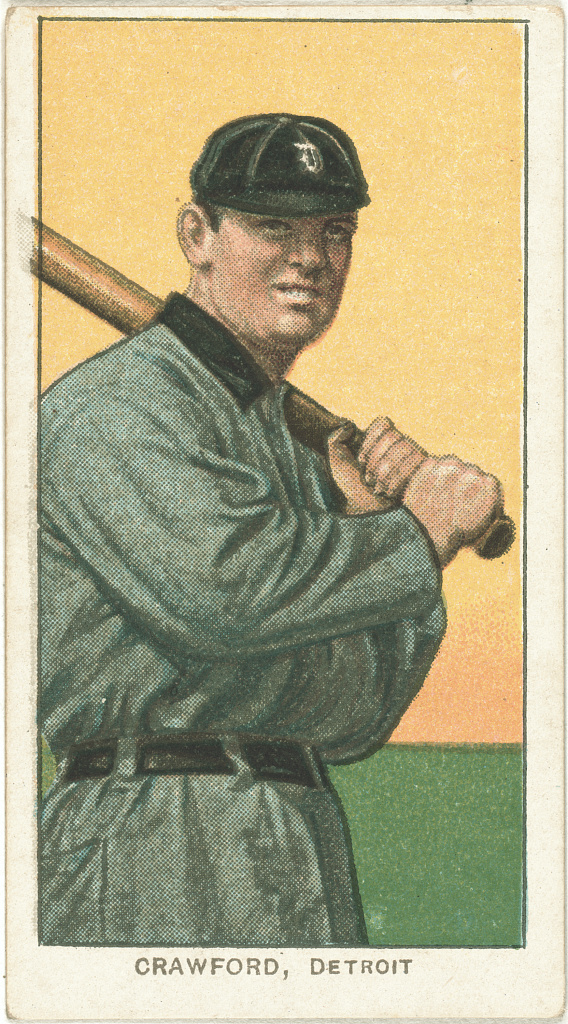 June 18, 1911: Tigers trail by 12, then triumph 16-15 over White Sox
---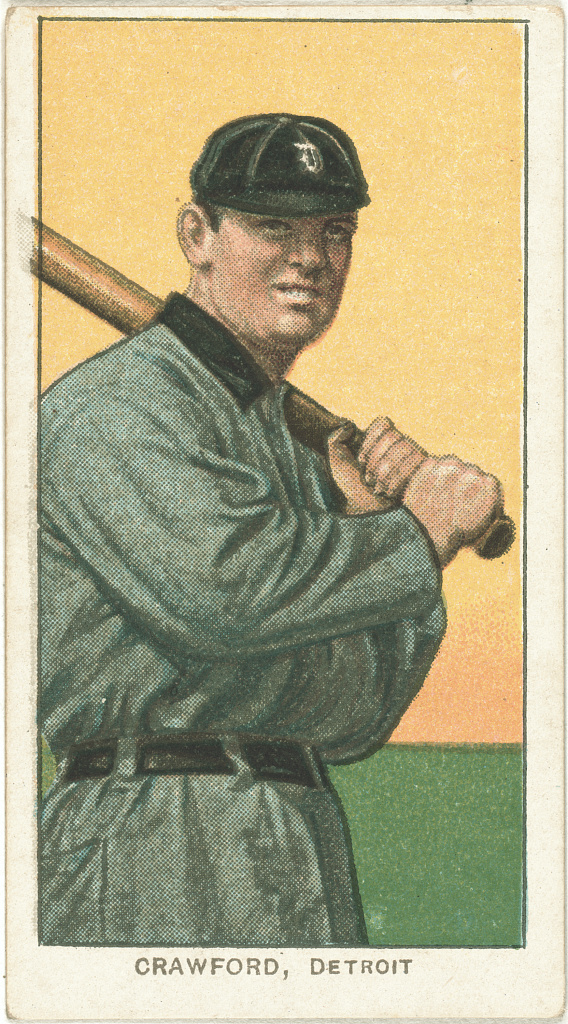 The Detroit Tigers began 1911 about as well as any team has ever started a season. By May 9, after shellacking the New York Highlanders 10-0, they sported a nine-game winning streak, a 21-2 record, and an eight-game lead over second-place Boston in the American League.1 Their fortunes began to change the next day, when the Highlanders beat them 6-2, and for the next five weeks Detroit wobbled through its schedule, winning and losing in equal measure.2 Despite their lukewarm play, as the Tigers settled into Bennett Park for a six-game homestand on June 18, their 37-18 record still secured first place, but by just two games over the Philadelphia Athletics.3
If a first-place team was not enough for Tigers fans to boast about, they could also bring up the exploits of their star, Ty Cobb. The Peach had hit safely in his last 27 games and was batting .439.4
The Chicago White Sox arrived in Detroit for two games after beating Philadelphia the previous day, 8-6. They were in fourth place, with a 25-22 record, eight games behind the Tigers. In Detroit's fast start, the Tigers had beaten them six times in the seven previous games between the teams.
A Sunday afternoon crowd of 10,1115 was on hand when Ed Summers (1-2) took the mound for Detroit. He was paired against Chicago's Doc White, who carried a 5-3 record into the game after shutting out Washington in his previous start. Summers had won 24 games in 1908 and White had won 27 in 1907, but neither man would enhance his reputation this day. Summers retired just one batter and gave up five runs before Ralph Works relieved him in the first inning. White surrendered eight runs and 12 hits in six innings. Despite their woeful efforts, neither pitcher was pinned with a loss.
Chicago sent 12 batters to the plate in the first inning and scored seven runs. Matty McIntyre, a popular former Tiger, led off the game with a single on a "clean drive to the outfield,"6 and added a second single later in the inning to drive in two runs.7
In addition to McIntyre's first-inning exploits, the White Sox collected two walks, two additional singles, and Harry Lord's triple. The Tigers' defense was no better than their pitching: Cobb dropped a fly ball, and catcher Oscar Stanage threw a ball away. Works finally retired the White Sox in the first, but not until he surrendered Chicago's sixth and seventh runs. With their team trailing 7-0 before the first Tiger came to bat, the hometown fans jeered.8
Works kept Chicago off the scoreboard in the second and third, while Detroit used three second-inning singles to trim the deficit by one. In the fourth inning the White Sox stretched their lead to 10-1. Works gave them only one hit – Lord beat out a bunt – but he walked two, and his wild pitch brought home the first of their three runs.9 The final two runs scored when "a daring double steal" by Rollie Zeider and Lord "drew two bad throws," allowing both men to score.10
Works fared no better the next inning, as Chicago again scored three times to make it 13-1. With one out, catcher Fred Payne tripled, then scored on White's single.11 McIntyre reached on an error.12 Lord singled to score White and send McIntyre to third.13 McIntyre scored run number 13 on an infield out.14 McIntyre would reach base on each of his six plate appearances, singling four times, and walking, as well as reaching base on this fifth-inning error.15 He had a lot of supporters among Tigers fans, who were "much elated" by the former Tiger's performance.16
Detroit started its rally in the bottom of the fifth. Charlie Mullen batted for the ineffective Works and singled.17 He was forced at second on a grounder by Delos Drake, who advanced to second when Donie Bush walked.18 Cobb tripled them both home.19 Sam Crawford also tripled to score Cobb, and he came home with the fourth Tigers run of the inning on a groundout.20 Detroit still trailed by eight, 13-5.
The Tigers drew closer in the sixth. Charlie O'Leary got the first of three consecutive singles off White to fill the bases.21 O'Leary scored on a wild pitch, and the other runners moved up.22 A second run scored on a groundout, and a third run on another single, before White notched the third out.23 Detroit had trimmed the lead to 13-8.
Chicago temporarily regained its bearings in the seventh, and extended its lead. Bill Covington, the third Tigers pitcher, gave up singles to White, McIntyre, Lord, and Ping Bodie, which netted two runs and a 15-8 White Sox lead.24 As the Chicago Tribune wrote, "It seemed the game was surely safe."25 It was not.
Fred Olmstead, who both started and relieved for Chicago, made his fifth relief appearance of the season when he replaced White in the bottom of the seventh.26 He blanked the Tigers that inning, but was battered in the eighth. He was tagged for five hits, all singles, and walked two.27 He was replaced by spitballer Ed Walsh with five runs already in the books, two outs, and two runners on base.28 Walsh struck out rookie pinch-hitter Biff Schaller "and saved the team that time."29 Chicago still led, but it was 15-13.
The Tigers had sent in rookie Clarence Mitchell to pitch the eighth. He surrendered two singles, but Chicago did not score.30 He then pitched a 1-2-3 ninth, keeping the score at 15-13 going to the bottom of the inning.
Walsh struck out the first Tigers batter of the ninth.31 Next, Davy Jones singled to center.32 Bush batted and dropped a Texas Leaguer into left, just out of the reach of Nixey Callahan, who overran it, allowing Bush to gain second base, and Jones to reach third.33 A seemingly insurmountable lead was now in jeopardy. The tying runs were in scoring position with Cobb, then Crawford, scheduled to bat.
Cobb hit a high bounder, which third baseman Lord threw past first base "in his haste to complete an impossible play."34 Cobb slid into Shano Collins at first base while trying to beat the throw, then scurried to second as the ball rolled free.35 Both Jones and Bush scored on the play, and the game was tied.36
Walsh was visibly angry, prompting a conference with White Sox captain Harry Lord.37 Walsh had reason to be upset. Neither Bush nor Cobb had hit the ball well, yet the score was tied and he still needed to find two more outs.
Walsh was even angrier when his first pitch to Crawford was "over the edge of the plate" but called a ball.38 The count on Crawford reached two balls and one strike before Detroit's cleanup hitter sent a ball 10 feet over the center fielder's head and all the way to the fence.39 Crawford reached second base just before Cobb "jumped on the home plate"40 with the winning run. Walsh took the loss, and Mitchell got an unexpected first career win.41
The crowd, which had jeered their Tigers in the first inning, cheered wildly, poured out of the stands, and surrounded the team.42 Of course, many fans had left early, and, in the estimation of the Detroit Free Press, would never forgive themselves for missing the historic ending.43
The win extended the Tigers' hold on first place to 2½ games over idle Philadelphia. Detroit would claim first place as late as August 5, but would never top the standings after that. The Tigers finished 1911 in second place, 13½ games behind Philadelphia.
Chicago lost to Detroit the next day too, before sweeping four games from the Browns in St. Louis.44 They finished the season in fourth place, tied with the Boston Red Sox with a 77-74 record. Although Walsh took a tough loss in this game, he would win 27 games and lead the league in innings pitched and strikeouts.45
Ty Cobb's five hits boosted his average to .450, and, even though it was not mentioned by the press, his hitting streak was now 28 games. That streak reached 40 games before Walsh blanked him in the first game of an Independence Day doubleheader.46 Cobb's final average of .419, the best of his career, gave him his fifth batting crown. He also led the league in hits, runs, doubles, triples, stolen bases, slugging, and runs batted in.
Detroit's rally to win after trailing by 12 runs has never been topped, although it has twice been matched. On June 15, 1925, the Athletics trailed Cleveland 15-3 when they came to bat in the bottom of the seventh. They scored one run that inning, and 13 in the eighth to win 17-15.47 On August 5, 2001, it was Cleveland overcoming a 12-run deficit. The Indians scored five times after two were out in the ninth inning to tie Seattle, and won 15-14 in 11 innings.48
Sources
baseball-reference.com/boxes/DET/DET191106180.shtml
retrosheet.org/boxesetc/1911/B06180DET1911.htm
Notes
1 https://retrosheet.org/boxesetc/1911/VDET01911.htm.
2 Ibid.
3 https://retrosheet.org/boxesetc/1911/06171911.htm.
4 https://retrosheet.org/boxesetc/1911/Icobbt1010071911.htm.
5 "Told About the Tigers," Detroit Free Press, June 19, 1911: 9.
6 Ibid.
7 Ibid.
8 Sam Weller, "Tiger Bats Sing Sox Defeat, 16-15," Chicago Tribune, June 19, 1911: 13.
9 Ibid.
10 Ibid.
11 Ibid.
12 Ibid.
13 Ibid.
14 Ibid.
15 Ibid.
16 "Told About the Tigers."
17 Weller.
18 Ibid.
19 Ibid.
20 Ibid.
21 Ibid.
22 Ibid.
23 Ibid.
24 Ibid.
25 Ibid.
26 https://retrosheet.org/boxesetc/1911/Kolmsf1010041911.htm.
27 Weller.
28 Ibid.
29 Ibid.
30 Ibid.
31 Ibid.
32 Ibid.
33 Ibid.
34 E.A. Batcheler, "Hughie Sends Four to the Front," Detroit Free Press, June 19, 1911: 9.
35 "Told About the Tigers."
36 Batcheler.
37 Weller.
38 Ibid.
39 Ibid. In Batcheler's Free Press report, Crawford hit Walsh's first pitch, not his fourth, but throughout his story there is more hyperbole than fact, so I believe Weller's account to be correct.
40 Ibid.
41 Charles F. Faber, "Clarence Mitchell," SABR BioProject, https://sabr.org/bioproj/person/923ff3e8.
42 Weller. Again, Batcheler's report is different. He claimed, "Everybody was so astonished that he didn't feel like cheering." That is not credible.
43 "Told About the Tigers."
44 https://retrosheet.org/boxesetc/1911/VCHA01911.htm.
45 https://retrosheet.org/boxesetc/1911/YL_1911.htm.
46 https://retrosheet.org/boxesetc/1911/B07041DET1911.htm.
47 Andrew Simon, "Super Comebacks: MLB's Most Unreal Rallies," https://mlb.com/news/mlb-s-best-comebacks-in-history-c215344274.
48 Ibid.
Additional Stats
Detroit Tigers 16
Chicago White Sox 15
---
Bennett Park
Detroit, MI
Box Score + PBP:
Corrections? Additions?
If you can help us improve this game story, contact us.
Tags
https://sabr.org/sites/default/files/Crawford-Sam.jpg
600
800
admin
/wp-content/uploads/2020/02/sabr_logo.png
admin
2019-09-18 13:18:42
2020-04-17 10:22:33
June 18, 1911: Tigers trail by 12, then triumph 16-15 over White Sox