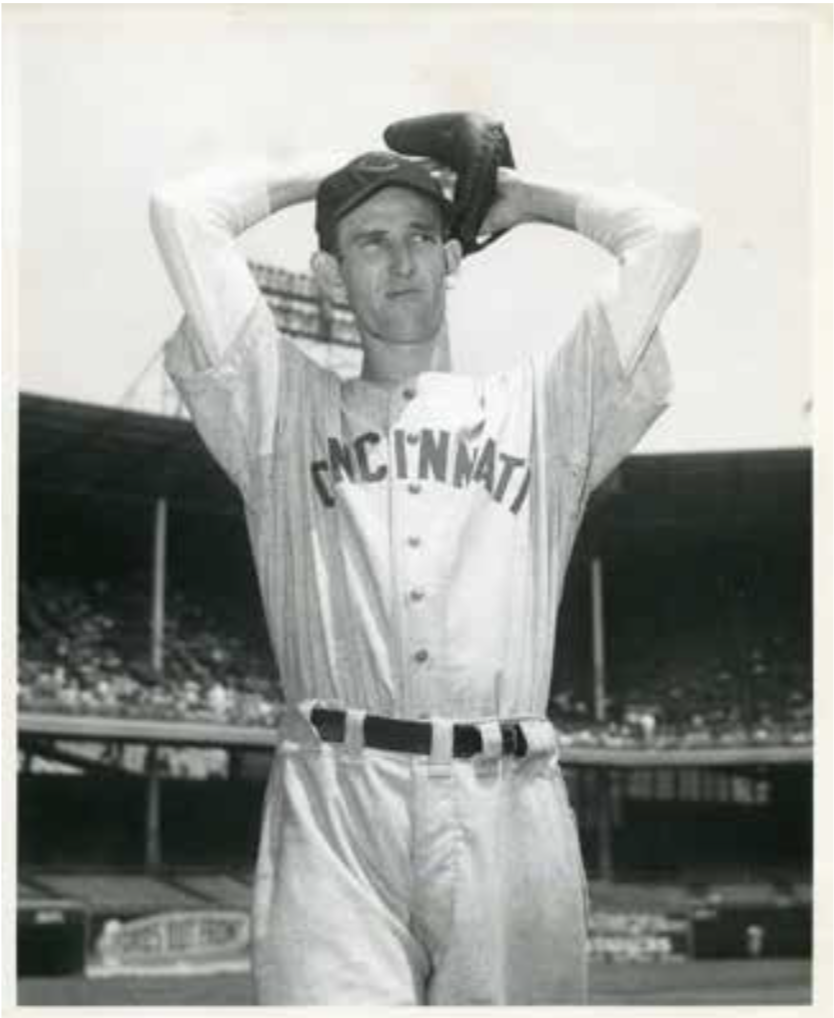 June 18, 1947: 'The Whip' Ewell Blackwell throws a no-hitter for Reds
---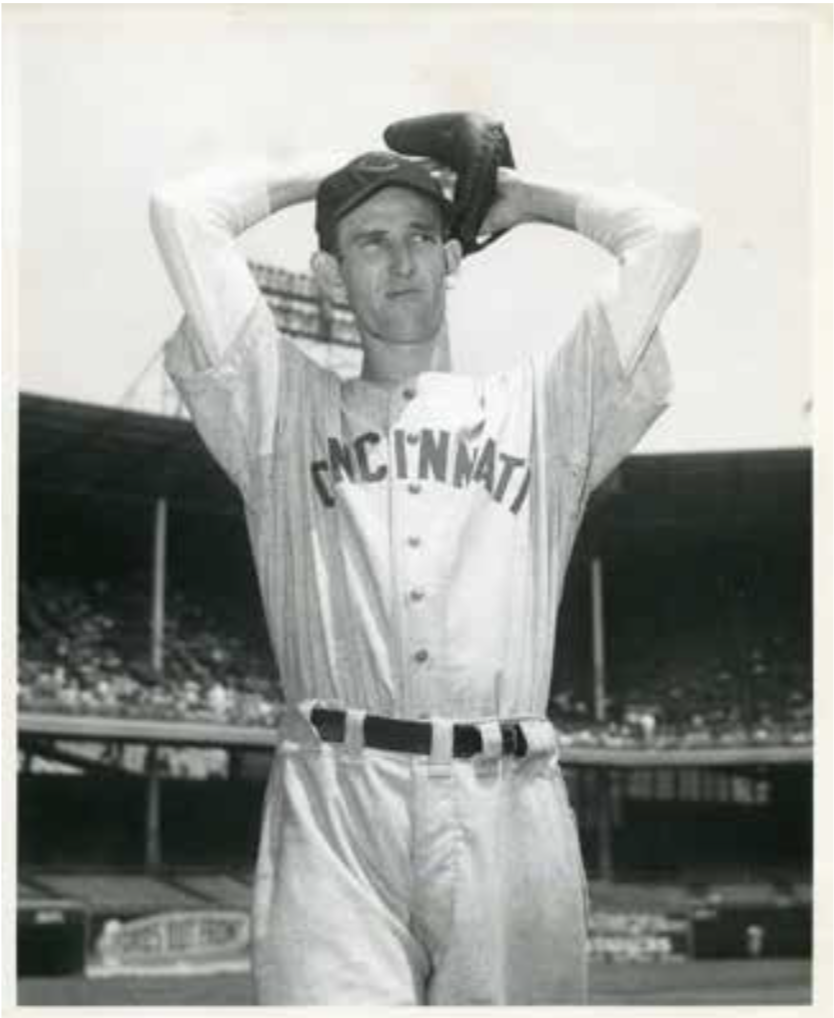 "Ah just fired fast ball after fast ball at 'em in the ninth," declared Ewell Blackwell in his Western drawl after tossing a no-hitter. "Because ah will admit, ah was a trifle nervous when the last round started."1
The Reds first-year skipper Johnny Neun was looking for a pick-me-up following the sixth-place (26-30) Reds' humiliating loss, 11-1, to the Boston Braves in the first of a three-game set in Cincinnati.2 The hottest team in baseball, the surprising league-leading Tribe (31-22) moved a full game ahead of the New York Giants, and 6 ½ games in front of the Reds. Manager Billy Southworth's offense was clicking all cylinders, averaging a whopping 10 runs and 15 hits in the last four contests.
If any Reds hurler could tame Boston's bashers it was their 24-year-old right-hander from California, Ewell Blackwell. The tall and lanky (6-feet-6, 185 pounds) Blackwell had emerged in just over a season as one of the league's most feared hurlers. Notwithstanding a misleading 9-13 slate for a lousy Reds club as a rookie in 1946, he earned his first of six consecutive All-Star berths, posted a stellar 2.45 ERA, and co-led the NL with five shutouts, despite having missed all of spring training following a three-year stint in the Army Air Corps. Even better thus far in '47, "Blackie," as the Cincinnati Enquirer called him, had won his last seven decisions (with a 1.16 ERA) to improve his record to 9-2, and was pacing the league in innings pitched and strikeouts. According to sportswriter Lou Smith, Blackwell had a "hopping fast ball and a buggy whip curve – whether sidearm or overhand" which made him equally tough against right- or left-handed batters.3 Said Blackwell, "I throw a low sinker to the lefties. When my control is right, and I kept hat sinker around their knees, usually get the out."4 All legs and arms on the mound, Blackwell's unorthodox crossfire delivery (once described as "mak[ing] him look like he's falling out of a tree"5) kept hitters off balance. On the mound for the Braves was 28-year-old right-hander Ed Wright, who had struggled (1-1, 5.34 ERA) and had lost his spot in the rotation. He was making his first start in 17 days.
The weather was uninviting for a Wednesday night game in the Queen City. There had been intermittent showers all day, leading up to game time, with temperatures in the low 60s evoking spring more than the summer. The air was dense with what the Enquirer described as "low-hanging fog," which was a good sign for a pitchers' duel.6 Nonetheless, a robust crowd of 18,137 turned out to Crosley Field to see Blackwell make his first start of the year under the lights.
Blackwell began the game by walking Tommy Holmes, who advanced to second on a sacrifice bunt. Perennial All-Star shortstop Eddie Miller made a "leaping one-handed catch" of Bama Rowell's sharp liner and doubled up Holmes.7 It was the first of only four hard-hit balls off Blackwell and an omen of what kind of night it would be.
The Reds wasted no time whacking Wright. Following Frank Baumholtz's leadoff single and Grady Hatton's one-out walk, cleanup hitter Babe Young began one of his most memorable games at the plate in his eventual eight-year career. Acquired 11 days earlier in a trade with the New York Giants for Joe Beggs, Young walloped his first homer as a Red to give the Reds a 3-0 lead.
The Reds threatened in each of the next four innings, getting two men, but failed to push another run across the plate. Wright was knocked out of the box with one out in the second, replaced by Walt Lanfranconi. The rookie from Vermont kept the Braves in the game, yielding six hits and walking a batter in 5⅔ innings.
Affectionally nicknamed "The Whip," Blackwell rolled through the Braves lineup, retiring all 15 batters he faced from the second inning through the sixth. In the seventh, some stellar defensive plays helped him out. Sandwiched around a one-out walk to Johnny Hopp were third baseman Grady Hatton's stab of Tommy Holmes' grounder that saved an extra-base hit and Baumholtz's running catch of Rowell's deep bomb to the wall in right field.
Blackwell had a hiccup in the eighth, issuing consecutive one-out walks to Phil Masi and Sibby Sisti. But a fly out by Connie Ryan and pinch-hitter Frank McCormick's sharply belted liner to Hatton at third ended the frame.
Southworth sent right-handed reliever Andy Karl to start the eighth and it was a disastrous repeat of the first frame. Baumholtz singled, Hatton drew a one-out walk, and Babe Young blasted another three-run home run to give the Reds a 6-0 lead.
Just three outs from a no-hitter, Blackwell faced the top of the Braves' order in the ninth. After Hatton made the highlight reel again, robbing Holmes of an extra-base hit, Hopp shunned tradition and dropped a bunt. It rolled only a few feet in front of catcher Ray Lamanno who retrieved it easily and made a relaxed throw to first for the second out. Bama Rowell took two mighty swings at Blackwell's heater and fouled both off. Blackwell hurled the next one by him for a swinging strikeout to complete the no-hitter in 1 hour and 51 minutes. Coincidentally, he had retired Rowell for the final out in a game in Nuremberg, Germany, in 1946, the third no-hitter he tossed while in the service.8
As can be expected Blackwell was mobbed by his teammates, and fans poured onto the field. "It's the greatest pitched game I ever caught and we didn't have one shakeoff all night," gushed Lamanno.9 Blackwell threw only 96 pitches, fanned three and walked four in an economical yet far from overpowering game.10 Finding it difficult to control his breaking balls, Blackwell tossed almost exclusively fastballs, and claimed he threw just three or four curves all night.11
The Reds pounded the Braves for 12 hits, led by Baumholtz's four and Young's career day with two home runs and all six runs batted in. Hatton drew four of the Reds' five walks. The score could have been worse as the Reds left 13 on base and hit only 2-for-12 with men in scoring position. The loss dropped the Braves from the perch of the NL standings.
Blackwell's first and only career no-no continued one of the best stretches for any pitcher in Reds history. In his next start, in the first game of a doubleheader against the Brooklyn Dodgers in Cincinnati, Blackwell came oh-so-close to etching his name next to that of teammate Johnny Vander Meer in baseball lore. He held Brooklyn hitless for 8⅓ innings, yielding a single to Eddie Stanky and finishing with a 2-0 shutout. Blackwell ultimately extended his winning streak to 16 games, including 12 straight starts. It was the longest winning streak for a right-hander in NL history. He finished the season by leading the majors in wins (22) and strikeouts per nine innings (6.36), while pacing the NL in strikeouts (193) and complete games (23). He also tossed six shutouts and posted a 2.47 ERA, and finished second in the MVP voting despite playing for a losing team. Blackwell's promising career was derailed by chronic injuries and bad luck beginning the next season. He injured his shoulder in an exhibition game; a year later he had an infected kidney removed. Blackwell never again came close to duplicating his magical 1947 season, retiring after the 1955 campaign with an 82-78 slate in parts of 10 seasons.
Blackwell's no-hitter marked a few curious statistical oddities. It was the eighth consecutive NL no-hitter that involved either the Reds or Braves, dating to Vander Meer's first of two no-hitters, on June 11, 1938, against the Bees, as the Braves were known then. In addition, the Braves were also the victim of the last three NL no-hitters, all at home, by the Reds' Clyde Shoun on May 15, 1944, the Dodgers' Ed Head, on April 23, 1946, and Blackwell.
This article was published in "Cincinnati's Crosley Field: A Gem in the Queen City" (SABR, 2018), edited by Gregory H. Wolf. To read more articles from this book at the SABR Games Project, click here.
Sources
In addition to the sources cited in the Notes, the author also accessed Retrosheet.org, Baseball-Reference.com, SABR.org, and The Sporting News archive via Paper of Record.
https://www.baseball-reference.com/boxes/CIN/CIN194706180.shtml
https://www.retrosheet.org/boxesetc/1947/B06180CIN1947.htm
Notes
1 Lou Smith, "Blackwell Nervous in Ninth; Fired Fast Ball, Ace Says," Cincinnati Enquirer, June 19, 1947: 10.
2 The third game was rained out.
3 Lou Smith, "Reds Also Idle Today; Blackie Is Rated Cinch to Start Game," Cincinnati Enquirer, June 20, 1947: 16.
4 Ibid.
5 "Reds Blackwell Hurls No-Hit 6-0 tilt; Young Bats in All 6," Minneapolis Tribune, June 19, 1947: 17.
6 Lou Smith, "Blackie Pitches No-Hit Contest," Cincinnati Enquirer, June 19, 1947: 1.
7 Ibid.
8 John Drohan," "Don't Make Fuss Over Me, Says No-Hit Blackwell," Boston Traveler, June 19, 1947: 16.
9 Smith, "Blackwell Nervous in Ninth; Fired Fast Ball, Ace Says."
10 Smith, "Blackie Pitches No-Hit Contest."
11 Ibid.
Additional Stats
Cincinnati Reds 6
Boston Braves 0
---
Crosley Field
Cincinnati, OH
Box Score + PBP:
Corrections? Additions?
If you can help us improve this game story, contact us.
Tags
https://sabr.org/sites/default/files/Screen%20Shot%202019-10-03%20at%2012.27.30%20PM.png
600
800
admin
/wp-content/uploads/2020/02/sabr_logo.png
admin
2019-10-03 12:24:23
2020-04-17 10:22:30
June 18, 1947: 'The Whip' Ewell Blackwell throws a no-hitter for Reds