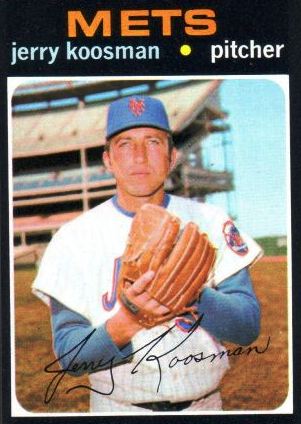 June 25, 1970: Koosman, Mets win to sweep five-game series with Cubs
---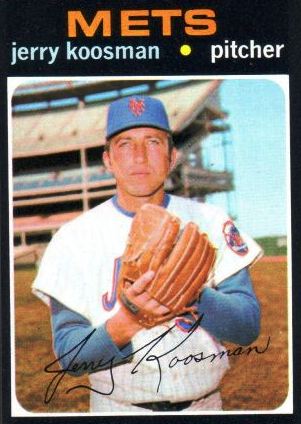 The Chicago Cubs held a 3½-game lead over the second-place New York Mets on June 22, 1970 as the two teams prepared for a 5-game series in Wrigley Field. Following the historic 1969 season in which the Mets, behind ten games on August 14, overtook the Cubs, finishing eight games ahead of them, the two teams had become bitter rivals. The Cubs had won three of the five games thus far played between the two teams prior to the June meetup. To no one's surprise, imperturbable Mets manager Gil Hodges said of the series, "It's only June, it's too early to start talking about crucial games. No, we don't have to sweep them or anything like that. I think we'll win our share out there. If we play the kind of game we're capable of playing, we'll do all right."1
Winners of their last seven out of 10, the confident Mets came into Wrigley Field following a June 21 rainout. The Cubs, on the other hand, returned from a west coast trip, then lost 3 out of 4 to the visiting St. Louis Cardinals (including a marathon 17-inning loss on June 19) prior to the Mets series. The New Yorkers took game one, 9-5. Game two was a slugfest, but the Mets prevailed in 10 innings, 12-10. The Mets swept the June 24 doubleheader2 by scores of 9-5 and 6-1.
Going into the June 25 series finale, the Cubs found themselves a half game out of first place. A win would salvage the series and put them back on top. A crowd of 28,105 watched as a pair of lefties squared off. Ken Holtzman for the Cubs, 5-1 pitching at Wrigley Field, and Jerry Koosman for the Mets.
There was a question if Cubs manager Leo Durocher would play Ron Santo. In an effort to shake things up, Durocher had unexpectantly benched Santo for both games of the June 24 twin bill.
"How long will Santo be out of the lineup?" a reporter asked Durocher. "I don't know," he replied.3
Santo was in fact back in the lineup, but nothing changed. It didn't take long for the Mets to jump on Holtzman. A 6-run second inning, aided by 3 Cubs errors, chased Holtzman. Donn Clendenon opened the inning with a base hit up the middle. Ron Swoboda followed with a double. Cubs center fielder Cleo James got a glove on the ball, but he dropped it after making contact with the ivy-covered wall. A Don Kessinger throwing error on James' relay throw allowed Clendenon to score the first run. Joe Foy reached on an infield single. Wayne Garrett drove in Swoboda with a single. With Foy at second and Garrett at first, the Mets pulled off a double-steal. Cubs catcher Jack Hiatt, committing the inning's second error, overthrew third base allowing Foy to score. Jerry Grote walked. Holtzman finally recorded an out, striking out Koosman. Following a Tommie Agee single and a Bud Harrelson double, Roberto Rodriguez replaced Holtzman. Rodriguez finally ended the onslaught retiring Clendenon and Swoboda, but not before Agee scored the sixth and final run of the inning on a Glenn Beckert error, the Cubs third of the inning.
The Cubs never recovered. They scored an unearned run in the fourth inning on a Jim Hickman RBI single and cut the lead to 6-3 in the sixth. Again, it was Hickman providing the offense. He hit a 2-run homerun off Koosman.
In the top of the seventh inning, the Mets got those two runs back off Cubs reliever Jim Colborn. Clendenon opened the frame with a double. He scored on Foy's single. Foy advanced to second base on the throw home. Garrett was walked intentionally. Grote hit into a fielder's choice, sending Foy to third. Another double-steal, as Grote stole second and Foy stole home resulted in the Mets eighth and final run.
After the game, Foy said, "I really didn't want to steal home. But Ron Santo was playing back and I just started walking…and kept walking…and the pitcher didn't look at me, so I went."4
In the five-game series, the Mets attempted 11 stolen bases and were successful 10 times. In contrast, the Cubs had stolen only 12 bases all season.
Holtzman blamed tough luck for the loss. "I had my good stuff. They were just hitting it," he recounted after the game. "Three of the hits they got off me were on pitches below the knees. When I had a good game against the Cards last Saturday, those pitches were ground outs."5
Cubs General Manager John Holland was an early proponent of reserving Mondays for travel and/or rest. He didn't believe games should be scheduled on Mondays. Holland opined the Mets series sweep over the Cubs was due in part to the Cubs' grueling schedule. "I know this sounds like an alibi, but it is true, nevertheless. The Cubs were a tired ball club — tired because of having no rest coming back from the West Coast and then running into a 17-inning game with the Cardinals…What adds to the weariness of traveling between the West Coast and Chicago is the time change…Now this [West to East or East to West travel] definitely affects your body chemistry — physically as well as mentally…To make matters even worse…the Mets came in on a Monday, they…had a day of rest because they were rained out on Sunday."6
After the series, the now second-place Cubs would never reach first-place again that season. And although they went on to lose their next 5 games (a 12-game losing streak), they finished the season in second place with a record of 84-78, five games behind the Pittsburgh Pirates. The Mets finished 83-79 in third place.
Sources
https://www.baseball-reference.com/boxes/CHN/CHN197006250.shtml
https://www.retrosheet.org/boxesetc/1970/B06250CHN1970.htm
Notes
1 Red Foley, "Mets Singin' in the Rain over Koosman," Daily News, June 22, 1970: 77.
2 May 14 rainout made up as second game of doubleheader.
3 Bob Logan, "Leo is Mum Sans Microphone," Chicago Tribune, June 25, 1970, Section 3: 1.
4 Richard Dozer, "Sloppy Cubs Mets-Merized Again, 8-3," Chicago Tribune, June 26, 1970, Section 3: 1.
5 Bob Logan, "Cubs' Weak Week Homestand: Comedy of Errors," Chicago Tribune, June 26, 1970, Section 3: 1.
6 Edgar Munzel, "Holland, Seeing Cubs Skid, Urges Open Date on Mondays," The Sporting News, July 11, 1970: 13.
Additional Stats
New York Mets 8
Chicago Cubs 3
---
Wrigley Field
Chicago, IL
Box Score + PBP:
Corrections? Additions?
If you can help us improve this game story, contact us.
Tags
http://bioproj.sabr.org/bp_ftp/images4/KoosmanJerry.jpg
600
800
admin
/wp-content/uploads/2020/02/sabr_logo.png
admin
2019-12-19 17:00:40
2020-04-17 10:22:21
June 25, 1970: Koosman, Mets win to sweep five-game series with Cubs