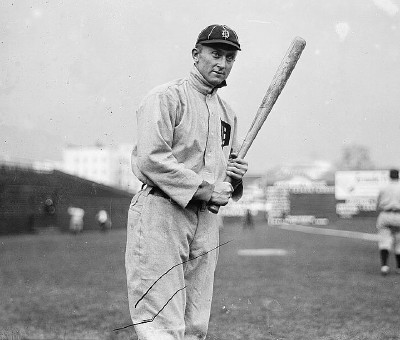 June 29, 1907: Bemis batters Cobb, but Georgia Peach's bat does the damage in rout of Naps
---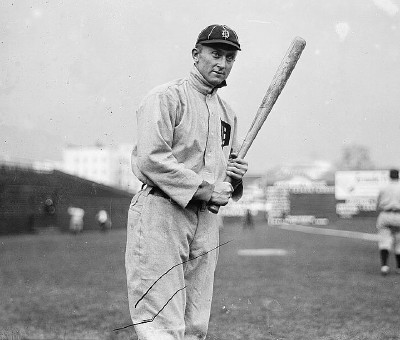 Perhaps no player in the annals of baseball has had his reputation sullied more than Ty Cobb, thanks primarily to Al Stump, who served as the ghostwriter for Cobb's autobiography and whose later magazine article and biography created a sensationalized portrait of Cobb as an outright fiend. Charles Leerhsen rehabilitated Cobb's name to a great extent in his 2015 biography of the Georgia Peach, while conceding that his subject was hardly a saint. Nonetheless, myths surrounding Cobb — both for better and for worse — are still firmly rooted. One instance in which Cobb's baseball acumen was inaccurately lauded to his benefit occurred on June 29, 1907, when Cleveland Naps catcher Harry Bemis's attack on Cobb was credited both to Cobb's brilliance and to Bemis's anger at being "outguessed." The truth was more mundane: Cobb was simply a victim of circumstance.
Heavy rain that soaked Detroit prior to the game resulted in a small crowd of 3,933 at Bennett Park. The rain also made for sloppy field conditions that contributed to eight errors (five by Cleveland and three by Detroit) being committed that afternoon. The Cleveland Plain Dealer remarked, "Several of the Tigers' hits to the outfield were made more safe by the wet grass which caused the Naps to slip."4 The manner by which a batted ball may become "more safe" was irrelevant on this day as the Tigers were knocking balls all over the field and scoring almost at will.
Detroit starter George Mullin had been a thorn in Cleveland's side all season, having notched three shutout victories against the Naps already. After Mullin worked around a one-out walk to Bill Bradley in the first inning, the Tigers set him on the path to his fourth victory against this same team. Davy Jones drew a leadoff walk from Cleveland lefty Otto Hess and advanced to second on Bill Coughlin's sacrifice bunt. Sam Crawford struck out, but Bemis dropped strike three and Jones advanced to third as Bemis threw out Crawford at first base. Cobb then put the Tigers on the scoreboard with his first hit of the day, an RBI single. Claude Rossman drove Cobb home with a double, and Red Downs and Charley O'Leary followed with back-to-back base hits that gave the Tigers a quick 3-0 lead. Hess retired Jimmy Archer on a flyout for the third out of the lone inning that he would pitch on this day.
The Naps tried to respond in kind in the top of the second as George Stovall knocked a leadoff single and Bill Hinchman stepped to the plate and launched a ball toward the fence. Left fielder Davy Jones "[t]urned his back on the ball and sprinted. He turned just as it started to drop, jumped high in the air and speared it in his gloved hand" and then "was given the greatest ovation of the year for his catch that robbed Hinchman of an extra base hit."5 Mullin induced a Joe Birmingham pop fly to second base and struck out Bemis to further deflate Cleveland.
Heinie Berger took the slab for Cleveland in the bottom of the second and was "handled with even less care than had been bestowed on the left hander."6 Berger did himself no favors by opening with a walk of his mound opponent, Mullin. Jones sacrificed Mullin to second, and Coughlin's grounder put him at third. Once again, a Naps hurler had the opportunity to escape a jam only to allow a two-out rally. After Crawford singled to drive in Mullin, the fateful play of the day took place when Cobb lashed a triple to deep center field. Birmingham retrieved the ball and threw it to Bradley at third base, where Cobb seemed likely to stop; however, Cobb ended up dashing toward home.
Bradley relayed the ball to Bemis, who blocked the plate and seemingly had Cobb dead to rights. Cobb, however, made a head-first slide into the plate and his shoulder collided with Bemis, knocking the catcher off his feet and causing him to drop the ball. As umpire Silk O'Loughlin called Cobb safe, Bemis began to pummel Cobb, who was lying face-down and helpless on the dirt. Detroit reporter Joe S. Jackson believed Bemis to have been frustrated by the dropped third strike on Crawford in the first and his own strikeout while at bat, two observations that were likely accurate. However, Jackson also asserted that "Bemis had no excuse for his action, and lost his temper simply because he was 'shown up' by a player who outguessed him."7 Leerhsen includes additional details from Jackson's account in his biography of Cobb and concurs that Cobb simply "outshined" Bemis.8
History leaves no doubt that Cobb was obviously the superior player of the two, but the idea that his decision to go for home was impressive strategy is simply another example of myth-making. The opposition's hometown newspaper, the Plain Dealer, provided the unbiased account of what happened: "Cobb passed third, but was coached to hold the bag. He slipped in the mud, however, and therefore made a desperate try for the plate."9 Cobb often ran wild on the basepaths, but he did not run recklessly, and the Plain Dealer reiterated that he "had no chance to turn back" to third after he slipped.10 He pursued his only option, which was at home plate, and his hard slide resulted in the Tigers' sixth run of the game.
Jones pulled Bemis off Cobb and O'Loughlin stepped between the two men. Players from both teams joined the scrum but quickly settled down when policemen ran onto the field to restore order. It is worth noting that Cobb, contrary to his reputation as a hothead and his penchant for pugilism, "at no time exchanged a blow with anybody" on this occasion.11 O'Loughlin ejected Bemis, and Howard Wakefield replaced him behind the plate. After the incident died down, Rossman walked but Downs struck out to end Detroit's rally.
In the third inning, the threat of more rain loomed and the Tigers engaged in shenanigans to speed along the action in the hopes of getting a complete game in the books rather than having their 6-0 lead fall victim to a rainout. O'Leary started the home half of the inning by reaching safely on an error when Stovall, the first baseman, could not handle Bradley's throw from third. O'Leary stole second and advanced to third on Archer's groundout. Mullin became the second batter of the inning to reach on an error, this time by Nap Lajoie at second base, and O'Leary scored to up the lead to 7-0. At this point, "Mullin started for second, with Berger holding the ball, and was flagged as he intended."12 Jones singled but followed Mullin's example and made sure that he, too, was called out.
Pete O'Brien and Stovall both singled for the Naps in the top of the fourth, but Hinchman grounded into an inning-ending double play and Cleveland's tally remained at zero. The Tigers continued to try to hurry the game along, going down in order in the bottom of the fourth. After an uneventful fifth inning for both teams, the threat of rain subsided, the game was official, and the scoring resumed.
The Naps' first run came courtesy of another of the day's many errors. After Bradley drew a one-out walk and O'Brien singled, Lajoie laced a sharp liner to O'Leary, the shortstop, who snagged it and tried to double up O'Brien at second; however, Downs, the second baseman, dropped the ball. Downs quickly picked it up again, and he and Coughlin had O'Brien caught in a rundown between second and third. O'Brien managed to elude the two Tigers long enough for Bradley to score before he was finally tagged for the third out.
The Tigers went back to work with Jones's leadoff single, Coughlin's sacrifice, and Crawford's RBI double. Cobb garnered his third hit on a bunt single down the third-base line that Rossman followed with an RBI-base hit of his own. Rossman and Cobb then attempted a double steal that resulted in Rossman being thrown out at second while Cobb stole home to score Detroit's 10th run.
Stovall scored an additional run for Cleveland in the seventh when his leadoff single was followed by Hinchman's single and consecutive fielder's choice grounders by Birmingham and Wakefield, but the Naps were still hopelessly behind.
The Tigers bashed four more hits — including an RBI double by Cobb — off Berger in the bottom of the eighth to tie their season-high total of 18 hits in a game. In the process, they added two more runs to bring the final score to 12-2. With only one out and O'Leary ready to bat, umpire O'Loughlin called the game because it was 5:00 P.M. and both teams had agreed to stop play at that time so that the Naps could catch the train to St. Louis for their next game. In such an abrupt way ended what Jackson termed "as complete a trimming as [the Tigers] have given any opponent this summer."13
Sources
retrosheet.org/boxesetc/1907/B06290DET1907.htm.
Notes
1 Ty Cobb: My Life in Baseball by Ty Cobb and Al Stump was published in 1961. In December 1961, True magazine published Stump's article titled "Ty Cobb's Wild 10-Month Fight to Live," which eventually became the foundation for the 1994 feature film Cobb, directed by Ron Shelton. Stump then published Cobb: A Biography in November 1994 in an attempt to cash in on the movie.
2 Leerhsen exposes many of Stump's falsehoods about Cobb in Ty Cobb: A Terrible Beauty (New York: Simon & Schuster, 2015). However, even Leerhsen mythologizes Cobb in the account of the June 29, 1907, game found in his biography.
3 Joe S. Jackson, "Bemis Loses His Head When Tiges Trim Naps, Tries to Beat Up Cobb," Detroit Free Press, June 30, 1907: 17.
4 "Naps Lose — White Sox Win — Bemis and Cobb Exchange Blows," Cleveland Plain Dealer, June 30, 1907: 1C.
5 Ibid.
6 Jackson.
7 Ibid.
8 Leerhsen, 172.
9 "Naps Lose — White Sox Win — Bemis and Cobb Exchange Blows."
10 Ibid.
11 Jackson.
12 Ibid.
13 Ibid.
Additional Stats
Detroit Tigers 12
Cleveland Naps 2
---
Bennett Park
Detroit, MI
Box Score + PBP:
Corrections? Additions?
If you can help us improve this game story, contact us.
Tags
https://sabr.org/sites/default/files/images/CobbTy.jpg
600
800
admin
/wp-content/uploads/2020/02/sabr_logo.png
admin
2018-10-31 12:24:49
2021-08-06 10:28:59
June 29, 1907: Bemis batters Cobb, but Georgia Peach's bat does the damage in rout of Naps