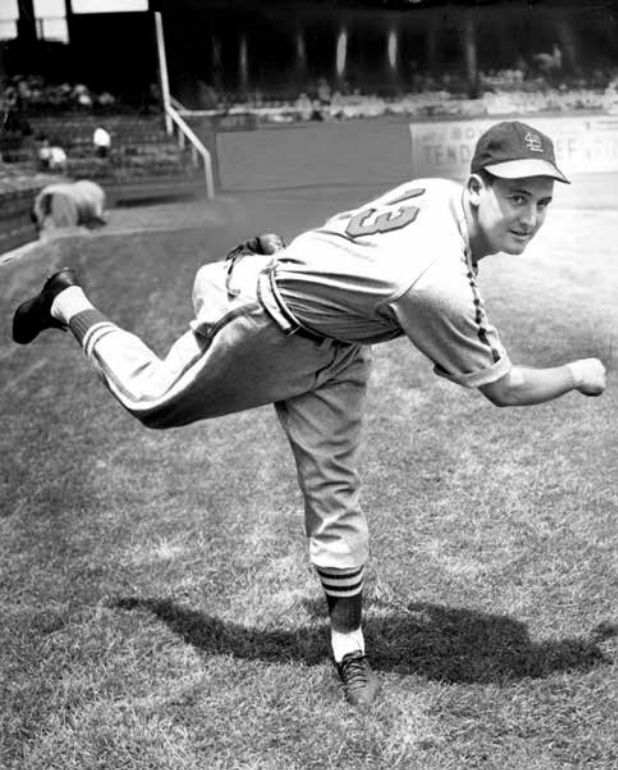 June 4, 1943: Two of a Kind: Mort Cooper tosses second straight one-hit shutout
---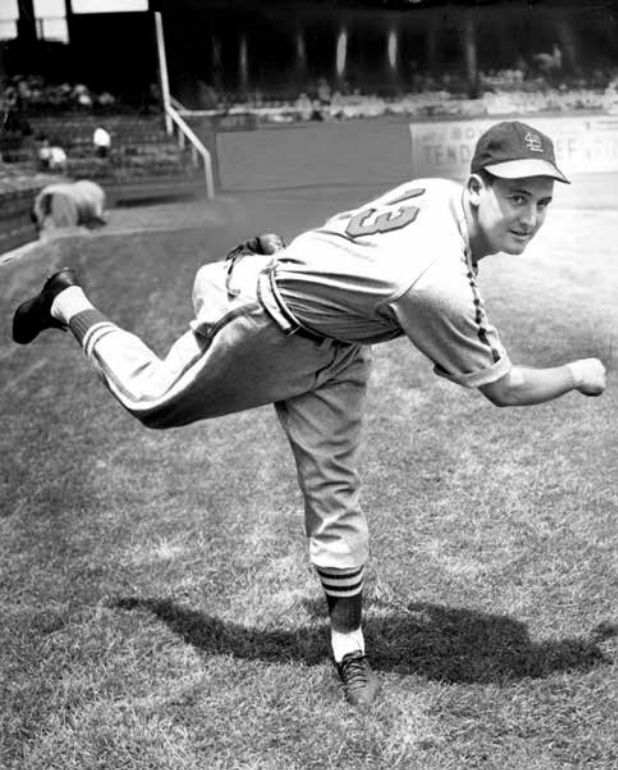 St. Louis held its collective breath when reports emerged at the beginning of 1943 season that pitcher Mort Cooper's right elbow was aching. To call Cooper an integral part of the Redbirds was an understatement. In what was then arguably the best season ever by a Cardinals pitcher, Cooper won the NL MVP award in 1942, leading the circuit in wins (22), ERA (1.78), and shutouts (10). He beat the rival Dodgers five times as the Cardinals edged Brooklyn by two games to capture the pennant and subsequently beat the Yankees in the World Series.
Skipper Billy Southworth's Cardinals were widely expected to take pennant once again in 1943. Unlike Brooklyn, which had lost starters Pee Wee Reese and Pete Reiser to Uncle Sam and the war effort, the St. Louis club was intact from the previous campaign. The Redbirds overcame a sluggish start and were in second place (24-14), a half-game behind Brooklyn, as they prepared for the second game of a four-game set against the Philadelphia Phillies as part of a season-longest 27-game homestand. The Phillies were baseball's biggest surprise thus far in 1943. After averaging almost 107 losses in the previous five seasons, the club was in fifth place (18-20) under veteran manager Bucky Harris, hired in the offseason to turn the moribund franchise around.
Cooper was pitching on borrowed time. In late June 1941 he underwent what was then potentially career-ending surgery to remove bone spurs in his right elbow. Defying expectations, he returned six weeks later and made 13 starts in August and September. Pain-free for most of 1942, Cooper supposedly chewed aspirin by the dozen to numb the pain in 1943.1 The 30-year-old hurler with a career record of 65-38, including 5-3 thus far in the season, showed no signs of discomfort on the mound. In his previous start, four days earlier at Sportsman's Park, he tossed his first career one-hitter, defeating Brooklyn, 7-0, in the first game of a doubleheader on May 31. The only hit was Billy Herman's double to lead off the fifth inning. Cooper's gem got scant coverage in the sports pages, which focused on Brooklyn's 41-year-old emergency starter, Fat Freddie Fitzsimmons, who tossed seven scoreless innings of four-hit ball to beat the Cardinals, 1-0, in the second game.
The Friday evening contest between the Cardinals and Phillies under the lights at Sportsman's Park drew a modest crowd of 6,008, in addition to 669 service men and women, and 197 blood donors.2 A Missouri native, Cooper loved pitching in the heat and humidity of St. Louis, but he was concerned that the unseasonably cool temperature (mid-60s) after a day of rain might bother his elbow. He needn't have worried.
While Big Mort breezed through the first three frames, setting down all nine batters, 5-foot-8 Philadelphia right-hander Charlie Fuchs faced the potent Cardinals offense, which led the league in hitting and finished second in scoring in '43. The 29-year-old wartime hurler dispatched the first six batters he faced before shortstop Glen Stewart fumbled Jimmy Brown's hot grounder. Marty Marion walloped a deep shot but center fielder Buster Adams made what W.J. McGoogan of the St. Louis Post-Dispatch described as a "great running catch in right center" to save a run.3 Brown moved to third on Cooper's single, and then scored on Harry Walker's two-out single. En route to his first of two All-Star berths, Walker entered the game on fire, batting .488 (21-for-43) in his last 12 games. Stan Musial drove home Cooper with a single to increase his hitting streak to 21 games, during which he batted .392 (31-for-79) while scoring and driving in 18 runs.
"Cooper had his fast ball snapping over the plate and the Phillies could do nothing with it," wrote the Post-Dispatch.4 With pinpoint control, Cooper mesmerized the Phillies with a repertoire of pitches. In addition to his heater, described as "blurred lightning, with a hop at the end," Cooper often fed right-handers a forkball.5 According to sportswriter Jack Cuddy, that pitch "approaches the plate in drunken fashion," fluttering like a knuckler; though the pitcher himself compared it to a spitball.6 Left-handers tried their luck against screwballs that Cooper threw down and away so they could not be pulled.
Through seven innings Cooper had not yielded a hit or walk, and he had thrown 12 consecutive hitless innings extending from his previous start. The only Phillies baserunner was Pinky May, whose tapper to the mound in the sixth Cooper fumbled. May was immediately erased when Mickey Livingston hit a grounder to second baseman Lou Klein, who started a 4-6-3 double play.
Cooper's hitless streak ended when Jimmy Wasdell singled to left field to lead off the eighth. "I couldn't put it in a better spot for him if I'd hung it upon a string," said Cooper to St. Louis sportswriter J. Roy Stockton about the location of his fastball.7 Unlike Billy Herman's blooper, which fell near the right-field foul line out of Musial's reach, Wasdell's single was a clean, hard-hit line drive.8
Philadelphia's one and only hit must have awakened the Cardinals hitters, dormant since the third inning. Walker lined a one-out single, and then scored on cleanup hitter Ray Sanders' double to right-center field to make it 3-0. Ken O'Dea, given the start instead of All-Star catcher Walker Cooper, the pitcher's younger brother, followed with his first round-tripper of the season, a two-run shot which, according to the Post-Dispatch, went "deep into the pavilion in right center," for a 5-0 lead.9
Cooper breezed through a 1-2-3 ninth, retiring Danny Murtaugh to complete the game in one hour and 42 minutes. He finished with five strikeouts and walked none while facing 28 batters. Fuchs pitched well, too, yielding just eight hits and walking one; two of the five runs were unearned.
"It was disappointing," said Cooper in response to coming oh-so-close to a no-hitter for a second straight game. "Every pitcher wants to do that some day."10 The stout, 6-foot-3, 210-pound hurler was in an otherwise good mood, especially pleased with his location and stuff. "My forkball was working pretty good. I throw it side-armed or straight overhand depending on the batter."11 Sportswriters seemed sympathetic to the jovial Cooper, who never tossed another one-hitter, or came close to a no-hitter, in his career. "Lady Luck certainly is tantalizing big Mort Cooper," wrote Cuddy.12
Southworth continued leaning heavily on Cooper for the rest of the season. The staff ace, Cooper tied for the NL lead in wins (21) with Pittsburgh's Rip Sewell and Cincinnati's Elmer Riddle, and finished second in ERA (2.30, behind teammate Max Lanier's 1.90), complete games (24), and shutouts (6).
While Cincinnati's Johnny Vander Meer set the standard by tossing consecutive no-hitters in 1938, contemporary accounts of Cooper's gem completely overlooked that he became just the second pitcher to toss consecutive one-hit shutouts in the modern era (defined as since 1893, when the pitcher's rubber was moved back to 60 feet 6 inches from home plate). The New York Giants' Rube Marquard (1911) was the only other.
The Chicago Cubs' Lon Warneke tossed consecutive one-hitters in 1934, but gave up two runs in the second game. Howard Ehmke of the Boston Red Sox (1923) and the Washington Nationals Max Scherzer (2015) are the only pitchers to a no-hitter followed by a one-hitter (or vice-versa). A trio of nineteenth-century hurlers tossed consecutive one-hitters, including Hugh Daily (1884 in the Union Association), Toad Ramsey of the American Association Louisville Colonels in 1886, and Charlie Buffinton for the NL Philadelphia Quakers in 1887. Like Ehmke, Ed Cushman of the Milwaukee Brewers in the Union Association, yielded just one hit over two complete games.13
This article appears in "Sportsman's Park in St. Louis: Home of the Browns and Cardinals at Grand and Dodier" (SABR, 2017), edited by Gregory H. Wolf. Click here to read more articles from this book online.
Photo Caption
Mort Cooper compiled a 65-22 record with 23 shutouts over a three-year stretch from 1942-44 as the Cardinals captured three straight pennants and two World Series titles. (National Baseball Hall of Fame Library)
Notes
1 Gregory H. Wolf, "Mort Cooper," SABR BioProject. https://sabr.org/bioproj/person/9c707ace.
2 W.J. McGoogan, "Mort Cooper Hurls Second Straight One-Hit Game," St. Louis Post-Dispatch, June 5, 1943: 6A.
3 Ibid.
4 Ibid.
5 Jack Cuddy, United Press, "Mort Copper Hurls Second One-Hitter," Pittsburgh Press, June 5, 1943: 7.
6 Ibid.
7 J. Roy Stockton, "Extra Innings," St. Louis Post-Dispatch, June 8, 1943: 4B.
8 "Cooper Hurls One-Hitter, But Brecheen Loses, 1-0," St. Louis Post-Dispatch, June 1, 1943: 8A.
9 McGoogan.
10 Stockton.
11 Ibid.
12 Cuddy.
13 The next pitchers to toss consecutive one-hitters after Cooper were Whitey Ford (1955), Sam McDowell (1966), Dave Stieb (1988), and R.A. Dickey (2012).
Additional Stats
St. Louis Cardinals 5
Philadelphia Phillies 0
---
Sportsman's Park
St. Louis, MO
Box Score + PBP:
Corrections? Additions?
If you can help us improve this game story, contact us.
Tags
https://sabr.org/sites/default/files/Screen%20Shot%202018-11-13%20at%203.15.13%20PM.png
600
800
admin
/wp-content/uploads/2020/02/sabr_logo.png
admin
2018-11-13 15:16:01
2020-04-17 10:23:47
June 4, 1943: Two of a Kind: Mort Cooper tosses second straight one-hit shutout