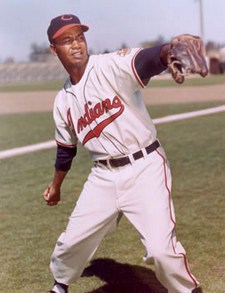 June 4, 1952: Cleveland's Larry Doby hits for the cycle, drives in six runs in loss to Red Sox
---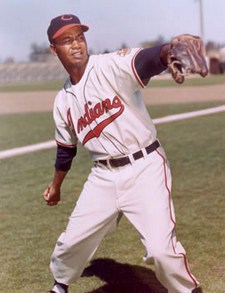 In the early months of the 1952 season, the Cleveland Indians and Boston Red Sox were battling for the American League lead. Cleveland had grabbed a share of the top position with Boston on May 8, and both teams won 10 of their next 21 games. On June 2 the two squads (Boston was 24-17, Cleveland was 25-18) prepared to face off in a crucial three-game series at Boston's Fenway Park. The largest home crowd of the season (34,904) showed up on June 3 to see Cleveland's Mike Garcia shut out the Red Sox, 6-0, lifting the Indians back into sole possession of first place. Before the game, Boston had struck a deal with the Detroit Tigers to bolster the roster. Pitcher Dizzy Trout and sluggers Hoot Evers and George Kell now donned the Red Sox uniforms, part of a nine-player swap.1
The next afternoon (June 4), future Hall of Famer Bob Feller took the mound for the Indians, opposed by Boston's Mel Parnell. Neither pitcher was effective; the two teams combined to put 13 runners across home plate in the first three innings. The Boston Globe described the offensive onslaught this way: "It was a good day to be in a bomb shelter the way the balls were sailing out, particularly when Larry Doby of the Indians was at bat."2
In the top of the first, Parnell issued a one-out walk to Ray Boone. After Al Rosen lined out to third baseman Kell, Doby launched his seventh home run of the season, giving Cleveland a quick two-run lead. Doby's home run was his first extra-base hit in 11 games.3 Boston responded in the home half of the first. Dom DiMaggio led off with a single into left field. Billy Goodman followed with a single to right, allowing DiMaggio to advance to third. With Kell batting, Goodman stole second. Kell then reached on a fielder's choice from a grounder (the Indians attempted to catch Goodman off the bag at second, but he returned to the bag safely, and Kell was also safe at first). With the bases loaded and none out, Vern Stephens lined a double to center, driving in DiMaggio and Goodman. Evers lifted a fly ball to center fielder Doby, and Kell raced home with the go-ahead run. Feller struck out Ken Wood before walking Dick Gernert. Del Wilber grounded out to second, but Feller had been tagged with three hits and three runs, as Boston sent eight men to the plate.
Parnell retired the side in order in the second and led off the bottom half with a single up the middle. DiMaggio stroked a double and Goodman singled in Parnell, with DiMaggio stopping at third. Indians skipper Al Lopez made a pitching change. He called in right-hander Sam Jones, who was making his sixth appearance of the season (and just the eighth of his career). Jones threw a wild pitch with Kell in the batter's box, and DiMaggio scored. Kell then doubled, driving in Goodman. Stephens grounded out, but Evers launched a home run, giving the Red Sox an 8-2 lead. Feller's final line saw him charged with six earned runs.
With the pitcher due to lead off the top of the third, Lopez inserted Johnny Berardino as a pinch-hitter for Jones. He lined out to third, but then Bobby Avila singled into left field. Boone walked, and an out later, Doby smashed a double to left, driving in two more runs.
The Red Sox added another run in the third with the help of two singles and an error. Steve Gromek became the third Indians pitcher. After getting two outs, Gromek gave up a single to Goodman, his third safety in three consecutive innings. Kell drove a fly ball to right, where Harry Simpson misplayed it for an error, allowing Goodman to reach third. Stephens singled to left, and the score was now 9-4 in favor of the home team.
That score stood until the top of the fifth. Gromek led off (Lopez let him bat) with a walk. Avila also drew a free pass, and Boone stroked a two-run double to center. Now it was Lou Boudreau, Boston's manager, making the trip to the mound and sending Parnell to the showers. Hy Hurwitz of the Boston Globe had no sympathy for Boston's starter, writing, "Parnell kept giving runs away. He was wild and was getting rapped for extra base smashes."4 Newly acquired right-hander Trout came on to pitch. Rosen reached on an error by right fielder Wood, making it to second base (Boone stopped at third). That brought the hot-hitting Doby up to the plate. He shot Trout's offering into deep center for a two-run triple. In each of his first three at-bats, Doby had an extra-base hit with two runs batted in. Dale Mitchell batted for Jim Fridley and walked, putting runners at the corners with no outs. Trout struck out Luke Easter but Simpson doubled, scoring Doby and sending Mitchell to third. After an intentional walk to Jim Hegan, Trout worked his way out of the inning, but the Indians had tied the game.
The Red Sox, however, were not giving up. In the bottom of the fifth, Goodman laced a hit, and Kell followed with a drive to left-center. The ball just cleared the barrier, saying "'howdya do' to the Fence,"5 and breaking the tie. An inning later, Boston added two more tallies. Gernert led off by being hit by a Gromek pitch. Wilber doubled, and both runners came around to score on Goodman's fifth single of the game. Boston now led, 13-9.
Doby opened the ninth inning with a single, completing the cycle. Mitchell doubled, and then consecutive groundouts by Easter and Simpson brought the runners home. The Red Sox gladly traded the runs for outs. Hegan singled but was stranded. The final score was 13-11. This victory put the Red Sox back in first place, 3 percentage points ahead of the Indians.
A mere 48 hours after Detroit traded four players to Boston, three of them led the Red Sox to victory over the Cleveland Indians. Trout picked up the win in relief, pitching five strong innings. He did allow four runs on six hits and three walks, but he kept the Red Sox in the contest and allowed his offense to score runs while he shut down the Indians from the sixth inning through the eighth. Kell had driven in three runs with a home run and a double. Evers finished his second game in a Boston uniform with three runs batted in. According to the Boston Globe, "Red Sox crowds now will be rotting, tooting, hooting crowds. The hooting will be for Evers."6 His clout was his first homer of the season.
The Indians scored multiple times in four different frames (two in the first, two in the third, five in the fifth, and two in the ninth), but it wasn't quite enough to beat the Red Sox. Doby's home run gave him 30 runs batted in for the season, tops in the American League. His 4-for-5 performance with six RBIs and three runs scored raised his batting average 23 points to .310. His 1952 season was probably his best, at least statistically, as he topped the American League in several categories, including home runs (32), runs scored (104), and slugging percentage (.541). It was the fourth consecutive season that Doby made the league's All-Star Team.7
Larry Doby is "best remembered for becoming the first black player in the American League and the second in modern history in major-league baseball."8 His rare feat was the only cycle of 1952 and the first in the American League since Evers did it for Detroit on September 7, 1950 (Pittsburgh's Gus Bell hit for the cycle in the National League against the Philadelphia Phillies exactly one year before Doby, on June 4, 1951). The next cycle took place on July 11, 1954, when the New York Giants' Don Mueller hit for the cycle against Pittsburgh. Five years after Doby, Mickey Mantle accomplished the next cycle in the American League, on July 23, 1957.
Regarding Cleveland records, Doby was just the fourth Indians batter to hit for the cycle, following Bill Bradley (September 24, 1903), Earl Averill (August 17, 1933), and Odell Hale (July 12, 1938). Cleveland fans had to wait 18 years to see the next Cleveland player hit for the cycle, when Tony Horton did it on July 2, 1970, against the Baltimore Orioles.
Sources

In addition to the sources mentioned in the Notes, the author consulted baseball-reference.com, mlb.com, retrosheet.org and sabr.org.
https://baseball-reference.com/boxes/BOS/BOS195206040.shtml
https://retrosheet.org/boxesetc/1952/B06040BOS1952.htm
Notes
1 Boston traded Bill Wight, Walt Dropo, Fred Hatfield, Johnny Pesky, and Don Lenhardt to the Detroit Tigers in exchange for Trout, Evers, Kell, and Johnny Lipon. Retrosheet lists the trade date as June 3, 1952. Evers, Kell, and Lipon had all appeared in the June 3 game for Boston against Cleveland.
2 Hy Hurwitz, "Sox Take Lead Again, Outslug Indians, 13-11," Boston Globe, June 5, 1952: 1, 14.
3 On May 23 Doby had hit a double and triple against the St. Louis Browns.
4 Hurwitz.
5 Ibid.
6 Harold Kaese, "New Sox Win Friends; Goodman Retains His," Boston Globe, June 5, 1952: 1.
7 Doby made the American League All-Star team in six straight seasons (1949-1954).
8 John McMurray, "Larry Doby," sabr.org/bioproj/person/4e985e86.
Additional Stats
Boston Red Sox 13
Cleveland Indians 11
---
Fenway Park
Boston, MA
Box Score + PBP:
Corrections? Additions?
If you can help us improve this game story, contact us.
Tags
http://bioproj.sabr.org/bp_ftp/images5/DobyLarry.jpg
600
800
admin
/wp-content/uploads/2020/02/sabr_logo.png
admin
2019-07-05 11:50:48
2020-04-17 10:22:36
June 4, 1952: Cleveland's Larry Doby hits for the cycle, drives in six runs in loss to Red Sox