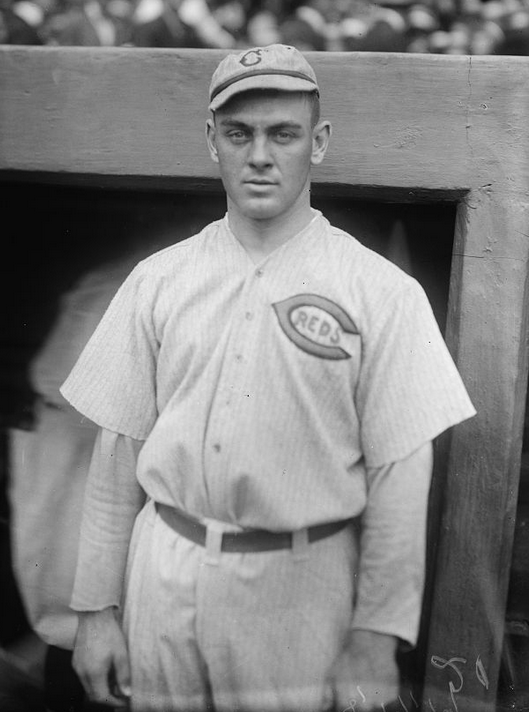 May 11, 1919: Hod Eller tosses first no-hitter at Crosley Field
---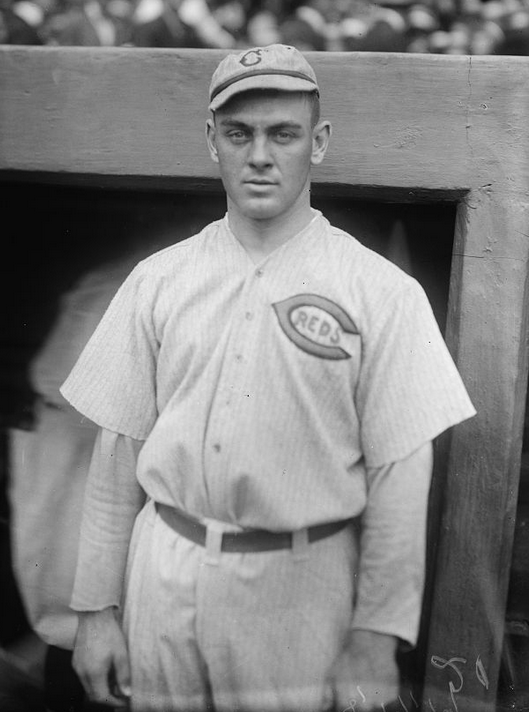 Hod Eller displayed a "splendid exhibition of perfect hurling," gushed sportswriter Jack Ryder in the Cincinnati Enquirer after the right-hander's no-hitter against the St. Louis Cardinals, the first ever by a Reds pitcher in the team's seven-year old ballpark, Redland Field.1 "Not a single hard ball was hit off [Eller]," noted Ryder. The Cardinals' ineptitude in the field and at the plate was "heinous," opined the St. Louis Post-Dispatch, and added, with a touch of poetic license, that it "would have depressed a morgue keeper or a superintendent of a home for hypochondriacs."2
The Reds had reason to be excited when they took the field against the Cardinals in a one-game matchup before beginning a 20-day Eastern swing the next day: They were playing their best baseball since joining the National League in 1890. After concluding the war-shortened 1918 season on a 20-5 tear, the Reds won their first seven games of the 1919 season for new manager Pat Moran. At 10-4, the Reds were in second place, a game behind Brooklyn. Moran was feeling confident, too. He had just released three players (Goldie Rapp, Mike Regan, and Wally Rehg) five days early to get to the required 21-player limit by May 15.3 The Cardinals, on the other hand, seemed in disarray and teetered on mutiny. The perpetual second-division team had won just three of its first 14 games for Branch Rickey, the former St. Louis Browns manager and GM who joined the Cardinals as both president and manager in 1919. However, rumors swirled that players detested him. On the day of the game against the Reds, Rickey was in New York for a league meeting and was trying to swing a deal for shortstop Doc Lavan of the Washington Senators. In his absence, the Cardinals issued a formal statement in the team hotel denying reports that players were dogging it for Rickey. The team is "individually and collectively, heart and soul" for its manager, reported the Post-Dispatch. Team captain Jack "Dots' Miller served as temporary skipper for the Redbirds.4
Taking the mound for the Reds was their ace, 24-year-old Horace "Hod" Eller. In his third full campaign, Eller had emerged as a bona-fide star. He had led the club with 16 victories the previous season, and sported a 28-17 career record. His success can be traced to his mastery of the "shine ball." As SABR member Stephen V. Rice noted in his biography of Eller, the shine ball made its appearance in the big leagues in 1917, with Eddie Cicotte and Dave Danforth of the Chicago White Sox as its most noteworthy practitioners.5 "Eller 'shines' the ball by a quick rub on his right trousers leg," wrote the Washington Herald about the pitcher's routine. "Sometimes the movement is barely perceptible. Then he gets away with a side arm motion. He has very little windup."6 Like the emery ball and spitball, the shine ball was the pitcher's way to manipulate the movement of his pitches. If controlled properly, those pitches were exceptionally effective — and legal at the time. Eller was anxious to take the mound against St. Louis. In his last outing, six days earlier against the Chicago Cubs, he experienced what the Enquirer called a "great blow-up" in the ninth inning, yielding six runs in an eventual Reds loss in extra innings.7
A Sunday afternoon of baseball attracted only 5,500 spectators to Redland Field, located on the west side of the Queen City. Nonetheless, the Enquirer considered that total "remarkable" considering the "chilly and forbidding day."
After Eller mowed down the first three batters he faced, the Reds took their whacks against 23-year-old Cardinals left-hander Jakie May. Standing just 5-feet-8, May had a 6-7 record in parts of three seasons (including 1-1 thus far in 1919). The Reds "plugged at him rather severely from the start," wrote the Enquirer, but May held the Reds scoreless through three innings.8In the third frame, he benefited from a "sensational catch" by right fielder Walton Cruise, who "robbed" Eller of a possible triple.9
Eller had faced the minimum 12 batters through four innings. His only blemish was a second-inning walk to Rogers Hornsby, who was immediately cut down trying to steal second base. Eller's teammates provided some breathing room in the bottom of the fourth with what the Enquirer described as "fancy scoring" with two outs.10 May "does not exercise the hypnotic influence over our boys," continued the paper, comparing May to veteran Hippo Vaughn of the Chicago Cubs, who had subdued the Reds, 4-3, the day before in Wrigley Field. After Sherry Magee and Jake Daubert were retired, Larry Kopf was hit by a pitch and moved to third on Manuel "Potato" Cueto's single. The "little Cuban," in the Enquirer's insensitive parlance of the time, stole second.11 Up stepped one of the club's hottest hitters, Bill Rariden, batting .357 with 15 hits in 42 at-bats this far in '19. He belted a "nifty lofter" into left field, driving in both Kopf and Cueto for a two-run Reds lead.12
The Cardinals "went all to pieces" in the fifth inning, wrote the Enquirer, scoring four runs with two outs and effectively putting the game away.13 It was classic Deadball Era tactics with small ball and aggressive baserunning, combined with horrible defense by St. Louis. After Morrie Rath led off with a walk and moved to second on Heinie Groh's one-out single, Daubert lined a single, driving in Rath for the Reds' third run. The next sequence of events demonstrated why the Cardinals tied the Brooklyn Robins and Philadelphia Phillies for the league's worst fielding percentage (.963) that season. With Kopf digging in, Groh stole third. Then he and Daubert pulled off a double steal. Groh swiped home and Daubert rounded second and ended up on third when catcher Frank Snyder "muffed the return throw."14 Kopf walked, then stole second; second baseman Dots Miller's error in catching Snyder's throw permitted Daubert to score. Cueto followed with a routine grounder, but third baseman Milt Stock committed the Cardinals' third error of the inning by throwing "madly" to first, enabling Kopf to score.15
"[Eller] showed wonderful class," praised Reds beat writer Frank Ryder.16 Staked to a six-run lead, he breezed through the final three innings with a slight hiccup in the eighth. In that frame he issued consecutive one-out walks to Cruise and Joe Schultz. Sensing a scoring chance, the Cardinals bench became "slightly obstreperous," reported the Enquirer, and was "severely called down" by home-plate umpire Hank O'Day.17 Eller quickly extinguished any glimmer of hope when he struck out Miller, and Cruise was gunned down trying to steal third. There was no drama in the final frame. Eller completed the no-hitter in 1 hour and 40 minutes when Burt Shotton "rolled an insignificant grounder" to second baseman Rath, who fired quickly to Daubert at first.18
Eller "hung the pall on the depressed visiting athletes a necklace of goose eggs about them," wrote the St. Louis Post-Dispatch.19 It was a resounding victory for the Indiana native. He fanned eight batters and walked three, but those figures barely tell the story of his complete dominance. The Cardinals hit only five balls to the outfield, and they were "gently floating lofters that the batboy could have corralled," suggested Frank Ryder.20 An agile fielder, Eller also scooped up four grounders hit back to the box. (Eller had not yet committed an error in 80 big-league games.) He also singled, one of the Reds' eight safeties.
May went the distance, walking six and striking out two in eight innings. He had a rough season with the Redbirds, finishing 3-12, and led the league in walks with 87 in just 125⅔ innings.
Eller's gem was the fourth no-hitter in Reds history and the first since Noodles Hahn turned the trick on July 12, 1900, against the Philadelphia Phillies at League Park, the wood-framed stadium that served as the Reds home from 1884 through 1901. The first two also took place at League Park: Bumpus Jones in the last game of the 1892 season, on October 15, defeating the Pittsburgh Pirates, 7-1, and Ted Breitenstein beating the Pirates 11-0 on April 22, 1898.
Eller was coming into his own at the time of his no-hitter. In his next outing, four days later, he matched his career high by tossing 13 innings and shutting out the Brooklyn Robins on five hits at Ebbets Field. He finished the season with a 19-9 record, and tossed two complete-game victories against the Chicago White Sox in the Reds' World Series championship, forever tainted by scandal.
Despite his success in 1919, Eller's career soon came to a drastic end. The big leagues outlawed all freak deliveries, such as the shine ball, emery ball, and spitball, beginning in the 1920 season; each team, however, was permitted to designate two pitchers would could legally throw spitters. Eller protested the new rule, but to no avail.21 He went 15-14 over the next two campaigns to finish his big-league career with a 60-40 record.
This article was published in "Cincinnati's Crosley Field: A Gem in the Queen City" (SABR, 2019), edited by Gregory H. Wolf. To read more articles from this book at the SABR Games Project, click here.
Sources
In addition to the sources cited in the Notes, the author also accessed Retrosheet.org, Baseball-Reference.com, the SABR Minor Leagues Database, accessed online at Baseball-Reference.com, SABR.org, and The Sporting News archive via Paper of Record.
Notes
Additional Stats
Cincinnati Reds 6
St. Louis Cardinals 0
---
Redland Field
Cincinnati, OH
Box Score + PBP:
Corrections? Additions?
If you can help us improve this game story, contact us.
Tags
http://sabr.org/sites/default/files/EllerHod-LOC.png
600
800
admin
/wp-content/uploads/2020/02/sabr_logo.png
admin
2016-11-07 17:29:01
2020-04-17 10:25:59
May 11, 1919: Hod Eller tosses first no-hitter at Crosley Field