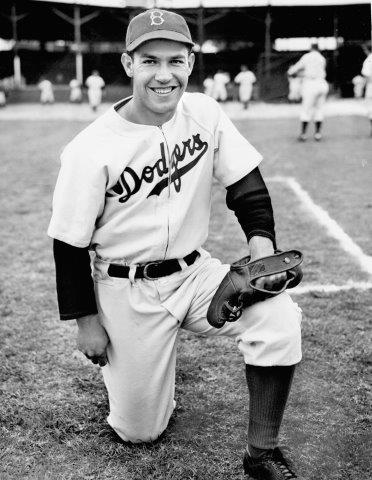 May 25, 1941: The Captain America Game: Dodgers' Pete Reiser hits inside-the-park grand slam to beat Phillies
---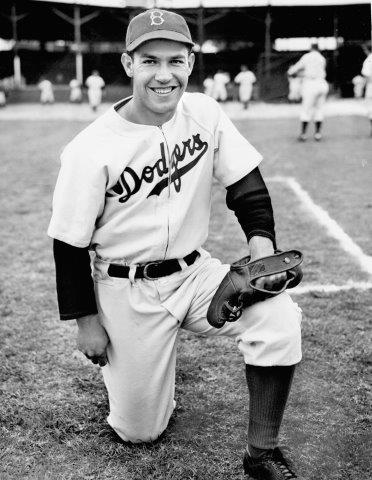 In the final scene of the Marvel movie Captain America: The First Avenger, Steve Rogers wakes up to find himself in a basic 1940s-style hospital room, with a white metal bed frame, a ceiling fan turning slowly above, and the sound of a baseball game wafting from a wooden console radio. As the camera holds a close-up on Rogers' eyes, an announcer who sounds suspiciously like Red Barber declares, "Soooo, the Dodgers are tied 4-4 … and the crowd well knows that with one swing of his bat, this fella is capable of making it a brand new game again."
Baseball-wise moviegoers know instantly these Dodgers are from Brooklyn, not Los Angeles. If they pick up some other clues, they might guess the "fella" whom the announcer refers to is Pistol Pete Reiser, the Dodgers' star-crossed near-superstar of the early '40s. But how many know that the screenwriters of Captain America, Christopher Markus and Steve McFeely, utilized a real-life game for this scene? It took place on Sunday, May 25, 1941, as the Dodgers hosted the Phillies at Ebbets Field.
The game had plenty of built-in drama without a superhero in the plot. On April 23 in Brooklyn, Philadelphia pitcher Ike Pearson had fired a side-arm fastball that struck Reiser on his right cheekbone about two inches below the temple. Brooklyn Daily Eagle sportswriter Tommy Holmes (not the Boston Braves outfielder) described the incident in the next day's edition: "There was a sound like a rifle report, and Reiser, knocked cold, landed on his shoulder blades, his knees rigid in the air. He came to somewhat before they carried him to the clubhouse on a stretcher, but was still badly dazed when they took him to the hospital minutes later."1
When his teammates saw Reiser fall, they must have feared their season was going down as well. This was Pete's first full year in the big leagues, after he batted.378 for Class A Elmira the year before. Many contemporaries considered him one of the best, perhaps the best, player they ever saw. "He had everything — speed, power, good arm, good fielder," said Braves first baseman Buddy Hassett. "He was an awful tough man to play against, because he could be explosive in any situation, whether it was at bat, on the field, on the bases."2 Before the beaning, Reiser had reached base 22 out of 37 times at bat in the young season. Several safeties came on errors or fielder's choices that were likely the product of Reiser's swift running; Pete could zip from home to first base in 3.6 seconds, the fastest in the majors at the time.
X-rays taken at Brooklyn's Caledonian Hospital determined that Reiser suffered no fractures from Pearson's pitch, only a badly bruised cheek.3 He missed just six games. The hospital visit, however, was a precursor of what was to come for the 22-year-old speedster. Six days after his return, he made the first of what were to be numerous collisions with outfield fences, hitting an iron door in the center-field wall of Ebbets Field while chasing, and catching, a long fly off the bat of the Cardinals' Enos Slaughter. Again, Reiser went to Caledonian Hospital, where doctors stitched up a two-inch-long cut in his back that forced him to miss another five games.4
"I always felt he played too hard," Hassett said. "He was a very intense kid. He suffered those injuries — running into walls, breaking bones — that he might otherwise have avoided."5
Reiser was back in the lineup when the Dodgers took the field on May 25. The Brooklyns, battling the Cardinals for first place, were hoping to fatten their win total on the flailing Phils, who were en route to a franchise-record 111 losses. Philadelphia tried to stop the inevitable by starting Lee Grissom, a 6-foot-3 lefty known for live fastballs, albeit with less than perfect control.
The Pistol entered the game hitting .365 and made his presence known in the first inning, when he struck a long fly to center that scored Billy Herman. Dodgers starter Whitlow Wyatt made the 1-0 lead hold up until the fourth, when the Phillies scored twice on a single by Joe Marty, a triple by Nick Etten, and a fly ball by Bobby Bragan. The Dodgers went back ahead 3-2 in the bottom of the inning, with outfielders Joe Vosmik and Joe Medwick driving in the runs.
The seesaw tilted again in the top of the sixth, when Etten homered to tie the game, Johnny Rizzo tripled, and Bragan slashed a double to score Rizzo with the go-ahead run. The Phillies could have piled up more, but Bragan tried to stretch his hit and was cut down by a relay from Reiser to Herman to third baseman Cookie Lavagetto. It was the first assist of the year for Reiser, who led all National League outfielders that season with 14.
As usual, Grissom struggled with his control, walking five men in five innings. When he walked Vosmik to start the sixth, the Phillies' manager, long-suffering Doc Prothro (three years, 320 losses), replaced him with none other than Ike Pearson. What followed was a Dodgers rally without a hit. Shortstop Bragan fumbled a groundball from Medwick, putting "Ducky Wucky" on first and pinch-runner Pete Coscarart on second. Mickey Owen sacrificed to advance the runners. Pinch-hitter Dixie Walker got an intentional pass. Pee Wee Reese grounded out to score Coscarart. And Herman walked, loading the bases with two out and the score tied 4-4.
Next batter: Pete Reiser, facing Pearson for the first time since the beaning.
The situation "couldn't have been more dramatic if it were part of a Hollywood scenario. The big test had arrived," wrote Louis Effrat in the New York Times.6 Another beaning wasn't out of the question. Pearson topped National League pitchers in hit batters that season with eight; Reiser, meanwhile, was plunked a league-leading 11 times. However, there were no brushback pitches as Reiser worked the count to three balls, one strike. Pearson next came in with a fastball, a little outside. It might have been ball four, but Reiser made what reporter Hy Turkin called a "mad lunge" for the pitch7 — and connected.
"Like a screaming rocket, the ball shot out to the center field exit gate, 399 feet away," reported Turkin in the New York Daily News.8 Center fielder Marty had no chance at the ball; it banged off the top of the 20-foot-high fence that enclosed the ballpark along Brooklyn's Bedford Avenue and bounced away from him. Medwick, Walker, and Herman galloped around the bases and scored easily. The only question was whether Reiser would come in behind them.
With most runners, there would be a close play at the plate. But few ballplayers possessed Reiser's blazing speed. "By the time Marty got his hands on the ball," Effrat reported, "Reiser was on third base and he continued all the way, scoring standing up."9 Reiser had an inside-the-park grand slam, a rare feat in the 1940s and one that has almost vanished from the game today. As of this writing, the last one was pulled off by the Nationals' Michael Taylor in September 2017.
The Phillies went down meekly as the Dodgers' Curt Davis closed out the 8-4 victory. The next day, sportswriters lavished praise on Reiser. "He isn't a story-book hero but a great young ballplayer, one of the greatest players in baseball today," wrote Holmes. "Pete can throw and run like a thief and he hasn't gummed up anything in center field since the season began. If you think that he isn't one of the greatest ball players in the game, go on and name a better one in the National League."10
Indeed, Pistol Pete led the NL in 10 categories that season, including batting (.343), runs (117), doubles (39), triples (17) and OPS (.964). And the Dodgers won the pennant, their first in 21 years.
Reiser never became one of the all-time greats, tripped up by his own habit of smashing into walls and the Dodgers' practice of rushing him back too soon, making him vulnerable to even more injuries. But he made a lasting imprint on baseball history, enough that when Marvel moviemakers needed to re-create the broadcast of a game from the early 1940s, they picked Reiser's shining moment to dramatize.
Sources
The author adapted this article from a book on Pete Reiser he is writing. Joseph previously authored Last Ride of the Iron Horse: How Lou Gehrig Battled ALS to Play One Final Championship Season (Sunbury Press, 2019).
Descriptions of the game action come from box scores and play-by-play accounts on baseball reference.com and retrosheet.org.
https://baseball-reference.com/boxes/BRO/BRO194105250.shtml
https://retrosheet.org/boxesetc/1941/B05250BRO1941.htm
Notes
1 Tommy Holmes, "Reiser May Return to Action in Week," Brooklyn Daily Eagle, April 24, 1941: 17.
2 Donald Honig, Baseball Between the Lines: Baseball in the '40s and '50s as Told by the Men Who Played It (New York: Coward, McCann and Geoghegan, 1976).
3 Holmes.
4 "Reiser Plays Today Despite Cut on Back," New York Daily News, May 9, 1941: 56. The headline was wrong; Reiser would not play for 10 days.
5 Honig.
6 Louis Effrat, "Dodgers Stage Rally in Sixth to Triumph Over Phillies," New York Times, May 26, 1941: 25.
7 Hy Turkin, "Flock Wins 8-4, Reiser Hits Homer," New York Daily News, May 26, 1941: 40.
8 Turkin.
9 Effrat.
10 Tommy Holmes, "Heroics Cut No Ice with Pete Reiser," Brooklyn Daily Eagle, May 26, 1941: 13.
Additional Stats
Brooklyn Dodgers 8
Philadelphia Phillies 4
---
Ebbets Field
Brooklyn, NY
Box Score + PBP:
Corrections? Additions?
If you can help us improve this game story, contact us.
Tags
https://sabr.org/sites/default/files/images/Reiser-Pete-NBL.jpg
600
800
admin
/wp-content/uploads/2020/02/sabr_logo.png
admin
2020-02-25 13:24:16
2020-04-17 10:22:17
May 25, 1941: The Captain America Game: Dodgers' Pete Reiser hits inside-the-park grand slam to beat Phillies