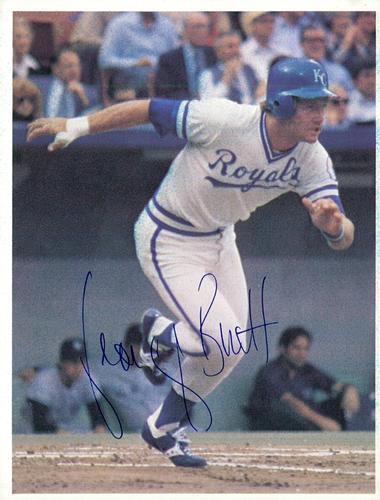 May 28, 1979: George Brett hits for the cycle with walk-off home run in 16th
---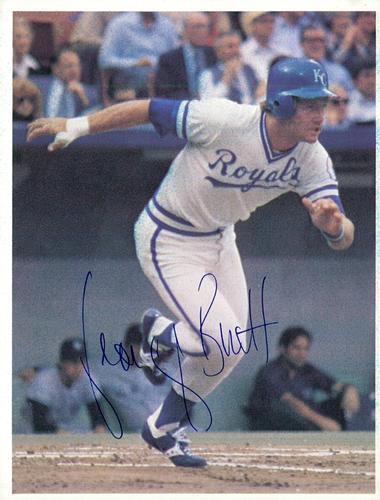 In a tight contest that lasted almost five hours on May 28, 1979, the Kansas City Royals defeated the Baltimore Orioles, 5-4, ending what was then the longest game in Royals Stadium history. George Brett launched a walk-off home run in the bottom of the 16th inning to give the Royals their fifth consecutive victory. In seven at-bats, Brett hit for the cycle with two home runs.
The first-place Orioles had been swept by the Detroit Tigers in a doubleheader the day before, and this game was the opening contest of a three-game series between Baltimore and Kansas City (which held down fourth place in the American League West Division). Baltimore had not been able to scratch out a win at Royals Stadium in almost two years.1
A crowd of 34,677 came through the turnstiles to see the Monday evening game. The Royals sent Marty Pattin to the mound. The 36-year-old right-hander was making his third start (eighth appearance), and he sported a record of 1-0 and a 4.08 earned-run average. His opponent was Dennis Martinez, who was making his 12th start of the season, on his way to a league-high 39 starts and 18 complete games. A 25-year-old righty, Martinez had won his last seven decisions and owned an ERA of 2.84.
With two outs in the second inning, Baltimore broke onto the scoreboard, as Gary Roenicke launched his eighth home run of the season. In the bottom of the third, the Royals answered. Willie Wilson led off with a single to center. With Steve Braun at the plate, Martinez had Wilson picked off but made a bad throw to first, enabling the speedy Wilson to dash to third base. Braun struck out but Brett drove a triple into right field, plating Wilson. Darrell Porter followed with a sacrifice fly to left for the second out, deep enough to bring Brett home with the go-ahead run. Both runs were earned.
Baltimore swung the see-saw back in its favor in the fourth. Ken Singleton singled to right and raced around the bases when Eddie Murray tripled into the right-field corner. It was Murray's first triple of the year. (He would hit only two in 1979.) Pat Kelly followed with a grounder to first baseman Pete LaCock, who made the unassisted putout as Murray scored Baltimore's third run.
Through five frames, Pattin and Martinez were keeping things close. Pattin had allowed three runs on four hits, while Martinez had held the Royals to two runs on six hits. Each pitcher had two strikeouts and had yielded one walk.
In the sixth, Murray singled with two down. Kelly followed with a hard liner to deep left-center. Murray appeared to get a bad jump on the ball and consequently was thrown out at the plate on Kelly's double, the play going 7-6-2. Pattin faced the minimum in both the seventh and eighth innings, keeping his team within striking distance. And in their half of the eighth, the Royals did strike. With one out, Braun singled to right, bringing Brett to the batter's box. In three previous at-bats, Brett was 1-for-3 with the triple. This time he drove a Martinez offering beyond the wall in right-center for his fifth home run of the year, giving the Royals a 4-3 lead.
Both starters pitched into the ninth inning. The Orioles' Singleton forced the game into extra innings by knocking his 11th home run of the season over the wall in left-center. An out later, Kelly singled to left, forcing Pattin from the game. Al Hrabosky strode to the mound. The first batter he faced was Roenicke, and he threw a ball in the dirt (ruled a passed ball), which allowed Kelly to advance to second. Royals skipper Whitey Herzog called for an intentional walk to Roenicke. Weaver responded by inserting Lee May as a pinch-hitter for Billy Smith. Hrabosky walked May to load the bases. Mark Belanger ran for May, and with the go-ahead run 90 feet from home plate, Kiko Garcia grounded into a 6-4-3 double play, ending the threat. Kansas City put two runners on in the bottom of the ninth (Tom Poquette singled and Todd Cruz reached on an error by third baseman Rich Dauer), but Martinez worked his way out of the inning, striking out Wilson and stranding the two runners.
For Baltimore, Don Stanhouse and Tim Stoddard pitched scoreless relief for the next six frames. The Royals had their opportunities, though. Brett singled in the 10th but was erased on a double play. In the 12th Kansas City loaded the bases with Wilson's single, an Amos Otis walk and an intentional walk to Brett. But the Orioles "pulled off an unbelievable 3-2-4 double play (Murray to Rick Dempsey to Garcia covering first)"2 with the bases loaded. LaCock walked to load 'em up again, but Joe Zbed flied out.
Two innings later, Brett doubled into the right-center gap with one out. Porter was intentionally walked, but LaCock and Zdeb could not bring anyone home. The only good news was that Brett's double completed the cycle for him. He had become just the third Royal to hit for the cycle, joining Freddie Patek (July 9, 1971) and John Mayberry (August 5, 1977).
In the 15th, Hal McRae and U L Washington started the inning with singles. Cruz struck out and Wilson singled to center. Al Bumbry's throw from center field to home plate caught McRae as he tried to score from second, and the tie game continued.
Sammy Stewart came out of the Baltimore bullpen to pitch the bottom of the 16th. Brett drove Stewart's second offering, a fastball, deep into the bleachers beyond the right-field fence. Terry Pluto, a beat writer for the Baltimore Evening Sun, noted that "Stewart had entered the contest just in time to pick up his second loss."3 Also according to the Baltimore Sun, "Had Brett not come through, it was possible the game would have been called after the next inning because of the 1 A.M. curfew."4
In their last three days, the Orioles had played 50 innings of baseball, including two 16-inning games and two 9-inning contests that were part of the doubleheader with Detroit. In addition, dating back to the June 4, 1977, game, Baltimore had now lost 10 consecutive games in Kansas City. The Birds did break the streak the next night (May 29, 1979), as Jim Palmer prevailed over Paul Splittorff, 8-1.
After the marathon game, Brett told reporters, "I was just trying to hit the ball where it was pitched. I just wanted to get on base."5 In addition, he said, "I'm glad I came up with no one on base. The way we were going there seemed to be no way I'd get a hit with runners in scoring position. Hitting or not hitting in the clutch is contagious. By leading off an inning I had no pressure."6
In his last 13 games, Brett was batting .500 (29-for-58) with four home runs, three triples, seven doubles and 15 runs batted in. During that stretch, he raised his average from .252 to .323 and his slugging percentage from .399 to .552. United Press International described Brett as "baseball's equivalent of a blank check: All the Kansas City Royals have to do is write in the amount and their All Star third baseman will cover the cost."7
In his cycle performance, Brett totaled 14 bases, setting a team record. He drove in four of the five Kansas City runs. Through the regulation nine innings, Brett had a 2-for-4 game going, with his triple in the third and homer in the eighth. Two of his cycle-attaining knocks came in extra innings, in which he went 3-for-3 (single, double, and second home run) with an intentional walk.
Brett's feat gave him the American League lead in runs (41), total bases (111), and triples (7) and placed him second in hits (65) and doubles (14). The O's were in awe of him. Baltimore coach Jim Frey said, "Nobody plays harder than George Brett. He hustles every minute. Right now we're in one of those ruts. Against us, those guys looked like Babe Ruth."8
Brett's cycle was the first of the 1979 season. Three more players cycled in 1979: California's Dan Ford (August 10), Boston's Bob Watson (a natural cycle9 on September 15) and teammate Frank White (September 26). Eleven seasons later, on July 25, 1990, Brett hit for the cycle again, joining Frank White (September 26, 1979, and August 3, 1982) as the only Kansas City players to accomplish the rare feat twice. As of 2018 Brett held the distinction of having the longest duration separating two cycles by the same player (11 seasons). As of the end of the 2018 season, no other Royals player has hit for the cycle, a drought of 28 years.
Sources

In addition to the sources mentioned in the Notes, the author consulted baseball-reference.com, mlb.com, sabr.org and retrosheet.org.
baseball-reference.com/boxes/KCA/KCA197905280.shtml.
retrosheet.org/boxesetc/1979/B05280KCA1979.htm.
Notes
1 Baltimore's last victory in Kansas City was on June 4, 1977, which coincidentally was by the score of 5-4.
2 "K.C. Nips Birds in 16th, 5-4," Baltimore Sun, May 29, 1979: 27.
3 Terry Pluto, "Brett's Blast in 16th Turns Back Birds, 5-4," Baltimore Evening Sun, May 29, 1979: 26.
4 Baltimore Sun.
5 "Brett's Big Bat Belts Royals by Orioles, 5-4," Salina (Kansas) Journal, May 29, 1979: 11.
6 Pluto.
7 Salina Journal.
8 Pluto.
9 A natural cycle occurs when the hits come in the same order as total bases: single, double, triple, home run.
Additional Stats
Kansas City Royals 5
Baltimore Orioles 4
16 innings
---
Royals Stadium
Kansas City, MO
Box Score + PBP:
Corrections? Additions?
If you can help us improve this game story, contact us.
Tags
https://sabr.org/sites/default/files/BrettGeorge-1979.jpg
600
800
admin
/wp-content/uploads/2020/02/sabr_logo.png
admin
2019-01-08 16:37:13
2020-04-17 10:23:42
May 28, 1979: George Brett hits for the cycle with walk-off home run in 16th