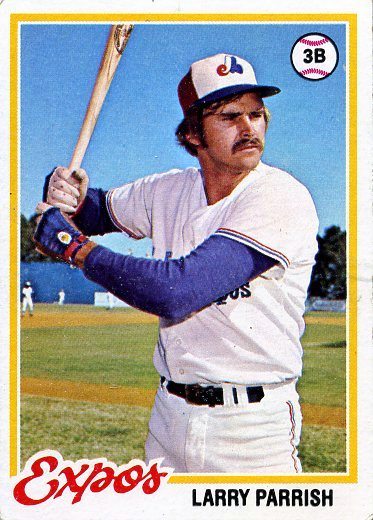 May 29, 1977: Expos' Larry Parrish goes 5-for-5, hits three consecutive homers
---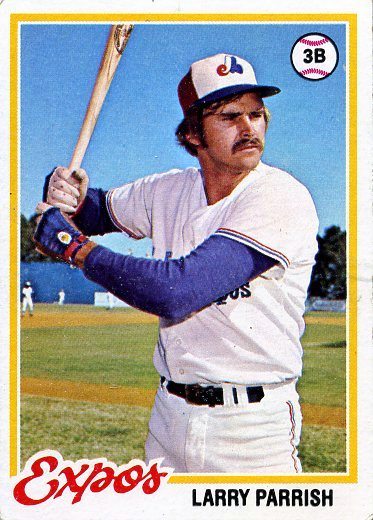 In 1976, Larry Parrish had batted only .232 in 154 games, and his prospects in 1977 appeared cloudy. However, he had a torrid spring and was named the starting third baseman by Expos manager Dick Williams. Unfortunately the hopes of spring soon faded as Parrish slumped both at the plate and in the field, and he was benched in favor of left-handed-hitting Wayne Garrett three times in May, as the Expos suffered 15 losses in 17 games, including an 11-game losing streak.
The Expos had not had a winning season during their first eight years and were coming off a 106-loss season in 1976. Manager Williams hardly seemed bound for the Hall of Fame. The Expos had lost 25 of their first 40 games despite the presence of three future Hall of Famers (Tony Perez, Gary Carter, and Andre Dawson) with potent bats. This was offset by an incredibly unreliable pitching staff when Steve Rogers was not on the mound. On May 29 Dan Warthen got the start as the Expos faced the St. Louis Cardinals at Busch Stadium before 15,219 spectators. Pitching for the Cardinals was Bob Forsch, who came into the game with a 7-1 record.
Those who dawdled on their way to the ballpark essentially missed the turning point of the game. The outcome was decided in the top half of the first inning as the Expos exploded for eight runs. The output tied for the Expos' second highest single-inning run total since they first took the field in 1969.
With one out, Chris Speier walked and was moved to second base by an Ellis Valentine single. A double off the bat of Gary Carter scored Speier. A single to right field by Warren Cromartie scored Valentine and walks to Del Unser and Andre Dawson brought Gary Carter home with the third run of the inning. Larry Parrish, who as the game progressed became his own one-man wrecking crew, contributed to the first-inning onslaught with an opposite-field single to right field that scored his team's fourth and fifth runs. His hit convinced Cardinals manager Vern Rapp that it was not Forsch's day, and he was replaced by Buddy Schultz. A single by Dave Cash plated Dawson with the sixth run. Parrish came around to score the seventh run of the inning when Cardinals right fielder Jerry Mumphrey overthrew third base as Parrish advanced on Cash's single. Speier's single brought Cash home with run number eight.
Wild Dan Warthen, who averaged more than 10 walks per nine innings in 1977 (43 in 38⅔ innings), was staked to an eight-run lead. Would it be enough? With his parents and brother in the stands, having traveled to St. Louis from Omaha, Warthen went to work.
The Cardinals wasted no time chipping away at the Expos' big lead as Mumphrey led off the first inning with a double and came around on a one-out double by Tony Scott. The second inning was quiet as both squads went down in order.
Parrish had his second at-bat in the top of the third and banged out his second single of the afternoon with one out. He advanced to second on a bunt by Warthen and scored when right fielder Mumphrey was unable to handle a fly ball off the bat of Dave Cash for his second error of the game. In two trips, Parrish had come around to score on Mumphrey errors. In his next three trips, such help would not be needed. The Cardinals' Scott homered in the bottom of the inning, but the score through three innings was 9-2 for the Expos. In the top of the fifth, the Cardinals brought in their third pitcher of the game, John Urrea, and with one out Parrish came to the plate for the third time and homered to left-center field to extend the Expos' lead to 10-2.
At the time, Parrish was perfectly content with his 3-for-3 performance. "Well, you know, after you get three hits you kinda say, 'Hey, this is a good day.' You get placid," he said after the game.1
In the bottom of the inning, the Cardinals, aided by two Warthen walks, manufactured a run to cut the deficit to seven runs. Mumphrey walked and advanced to second base on a single by Garry Templeton. A walk to Scott loaded the bases and prompted manager Williams to consider removing his starter. Warthen indeed was one pitch from a trip to the showers when he got Ted Simmons to hit into a double play that scored Mumphrey. Warthen said, "I just took a little off the fastball. He (Simmons) hit the ball pretty good, but was out front."2 Warthen got the third out on a grounder by Roger Freed, and there was no further damage.
Cardinals manager Rapp was not about to use any more pitchers than necessary and Urrea was still pitching in the seventh inning when two of his pitches were rerouted to the seats by the Expos. Del Unser's two-run homer scored Warren Cromartie, who had singled to lead off the inning. Parrish then came to the plate. Tony Perez, who was sitting the game out after appearing in each of his team's first 40 games, caught Parrish's ear. ( "C'mon man, what you did today? Three hits. Now that's nuthin'. Now you gotta get four."3 Parrish took Urrea deep for his second homer and the Expos had a 13-3 lead.
But Parrish's day, and Perez's needling, were not yet complete. As he prepared to leave the dugout for his fifth at-bat, with two out in the ninth, he heard Perez exclaim, "What's four hits, man? That's all you got today. Go get another one."4 There have been more dramatic situations but nonetheless Parrish, urged on by Perez, came to the plate for the fifth time in the game and slugged his third consecutive homer, this time off Butch Metzger, giving the Expos a 14-3 lead.
Meanwhile, Warthen was cruising along like a ship in the Bermuda Triangle. He walked six batters, and had he looked over his shoulder, he would have seen Billy Atkinson getting ready to enter the game at a moment's notice. Warthen allowed his second homer and fourth extra-base hit of the game as Mike Anderson lifted one out leading off the bottom of the ninth. That finished the scoring, and three outs later Warthen had his second win and his first (and only) complete game of 1977.
The victory was Warthen's 12th and his last in the major leagues. Later that season he was sent to the Phillies and his major-league career ended in 1978 in Houston. He pitched in the minors until 1982.
Gary Carter was the first Expo to hit three consecutive homers, doing so on April 20, 1977, against Pittsburgh. He said, "It's a great thrill. I know because it happened to me."5
Parrish, with his 5-for-5 performance, raised his batting average from .237 to .264. The next day, in the first game of a Memorial Day doubleheader against the New York Mets, manager Williams moved Parrish up from eighth in the batting order to sixth, and Larry singled in each of his first two visits to the plate to extend his consecutive hit streak to seven hits in seven at-bats. But his bat cooled off later in the season and his batting average dropped from a high of .271 on May 30 to a final.246.
In the early history of the Expos, Parrish became the third player to have five hits in a game and was the first Expo to score five runs in a game. The 23-year-old Parrish would go on to play for 15 major-league seasons and hit 256 career homers, and would again hit three homers in a game the following season against Atlanta. He played with the Expos through 1981 and was traded to the Texas Rangers in 1982 for Al Oliver. With the Rangers, he had two more three-homer games.
This article appeared in "Au jeu/Play Ball: The 50 Greatest Games in the History of the Montreal Expos" (SABR, 2016), edited by Norm King. To read more articles from this book, click here.
Sources
In addition to the sources listed in the notes, the author consulted:
Baseball-Reference.com.
MacDonald, Ian. "Parrish Bashes in Three Homers, Leads Expos, Warthen to Victory," Montreal Gazette, May 30, 1977.
MacDonald, Ian, "Heavier Bat, Light Banter Made Parrish Powderkeg," The Sporting News, June 18, 1977.
NewspaperArchive.com.
"3 Parrish Homers Doom Cards 14-4," State Journal-Register (Springfield, Illinois), May 30, 1977.
http://www.baseball-reference.com/boxes/SLN/SLN197705290.shtml
http://www.retrosheet.org/boxesetc/1977/B05290SLN1977.htm
Notes
Additional Stats
Montreal Expos 14
St. Louis Cardinals 4
---
Busch Stadium
St. Louis, MO
Box Score + PBP:
Corrections? Additions?
If you can help us improve this game story, contact us.
Tags
http://sabr.org/sites/default/files/images/ParrishLarry.jpg
600
800
admin
/wp-content/uploads/2020/02/sabr_logo.png
admin
2017-09-06 14:26:28
2020-04-17 10:25:44
May 29, 1977: Expos' Larry Parrish goes 5-for-5, hits three consecutive homers