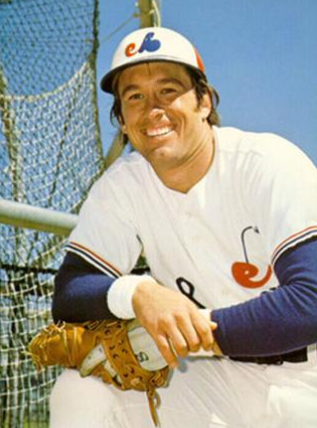 May 29-31, 1979: How 'Bout Them Expos? Sweep of Phillies makes a 'statement'
---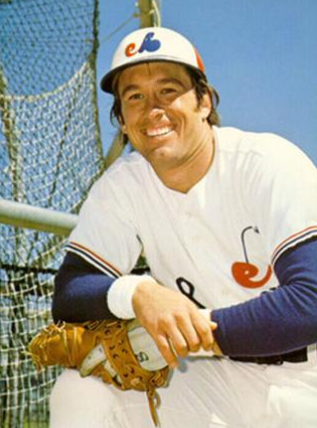 In football they talk about "statement" games, when Team A thrashes Team B, thus sending a message to the opponent and the world that Team A is damn good and don't you forget it.
There are too many games in a baseball season to pinpoint one match as a "statement" game. But the Montreal Expos had a statement series when they swept the Philadelphia Phillies May 29-31, 1979, with three complete-game, error-free shutouts that told the rest of the National League that the mediocre teams of the Expos' early years were no more.
The Expos had never played above .500 prior to the 1979 season. They won 79 games in 1973 and 1974, but had never had a truly successful season. During those years, however, they had developed terrific young talent, including Gary Carter, Andre Dawson (both future Hall of Famers), Larry Parrish, and Steve Rogers. The team was starting to jell in 1979 and was off to its best start ever with a 25-15 record when Philadelphia came to town.
The Phillies were no slouches; they won the National League East Division title three consecutive seasons and had future Hall of Famers Mike Schmidt and Steve Carlton on their roster. They came into Olympic Stadium sporting a 27-17 record, a half-game behind Montreal. They also wanted a measure of revenge because the Expos had swept them rather convincingly at Veterans Stadium May 18-20 by scores of 5-3, 10-5, and 10-6.
Game One saw Rogers matched up against veteran Dick Ruthven. Ruthven was in his second stint with the Phillies; he broke in with them in 1973, then pitched for the Atlanta Braves before returning to the Phils during the 1978 season.1
After a scoreless first inning, the Expos took the lead in the second. Tony Perez led off with a double, but could not advance when Gary Carter reached first on an error by third baseman Mike Schmidt. Larry Parrish singled, but Carter overslid second and was out 9-3-4. With runners on first and third, Chris Speier doubled, scoring Perez and Parrish, to give the Expos a 2-0 lead.
Perhaps this game could be called the "Ellis Valentine's Day Massacre" because if there was another star in the game besides Rogers, it was the Expos' right fielder, who hit a three-run homer in the fifth as part of a five-run rally that put to rest any thoughts of a Phillies comeback.
Rogers started the fifth with a single, and was sacrificed to second by leadoff hitter Andre Dawson. Rodney Scott singled, and with runners on first and third, Warren Cromartie doubled to drive both runners home. Ruthven walked Tony Perez intentionally with first base open, and after Carter moved the runners up with a groundout to third, Valentine launched a bomb that put the Expos up 7-0 and brought Ruthven's evening to an end. Rawly Eastwick relieved him.
Scott led off the seventh with a walk, but was forced at second on a fielder's choice by Cromartie. Cromartie then scored on a double to right by Tony Perez. One out later, Valentine got his fourth RBI of the night when he drove home Tommy Hutton (who was pinch-running for Perez) with a double.
Rogers, meanwhile, pitched as if he were teaching an Arthur Murray dance class. After giving up a single to Bob Boone to start the second inning, it was 1-2-3, 1-2-3, as Rogers retired 20 of the next 21 batters he faced. He gave up two two-out hits in the eighth and a single to Greg Luzinski in the ninth, but was never in serious trouble. The fans acknowledged Rogers' effort with a two-minute standing ovation when he came to bat in the bottom of the seventh inning.
The players were excited after the victory, but veteran Speier warned his teammates that one victory does not a pennant make: "We've got to keep an even keel," he said after the game. "Even if we sweep the Phillies we can't stop there because we have other teams to play. We have to go out there with the same attitude."2
Attitude was practically the middle name of Bill Lee, the Expos' starter for Game Two. "Spaceman" came to the Expos from the Red Sox after the 1978 season in an even-up deal for utility infielder Stan Papi because Lee did not get along with Red Sox manager Don Zimmer — he once called Zimmer a gerbil — or the team's front office. Lee's opponent was Nino Espinosa, who had a 5-4 record gong into the game.
This one was over early, literally, as the Expos triumphed 2-0 in a game that whizzed by in only one hour and 53 minutes. Carter provided the offense in the second inning when he followed a Perez single with his ninth home run of the season. (He finished with 22 homers and 75 RBIs.)
Lee pitched well, but didn't dominate. In going all the way, he gave up six hits, struck out five, and walked two. He also pitched from the seventh inning on without his fastball, according to Expos manager Dick Williams.
"He told me he only had three fastballs left in the sixth inning," said Williams. "He used two of them up on Luzinski's ground out [to end] that inning."3
Lee was aided by the Phillies' inability to drive in runners from second base. They had runners at the keystone sack in five of the game's nine innings, yet were unable to score. None of these runners even reached third.
"We haven't had a key hit in five days," lamented Phillies manager Danny Ozark.4
Espinosa, for his part, deserved a better fate. On most nights a pitching line of two runs on four hits with zero walks and one strikeout over six innings would garner a victory, but that's baseball. Ozark pinch-hit Jose Cardenal for Espinosa in the sixth, and put Tug McGraw on the mound for the seventh and eighth. McGraw gave up no runs on one hit, with one walk and one strikeout.
Anyone who had a manicure prior to going to Olympic Stadium for Game Three regretted that decision because they saw a nail-biter. Scott Sanderson, 3-3 going into the game, had the unenviable task of keeping the Expos' shutout streak alive against Larry Christenson, who was 0-1.
Ty Cobb would have loved this game, as the Expos scored the only run on good old-fashioned small ball in the bottom of the first inning. Dawson led off with a double, was sacrificed to third by second baseman Rodney Scott, and scored on a Cromartie sacrifice fly. The rest of the game was pitching and defense. The Phillies got only one runner as far as third base (Luzinski singled in the fourth with one out and moved to third on a single by Del Unser). That threat ended when Boone grounded into a 6-4-3 double play.
Poor Christenson. After giving up the run in the first, he allowed only one other baserunner–Scott singled in the fourth and was erased on a double play–until he was lifted for a pinch-hitter in the top of the eighth.
Sanderson finished with a flourish against the meat of the Phillies order. He started the ninth inning by striking out Bake McBride, got Schmidt on a popup to short, then struck Luzinski out to complete the win.
After that series, the two teams' fortunes went in opposite directions. The Phillies finished fourth with an 84-78 record after winning three straight division titles. The Expos won 95 games, but lost the pennant race on the last day of the season to the Pittsburgh Pirates. If you ask the Expos players, that series went a long way toward instilling the confidence they needed to win.
"That series, I think, helped everyone on the team feel we did have a championship-calibre [club]," said Sanderson.5
"It was a real sign we had arrived," agreed Rogers. "We were legitimate."6
This article appeared in "Au jeu/Play Ball: The 50 Greatest Games in the History of the Montreal Expos" (SABR, 2016), edited by Norm King. To read more articles from this book, click here.
Sources
In addition to the sources listed in the notes, the author consulted:
Baseball-reference.com
Galveston Daily News
Box scores for this game can be found on baseball-reference.com, and retrosheet.org at:
http://www.baseball-reference.com/boxes/MON/MON197905290.shtml
http://www.retrosheet.org/boxesetc/1979/B05290MON1979.htm
http://www.baseball-reference.com/boxes/MON/MON197905300.shtml
http://www.retrosheet.org/boxesetc/1979/B05300MON1979.htm
http://www.baseball-reference.com/boxes/MON/MON197905310.shtml
http://www.retrosheet.org/boxesetc/1979/B05310MON1979.htm
Notes
1 Philadelphia traded Ruthven to the White Sox on December 10, 1975, along with Alan Bannister and Roy Thomas for Mike Buskey and Jim Kaat. The White Sox traded Ruthven to Atlanta two days later with Ken Henderson and Ozzie Osborn for Larvell Blanks and Ralph Garr.
2 Terry Scott, "Expos must 'keep an even keel' — Speier," Ottawa Journal, May 30, 1979.
3 Glenn Cole, "Carter's HR wins it," The Gazette (Montreal), May 31, 1979.
5 Alain Usereau, The Expos in Their Prime, (Jefferson, North Carolina: McFarland & Company, 2013), 53.
Additional Stats
Montreal Expos 9
Philadelphia Phillies 0
Montreal Expos 2
Philadelphia Phillies 0
Montreal Expos 1
Philadelphia Phillies 0
---
Olympic Stadium
Montreal, QC
Box Score + PBP:
Retrosheet:
Baseball-Reference:
Corrections? Additions?
If you can help us improve this game story, contact us.
Tags
https://sabr.org/sites/default/files/Carter-Gary.png
600
800
admin
/wp-content/uploads/2020/02/sabr_logo.png
admin
2017-09-12 15:29:04
2020-04-17 10:25:44
May 29-31, 1979: How 'Bout Them Expos? Sweep of Phillies makes a 'statement'