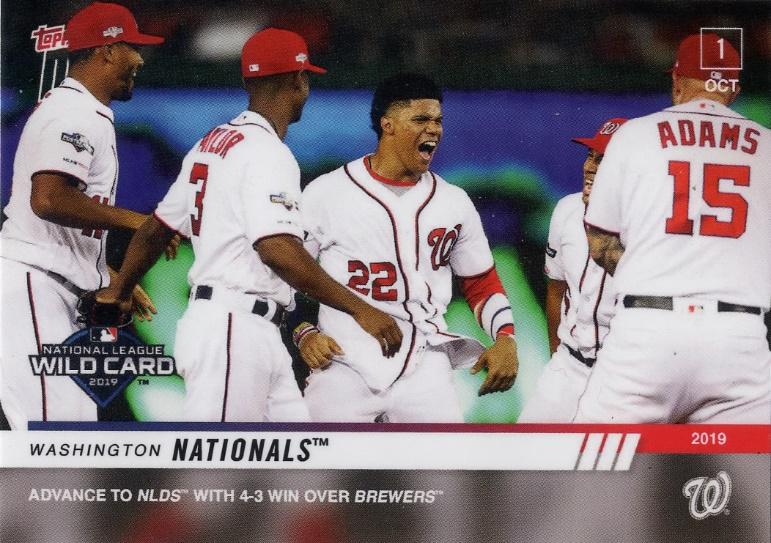 October 1, 2019: Wild-card win launches Nationals' run to World Series title
---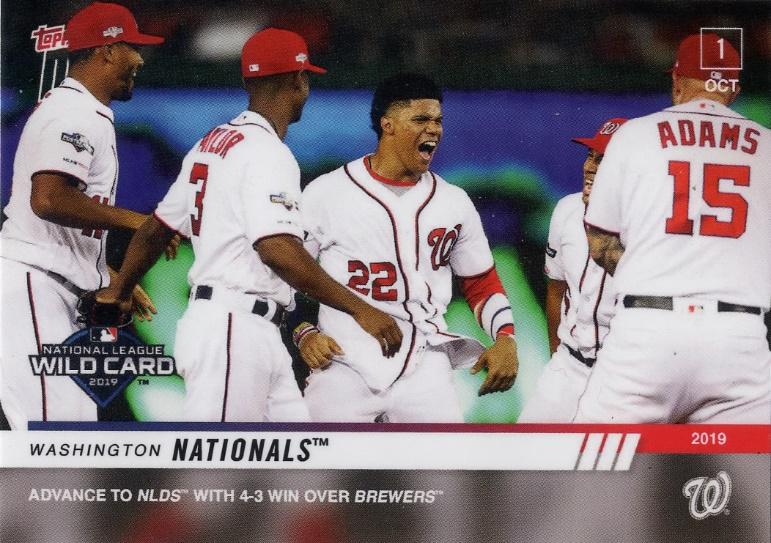 "We're a relentless, resilient bunch of guys. Today we were down, but we never thought we were out. We stayed in the fight, and guess what — we won the fight." — Dave Martinez1
Resilience. A contemporary baseball dictionary might define the word as the toughness to overcome a 19-31 record through April and part of May in order to be playing baseball in October. Examples abound from the Washington Nationals' regular season to capture the meaning. For sheer toughness in June, Max Scherzer broke his nose in batting practice, but returned to the mound the following night, black eye and all, to beat the Phillies 2-0 — seven innings, four hits, 10 strikeouts.2 For notable achievements in July, Stephen Strasburg is named NL pitcher of the month3 and Trea Turner hits for the cycle against Colorado, essentially gripping the bat with nine fingers after fracturing his right index finger earlier in the season.4 For unexpected drama in September, the Nationals scored seven runs in the bottom of the ninth inning, capped by Kurt Suzuki's walk-off home run, to stun the Mets 11-10.5 We could go on.
A single-game playoff, the wild-card game, was added to each league's postseason play in 2012 and both teams were making first-time appearances.6 For the Nationals it was another challenge to follow the mantra of their manager: "We have to go 1-0 tomorrow."7 Were the Brewers still remembering their Game Seven loss at home to the Los Angeles Dodgers in the 2018 NLCS? Both teams relished the win-or-go-home opportunity. A berth in the National League Division Series against the Dodgers awaited the winner.
Both teams were ready, having finished their regular seasons strongly. The Nationals swept their final eight games against the Phillies and Indians at Nationals Park to gain the home-field advantage. The Brewers finished with a September record of 20-7 despite losing NL MVP Christian Yelich earlier in the month to a knee injury and being swept by the Rockies in their final three games of the season.
The pitching strategies for both teams became apparent when the regular season ended. Bullpen performance was a significant weakness for the Nationals throughout the season but a strength for the Brewers. Max Scherzer (11-7, 2.92 ERA) was named the starter for the Nationals, but both Stephen Strasburg and Patrick Corbin would be available as a bridge to the back end of the bullpen, Sean Doolittle and Daniel Hudson. The Brewers would start Brandon Woodruff (11-3, 3.62 ERA) and use other relievers before giving the ball to Josh Hader with the lead in the eighth inning. After all, Hader was the winner of the 2018 Trevor Hoffman Reliever of the Year Award.8
Entering through the center-field gate, the intensity of the early-arriving, towel-waving crowd, 42,993 fans, was palpable. Fans understood that a wild-card game is like no other. Every pitch, every play is magnified in importance beyond what has been experienced at any other time in the season. There is an added sense of urgency beginning at the first pitch, and what happens on the field can sometimes be cruel.
Things didn't start well for Scherzer. He walked Trent Grisham to start the game and then grooved a first-pitch fastball to Yasmani Grandal, who parked it in the Nationals bullpen. And surprisingly, given Grandal's record against Scherzer in regular-season matchups, 1-for-13 with seven strikeouts.9 The score was 2-0, Brewers, as some were just settling into their seats.
Scherzer opened the second inning with a 1-and-0 curve to Eric Thames, drilled over the scoreboard in right-center for a 3-0 Brewers lead. Perhaps some in Nationals Park may have just heard the whispering of the ghosts of Octobers past, "Here we go again!" Maybe they were whispering that Strasburg's 1.76 ERA over his last eight starts versus Scherzer's 6.11 ERA over his last three starts should have earned Strasburg the start. Regardless, Scherzer toughed out five innings without giving up another run. He had thrown 26 of his 77 pitches in the fifth while walking two more batters.
Meanwhile, Woodruff retired the Nationals in order in the first and yielded a harmless single to Howie Kendrick in the second inning. Finally, in the third inning Trea Turner hit Woodruff's 2-and-2, 98-mph fastball for his first postseason home run and the crowd sensed that their team was back in the ballgame, down 3-1.
As the game reached its halfway point, the bottom of the fifth inning, it was now going to be a bullpen game for both teams. Woodruff pitched four solid innings, then was replaced by Brent Suter. With two outs, Victor Robles singled to left field and Brian Dozier, pinch-hitting for Scherzer, reached base on Mike Moustakas's throwing error. But Turner flied out and the score remained 3-1 after five innings.
Now it was Stephen Strasburg's turn and he delivered with three shutout innings, striking out four and yielding only two hits. Drew Pomeranz was even better. He retired the side in order in the sixth inning, including consecutive strikeouts of Anthony Rendon and Juan Soto, and got three consecutive groundball outs in the seventh inning.
As Brewers manager Craig Counsell made the call to the bullpen for Josh Hader to pitch the bottom of the eighth, he had every confidence in the move. "If you could have told me we'd hand the ball with six outs to go to Josh," Counsell said, "that would have fit our script really, really well."10 For good reason. After all, Hader had 15 saves of more than one inning during the regular season, and no reliever had done that in 15 years.11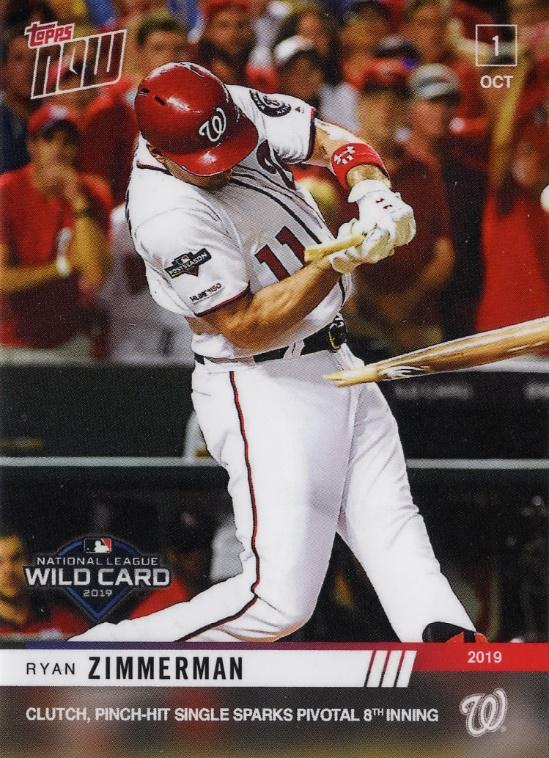 Hader struck out Victor Robles on a full count to open the eighth inning. Michael A. Taylor batted for Strasburg and was hit by a pitch on another full count. Counsell challenged the ruling, arguing that the ball first hit the knob of Taylor's bat, but umpire Mike Everitt's call was upheld.12 Hader got Turner to swing at a third strike for the second out. Certainly those two strikeouts were not surprising since Hader averaged 16.4K/9IP during the season, but his pitch count was mounting. Ryan Zimmerman, pinch-hitting for Adam Eaton, shattered his bat on a bloop single to center. Taylor advanced to third and Andrew Stevenson ran for Zimmerman as the tying run. Anthony Rendon walked on another full count and Hader's 27th pitch of the inning.
The bases were loaded for Juan Soto, whose evening already consisted of two swinging strikeouts and a foul popfly out. On Hader's 30th pitch, Soto lined a single to right field, easily scoring two runs. As Trent Grisham charged one way, the ball skipped the other way under his glove, allowing Rendon to score the third run, giving the Nationals a 4-3 lead.13 It mattered little that Soto was tagged out between second and third on the play.
What happened in right field? Grisham charged the ball and never appeared to square up to field and throw. "I was getting ready to throw to home, and I came in a little off balance. It kind of took a funky little hop on me," Grisham said. "It's going to hurt, and I expect it to hurt."14
It was left for Daniel Hudson to pitch the ninth inning and watch Victor Robles catch a fly ball on the center-field warning track for the final out. No need for another inning from Josh Hader. The demons of elimination games past were washed away as pandemonium erupted and the celebration began.
To suggest that this October had started well for the Nationals and their fans would be an understatement most assuredly. Even if we didn't know it already, we would learn in four weeks that the Nationals' 15th season in the National League was different, just as Dave Martinez said after winning the World Series.
As the calendar turned to November, Thomas Boswell captured our sentiment perfectly: "The whole month of October still has an aura of 'How the hell did that happen?'"15 As the calendar approached Christmas Day, Sean Doolittle reminded us of this very night in October. "We caught a huge break in the wild-card game where a ball took a real funny hop … and from then on, it kind of felt like the baseball gods, they finally might have our back."16 Indeed!
Author's note
The euphoria spreading throughout Nationals Park on this night reminded the author of another October night, Game Four of the 2012 National League Division Series against the St, Louis Cardinals. That NLDS was the Nationals' first trip to the postseason and the game was their first-ever postseason elimination game. "If the postseason serves to measure baseball success, then Jayson Werth's walk-off home run is the first mark in Nationals history. He had won the epic battle of batter versus pitcher [on Lance Lynn's 13th pitch of the at-bat]."17 Let's call the 2019 NL Wild Card Game the second mark with more to come.
Sources
The author accessed Baseball-Reference.com for box scores/play-by-play information (baseball-reference.com/boxes/WAS/WAS201910010.shtml) and other data, as well as Retrosheet.org (retrosheet.org/boxesetc/2019/B10010WAS2019.htm) and Baseball Almanac (baseball-almanac.com/wild_card/MLB_Wild_Card_Game.shtml).
Notes
1 "World Series Game 7, October 30, 2019," Nation's Finest, November 2019: 142.
2 Jesse Dougherty, "Winning, by a nose," Washington Post, June 20, 2019: D1.
3 Strasburg pitched five games to a 5-0 record, yielding only four earned runs (1.14 ERA) while striking out 44 batters.
4 Steven C. Weiner, "July 23, 2019: Trea Turner Hits for the Cycle Again," SABR Baseball Games Project.
5 Steven C. Weiner, "September 3, 2019: Down by Six in Ninth Inning, Kurt Suzuki's Walk-Off Homer Caps Nationals Comeback," SABR Baseball Games Project.
6 The two teams in each league with the best records, other than the three division winners, meet in the Wild Card Game and the winner advances to face the first-seeded team in each league's Division Series.
7 Jesse Dougherty, "Why Nationals Manager Dave Martinez Never Panicked," WashingtonPost.com, October 17, 2019, washingtonpost.com/sports/2019/10/17/why-nationals-manager-dave-martinez-never-panicked/.
8 Josh Hader was subsequently named winner of the 2019 Trevor Hoffman Reliever of the Year Award on October 26, 2019. Ironically, the award was presented during Game Four of the World Series on the field at Nationals Park.
9 "Soto's Clutch Hit Propels Washington to the NLDS," Lindy's Sports Collection Edition World Champions, November 2019: 30.
10 Howard Fendrich (Associated Press), "Hader, Grisham Combine to Give Away NL Wild-Card Game," Yahoo.com, October 2, 2019, sports.yahoo.com/hader-grisham-combine-away-nl-wild-card-game-052059416–mlb.html.
11 Sam Miller, "How Will the 2019 Washington Nationals Be Remembered? As Giant Slayers," ESPN.com, October 31, 2019, espn.com/mlb/story/_/id/27973116/how-2019-washington-nationals-remembered-giant-slayers.
12 Joe Trezza, "HBP Changes Trajectory of NL Wild Card Game," MLB.com, October 3, 2019, accessed January 18, 2020, mlb.com/brewers/news/hit-by-pitch-leads-to-nationals-key-rally.
13 "Juan Soto's Single Lifts Nationals Over Brewers in NL Wild Card Game," YouTube.com, accessed November 20, 2019, youtube.com/watch?v=AD0h62dGeII&feature=youtu.be.
14 Roman Stubbs, "Brewers Rookie Trent Grisham Says Costly Error in Wild-Card Loss Will Sting for a Long Time," WashingtonPost.com, October 2, 2019, accessed November 22, 2019, washingtonpost.com/sports/2019/10/02/brewers-rookie-trent-grisham-says-costly-error-wild-card-loss-will-sting-long-time/.
15 Thomas Boswell, "Fight to the Finish" (Chicago: Triumph Books/Washington Post, 2019), 7.
16 Scott Allen, "Doolittle Talks Nats on NPR Quiz Show," Washington Post, December 18, 2019: D2.
17 Steven C. Weiner, "October 11, 2012: Jayson Werth Walk-Off HR Beats Cardinals in NLDS Game 4," SABR Baseball Games Project.
Additional Stats
Washington Nationals 4
Milwaukee Brewers 3
NL Wild Card Game
---
Nationals Park
Washington, DC
Box Score + PBP:
Corrections? Additions?
If you can help us improve this game story, contact us.
Tags
https://sabr.org/sites/default/files/2019-Nationals-WCG-Topps.jpg
600
800
admin
/wp-content/uploads/2020/02/sabr_logo.png
admin
2020-01-28 15:03:39
2020-04-17 13:33:54
October 1, 2019: Wild-card win launches Nationals' run to World Series title