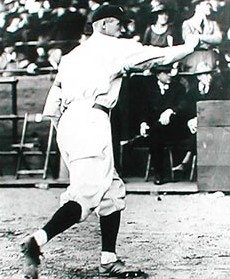 October 9, 1920: Coveleski stops Brooklyn to tie World Series at 2-2
---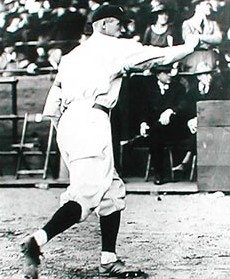 Fortunes turn fast in baseball. After Cleveland won Game One of the 1920 World Series at Ebbets Field, oddsmakers made the Indians 8-to-5 favorites to win the Series. Even after dropping Games Two and Three in Flatbush, the Indians were still the favorites, but at even money. Brooklyn would not go quietly. The Robins had the finest pitching staff in the National League, registering a team ERA of 2.62 during the regular season. In Game Two of the World Series, on October 6, it was a battle of each team's aces, as Cleveland sent 31-game winner Jim Bagby to the hill and the Robins countered with Burleigh Grimes. The spitball pitcher was the Robins' leader in wins with 23 and owned a 2.22 ERA. He promptly shut out the Indians, 3-0.
The next day, October 7, it was Sherry Smith's turn to toe the rubber for the Robins, opposing Ray Caldwell. Brooklyn scored two runs in the first inning off Caldwell, who lasted only a third of an inning before giving way to Duster Mails. Smith went the distance and the two runs stood up, even after he gave up an unearned run in the fourth inning. Brooklyn won 2-1.
"There's no reason why we shouldn't keep up this winning brand of baseball in Cleveland," wrote the Robins' Zack Wheat in the Cleveland Plain Dealer. "We're started now and I don't think they can head us. We outhit them today two to one, and our infield and pitching were certainly superior. We've seen all their most vaunted pitchers already, while we still have got some good ones that haven't started.1
"I played in an exhibition in Cleveland several years ago, and that's the only time I have ever been to that park; but we'll take two games just the same."2
Who could blame the Brooklyn captain for his exuberance? The Robins were riding high and to start Game Four they had one of those good pitchers Wheat was speaking of. Leon Cadore (15-14, 2.62) would go for Brooklyn against Game One winner Stan Coveleski. Cadore, a right-handed hurler who hailed from Chicago, was in his sixth season with the Robins. He was an excellent control pitcher. It also appeared he had a rubber arm. Early in the Robins' pennant season, on May 1, Cadore hooked up with the Boston Braves' Joe Oeschger. Each pitcher went 26 innings of a 1-1 tie that was eventually called on account of darkness, 3 hours and 50 minutes after its 3 P.M. start. As of 2016 it was still the longest game in major-league history.
However, it was another Brooklyn pitcher who was making headlines. The day after Sherry Smith's victory, an offday, Rube Marquard was arrested on the charge of speculating, better known as scalping tickets. Marquard was arrested in a hotel lobby when he offered to sell eight box seats that cost $52.80 for $400 to a Cleveland police detective. Marquard was released on his own recognizance and was to appear in court at the conclusion of the Series. The police released Marquard because they did not want to be accused of crippling Brooklyn's chances of winning the Series by holding the pitcher.
For the Indians, they hoped that a return home would give their offense a lift. A crowd of 25,734 pushed through the League Park turnstiles at E. 66 Street and Lexington Avenue for Game Four. Many of the Cleveland faithful slept overnight by the bleacher gates, hoping to snare the unreserved tickets that would go on sale in the morning.
After Coveleski set the Robins down in order in the top of the first inning, the Indians came to bat and put two runs up on the scoreboard. With one out, Cadore walked Bill Wambsganss. Tris Speaker and Elmer Smith followed with singles to plate Wamby. Larry Gardner's sacrifice fly to center scored Speaker.
Joe Sewell bashed a long single off the wire screen high above the right-field fence to lead off the home half of the second inning. When Steve O'Neill shot a single past third baseman Jimmy Johnston, Brooklyn skipper Wilbert Robinson headed to the mound. He pulled Cadore and inserted reliever Al Mamaux. It was a good move as Coveleski whiffed and Charlie Jamieson flied out to left field. Hi Myers caught the ball and fired to second base to double up Sewell.
As for Coveleski, he breezed through the Brooklyn lineup in the first three innings, nine up and nine down. Covey had his spitter working to perfection. As in Game One, the Robins were off-kilter at the plate, and perhaps all the offensive support Coveleski would need was two runs.
Uncle Robby made another trip to the mound in the bottom of the third inning. Wamby led off with a single to right field. On a two-strike pitch, Speaker lashed a single to center field. When Myers threw to third to try to get Wamby, Speaker headed for second base. Both runners made it safely. Robinson brought in Marquard to replace Mamaux, with the left-handed-batting Smith due up. Speaker countered by sending up George Burns, who hit from the right side, as a pinch-hitter. Burns singled in both runs, and Cleveland held a 4-0 advantage after three innings.
Brooklyn got to Coveleski with its initial hit and a run in the top of the fourth inning. Johnston smoked a one-out single to left field, and scored on a double by Tommy Griffith to right-center field. But that was all the offense the Robins could muster. Coveleski went the distance, scattering five hits and striking out four. The homecooking that the Indians were looking for at League Park materialized. The Indians battered the Brooklyn hurlers for five runs and 12 hits, all singles. The Series was now knotted at two games apiece.
"It is just as I have predicted," said Speaker about the Indians finding their offense. "We were bound to start. We started later than I expected. But we are on our way now and they are going to have some time stopping us. If there is anything the Indians can do better than anything else it is stick.
"Brooklyn trotted out four pitchers today, every one of them a so-called first stringer," Speaker added. "We hit them all. We should have scored more runs than we did. They can talk about their 'money pitchers' all they want to, but when they make up the list of pitchers who have performed wonderfully and done what we asked them they will have to include Stanley Coveleski, who won his second game of the Series today. He was like an iceberg on the rubber today. He pitched just as calmly as thought it were an exhibition against a bush-league team."3
Robinson was still optimistic that his club would find a way to come back. "There is nothing to make us feel that we won't win," said Robby. "We are even again, but that game today will simply make the boys fight all the harder to take the lead, and I expect they'll come back tomorrow."4
Game Five would be a rematch between Grimes and Bagby. For those who were lucky enough to hold tickets, it would be a memorable World Series game for sure.
Sources
In addition to the sources cited in the Notes, the author used the Baseball-Reference.com and Retrosheet.org websites for material pertinent to this article. Items from The Sporting News were accessed through PaperofRecord.com.
Notes
Additional Stats
Cleveland Indians 5
Brooklyn Robins 1
WS, Game 4
---
League Park
Cleveland, OH
Box Score + PBP:
Corrections? Additions?
If you can help us improve this game story, contact us.
Tags
http://bioproj.sabr.org/bp_ftp/images/CovaleskiStan.JPG
600
800
admin
/wp-content/uploads/2020/02/sabr_logo.png
admin
2016-09-12 19:59:43
2020-04-17 13:34:07
October 9, 1920: Coveleski stops Brooklyn to tie World Series at 2-2