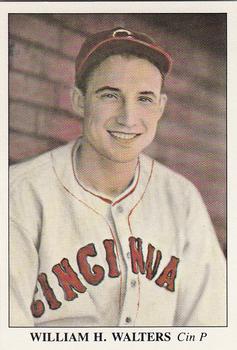 October 7, 1940: Reds' Bucky Walters hurls World Series shutout to force deciding Game 7
---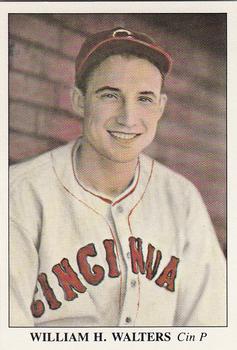 Before the 1940 World Series began, it might have seemed as if the Cincinnati Reds were the clear favorites. The Reds won 100 games, finishing 12 games ahead of the Brooklyn Dodgers. First baseman Frank McCormick was the National League MVP, leading the league in hits and doubles. Catcher Ernie Lombardi hit .319, the team set a then-National League record with a fielding percentage of .981, and the pitching staff boasted two 20-game winners in Bucky Walters and Paul Derringer. In the days before the Series began, sportswriter Grantland Rice predicted that "the Reds carry the edge" when manager Bill McKechnie "sends his brilliant pitching staff against Detroit's sluggers in the battle of pitch and punch."1
But five games into the Series, things were looking decidedly less optimistic for Reds rooters. The teams had alternated wins, but Detroit's hitters were now up three games to two, having dismantled the Reds, 8-0, in Game Five behind Bobo Newsom. A steady rain soaked Crosley Field until the early-morning hours of October 7, and the sky was still overcast at game time.2 The mood among Reds fans seemed to match the weather as crowds thinned and scalpers took a beating, in some cases selling grandstand tickets for as little as a dollar each.3
McKechnie had designated Bucky Walters to make his second start of the Series, having already bested Detroit in Game Two. Walters, a converted third baseman, threw an inside fastball, a sinker, a curve, a slider (although he didn't call it that), and an occasional knuckleball.4 Detroit manager Del Baker named Schoolboy Rowe as his starter. Rowe, who according to Bill James threw a change, a screwball, a "sneaky fastball," and a knuckler, had gone 16-3, finishing seventh in the MVP voting.5 The Tigers were relying on Rowe to better his performance against Walters in Game Two, when he didn't make it out of the fourth inning.6
After a 1-2-3 top of the first topped off by Jimmy Ripple's running grab of Charley Gehringer's fly ball, the Reds came to the plate. Billy Werber started things by doubling into the left-field corner on a 3-and-2 pitch. Mike McCormick sacrificed Werber to third. Ival Goodman sent a bouncing ball to the right side. Tigers first baseman Rudy York fielded it but Rowe failed to cover first on the play and everyone was safe, with Werber scoring. Frank McCormick lined a single down the left-field line, with Goodman stopping at second, and Jimmy Ripple scored Goodman with a single to right center, chasing Rowe.7 Wrote Grantland Rice: "It was evident in the sixth game, as it was in the second game, that Schoolboy Rowe had nothing but his uniform and his glove. His fast ball had disappeared. His curve ball was a wrinkle."8 Just as in Game Two, rookie Johnny Gorsica was summoned from the bullpen to stem the Reds' attack.
One might have expected the Tigers to quickly recover the two runs. Since early September, as they battled with the Indians and Yankees, the Tigers had been stealing signs, stationing men in the center-field bullpen with binoculars and relaying word of what was coming back to the hitters. Hank Greenberg wrote that he and Rudy York had profited handsomely by the information, with one or both homering on 17 consecutive days in the closing two-plus weeks of the season. They couldn't pull the stunt in Cincinnati during the Series, but they quickly discovered that Jimmie Wilson, catching in place of the injured Ernie Lombardi, was giving the signs so low that the Tigers could see them from the dugout.9 Although the Tigers didn't score in the second, third, fourth, or fifth, Rudy York, Johnny Gorsica, and Barney McCosky all drove long fly-ball outs, suggesting that Walters, a natural groundball pitcher,10 was getting the ball up. According to Grantland Rice, "Bucky had no easy battle. … He needed the fine backing his mates gave him, especially those doubleplays."11
Meanwhile, Gorsica was sailing along against the Reds. "For a time," wrote The Sporting News, "it looked as though the Reds were racing the clouds to get in their four and a half innings so they could cash in on their two early runs."12
The Tigers went quickly in the sixth, as Dick Bartell opened with a single, but Barney McCosky forced him at second and Charlie Gehringer hit into a 3-6-3 double play. In the bottom of the inning, Reds left fielder Jimmy Ripple led off with a single up the middle. Jimmie Wilson sent a chopper past Rudy York at first, and Ripple took third. Eddie Joost walked on five pitches, loading the bases for shortstop Billy Myers. Myers chopped one straight back to the mound, and Johnny Gorsica cut down Ripple at home. That brought up pitcher Bucky Walters, who sent a roller toward third baseman Pinky Higgins.
The Detroit Free Press's description of what happened next is classic: "With the crack of the bat, Wilson gave his ageing joints a stern talking to, called on them to do or die, and started off in low gear. Ten steps and he was in second gear, doing a furious three MPH. Five yards from home he slipped into high, roared across the plate at between five and six MPH. He beat Higgins' throw by an inch, and the crowd saluted him as if he had performed a miracle, which was exactly what he had done." The Reds almost added more in the bottom of the seventh, loading the bases before Eddie Joost grounded out to Charlie Gehringer.
By the top of the eighth, Tigers manager Del Baker needed to get something started, so with one out he sent Earl Averill to the plate to hit for Johnny Gorsica. Averill hit a grounder fielded by Reds first baseman Frank McCormick, who caught the ball with one hand, spun to avoid Averill, and ran smack into first-base umpire Lee Ballanfant. McCormick dropped the ball and was charged with an error.13 But the Tigers couldn't do anything with the runner, as Billy Sullivan and Barney McCosky flied out.
Fred Hutchinson took the mound for the Tigers in the Reds half of the eighth. Shortstop Billy Myers began the inning by striking out swinging, but Bucky Walters delighted the crowd by putting Hutchinson's first pitch into the left-field stands, just inside the foul pole, the first pitcher to hit a homer in the fall classic since 1926.14 Bill McKechnie opted to send Walters back to the mound for the ninth. The Tigers immediately threatened, as Billy Myers threw away Charlie Gehringer's groundball, with Gehringer winding up on second. Hank Greenberg walked on a 3-and-1 pitch. The Cincinnati Enquirer told what happened next: "Rudy York got a curve ball on the business end of his forty-ounce war club and smashed it hard down the third-base line. But Werber raced back like a flash, grabbed the ball in his gloved hand and turned it into a lightning double play, the third of the day for the stonewall infield."15 National League President Ford Frick was impressed: "The doubleplay handled by Werber was one of the best I've ever seen. It was close to a miracle."16 Bucky Walters completed his shutout as Tigers right fielder Bruce Campbell flied to Reds center fielder Mike McCormick in right center. As Joe Williams wrote in the New York World Telegram, Walters had "slapped the American Leaguers right in the puss with a bucket of whitewash."17
This article was published in "Cincinnati's Crosley Field: A Gem in the Queen City" (SABR, 2018), edited by Gregory H. Wolf. To read more articles from this book at the SABR Games Project, click here.
Sources
In addition to the sources listed in the Notes, the author also consulted Baseball-Reference.com and Retrosheet.org.
Notes
1 "Rival Managers Think Series Will Go Limit," Hartford Courant, October 1, 1940: 1.
2 "Tiger Hitters Are Just Putty in Walters' Capable Hands," Detroit Free Press, October 8, 1940: 14.
3 Brian Mulligan, The 1940 Cincinnati Reds (Jefferson, North Carolina: McFarland, 2005), 159.
4 Mulligan, 71; Bill James and Rob Neyer, Neyer/James Guide to Pitchers (New York: Fireside, 2004), 416-17.
5 Neyer/James, 365.
6 "Series First to Go Seven Games Since '34," Cincinnati Enquirer, October 8, 1940: 14.
7 "Walters Ready to Go Again as Reds Near First World Title Since 1919," Detroit Free Press: 14.
8 Grantland Rice, "McKechnie Nominates Derringer, Baker Uncertain as to Hurler in Final," Baltimore Sun, October 8, 1940: 15.
9 Hank Greenberg with Ira Berkow, The Story of My Life (Chicago: Ivan R. Dee, 2009), 132.
10 Bill James, The New Bill James Historical Baseball Abstract (New York: Free Press, 2003), 893-94.
11 Grantland Rice, "Battered, Bleeding Reds Put Up Stubborn Fight," Hartford Courant, October 8, 1940: 14.
12 "Walters Whole Show as Reds Knot Series in Sixth Contest," The Sporting News, October 10, 1940: 8.
13 "Walters Ready to Go Again as Reds Near First World Title Since 1919," Detroit Free Press: 14.
14 Mulligan, 160.
15 "Sixth Tilt," Cincinnati Enquirer, October 8, 1940: 15.
16 Rice, "Battered, Bleeding Reds."
17 Neyer/James, 117.
Additional Stats
Cincinnati Reds 4
Detroit Tigers 0
Game 6, WS
---
Crosley Field
Cincinnati, OH
Box Score + PBP:
Corrections? Additions?
If you can help us improve this game story, contact us.
Tags
https://sabr.org/sites/default/files/images/WaltersBucky.jpg
600
800
admin
/wp-content/uploads/2020/02/sabr_logo.png
admin
2019-09-24 14:27:40
2020-04-17 13:33:57
October 7, 1940: Reds' Bucky Walters hurls World Series shutout to force deciding Game 7