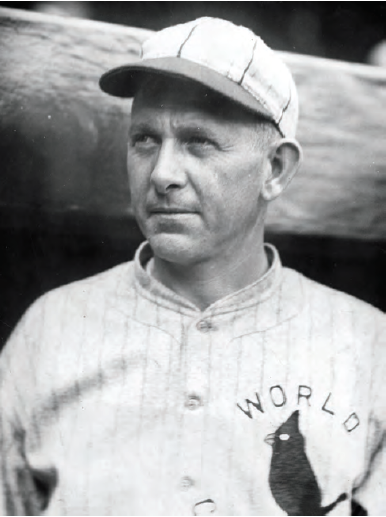 October 5, 1926: Cardinals' Jesse Haines tosses shutout and homers in first World Series game in St. Louis
---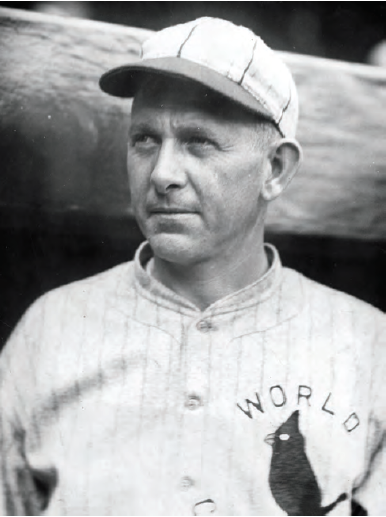 "Screams, shrieks, whoops, bawls, howls, hollers, roars swept through the ball-yard with the weird noise raised by cow bells, auto horns, whistles, rattles, and musical instruments," wrote Damon Runyon about the wild scene at Sportsman's Park for first World Series game ever played in St. Louis.1 A member of the National League since 1892, the Cardinals had spent most of their existence mired in the second division until they captured an unexpected pennant in 1926.
As the Cardinals and the New York Yankees prepared for Game Three in the Gateway City, the national media appeared awestruck by the enthusiasm of long-suffering baseball fans. "Baseball in this western citadel is not a recreation or an amusement," wrote Grantland Rice, "it's more a fever, a frenzy, a furor and a flaring flame."2
The pandemonium in St. Louis actually started the day before, on October 4, when the Redbirds arrived at the Washington Avenue train station at 3:50 P.M. to be greeted by thousands of fans. After losing the opening game of the fall classic, 2-1, to the favored Yankees, the Cardinals had taken Game Two, 6-2, behind an overpowering four-hit, 10-strikeout masterpiece by 39-year-old graybeard Pete Alexander. The Redbird faithful paid tribute by closing businesses and shops and accompanying the club on a parade for dozens of blocks through the city. "The town thought, slept, dreamed and ate baseball," raved sportswriter James R. Harrison in the New York Times.3
The party didn't stop after the parade. According to the St. Louis Post-Dispatch, thousands of fans had lined up by midnight for grandstand seats, creating a festive and raucous environment outside of the park, located at the intersection on Grand Avenue and Dodier Street on St. Louis's north side.4 The gates opened at 8:30 on Tuesday morning to a throng of already hoarse and overly anxious fans. Sportswriter William F. Allen of the Post-Dispatch remarked that the commotion was unprecedented with the city practically closed and traffic jams bringing to a halt even the vast network of trolley cars.5
The celebratory atmosphere was tempered only by gloomy and ominous skies with unseasonably cool temperatures hovering in the low 60s. Nonetheless, a record crowd in excess of 38,500 had packed Sportsman's Park.6 "It would have taken a cyclone, and earthquake, and a tidal wave to have kept St. Louis away from the ball park," chimed in Harrison in the Times.7 By noon the dark clouds gave way to brilliant sunshine, enabling both teams to conduct batting practice before a sea of red-clad fans.
Soon after St. Louis Mayor Victor Miller threw out the ceremonial first pitch, home-plate umpire George Hildebrand yelled "Play ball" at approximately 1:30. Taking the mound for the Cardinals was Jesse Haines, a 33-year-old right-hander with a career record of 96-91 in seven years with the club. Since winning 20 games in 1923, he had struggled with his knuckleball and his fastball had seemingly lost its zip, leading many to wonder if he was washed up.8 An ankle injury limited Haines primarily to relief appearances for the first nine weeks of the '26 season, but he returned with a vengeance, finishing with a 13-4 record. Nonetheless, few sportswriters gave "Old Jess" a chance against the Bronx Bombers.
The Yankee "invaders were treated with disdain," wrote Harrison about the chorus of boos that greeted each batter.9 Encouraged by the cajoling spectators, Haines retired the first six batters he faced. "The fans are nutty," Graham McNamee announced flatly as he called the game on WEAF radio in New York, the first World Series broadcast on radio.10
Erstwhile Cardinals skipper Miller Huggins, who guided the Yankees to their fourth pennant since becoming manager in 1918, surprised many by sending 33-year-old southpaw Dutch Ruether to the rubber. Acquired in a trade with the Washington Senators on August 27, Ruether went 2-3 in his five starts with the Yankees to conclude his 10th big-league campaign with a 124-89 slate. After yielding an innocuous one-out single to Billy Southworth in the first, Ruether encountered some trouble in the next frame when Chick Hafey stroked a one-out double down the left-field line, but was left stranded on third.
Joe Dugan led off the Yankees' third with a single, a promising sign given that the Bombers had managed just 10 hits and four runs in their previous 19 innings. After backstop Bob O'Farrellmade what Times sportswriter Richards Vidmer described as a "great lunging catch [with Ruether at bat] as the ball swerved toward the stands and then twisted back toward the diamond," Haines issued a two-out walk to Earle Combs, giving the Yankees two baserunners for the first time since the sixth inning of Game One, but the team failed to score.11
The Cardinals threatened in the third when Haines hit a sharp yet routine grounder to first, pulling Lou Gehrig off the line. According to Harrison, Ruether was late in covering, enabling Haines to reach base.12 Taylor Douthit walked and both runners moved up a station on Southworth's sacrifice bunt. But Ruether retired Rogers Hornsby and cleanup hitter Jim Bottomley to escape the jam.
Under rapidly darkening skies spitting rain, Babe Ruth led off the fourth with a single and moved to second on Bob Meusel's grounder. Just when it appeared that Haines might be in trouble, the umpires ordered the players off the field. Approximately 30 minutes later, Haines was back on the rubber warming up. Seemingly rejuvenated by the rest, Old Jess quickly dispatched Gehrig and Tony Lazzeri.
Unlike Haines, Ruether seemed out of sorts after the delay, yielding a leadoff single to Les Bell and walking O'Farrell with one out. The tenor of the game, and perhaps the entire Series, changed on the next at-bat. Light-hitting Tommy Thevenow hit a tailor-made double-play grounder to second baseman Lazzeri, whose throw to shortstop Mark Koenig forced O'Farrell. According to Harrison, Koenig was slow to cover second and thus "threw from a needlessly awkward position," and watched as the ball bounded past Gehrig's ankle.13 Bell rounded third and scored the game's first run.
After the game the press lambasted Koenig, a 22-year-old in his first full big-league season. He "tossed away the third game of the current world series with a double play and salvation in sight," scowled the Times's Vidmer, who described Ruether as "very much vexed and somewhat sulky" after Koenig's error.14 Seemingly indifferent facing Haines, Ruether "grooved one for his pitching rival," continued Vidmer. Haines, a lifetime .187 batter thus far in his career with one round-tripper, deposited the first pitch over the right-field wall for a two-run blast and a 3-0 Cardinals lead. The "clamor was so great that the eardrums quivered," wrote Harrison of the crowd's reaction. "There has never been a noise like it on a ball field."15
Buoyed by his offensive heroics, Haines retired the side in the fifth on three deep fly balls, after which the Redbirds took their whacks at Ruether. Billy Southworth lined a leadoff single and advanced to third on Hornsby's single to center. Bottomley's grounder drove in Southworth for the Cardinals' fourth and final run, sending Ruether to the showers.
While relievers Bob Shawkey and Myles Thomas hurled 3⅔ innings of one-hit ball to keep the Yankees in the game, Haines refused to break under pressure. He worked around a leadoff single in the sixth by Combs and one by Gehrig in the seventh. Looking fatigued to begin the eighth, Haines issued a walk to pinch-hitter Ben Paschal and had a 2-and-0 count on Combs when Hornsby ordered Flint Rhem and Art Reinhart to begin warming up in the bullpen. Mustering some youthful energy as black clouds returned, Haines fanned Combs on a 3-and-2 pitch and then retired Koenig and Ruth on weak infield grounders. "Haines' fastball came hopping out of the gloom," opined Harrison with an air of incredulity.16
According to the Times, Yankee batters had "tightened up" and were swinging at bad balls.17 Gehrig's one-out single in the ninth, the team's fifth hit, barely had a chance to quiet the crowd before shortstop Thevenow scooped up Lazzeri's lazy grounder to initiate a 6-4-3 twin killing and conclude the game in 1 hour and 41 minutes.
Sportswriters were quick to heap praise on Haines, widely hailed as one of the good guys of baseball in an era defined by hard living (and hard drinking). "[N]ot many pitchers of the present even have thrown a fastball faster than Haines threw today," gushed Harrison about the hurler, who recorded just 46 strikeouts in 183 innings in '26. "There is no telling what would have happened if Haines had not had that fast ball, his courage and a wise head," he continued.18 Haines tossed 111 pitches, fanned three and walked three. The Yankees' leadoff hitter reached base five times, but Haines was best in the pinches. Not known for compliments, Hornsby added, "I think he's the fastest man in the National League, second only to Dazzy Vance."19
The "Yankees had their chances, but they flittered them away," wrote Vidmer dejectedly. Their "murderous attack … vanished, evaporated, dissolved, disappeared."20 In a succinct summation of the game, the New York Times announced: "The Yanks played dully in a dull game."21 A story of David defeating Goliath suddenly seemed like a distinct possibility.
This article appears in "Sportsman's Park in St. Louis: Home of the Browns and Cardinals at Grand and Dodier" (SABR, 2017), edited by Gregory H. Wolf. Click here to read more articles from this book online.
Sources
In addition to the sources cited in the Notes, the author also accessed Retrosheet.org, Baseball-Reference.com, the SABR Minor Leagues Database, accessed online at Baseball-Reference.com, SABR.org, and The Sporting News archive via Paper of Record.
Notes
1 Damon Runyon, reprinted in "Seeing Ourselves as Others See Us," St. Louis Post-Dispatch, October 6, 1926: 2.
2 Grantland Rice, reprinted in "Seeing Ourselves As Others See Us," St. Louis Post-Dispatch, October 6, 1926: 2.
3 James R. Harrison, "Cards Lead Series; St. Louis in Ecstasy as Yanks Lose, 4-0," New York Times, October 6, 1926: 1.
4 "Noisy Fans Tell World St. Louis Is Proud of Cardinals," St. Louis Post-Dispatch, October 5, 1926: 2.
5 William F. Allen, "New Record Set With 38,500 Fans Packing the Park," St. Louis Post-Dispatch, October 5, 1926: 1.
6 The St. Louis Post-Dispatch estimated the crowd to be approximately 38,500. Baseball-Reference gives the paid attendance as 37,708 as did the New York Times.
7 Harrison.
8 Gregory H. Wolf, "Jesse Haines," SABR BioProject, https://sabr.org/bioproj/person/afeb716c.
9 Harrison.
10 Graham McNamee, reprinted in "Seeing Ourselves as Others See Us," St. Louis Post-Dispatch, October 6, 1926: 2.
11 Richards Vidmer, "Koenig's Error Starts Yankees to Downfall," New York Times, October 6, 1926: 16.
12 Harrison.
13 Ibid.
14 Vidmer.
15 Harrison.
16 Ibid.
17 Ibid.
18 Ibid.
19 "Cards Hail Haines as a Double Star," New York Times, October 6, 1926: 17.
20 Vidmer.
21 Harrison.
Additional Stats
St. Louis Cardinals 4
New York Yankees 0
Game 3, WS
---
Sportsman's Park
St. Louis, MO
Box Score + PBP:
Corrections? Additions?
If you can help us improve this game story, contact us.
Tags
https://sabr.org/sites/default/files/Jesse%20Haines.png
600
800
admin
/wp-content/uploads/2020/02/sabr_logo.png
admin
2018-11-10 13:54:37
2020-04-17 13:34:00
October 5, 1926: Cardinals' Jesse Haines tosses shutout and homers in first World Series game in St. Louis