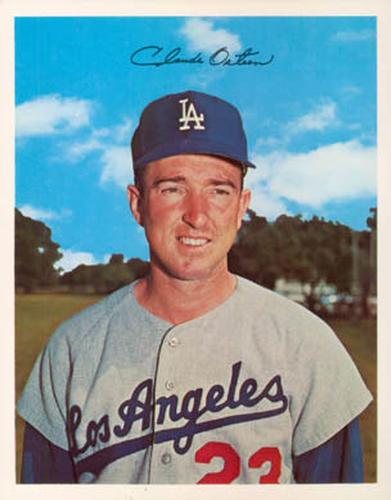 October 9, 1965: Well, golly: 'Gomer' Claude Osteen gets Dodgers back in the Series
---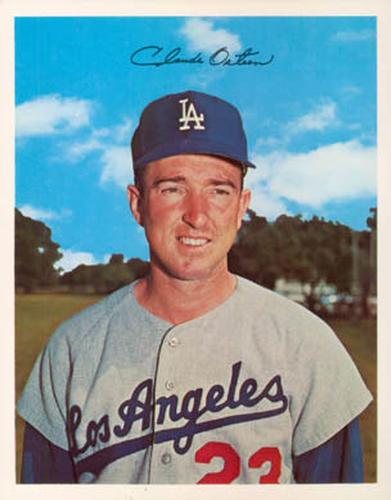 People of a certain age may remember a television show from the 1960s called Gomer Pyle, USMC, about a country hick who joins the Marines and drives his sergeant crazy. It's a good bet, though, that people didn't know that Gomer also pitched for the Los Angeles Dodgers.
"Gomer" was the nickname bestowed on Claude Osteen, the Dodgers' starter in Game Three of the 1965 World Series, because of his (rather unfortunate) resemblance to the television character. And while the television Gomer was a goof, the real live one was anything but. Osteen was a solid major-league pitcher, a three-time All-Star in an 18-year major-league career, who went 15-15 with a 2.79 ERA in 1965. His won-loss record is misleading, as the Dodgers scored only 28 runs in his 15 defeats.
The Dodgers' star pitchers, Sandy Koufax and Don Drysdale, overshadowed Osteen in the media. But on this day he didn't take a back seat to anyone, shutting down the powerful Minnesota Twins with a 4-0 complete-game victory, giving the Dodgers new life in the fall classic.
This was a typical Dodger win, with speed and pitching complementing their ten-hit attack. Shortstop Maury Wills, who led the world in stolen bases in 1965 with 94, stole his first sack of the Series, as did first baseman Wes Parker (who stole third), and even catcher John Roseboro. (Parker and Roseboro combined on a double steal in the fourth.) Five of the Dodgers' hits were doubles.
The Twins' starter, Camilo Pascual, was no slouch either. He had a 9-3 record during the season with a 3.35 ERA. During his career he was a five-time All-Star and led the American League three times each in complete games and shutouts.
The game got off to a bad start for the Twins in general and catcher Earl Battey in particular. Shortstop Zoilo Versalles led off the first inning with a ground-rule double to left. Center fielder Joe Nossek grounded to the right side, allowing Versalles to reach third with one out. After a groundout by right fielder Tony Oliva and a walk to third baseman Harmon Killebrew, Battey came to the plate. Twins third-base coach Billy Martin flashed the hit-and-run sign, but Battey missed it.
What followed was the pivotal play of the game and, perhaps, the Series. Killebrew was supposed to head for second and draw a throw from Roseboro, at which point Versalles would take off for home. Killebrew was supposed to run to second but stopped. Wills saw Versalles breaking for the plate and threw back to Roseboro, who threw to third baseman Jim Gilliam, who applied the tag; 6-2-5 for you who score.
"That was the big play," said Osteen. "If they score they have a big advantage. Getting a run early makes a team confident and more aggressive. They would have been tougher to pitch to."1
"Earl missed the sign," said Martin. "He usually protects the runner pretty good."2
The game remained scoreless until the fourth inning. Right fielder Ron Fairly led off the Dodgers' half with a double to left and moved to third on a sacrifice by left fielder Lou Johnson. Second baseman Jim Lefebrve got an infield hit, but Fairly had to stay at third. Pascual then did what he didn't want to do; he walked Parker to load the bases. Up came number-eight hitter John Roseboro and he didn't disappoint, driving in two runs with a single to right. The Dodgers had broken through and went into the fifth ahead 2-0. The only downside to the inning came when Lefebvre bruised his heel crossing the plate. Dick Tracewski replaced him for the rest of the Series.
The Dodgers added to their lead in the fifth. Fleet-footed center fielder Willie Davis singled to center and went to second on a Fairly groundout. Johnson came up again and smacked a double to left-center field, scoring Davis.
With the Twins down by three and the pitcher's spot due up first in the top of the sixth, Twins manager Sam Mele chose to pinch-hit for Pascual with Rich Rollins, who was the Twins' regular third baseman during the season but saw duty only as a pinch-hitter in the Series. Rollins grounded back to Osteen, but had he gotten on base, the Twins may have gotten back into the game, because Versalles and center fielder Joe Nossek followed with singles. However, with runners on first and third, Osteen induced right fielder Tony Oliva to hit into a double play to end the Twins' last serious threat of the game.
Jim Merritt replaced Pascual on the mound and Parker greeted him with a base hit to center. Roseboro flied to right, and then Dodgers manager Walter Alston ordered the next batter, Osteen, to attempt a sacrifice with one out. The move worked, as Osteen successfully bunted over Parker, who then scored on a double by Maury Wills. Merritt got a measure of revenge by picking Wills off second to end the inning.
Battey's horrid day continued in the bottom of the seventh. While chasing a foul pop off Jim Gilliam, he smashed into the fence next to the Twins' dugout, bruising his neck and jaw. Jerry Zimmerman replaced Battey behind the plate. The doctor who examined Battey after the game would not allow him to talk unnecessarily, which was fine with him after the bad day he had.
"Gomer," who got the nickname from Tracewski, piled up the zeroes the rest of the way and earned a 4-0 complete-game win. The victory was impressive because the power-laden Twins had been shut out only three times all season, but at the same time Osteen seemed to have their number, having compiled a 5-0 record against them when he pitched for the Washington Senators from 1961 to 1964.
"I just feel I know how to pitch to them," he said. "Except for Zoilo Versalles, all the hits they got off me were on bad pitches. "When I got the ball where I was supposed to, they didn't hit me."3
Sources
Baseball-reference.com
San Bernardino (California) Sun
Kingsport (Tennessee) Times-News
Sports Illustrated
dodgers.mlblogs.com
Notes
1 Jack Mann, "Dodgers Down – and Up," Sports Illustrated, October 18, 1965.
2 Lew Ferguson, "Missed Hit-and-Run Sign Throttles Minnesota," San Bernardino (California) Sun, October 10, 1965.
3 Joe Reichler, "Gomer's Luck Finally Changes," San Bernardino (California) Sun, October 10, 1965.
Additional Stats
Los Angeles Dodgers 4
Minnesota Twins 0
Game 3, WS
---
Dodger Stadium
Los Angeles, CA
Box Score + PBP:
Corrections? Additions?
If you can help us improve this game story, contact us.
Tags
http://sabr.org/sites/default/files/OsteenClaude.jpg
600
800
admin
/wp-content/uploads/2020/02/sabr_logo.png
admin
2016-07-22 12:54:40
2020-04-17 13:34:08
October 9, 1965: Well, golly: 'Gomer' Claude Osteen gets Dodgers back in the Series