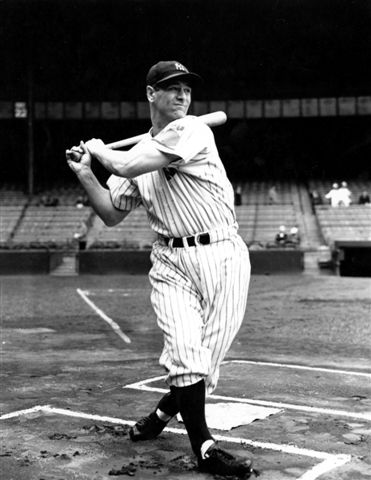 October 7, 1928: Lou Gehrig's two homers too much for Redbirds in Game 3
---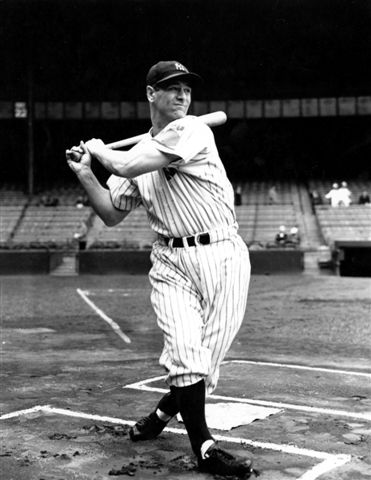 Before the start of the 1928 World Series, former major-league pitcher Walter Johnson predicted, "To me, the St, Louis Cardinals should make short work of the New York Yankees. The Yankees don't look good. They haven't looked good for a while."1 The Big Train couldn't have been more wrong.
Going into Game Three at St. Louis's Sportsman's Park, the Yankees were riding high with resounding wins in the first two games. Babe Ruth, Lou Gehrig, and Bob Meusel had provided most of the firepower in those games, prompting Ruth to say, "We served notice that from here on out, there'll be a lot of dynamite in those Yankee bats."2 His proclamation would turn out to be true.
In fact, not only had the Yankees' bats inflicted damage on Cardinals pitching, but also New York pitchers Waite Hoyt and George Pipgras shut down the Cardinals' potent offense, yielding just seven hits in the first two games.
The paid admissions for Game Three were 39,602, but The Sporting News estimated that 42,000 were in attendance, a Sportsman's Park record. This suggested that Cardinals fans were still enthusiastic about their chances despite what happened in Games One and Two.3 The Cardinals had planned to sport new uniforms for this game, but manager Bill McKechnie had to abandon that idea for his regulars when uniforms for several of the players were too small. A few of the reserves did wear the new uniforms.4 However, sartorial splendor would turn out to be the least of McKechnie's problems.
With Herb Pennock unavailable to pitch in the Series because of a sore arm, Yankees manager Miller Huggins turned to 32-year-old journeyman Tom Zachary to face the Cardinals in Game Three.5 The Yankees had acquired Zachary from the Washington Senators in a waiver deal on August 23 to shore up a pitching staff beset by injuries. He wound up winning three games in six starts during the regular season.
Jesse Haines, a 20-game winner during the regular season, drew the starting assignment for McKechnie. The 35-year-old's World Series experience included two wins over the Yankees in the 1926 World Series, won by the Cardinals.
St. Louis jumped out on top with two runs in the bottom of the first inning. It was one of only three times in the entire Series that the Cardinals held a lead. Jim Bottomley, who led the Cardinals in home runs (31) and RBIs (136) during the season, tripled to score Andy High and Frankie Frisch, who had reached on infield singles. Bottomley's hit was misjudged by Yankees center fielder Cedric Durst, who charged in only to find that he was headed in the wrong direction.6
The Yankees responded in the top of the second inning on Gehrig's solo home run into the right-field pavilion, his second of the Series. Zachary pitched out of a jam caused by errors by third baseman Gene Robertson and second baseman Tony Lazzeri in the bottom half of the inning.
After Ruth singled in the top of the fourth inning, Gehrig laced a screaming line drive into center field, where Taylor Douthit tried to make a diving catch, but the ball skipped past him and rolled to the flagpole. The other two Cardinals outfielders were unable to back up Douthit because the ball had been hit so hard.7 Gehrig raced around the bases for an inside-the-park home run, with Ruth scoring ahead of him to give New York a 3-2 lead. Combined with the two earlier Cardinals losses, Gehrig's freak round-tripper seemed to take the wind out of the Cardinals' sails.
Zachary yielded the Cardinals' third run in the bottom of the fifth on Andy High's double, which scored Douthit, who had been hit by a pitch. This tied the score, 3-3.
But the Yankees rose to the occasion again in the sixth. With Haines still pitching, the Yankees scratched out three unearned runs thanks to a bizarre, Keystone Cops type of play. Ruth reached first base when his grounder to second forced Mark Koenig, who had singled. After Gehrig drew a walk, Meusel hit a groundball to third baseman High, who attempted to start a double play. High's throw to second forced Gehrig, but Frisch's relay got past Bottomley and the ball rolled to the fence behind first base. As Bottomley ran to retrieve the ball, Ruth rounded third base and started for home. Bottomley's throw to catcher Jimmie Wilson beat Ruth at the plate. Umpire Bill McGowan initially called Ruth out, but Ruth's aggressive slide jarred the ball loose. McGowan changed his call and the Yankees were back on top.8 Wilson recovered in time to fire the ball to second in an effort to nab Meusel, who was advancing on the throw home, but no one was covering the bag – Frisch was still sprawled on the ground, where Gehrig had knocked him head-over-heels on a takeout slide. The ball sailed into center field and Meusel ended up at third. Tony Lazzeri then walked. With Gene Robertson batting, Meusel and Lazzeri executed a double steal, on which Meusel scored. Lazzeri then scored on Robertson's single, making the score 6-3.
The Yankees scored another unearned run in the seventh inning, while Zachary held the Cardinals scoreless after the fifth, for a final score of 7-3. The Yankees optimized their seven hits, turning them into seven runs, while the Cardinals could manage only three runs on their nine hits. Zachary's complete-game win included one walk and seven strikeouts. It was his third victory in World Series competition. Haines, who was relieved in the top of the seventh inning, took the loss for the Cardinals.
A joyous Zachary commented about his mixed performance, "I guess there isn't much that I can say. I might have done better and I guess I might have done worse. The big thing, though, is that we won. I felt fine all through the game, except in the last few innings, when I started to get tired in the legs."9
After the game Wilson explained the play at home. "If (Ruth) hit me any other way than he did, why, then, he's out. But he kicked the side of my head first, then struck my chest protector and I went over. You are bound to spread when a 225-pound guy falls on top of you."10
Yankees manager Huggins, worried that his team might be over-confident in Game Four the next day, addressed his players with cautionary words about letting this victory go to their heads. He told them there would be no celebrating that night, since was still another game to be won.11
However, Ruth, who provided a guest article for a St. Louis newspaper, declared after the game, "It's all over but the shouting." He asserted that Lou Gehrig was the hero of the Series based on his eight runs batted in the three games. "You know when a fellow is hitting like that, his mere presence up there at the plate is a threat the other fellows can't overlook," the Bambino wrote.12
Cardinals manager Bill McKechnie recapped his team's loss: "We were bad. We started hitting today, but what did that get us? The breaks went against us when they could do the other side the most good. The Yanks shouldn't have scored a run in that sixth inning. That Ruth play at the plate, when he knocked the ball out of Wilson's hand and scored, and that crash of Gehrig against Frisch at second were tough on us, but we're not kicking. That's part of the game." Optimistically, McKechnie added, "It they can win three games, so can we. Nothing is impossible. And this thing isn't over until the fourth game is won."13
Gehrig and Ruth, the foundational members of the renowned Murderer's Row, were responsible for most of the offensive punch by the Yankees through the first three Series games. Gehrig had five hits, eight RBIs, three home runs, and four runs scored, while Ruth accounted for seven hits, driving in one run and scoring six. Including their performances in the clinching Game Four, the slugging duo would go on to set several World Series records.14
The Game Three loss further demoralized the Cardinals, who had been favored to win the Series thanks in part to injuries to several Yankees – Pennock blew out his arm in August and Earle Combs was available for only pinch-hitting duties due to a broken finger, while Ruth, Koenig, and Lazzeri soldiered on at less than 100 percent. It was New York's seventh straight victory in a World Series game, which set a new record. (They swept the Pirates in four straight in the 1927 Series.)
The Yankees' Game Four win two days later allowed them to gain revenge for their loss to the Cardinals in the 1926 World Series. The championship also evened their overall World Series record at that point at 3-3.
This article appears in "Sportsman's Park in St. Louis: Home of the Browns and Cardinals at Grand and Dodier" (SABR, 2017), edited by Gregory H. Wolf. Click here to read more articles from this book online.
Sources
In addition to the sources mentioned in the Notes, the author also consulted:
Baseball-Reference.com.
Cantor, George. Inside Sports World Series Factbook (Detroit: Visible Ink Press, 1996).
Creamer, Robert W. Babe: The Legend Comes to Life (New York: Simon and Schuster, 1974).
Gallagher, Mark. The Yankee Encyclopedia 6th Edition (Champaign, Illinois: Sports Publishing, LLC, 2003).
Krueger, Joseph J. Baseball's Greatest Drama (Milwaukee: Joseph J. Krueger, 1945).
Notes
1 Leigh Montville, The Big Bam (New York: Doubleday, 2006), 275.
2 Mike Eisenbath, The Cardinals Encyclopedia (Philadelphia: Temple University Press, 1999), 452.
3 "Three Straight for Yanks Upsets All Predictions," The Sporting News, October 11, 1928: 3.
4 "Gossip of the Game," The Sporting News, October 11, 1928: 5.
5 Eisenbath.
6 "Gossip of the Game."
7 William McKechnie, "We Presented Yanks with 6 of 7 Runs, Says M'Kechnie," St. Louis Post-Dispatch, October 8, 1928: 13.
8 Eisenbath, 453.
9 "Yanks Make Merry; Cards Are Silent," New York Times, October 8, 1928:17.
10 Charles Dunkley, "Ruth Kicked the Ball Out of My Hand, Says Jim Wilson," St. Louis Post-Dispatch, October 8, 1928: 13.
11 New York Times, October 8, 1928:17.
12 Babe Ruth, "Ruth Believes Cards' Morale is Broken," St. Louis Post-Dispatch, October 8, 1928:14.
13 New York Times, October 8, 1928:17.
14 At the end of the 1928 World Series, Ruth held single-season World Series records for batting average (.625) and runs scored (9) and was tied for the lead in total bases (22), while holding second place in OPS, or on-base plus slugging percentage (2.022). Gehrig led all players in on-base percentage (.706), slugging percentage (1.727), OPS, (2.433), and home runs (4), and was tied for first in RBIs (9). As of 2017 Ruth was still tied for first in total bases and in third place in batting average and runs scored. Gehrig still held the record for slugging percentage and OPS.
Additional Stats
New York Yankees 7
St. Louis Cardinals 3
Game 3, WS
---
Sportsman's Park
St. Louis, MO
Box Score + PBP:
Corrections? Additions?
If you can help us improve this game story, contact us.
Tags
https://sabr.org/sites/default/files/images/Gehrig%20Lou%205608-95_Bat_NBL.jpg
600
800
admin
/wp-content/uploads/2020/02/sabr_logo.png
admin
2018-11-08 16:17:25
2020-04-17 13:34:00
October 7, 1928: Lou Gehrig's two homers too much for Redbirds in Game 3