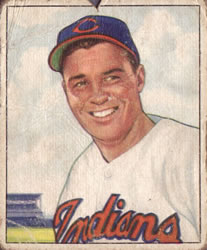 October 11, 1948: Bearden, Indians capture World Series championship in Boston
---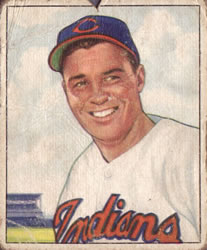 It is hard to find a more important date in Braves Field history than October 11, 1948. Not only was it Game Six of the World Series, a do-or-die contest for the hometown team, but it was also a chance for that club to take its biggest step yet toward reconquering the city it had lost nearly a half-century before.
The Braves trailed the heavily favored Cleveland Indians three games to two, but if they could capture this contest they had their ace Johnny Sain – whose four-hit shutout in the Series opener five days before was his 25th victory of the year – ready for Game Seven the next day.1 And if the big right-hander came through in that contest, the Braves would not only be champions of the baseball world, but they would finally hold bragging rights over their crosstown rival Red Sox. The Red Sox had ruled Boston almost exclusively since the American League arrived in town for the 1901 season, and had won 104 games and an American League pennant just two years before. They lost to the St. Louis Cardinals in the World Series, however, so by capturing this fall classic the Braves would one-up their rivals.2
Braves fans had to feel pretty good about their chances. Although their club dropped three straight after Sain's Game One masterpiece, it had rebounded to crush strikeout champ Bob Feller and four Indians relievers for 12 hits and three homers during an 11-5 win in Game Five – played before the largest crowd in baseball history (86,288) at Cleveland Stadium. Now the Braves were hosting the last two games at home, with 6-foot-4 right-hander Bill Voiselle starting this one before a more modest sellout gathering of 40,103 and Sain waiting in the wings. If Boston's bats could keep booming, the team's first world championship since 1914 was still a strong possibility.3
Game Two winner Bob Lemon, looking for his second road victory of the Series, started for the Indians. The righty kept Boston at bay for the first two innings, and in the third Cleveland broke through against Voiselle when Dale Mitchell led off with a double and scored on a blooped two-bagger down the right-field line by shortstop-manager Lou Boudreau that bounced out of the glove of a sprinting Tommy Holmes. The field general for the Indians was again proving a major thorn in the side of Bostonians after hitting two homers against the Red Sox in Cleveland's pennant-clinching 8-3 triumph at Fenway Park in the previous week's one-game AL playoff.
The Braves tied things 1-1 in the fourth, but lost a key opportunity to move ahead. Bob Elliott hit an infield single leading off, Bill Salkeld walked, and Mike McCormick drove in Elliott and sent Salkeld to second with a two-out single to center. Eddie Stanky walked to load the bases, but Voiselle grounded out, ending the inning. Braves manager Billy Southworth may have considered pinch-hitting for Voiselle (an .097 batter during the regular season) in such a crucial spot, but Big Bill had allowed just one hit in 3⅔ innings in Game Three and Southworth gambled that he could keep this contest close.
In the sixth inning, the manager's hunch appeared to go sour. Joe Gordon led off for the Indians and crushed a homer over the left-field wall, and Voiselle also gave up a single and walk in the frame, with a second run scoring when Jim Hegan drove in Thurman Tucker from third on a groundout on which a high throw from Stanky prevented a double play. Cleveland's lead remained 3-1 into the eighth, when, with lefty Warren Spahn in for Voiselle, the visitors connected for three straight one-out singles. The last, by Eddie Robinson, made it 4-1. Time in the game and the season was running out for Boston, and the arc lights were ordered turned on by the umpires as the skies darkened.
Lemon had scattered just six singles to this point, but when Tommy Holmes led off the Boston eighth with number seven and went to third on a one-out double by Earl Torgeson, the home fans came alive. Elliott walked to load the bases, and Boudreau had seen enough. Heading to the mound from his shortstop position, the manager took the ball from Lemon and called for knuckleballer Gene Bearden. Rookie Bearden had been the talk of baseball with a 20-7 regular season capped by the pennant-clincher over the Red Sox, and had stopped the Braves cold in Game Two of the Series with a 2-0 shutout. Now he was being called upon to put out the season's most crucial brushfire, and Braves fans hoped the kid would finally blow a big one.4
He almost did. All season long Boston manager Southworth had proved a genius at platooning, and here he went to work again – calling back scheduled batter Marv Rickert (a right-hander) and sending up Clint Conatser (a lefty) to face the southpaw Bearden. Although a rookie, Conatser was older than many veterans on the Braves with five professional seasons under his belt and a .274 average against lefties during the regular season. This gamble proved a good one, as Conatser hit a screaming line drive to deep center that easily scored Holmes from third to make it 4-2. Torgeson, a fast runner on second, also managed to tag up and advance a base on the sacrifice fly as Boudreau wisely held the relay throw to keep Elliott (the tying run) on first.5
There were now two outs with men on first and third, and catcher Salkeld due up. Again, Southworth made a move; although Salkeld was a left-handed batter, the manager knew that his other receiver, right-handed Phil Masi, might fare better, having faced Bearden three times in Game Three. Once more the hunch was dead-on, as Masi smashed a ball off the left-field wall for a double that scored Torgeson and sent Elliott to third. A few feet higher, and the Braves would have been ahead 5-4. If Boudreau had thrown to third a play earlier, thus letting Elliott reach second, it would be 4-4. Instead it was 4-3, and there it stayed as Bearden got McCormick on a sharp grounder to the mound.
Spahn quickly dispatched the shell-shocked Indians in the ninth, striking out the side swinging, and the Braves came up for their final whacks with the crowd and momentum on their side. Stanky led off with a walk against Bearden, and Southworth made yet another switch – sending up veteran utilityman Sebastian "Sibby" Sisti to hit for Spahn. This decision seemed particularly chancy; Spahn was going well, and was a good-hitting pitcher who batted left-handed. But Southworth considered Sisti the best bunter in the National League, and Boston needed to get the tying run to second base.
Sisti did indeed bunt, but the ball went straight up instead of down. Catcher Jim Hegan grabbed the blooper, then gunned the ball to Joe Gordon covering first base to double off Connie Ryan (who, running for Stanky, was well on his way to second) for Cleveland's fourth twin-killing of the contest. Up stepped Holmes, who already had two hits in the game. The fan favorite had been a Game One hero by driving in that contest's only run, but Bearden got him here on an easy fly to left to end the game and the Series. For the second time in a week, the rookie pitcher was carried off a Boston baseball field after doing in the home team.6
Nearly in tears in the Boston clubhouse, Sisti blamed himself for the loss. Teammates tried to console him – it was you, they said, who helped save the season by starting at second base for several months after Stanky broke his ankle – but Sisti was real broken up.7 It wasn't until early the next year, when he came to the Boston Baseball Writer's Dinner to pick up an award and a long ovation as the "Unsung Hero" of the 1948 season, that he was able to get over the pain.8
As a team, however, the Boston Braves never really got over Game Six. Dissension rocked the club in spring training of '49, and it finished fourth the next three seasons under Southworth and Holmes – who took Billy's post after the frustrated manager resigned in mid-1951.9 A year later the Braves were a seventh-place outfit playing to mostly empty seats, and by the time they did win their second World Series, in 1957, they called Milwaukee's County Stadium home.
Could two more wins in '48 have kept the Braves in New England? That will never be known, but the confidence and good feeling that comes from winning it all might have been just what was needed to offset the problems that came the next spring – and may have also helped Boston fans to be more supportive (and visible in the stands) while waiting for the next great Braves team to develop.

This article appeared in "Braves Field: Memorable Moments at Boston's Lost Diamond" (SABR, 2015), edited by Bill Nowlin and Bob Brady. To read more articles from this book, click here.
Sources
Author interviews with Clint Conatser and Sibby Sisti, 1991-2008.
Baseball reference.com.
"Hustling Braves Rate Only Cheers," Boston Herald, October 12, 1948.
"Hub Warriors Losers in Hard Series Fight," Boston Post, October 12, 1948.
"Pop Bunt Hard for Sisti to Take," Boston Post, October 12, 1948.
"Indians Win Series by Beating Braves in Sixth Game, 4-3," New York Times, October 12, 1948.
Daley, Arthur. "Champions at Long Last," New York Times, October 12, 1948, 35.
Kaese, Harold. The Boston Braves (New York: Putnam Press, 1948).
Box scores for this game can be seen on baseball-reference.com, and retrosheet.org at:
http://www.baseball-reference.com/boxes/BSN/BSN194810110.shtml
http://www.retrosheet.org/boxesetc/1948/B10110BSN1948.htm
Notes
Additional Stats
Cleveland Indians 4
Boston Braves 3
Game 6, WS
---
Braves Field
Boston, MA
Box Score + PBP:
Corrections? Additions?
If you can help us improve this game story, contact us.
Tags
https://sabr.org/sites/default/files/BeardenGene.jpg
600
800
admin
/wp-content/uploads/2020/02/sabr_logo.png
admin
2017-04-19 13:46:30
2020-04-17 13:34:06
October 11, 1948: Bearden, Indians capture World Series championship in Boston