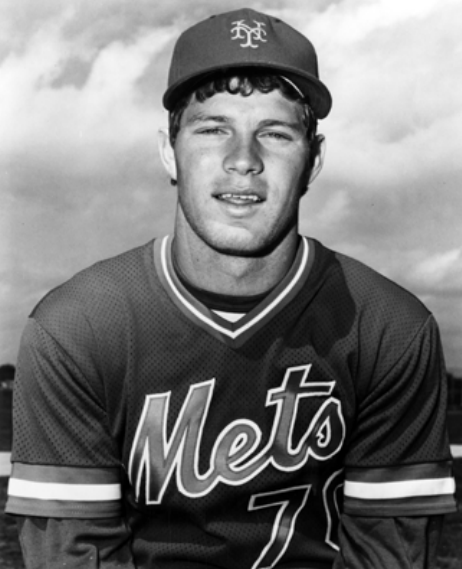 October 11, 1986: Lenny Dykstra's homer wins Game 3 for Mets
---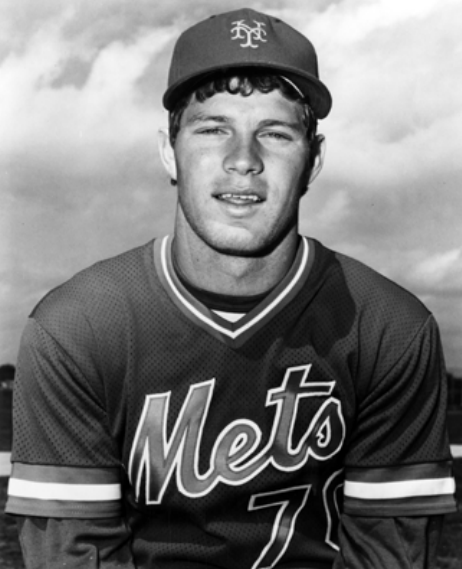 "This is a great feeling," Lenny Dykstra said after the game. "The last time I hit a home run in the bottom of the ninth to win a game, I was playing my Strat-O-Matic baseball game, rolling dice against my brother Kevin."1
During the 1986 regular season, Dykstra was the most frequent leadoff hitter for the Mets. Wally Backman was the team's most frequent number-two batter. They were often known as the "little pests" – a label they wore with pride. They were tobacco-chewing dirty-uniform guys who set the table well for the big bats in the lineup. Yet that Saturday afternoon, with lefty Bob Knepper starting, both were on the bench as the game began. And it was Backman who sparked the ninth-inning rally with a drag bunt to lead off. One out later, Dykstra – who had just eight regular-season homers – took Houston closer Dave Smith deep to end the game.
Smith (who died at age 53 in 2008) was a good closer, if not a great one. He had a career-high 33 saves in 1986, and although blown saves weren't tabulated back then, a retroactive calculation shows just six for him in the regular season that year. He relied on a sinker and forkball, and he was not prone to giving up the long ball: five in 56 innings in 1986, and just 34 in 809⅓ regular-season innings lifetime.
He had not been effective against the Mets in '86, though – especially in back-to-back games on July 19 and 20 in Houston. The Astros eventually won both of those, but Smith blew the save in the first game by giving up a ninth-inning homer to Darryl Strawberry. The next afternoon he was largely responsible for losing a three-run lead in the ninth, though technically the blown save was Frank DiPino's.
Like all closers, though, Smith tried not to dwell on the past. After Game Three of the NLCS, he was forthcoming with the media. "You approach a hitter like (Dykstra) differently," he said. "He's not a slugger. You try to make him hit it on the ground. I was trying to throw him a forkball, low and away. It stayed out over the plate and it was up a bit." Even though a stiff wind was blowing from right field at Shea Stadium, Smith knew it was gone as soon as Dykstra hit it.2
"Dykstra does like to swing for the fences," said Davey Johnson. "I tell him all the time: 'If you hit line drives, you'd hit .330 every year.' But I forgive him today."3 Johnson was more critical in the spring of 1988, when "Nails" reported to camp after packing on more than 20 pounds of muscle.4 Ever after that, the cloud of performance-enhancing drugs would hang over Dykstra.
Hal Lanier's postgame comments were curt. Setup man Charlie Kerfeld, the goofy chowhound from Knob Noster, Missouri, had breezed through a 1-2-3 eighth inning. "I didn't see any reason not to bring in my number-one man," Lanier said. "If you get beat with your number-two guy, you leave yourself open to a lot of second guesses. What would you guys write if Dykstra hit that off Kerfeld and Smith was still in the bullpen?" He also dismissed the idea of bringing in Smith to start the eighth.5
Early on, it didn't seem that a save situation would arise. Mets starter Ron Darling allowed two runs in the first inning and another pair in the second, on a two-run homer by Bill Doran. Davey Johnson said, "Darling was a little tentative and not very aggressive, like he was during the season. But we battled back, and that's the big thing."6 Indeed, that was the hallmark of the Mets' entire season.
Knepper shut out New York through five innings, but the Mets tied it in the sixth. The big blow was a three-run homer by Strawberry. The Astros promptly went ahead again, though, scoring an unearned run. Third baseman Ray Knight stood to be the goat because of his throwing error.
In the bottom of the seventh, even though Knepper was still pitching, Johnson decided to send Dykstra up as a pinch-hitter for Rick Aguilera. "I was taking a gamble putting Dykstra in the game," the manager later said.7 "I called upstairs and found out that Knepper had thrown about 100 pitches. I thought Hal Lanier would probably hook Knepper after that inning and then I'd have Lenny in the game against their right-handed relief pitchers. And when I saw Hal shake Knepper's hand in the dugout after the seventh, I knew I was all right."8
Johnson was also looking ahead when he replaced Tim Teufel at second base with Backman in the top of the ninth. As Mookie Wilson later wrote, "Wally … could always be counted on to get on base in a big spot. I wanted Wally to bunt, walk, slash, dive into first, whatever it would take to get on base."9 After laying down his drag bunt, Backman wriggled around the tag of first baseman Glenn Davis. "I felt Wally went two to three feet out of the baseline," said Lanier, "and Glenn couldn't touch him." Dave Smith said, "I was surprised that they didn't call him out of the baseline because I saw him run on the grass."10
First-base umpire Dutch Rennert told Lanier, however, that Backman was already by Davis. "I was conscious of the three feet at all times," Rennert said, referring to the limed line three feet to the right of the first-base foul line. "And the home-plate umpire, Frank Pulli, could also call him out, but there was no doubt in my mind."11
Backman agreed with Rennert. "The first baseman was out of my vision behind me," he said. "The key for me on that bunt is to make the first baseman field it. And after I got past him, I was just trying to slide head-first into the bag and grab it with my left hand. He added, "I didn't think they'd have had me even if I went in straight up. I slid right on top of the line and kicked up all the chalk. I didn't think there was much of an argument there."12
Danny Heep, pinch-hitting for Rafael Santana, was ordered to bunt. After Heep fouled one off, an inside pitch got by catcher Alan Ashby for a passed ball. "That's when I thought the momentum changed," Davey Johnson said later. "I don't like to bunt and now I didn't have to."13
Heep worked the count full but then flied out to short center field. That brought up Dykstra, batting ninth because he'd entered in a double switch.
When Dykstra came to the plate, he remembered another Astros game at Shea from that Fourth of July, when he had doubled home the winning run against Smith with the score tied 1-1. "He threw me a fastball that time. This time, I didn't think he would. He threw me a fastball on the first pitch, and I fouled it off. Then I knew I wouldn't get a fastball, and sure enough the next pitch was a forkball."14
"He's got pop in his bat," said Smith. "And anybody in a big-league lineup can hit the ball out of the park if he guesses right on a pitch."15
Had Smith been able to nail down the save, Lanier had previously stated that he would turn to his number-four starter, rookie Jim Deshaies, in Game Four. His alternate decision was already made too. Seeking the equalizer – and looking ahead to a possible Game Seven as well – the call went to Mike Scott.16
This article was published in "Met-rospectives: A Collection of the Greatest Games in New York Mets History" (SABR, 2018), edited by Brian Wright and Bill Nowlin. To read more articles from this book at the SABR Games Project, click here.

Sources
https://www.baseball-reference.com/boxes/NYN/NYN198610110.shtml
https://www.retrosheet.org/boxesetc/1986/B10110NYN1986.htm
Notes
1 John Nelson, "Dykstra's Homer Gives Mets Comeback Victory," Associated Press, October 12, 1986; Dave Anderson, "Dykstra 'Nails' Astros," New York Times, October 12, 1986.
2 John Nelson; Hal Bock, "Wrong Time for Smith," Associated Press, October 12, 1986.
3 Joseph Durso, "Homer Gives Mets 6-5 Win," New York Times, October 12, 1986.
4 Joseph Durso, "Dykstra Displays New Look," New York Times, February 25, 1988.
5 "Wrong Time for Smith."
6 John Nelson.
7 Durso, "Homer Gives Mets 6-5 Win."
8 Dave Anderson.
9 Mookie Wilson with Erik Sherman, Mookie Deluxe: Life, Baseball, and the '86 Mets (New York: Berkeley Publishing Group, 2014). The irony is that Wilson was referring to Game Six of the World Series, when Backman failed to get on base to start the fateful bottom of the 10th inning.
10 Ira Berkow, "Smith Speaks of 'Terrible Pitch' to Dykstra in 9th," New York Times, October 12, 1986.
11 Dave Anderson.
12 John Nelson.
13 Dave Anderson.
14 John Nelson.
15 Ira Berkow.
16 Durso, "Homer Gives Mets 6-5 Win;" "Lanier Names Pitchers," wire service reports, October 11, 1986.
Additional Stats
New York Mets 6
Houston Astros 5
Game 3, NLCS
---
Shea Stadium
New York, NY
Box Score + PBP:
Corrections? Additions?
If you can help us improve this game story, contact us.
Tags
https://sabr.org/sites/default/files/Dykstra-Lenny.png
600
800
admin
/wp-content/uploads/2020/02/sabr_logo.png
admin
2019-10-16 14:47:54
2020-04-17 13:33:56
October 11, 1986: Lenny Dykstra's homer wins Game 3 for Mets