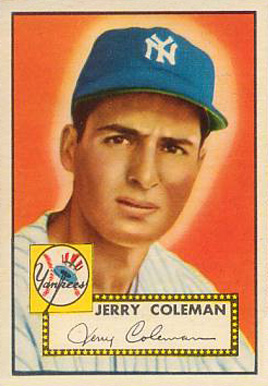 October 6, 1950: Jerry Coleman's walk-off single lifts Yankees to 3-0 lead in World Series
---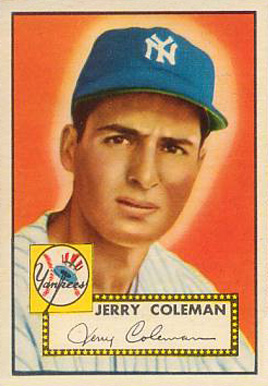 Without a day off in the 1950 World Series, the venue shifted from Philadelphia to New York, where Yankee Stadium welcomed its 15th World Series.1 On the face of it, Game Three looked to be no contest. Eddie Lopat, who had won 18 games during the season, opposed Ken Heintzelman, who had posted a feeble 3-9 record.
Heintzelman had been a stalwart pitcher for the Phillies in their surprising third-place finish in 1949. He fashioned a career-best 17-10 performance, including a league-leading five shutouts. In 1950 he was largely ineffective until September, but as the stretch drive commenced he turned in several solid performances, going 2-1 with a 2.86 ERA while providing crucial help to a shorthanded and injured pitching staff. Phillies manager Eddie Sawyer was banking on Heintzelman's later run of appearances to hold back New York, now leading, two games to none.
Lopat along with Vic Raschi and Allie Reynolds comprised New York's vaunted Big Three; their combined 307-143 from 1948 to 1953 was responsible for five world championships. Lopat's repertoire included an assortment of curveballs, screwballs, and sliders. Delivering them at different speeds and angles, with an occasional fastball thrown in, he threw batters off their stride. His style, when contrasted with the fastballs of Raschi and Reynolds, proved very effective against opposing hitters in a series.2
Nearly twice as many fans came to the cavernous Yankee Stadium as had attended the first two games at Shibe Park. The attendance was announced at 64,505. There was room in the bleachers for 5,000 more fans; tickets for that section remained unsold. One sportswriter thought that maybe the rapidly developing advent of television might have had something to do with their nonsale.3 The game was graced by the presence of notables. Grace Coolidge attended again, as did her husband's successor, former President Herbert Hoover. Other distinguished people present included Secretary of Labor Maurice Tobin, New York acting Mayor Vincent Impellitteri, the secretary general of the United Nations, Trygve Lie, and, as the New York Times further described, "various mayors, governors and statesmen." Former heavyweight champion Gene Tunney was also spotted in the stands.4 As was Grover Cleveland Alexander.
Alexander was then considered the Phillies' greatest player. He averaged more than 27 victories per year in his first seven years with Philadelphia; he had led them to their only pennant, in 1915 when he recorded 31 victories. Alexander had finally arrived in New York after being delayed by illness and weather in his trip east from his home in Nebraska.
Unrecognized for several innings until a sportswriter saw him standing alone in the mezzanine, Ol' Pete was given a seat in the press box. While he regaled those around him with stories of his career, particularly his role in the seventh game of the 1926 World Series, Alexander's eyes were on his former team's performance on the field. What he witnessed was another tightly played game.
The game was scoreless until the bottom of the third, when New York drew first blood. Phil Rizzuto walked with two outs. Rizzuto, who after the Series was named the American League's Most Valuable Player, stole second with Jerry Coleman at bat. Coleman, who at that point was 1-for-8 in the Series, singled Rizzuto home for a 1-0 lead before being thrown out at second going for a double.
In the top of the sixth Del Ennis doubled with two outs. It was the National League RBI leader's first hit in the Series. Dick Sisler followed with his first hit of the Series, a single to left driving in Ennis and tying the game. In the first two games the duo had gone a combined 0-for-16. Their lack of productivity was obviously a major reason for the Phillies' failure to score in the Series until Sister's hit. After tying the game, however, Sisler was picked off first by an alert Yogi Berra, ending the inning for Philadelphia.
Philadelphia resumed its charge in the seventh. According to Berra, Lopat's slider was hanging and the Phils were starting to time it.5 Granny Hamner, the team's hottest hitter (he would hit .429 in the Series) singled and was sacrificed to second by Andy Seminick. Mike Goliat singled Hamner in, giving Philadelphia the lead, 2-1. It was the first time the Phillies had taken the lead in the Series. And would be the only time.
Heintzelman retired the Yankees in order in the bottom of the seventh and got the first two outs in the bottom of the eighth before disaster struck. Tiring, he walked Coleman, Berra, and Joe DiMaggio before Sawyer brought in Jim Konstanty. Casey Stengel sent up the left-handed-hitting Bobby Brown to hit for Hank Bauer. Brown hit a routine grounder to Hamner, who fumbled it, allowing Coleman to score the tying run. With the bases loaded, Konstanty got Johnny Mize to fly out to end the frame.
Tom Ferrick replaced Lopat, who had been removed for a pinch-hitter in the eighth, to start the ninth. Ferrick had come over from the St. Louis Browns in a trade in mid-June and it was to him that Stengel most often went in the last month of the pennant race. He replaced Joe Page, the Yankees' premier relief pitcher in previous seasons, who was struggling through an ineffective 3-7, 5.04 ERA year.
Attempting to redeem himself, Hamner doubled to lead off the ninth. Only another great fielding play by DiMaggio kept the hit from going for a triple. Andy Seminick again laid down a sacrifice, moving Hamner to third. Seminick, who had popped the ball up, froze. Third baseman Billy Johnson trapped the ball instead of catching it; Seminick was easily thrown out at first. Johnson admitted a gaffe; he thought by trapping rather than catching the ball he could get Hamner at third but he didn't realize Hamner was too far along to make a play on him.6
In retrospect, Seminick should not have been running, let alone playing. After the Series, an X-ray showed that he had played the entire series with a bone separation in his left ankle. He had sustained it in a collision at home plate with Monte Irvin of the New York Giants in a game on September 27, a play that had momentarily stunned him. Aside from missing one game the next day, Seminick played out the remainder of the schedule and all Series games.7
Ferrick, narrowly avoiding disaster, then worked carefully and walked Goliat. Dick Whitman pinch-hit for Konstanty. He grounded to Mize at first, whose throw to Berra came in time to tag out Hamner attempting to score. Eddie Waitkus flied out to end the threat.
Russ Meyer, another Phillies pitcher who along with Heintzelman had experienced a subpar season (9-11, 5.30 ERA), replaced Konstanty to start the bottom of the ninth and recorded the first two outs. However, as in the eighth, New York struck with two outs and no one on base. Gene Woodling and Rizzuto got aboard with infield hits to bring up Coleman. Stengel later admitted he was on the edge of having Johnny Hopp pinch-hit but decided against it.8 Coleman, allowed to bat, proceeded to drive the ball to left-center between Richie Ashburn and Jackie Mayo, who had replaced Sisler in left field. Momentarily indecisive on going after the ball, Mayo hesitated, thinking Ashburn had a better chance. Ashburn, perhaps thinking Mayo had a bead on the ball, also hesitated. It went beyond both of them, allowing Woodling to score the game-winning run.9 In what was the only World Series appearance of his career, Ferrick was the winning pitcher.
Of the hot-hitting Coleman's winning hit, Stengel observed that Philadelphia had been playing him all wrong. "They had their outfield too far to the right, Coleman has been hitting well to left field all year," the Perfessor said.10
After the game DiMaggio consoled Hamner on his costly eighth-inning miscue. "Don't feel too bad, kid. It was a bad break for you. But it happens to the best of us. It's just one of the breaks of the game. You're too good a ballplayer to let it get you down." Hamner was thankful for the comment but could not let the play go. "I've made a lot of errors in my time, Joe, but that one. … It was a simple grounder. I was sure I had it. But I let it slip off my fingers."11 The shortstop who had performed better than anyone else on the team with his hitting and hustle remained disconsolate.
Including their performance in 1915, the Phillies had now lost seven consecutive World Series games — each by one run. The next day the Yankees' pitching rotation allowed Philadelphia to avoid facing the triumvirate of Raschi, Reynolds, and Lopat. Instead of a seasoned veteran, they would face a 21-year-old rookie who had been called up at the end of June from the Yankees farm team in Kansas City. His name was Edward Ford; acquaintances called him Whitey.
This article appears in "The Whiz Kids Take the Pennant: The 1950 Philadelphia Phillies" (SABR, 2018), edited by C. Paul Rogers III and Bill Nowlin. Click here to read more stories from this book at the SABR Games Project.
Notes
1 The Yankees had been in 16 World Series up to 1950. The first two were played at the Polo Grounds in 1922 and 1923.
2 Sol Gittleman, Reynolds, Raschi and Lopat: New York's Big Three and the Yankee Dynasty of 1949-1953 (Jefferson, North Carolina: McFarland & Company Publishers, 2007), 20; Peter Golenbock, Dynasty: The New York Yankees, When Rooting for the Yankees Was Like Rooting for U.S. Steel (Englewood Cliffs, New Jersey: Prentice-Hall, Inc., 1975), 88.
3 Louis Effrat, "Old Pete Standee; Sic Transit Gloria," New York Times, October 7, 1950: 24.
4 Ibid.
5 James P. Dawson, "Stengel Hunch Gave Coleman Chance to Become Hero of Third Yankee Triumph," New York Times, October 7, 1950: 24.
6 Dawson, "Coleman's Busy Bat Pins Third Loss on Whiz Kids," New York Times, October 7, 1950: 12; The Sporting News, October 18, 1950: 9.
7 Stan Baumgartner, "Should Have Stayed in Bed, Andy Learns," The Sporting News, October 18, 1950: 6.
8 Ibid.
9 Dawson, "Coleman's Busy Bat Pins Third Loss on Whiz Kids," New York Times, October 7, 1950: 12; The Sporting News, October 18, 1950: 9.
10 The Sporting News, October 18, 1950: 10.
11 "Jolter Consoles Gran After Error," The Sporting News, October 18, 1950: 9.
Additional Stats
New York Yankees 3
Philadelphia Phillies 2
Game 3, WS
---
Yankee Stadium
New York, NY
Box Score + PBP:
Corrections? Additions?
If you can help us improve this game story, contact us.
Tags
https://sabr.org/sites/default/files/images/ColemanJerry.jpg
600
800
admin
/wp-content/uploads/2020/02/sabr_logo.png
admin
2018-11-29 13:37:21
2020-04-17 13:33:59
October 6, 1950: Jerry Coleman's walk-off single lifts Yankees to 3-0 lead in World Series