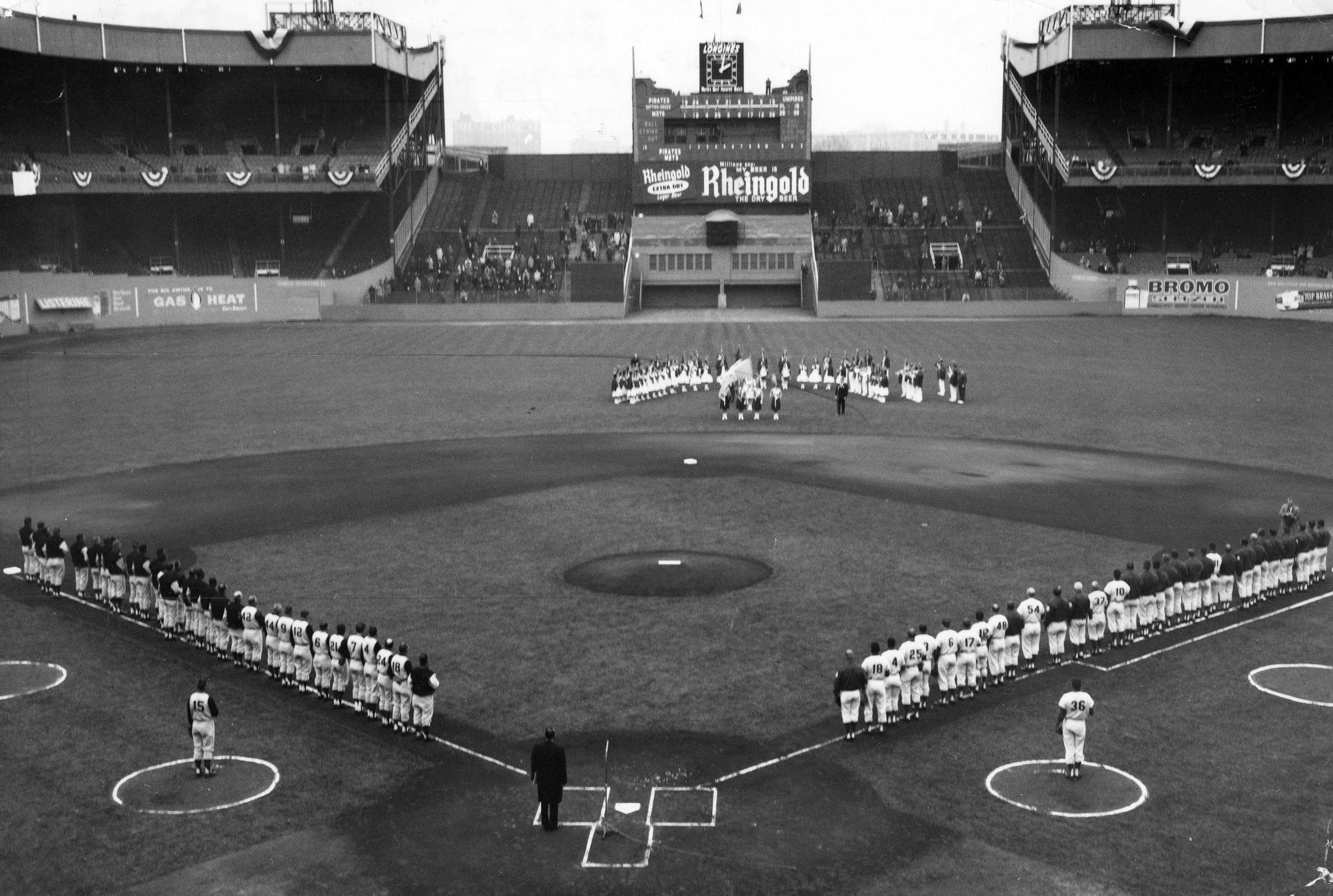 October 12, 1963: Latin American charity game is Polo Grounds' 'grand finale'
---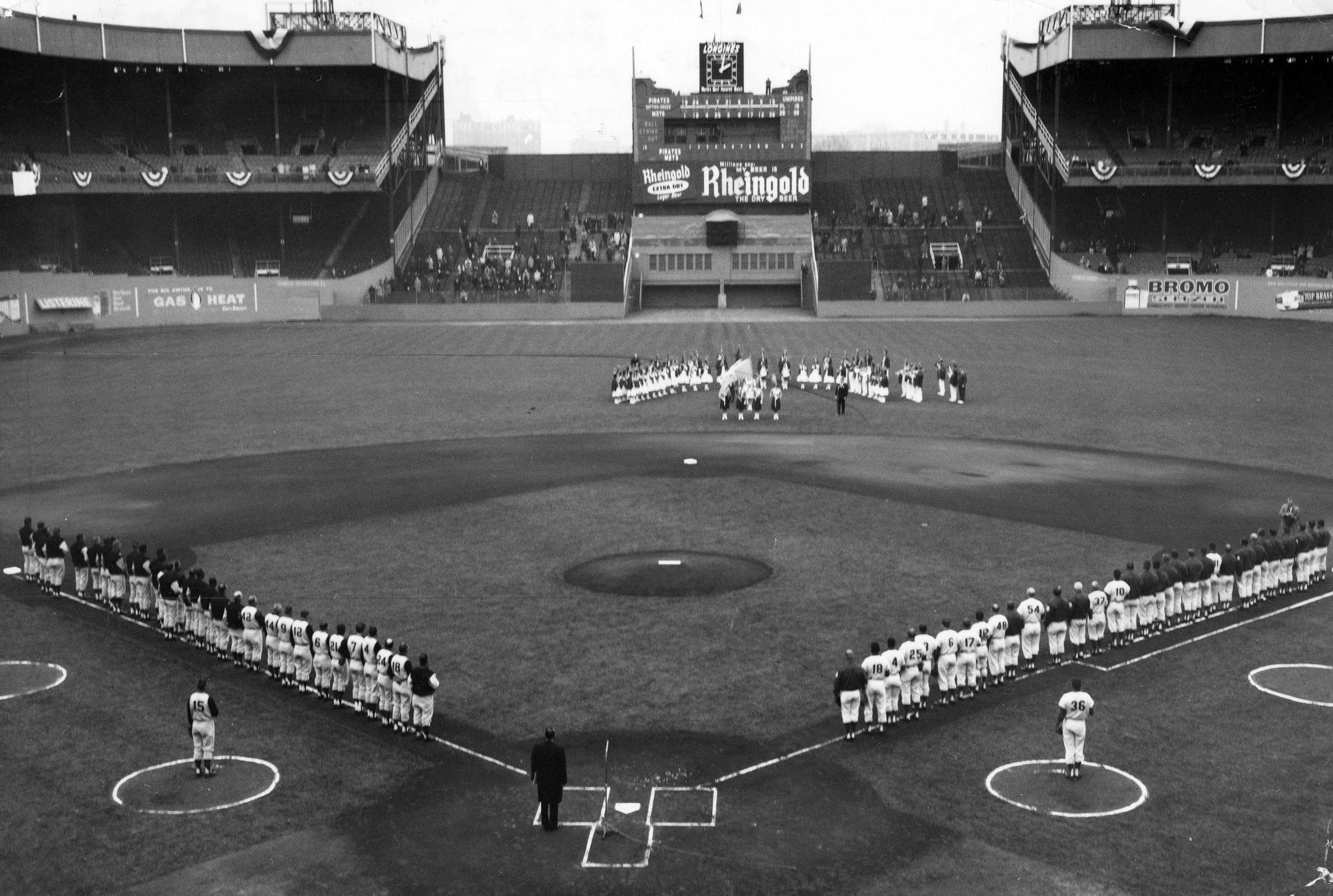 The last baseball game ever played at the Polo Grounds was the one and only Latin American major league players' game. The charity benefit match wasn't close — the National League defeated the American League 5-2, and the AL scored only in the ninth inning. Nor did it have any official status. Nonetheless, it gained lasting significance.
Four Hall of Famers took part: NL player-manager Roberto Clemente, Juan Marichal, Orlando Cepeda, and Luis Aparicio. Tony Oliva and Orestes "Minnie" Miñoso of the AL squad have much support for a place in Cooperstown, too. In later years, this game became known as an "All-Star" contest. At the time, though, it was billed simply as a "players' game." Most of the other peloteros there that day had solid big-league careers, but there were a good few journeymen too. As of Opening Day 2014, Latin Americans made up 23 percent of major league players.1 On October 12, 1963, stretching was required to fill out the rosters.
For all, however, regional and national honor was involved. As Manny Mota said in 2013, "It was a question of prestige and pride, because we were representing our countries. It was a rare event and all the players had a grand passion for this game because they knew what it signified for us and Latino fans. We were all together for the first time, and, as it turned out, the last time."2
Marichal and Cepeda also discussed what it meant. Said Marichal, "It was historic. There was a lot of emotion among all the players, and you could tell the fans were excited about it, too." Cepeda added, "It didn't matter that it was for charity and that it wasn't a 'real' all-star game. When you put on your uniform, you played hard and you tried even harder to win. And that's what everybody did in that game."3
Marichal underscored Cepeda's point. "There was a lot of competition in those days between the National League and the American League, and each member of the team really wanted to beat those guys. Everybody gave 100 percent."4
The event had extra cultural flavor. Bandleaders Tito Puente and Tito Rodríguez and singer La Lupe performed on the field before the game. Ralph Paniagua, a Latin music promoter and founder of LatinoBaseball.com, said, "When you consider the legendary players involved and the legendary musicians who performed, it was just such an amazing and historic day for the Latino culture that we'll probably never see again."5
This game had been in the planning stages since at least early August 1963.6 The organizer was New York radio and television personality Guy LeBow. According to NL team member Joe Christopher, LeBow "was deep in Latin American business and baseball. He was good friends with Vic Power. He got everybody together that day."7
New York entrepreneur O. Roy Chalk was also involved. Chalk — who played sandlot ball as a boy with Lou Gehrig — owned Trans Caribbean Airways and New York City's Spanish-language newspaper, El Diario-La Prensa. 8 El Diario helped conduct the pregame ceremonies, during which Trans Caribbean executives presented awards.9
The first players aboard were the managers, Clemente and Héctor López.10 The Hispanic-American Baseball Federation, which promoted baseball for Spanish-speaking boys in the U.S., got some of the proceeds from the game.11 It's easy to see why Clemente got involved — he was known for his goodness where youth was concerned. Marichal, Julián Javier, and José "Joe" Azcué were next to join; further announcements followed.12
The game took place on Saturday afternoon. It may be no coincidence that it was Columbus Day, which has also been celebrated in various Latin American countries.13 However, the date and venue may both simply have reflected availability.
Tickets cost $1.75 to $3.50.14 Thus, the gate receipts were somewhere between $25,000 and $50,000 — based on the announced crowd of 14,235. The number in attendance was far less, though, according to Edward Mandt, one of the few Anglo fans in the park.15
The players received $175 apiece. "We didn't make a lot of money back then," Marichal said, laughing. "So whatever it was, it helped." Cepeda recalled lining up in the clubhouse after the game to collect. "After me, Roberto Clemente and Vic Power got paid, we got in line again," he said, also laughing. "The guy never realized he ended up paying us twice."16
It's likely that the game was carried on WHOM radio, New York's main Spanish-language station of the day. Behind the mike would have been famed broadcaster Buck Canel, the 1985 Ford Frick Award winner, who was WHOM's sports director.
As the table below shows, Cuba had been the prime source of Latino baseball talent in those days, though Fidel Castro turned off the tap after taking power in January 1959. Today's mother lodes — the Dominican Republic and Venezuela — were just emerging.
Participants in the Latino Players' Game — by Nationality17
Cuba (16)
Joe Azcué, Ed Bauta, Leo Cárdenas, Julio Bécquer, Mike de la Hoz*, Chico Fernández, Tony González, Román Mejías, Minnie Miñoso, Aurelio Monteagudo*, Tony Oliva, Pedro Ramos, Cookie Rojas*, Diego Seguí, Tony Taylor, Zoilo Versalles
Dominican Republic (4)
Felipe Alou, Julián Javier, Juan Marichal, Manny Mota
Mexico (1)
Panama (1)
Héctor López
Puerto Rico (5)
Orlando Cepeda, Roberto Clemente, Félix Mantilla, Vic Power, Félix Torres*
U.S. Virgin Islands (2)
Al McBean, Joe Christopher*
Venezuela (2)
Luis Aparicio, Vic Davalillo*
United States
* Did not play.
It's noteworthy that two men from the U.S. Virgin Islands were on the NL roster. The V.I. culture is not Latino, but the islands' ties to Latin America are tangible. St. Croix and St. Thomas are just east of Puerto Rico, and for many years they were a small but steady wellspring of baseball talent. Many islanders starred in the Puerto Rican Winter League. What's more, McBean and Christopher both married Puerto Rican women and learned Spanish.18
The U.S.-born players also point out the lack of Latino depth back then. During the 1963 season, not one man born in Latin America played catcher in the National League. Cuno Barragán, from Sacramento, California, was the son of Mexican immigrants.19 He had played in just one game that season for the Chicago Cubs, with one at-bat and three innings behind the plate. The NL's only Caribbean backstop that year was Elmo Plaskett, another Virgin Islander, who caught three games for the Pittsburgh Pirates.
Instead of Plaskett, though, Joe Pignatano played for the NL. Pignatano, an Italian-American from Brooklyn, stretched the definition of Latino to the utmost. His playing days in the majors had ended in 1962; in 1963 he was in Triple-A ball. He worked in Brooklyn during his off-seasons, though, so he was available on short notice. He had also played Dominican winter ball, where he was a teammate of Felipe Alou and Manny Mota.
Also notable: Julio Bécquer had just one at-bat in the majors in 1963 (he had spent most of his time after 1961 in Mexican ball). Aurelio Monteagudo, a 19-year-old rookie, got into four games with the Kansas City A's.
Along with the musical guests, the pregame ceremonies had other notable features.
A home run derby: The AL won, with two, by López and Power. Alou hit the NL's lone homer.20
Awards: Cepeda accepted one on behalf of his father, Perucho Cepeda, who was honored posthumously for his contributions to baseball in Puerto Rico.21 Also, the younger Cepeda was named the most popular player in the majors, Marichal the top pitcher, and Power the top player (among Latinos).22
A Latin American Baseball Hall of Fame: Perucho Cepeda, Adolfo Luque, Hiram Bithorn, and Pancho Coimbre were named.23 Nothing else is known of this hall, though, implying that it may never have actually been established.24
As for the game itself, it had its moments. Mota, who developed into one of the best pinch hitters ever, had a two-run single batting for Marichal in the fourth. AL starter Pedro Ramos, who allowed four runs in five innings despite striking out eight, took the loss. McBean got the win with four shutout innings in relief of Marichal. McBean also provided the most exciting play in the sixth inning, when he was thrown out at the plate trying to stretch a triple into an inside-the-park homer. "There was a Listerine sign in left field [right of the 422-foot marker]," he recalled in 2014, "and that's where I hit the ball. It was a lot of fun."25
By one account, the Latino players' game was intended to be an annual affair. It proved impossible to reunite all the principal figures, however, above all because a suitable date could not be found.26
In autumn 1963, though, the handwriting was already on the wall for the Polo Grounds. In early September, United Press International called the game of October 12 "Baseball's Grand Finale" at Coogan's Bluff, repeating that point a month later.27 Along with the players' grand passion, the game also echoed part of the stadium's past (the New York Cubans) — and, more broadly, heralded baseball's future.
Notes
Additional Stats
Latin American All-Star Game
National League 5
American League 2
---
Polo Grounds
New York, NY
Corrections? Additions?
If you can help us improve this game story, contact us.
Tags
https://sabr.org/sites/default/files/1963-Latin-American-All-Star-Game.jpg
600
800
admin
/wp-content/uploads/2020/02/sabr_logo.png
admin
2017-12-04 15:52:58
2020-04-17 10:24:59
October 12, 1963: Latin American charity game is Polo Grounds' 'grand finale'