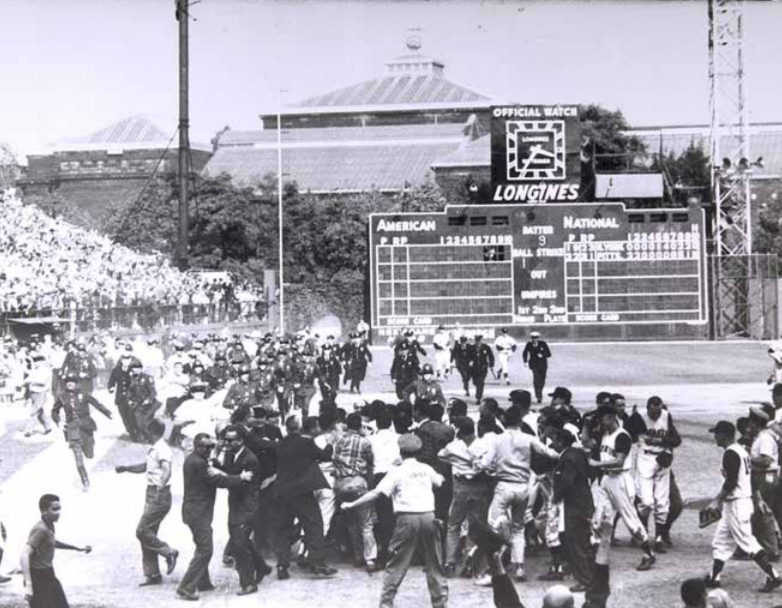 October 13, 1960: Bill Mazeroski's heroic homer brings World Series championship to Pittsburgh
---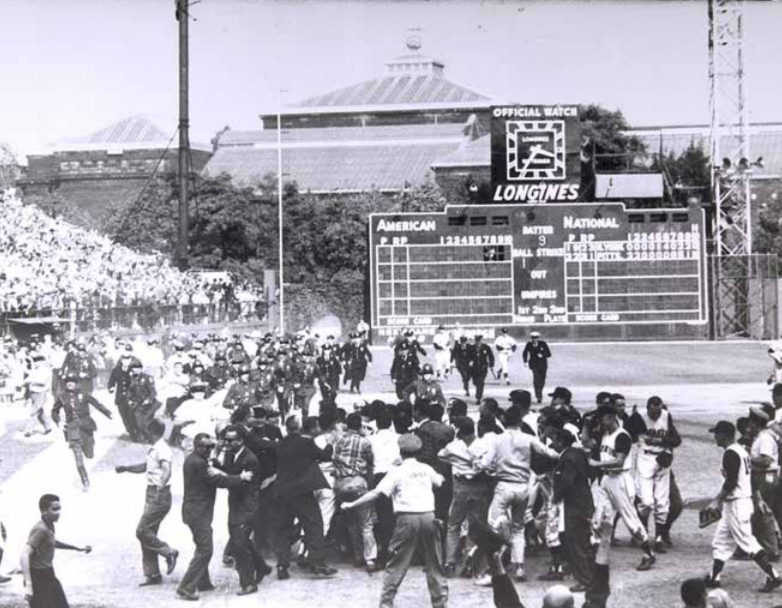 Bottom of the ninth. Game tied. Series tied. Only one team can win. On the mound for the New York Yankees was 24-year-old Ralph Terry. Leading off the inning for the Pittsburgh Pirates was 24-year-old second baseman Bill Mazeroski. The crowd "sucked in their collective breaths"1 as Terry delivered a shoulder-high fastball. Home-plate umpire Bill Jackowski called it a ball. No one was talking, except for those fans actually praying out loud. The tension was mounting. Terry took the sign from his catcher, John Blanchard, and delivered another fastball. It was "high but a touch lower than the last one."2 Mazeroski, with "a baseball-sized chaw in his jaw,"3 swung, sending it toward the left-center-field wall. Yankees center fielder Mickey Mantle raced over, as did left fielder Yogi Berra. Both hoped to make a play but could only look up as the ball cleared the wall, flying out of Forbes Field for a walkoff, 10-9 victory for the home team.
Coming into Game Seven, the Bronx Bombers had all the momentum. They had outscored the Bucs, 46-17, and their three victories came by a combined 38-3 score with two shutouts. Two of the blowouts had come in Pittsburgh.
After Pittsburgh starter Vern Law retired the Yankees in order in the first, the Pirates jumped on New York's Bob Turley. With two outs, Bob Skinner worked a full count and drew a walk. Rocky Nelson smashed Turley's 2-and-1 offering deep into the right-field seats, and Pittsburgh had a 2-0 lead. Law set down three more Yankees and Smoky Burgess started the Pittsburgh second with a single. Yankees manager Casey Stengel strode to the mound, calling for Bill Stafford in relief of Turley. Stafford walked Don Hoak and then Mazeroski bunted down the third-base line for a single, loading the bases with no outs. Law came to bat and hit a comebacker to Stafford, who started the 1-2-3 double play, and it appeared as if the Yankees would escape unscathed. But Bill Virdon singled to right, plating both Hoak and Mazeroski for a 4-0 advantage. There was still a lot of ball left to play.
Law continued his effectiveness, allowing singles in the third (Hector Lopez) and fourth (Mantle). In the fifth, Bill Skowron got the Yankees on the board with a leadoff opposite-field home run to deep right. In the sixth, Bobby Richardson started a rally with a single. Tony Kubek walked, and Law was sent to the showers. Veteran reliever Roy Face entered for the fourth time in this Series and retired Roger Maris on a pop fly to third baseman Hoak in foul territory. Mantle drove a single up the middle, scoring Richardson. Berra then blasted an 0-and-1 pitch down the line and into the upper-deck grandstand in right, his 11th home run in World Series competition. Suddenly, New York had a 5-4 lead.
The Yankees struck again in the top of the eighth. Face retired Maris and Mantle, but Berra walked on a full count. Skowron hit a high bouncer to third; Hoak's throw to Mazeroski at second was too late to force Berra and New York had two baserunners. This was Skowron's 12th hit of the series, "tying the record held by many."4 Blanchard followed with a single to right-center, and Berra crossed the plate with New York's sixth run. Clete Boyer jumped on Face's next offering and lined a double down the line into short left field, driving in Skowron for a 7-4 Yankees cushion.
If the Pittsburgh faithful were deflated, they found their voices in the bottom of the eighth. Bobby Shantz had become the third New York hurler in the third inning and faced the minimum of 15 batters for five innings, thanks to two double plays. However, in the eighth he could not get an out. Gino Cimoli pinch-hit for Face and popped a single into short right-center. Virdon's sharp groundball to short took a bad hop and hit Kubek in the larynx, knocking him to the ground. Kubek left the game to an ovation by the crowd and Joe DeMaestri came in to replace him. Virdon was credited with a single. Dick Groat then deposited a clutch single into left field with Cimoli scoring, and Stengel had seen enough from Shantz. He called for right-hander Jim Coates. Skinner's bunt advanced Virdon to third and Groat to second. Nelson lofted a fly ball to right. Virdon threatened to tag but "held third on [Maris's] perfect no-bounce throw to the plate."5 Roberto Clemente beat out a slow chopper that was wide of first base. Skowron had to hold the ball as Coates was late to first base. Virdon scored, cutting the New York lead to 7-6. Hal Smith had come on as a defensive replacement behind the plate in the top half of the inning, and now he came to bat with two outs and two on. He revived the crowd with a home run to deep left, plating Groat and Clemente ahead of him. Terry came in to retire Hoak, but the Pirates had scored five runs on five hits and, with one inning to go, led 9-7.
It would not be that simple. Pittsburgh's Bob Friend came on to save the game. Friend had started Games Two and Six and was hit hard in each contest, allowing eight runs in six innings pitched. He faced two batters in the ninth, throwing only four pitches but giving up singles to both Richardson and pinch-hitter Dale Long. Pirates skipper Danny Murtaugh didn't waste any time. With the tying run on base, Murtaugh called on southpaw Harvey Haddix to face the heart on the Yankees' lineup. Maris popped out to the catcher in foul territory and then Mantle, batting right-handed, singled to right. Richardson scored and Long motored to third. Stengel inserted Gil McDougald to run for Long. Berra hit a sharp grounder to Nelson at first. Nelson "stepped on the bag to retire Berra but Mantle regained first base, evading Nelson's tag with a beautiful headlong slide."6 While this was taking place, McDougald scampered home with the tying run. The official scorer credited Berra with an RBI. Skowron forced Mantle at second for the third out.
That set up the bottom-of-the-ninth heroics for Mazeroski. It was a titanic battle between baseball's David and Goliath. According to the Pittsburgh Post-Gazette, "Mazeroski, who must be the greatest .270 hitter in baseball – he is today, that's for certain – went sailing around the bases waving his hat in one hand and pandemonium broke loose among the 36,683 patrons."7 As Maz rounded second, fans were climbing over the railings, and as the hero rounded third, "the crowd poured down on him like a mob attacking a public enemy."8 They ran with him to home plate and swept over him and his ecstatic teammates. After 35 years, the Pittsburgh Pirates had once again won the World Series.9
After the game Mazeroski told reporters, "I thought it would go over. … I was hoping it would. But I was too happy to think. All year we've been a fighting, come-from-behind ballclub. We always felt we could pull it out – even after the Yankees tied it in the ninth – but I didn't think I'd be the guy to do it."10 Don Hoak said, "Maz is eighth in the batting order, a spot that doesn't exactly rank him as the greatest hitter of all time, yet he comes up after the Yanks have tied the score in the ninth, and bam! I said, 'Get out of here, you rotten, stinking, beautiful baseball."11
Pittsburgh made all of its 11 hits count, leaving only one runner on base. Pirates batters hit four homers in the Series, and three came in Game Seven. (New York smashed 10 round-trippers with two in this contest.) Mazeroski, Virdon, and Burgess each collected two hits. Mantle was 3-for-5 in the losing effort. Richardson had two hits, broke the record for RBIs in a World Series game (six in Game Three) and in a Series (12), and his 11-for-30 performance in the Series earned him MVP honors.
Terry's line was one-third of an inning pitched, one hit, one run, and he took the loss.12 Shantz pitched well enough to earn the victory, but it would not be. For the Pirates, Friend was charged with two more earned runs without getting an out. Harvey Haddix, even though he had blown the save opportunity in the top of the ninth inning, picked up his second World Series victory. The nine pitchers in the game combined for zero strikeouts while facing 77 batters.
After the game, the Yankees were still in shock. New York had come oh-so-close to a 19th Series championship, but the Steel City team had prevailed. In the clubhouse, Maris said, "What happened to us, for cryin' out loud, what happened?" Teammate Berra supplied the answer: "We just got beat, Roger, by the damnedest baseball team that me or you or anybody else ever played against."13
This article appears in "Moments of Joy and Heartbreak: 66 Significant Episodes in the History of the Pittsburgh Pirates" (SABR, 2018), edited by Jorge Iber and Bill Nowlin. To read more stories from this book at the SABR Games Project, click here.
Sources
In addition to the sources mentioned in the Notes, the author consulted Baseball-Reference.com and Retrosheet.org. Photos are from the National Baseball Hall of Fame Library.

Notes
1 David Kelly, "Berra Tells Maris 'What Happened,'" Pittsburgh Press, October 14, 1960: 1.
2 Myron Cope, "This Was the Drama – Strategy, Tension of the Finish," Pittsburgh Post-Gazette, October 14, 1960: 30.
3 Ibid.
4 "How Pirates Won Final Game of World Series," Pittsburgh Post-Gazette, October 14, 1960: 32.
5 Ibid.
6 Ibid.
7 Jack Hernon, ""Pirates Come From Behind to Cop Series," Pittsburgh Post-Gazette, October 14, 1960: 1.
8 Cope.
9 The last Pittsburgh club to win the World Series was the 1925 Pirates (95-58). The 1960 Pirates finished the regular season with a record of 95-59. The 1971 Pirates won 97 games, and the 1979 champions won 98 games. Pittsburgh's first World Series victory came in 1909, when the team won 110 games.
10 Ray Kienzl, "Maz Hoped Hit Would Go for HR," Pittsburgh Post-Gazette, October 14, 1960: 28.
11 Don Hoak, "This Club Makes a Guy Proud Just to Be Part of It…," Pittsburgh Post-Gazette, October 14, 1960: 29.
12 Terry had also taken the loss in Game Four, after allowing three runs in the Pirates' fifth.
13 Kelly.
Additional Stats
Pittsburgh Pirates 10
New York Yankees 9
Game 7, WS
---
Forbes Field
Pittsburgh, PA
Box Score + PBP:
Corrections? Additions?
If you can help us improve this game story, contact us.
Tags
https://sabr.org/sites/default/files/pirates%20fans.png
600
800
admin
/wp-content/uploads/2020/02/sabr_logo.png
admin
2019-01-30 09:29:57
2020-04-17 13:33:58
October 13, 1960: Bill Mazeroski's heroic homer brings World Series championship to Pittsburgh