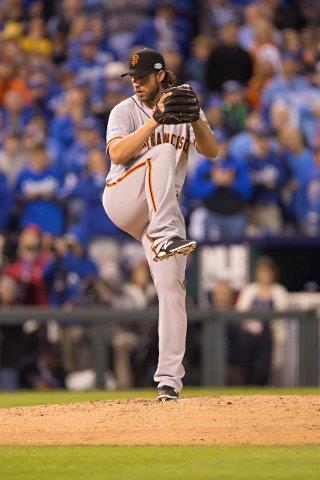 October 29, 2014: Bumgarner's heroics lift Giants to World Series win in Game 7
---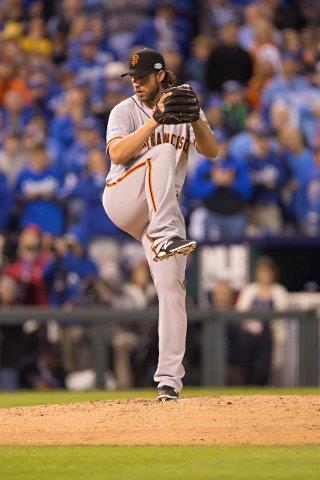 "World Series, Game Seven." Words to stir the blood of any baseball player or fan. The whole baseball world (and maybe even the whole world) watches game seven.
The 2014 postseason featured a compelling Game Seven between two unlikely teams, the Kansas City Royals and the San Francisco Giants. Neither team was a division winner; each had to win a wild-card play-in game. While the Giants had won the World Series in 2010 and 2012, the Royals were making their first playoff appearance in 29 years.
Once qualified, though, both teams got hot at the same time, barreling past their playoff opponents: Kansas City with two sweeps, while San Francisco lost only one game in each of its two playoff series.
Along the way, both teams won stirring victories — Kansas City a 12-inning nail-biter over Oakland, in which it came from behind twice in the late innings, while San Francisco won two particularly memorable games, the first an epic 18-inning game at Washington (on the strength of Brandon Belt's home run off Tanner Roark), and the second on a pennant-winning walk-off three-run home run from Travis Ishikawa to defeat St. Louis.
The teams then traded victories in the World Series, the Royals winning Games Two, Three, and Six, the Giants Games One, Four, and Five. The run differential after these six games was just plus 1 for San Francisco (26 to 25). Now these the two teams would meet for the decisive Game Seven at Kansas City's Kauffman Stadium.
The Game
The pitching matchup was a rematch of Game Three: Jeremy Guthrie for the Royals and Tim Hudson for the Giants. Since there would be no tomorrow, with nearly the full complement of pitchers available, managers Bruce Bochy (Giants) and Ned Yost (Royals) could go to their bullpens at the first sign of trouble.
This put the Giants at a distinct advantage. Madison Bumgarner, who had starred throughout the postseason, could be available for relief duty.
Neither team scored in the first inning. The Giants broke through in the second inning. Pablo Sandoval was hit by a pitch. Hunter Pence hit an 0-and-2 single to left field, moving Sandoval to second. Then Belt hit a 2-and-2 single to left field, and the bases were loaded with nobody out. Michael Morse flied to right field, scoring Sandoval, and Brandon Crawford followed with a fly to center field, plating Pence. Guthrie struck out Juan Perez on three pitches, and the inning ended with the Giants leading 2-0.
The Royals answered in their half of the second. Billy Butler hit a single to center field. Alex Gordon lined a double to right field, scoring Butler from first. Hudson hit Salvador Perez with a pitch, and Mike Moustakas hit a fly ball to left field, advancing Gordon to third base. Omar Infante flied to center field, scoring Gordon and knotting the score at 2-2. After Alcides Escobar singled, Jeremy Affeldt replaced Hudson as the Giants' pitcher. He induced a fielder's choice grounder from Norichika Aoki and retired the side.
The third inning featured a spectacular Giants double play. With no outs and Lorenzo Cain on first, Joe Panik made a diving stop of Eric Hosmer's groundball and flipped the ball from his glove to Crawford to force Cain. Crawford then made a strong throw to Belt to nip the sliding Hosmer. Hosmer was originally called safe, but a replay review overturned the call.
The Giants scored again in the fourth. Sandoval hit an infield single to second and Pence singled to center field. Belt's fly ball moved Sandoval to third base with one out. This chased Royals starter Guthrie, with Kelvin Herrera relieving. Morse hit Herrera's third pitch to right field for a single, scoring Sandoval and putting the Giants ahead 3-2.
The Royals were unable to answer this Giants' score in the fourth, with Perez hitting into a 4-6-3 double play after Alex Gordon was hit by a pitch, and Moustakas grounding to third.
Herrera retired the Giants in order in the fifth. The Giants mounted a bit of offense the rest of the game (two singles in the sixth inning, a double in the eighth), but the trio of Herrera, Wade Davis, and Greg Holland held them scoreless for the remainder of the game.
Meanwhile Bumgarner, who entered the game in relief of Affeldt in the fifth, put on a glittering performance. After surrendering a single to Infante, the first batter he faced, he retired the next 14 Royals batters in a row, cruising through the game into the ninth inning, until the Royals were down to their last out.
Then the Royals made it very interesting. Alex Gordon lined a two-out single to left field that Gregor Blanco misplayed, and Gordon ran to third. "I was starting to get a little nervous," Bumgarner said after the game. "He can run a little bit, and that's a big outfield. I just wanted someone to get it and get it in, which they did in plenty of time. But it was a little bit nerve-racking."1
There was some postgame speculation about whether Gordon, a very good baserunner, could have scored on the play if he had not been given the stop sign by third-base coach Mike Jirschele, but Gordon said, "No, I couldn't have."2
Bumgarner, completing another remarkable World Series performance, then induced Perez to hit a foul popup to Sandoval, ending the game and the Series, and cementing his place in World Series record books. Noted the New York Times: "Bumgarner's final World Series line sparkles: 2-0 with a save and a 0.43 earned run average, with nine hits, one run, one walk and 17 strikeouts in 21 innings. Add in 15 scoreless innings in earlier victories, against Texas in 2010 and Detroit in 2012, and you get a 0.25 ERA that ranks as the best in World Series history, minimum 25 innings.
"It's really special to keep hearing that," Bumgarner said. "Obviously, it hasn't sunk in yet. There's not been near enough time to think about it. This is as good as it gets, World Series, Game 7. It's pretty stressful at the same time."3
Postgame Wrap
Bumgarner and his epic performance was the focus of most of the commentary and reporting. Here is a sampling: "I wasn't thinking about innings or pitch count. I was just thinking about getting outs, getting outs until I couldn't get them any more and we needed someone else," Bumgarner told Ken Rosenthal of Fox Sports on the field as his teammates celebrated around him."4 "You know what?" said Bumgarner, who pitched 270 innings this season, including a postseason-record 52⅔. "I can't lie to you anymore. I'm a little tired now."5
"I'm numb through all this," said manager Bruce Bochy, who was at the helm of all three Giants title runs. "You're so blessed or fortunate to get in the World Series and get to one; it just doesn't happen very often. I'm amazed at what these guys did."6
"I knew what was on the line, and I'm a huge fan of baseball," said Buster Posey, the catcher in all three of the Giants' recent Series wins, all on the road. "Yeah, I think it's a dynasty. Today, with the parity around the game, three out of five is special."7
Other Giants came in for notice as well: "Sandoval shouldn't go overlooked as a playoff performer; his 26 hits in the postseason are the most ever by a single player. He broke the record shared by David Freese, Darin Erstad, and Marquis Grissom at 25. He also recorded 24 hits in 2012's postseason, so this isn't some sort of aberration."8 "It hurts really bad right now," said designated hitter Billy Butler, who was drafted by the Royals in 2004. "But I'm proud to have been a part of it, especially being here from square one. We'll get 'em next time."9
"For them to play the way they did on this stage, in this postseason, is phenomenal," Royals manager Ned Yost said of his players. "I'm really proud of the way they played."10
The Royals would indeed come back the next year, winning the 2015 World Series over the New York Mets in five games.
When everything was said and done, it was Bumgarner's father, Kevin, who had the final colorful comment on his son's work: "I didn't know if he had enough left tonight," Kevin said. "But I did know that boy would try to steal a steak off the devil's plate."11
Photo Credit
National Baseball Hall of Fame Library
Box Scores and Play-by-Play
Baseball Reference: baseball-reference.com/boxes/KCA/KCA201410290.shtml
Retrosheet: retrosheet.org/boxesetc/2014/B10290KCA2014.htm
Notes
1 David Waldstein, "Bumgarner, a Three-Ring Master, Leads San Francisco to Its Third Title in Five Years," New York Times, October 29, 2014. nytimes.com/2014/10/30/sports/baseball/world-series-2014-giants-beat-royals-in-game-7-to-win-title.html.
2 Tim Kurkjian, "The Penultimate Play: What if Alex Gordon Had Tried to Score?" espn.com, March 25, 2015. espn.com/mlb/story/_/id/12485525/mlb-penultimate-play.
3 Tyler Kepner, "Madison Bumgarner Rises to the Moment, and Jaws Drop," New York Times, October 30, 2014. nytimes.com/2014/10/30/sports/baseball/madison-bumgarner-sf-giants-world-series-2014-rises-to-the-moment-and-jaws-drop.html.
4 Chris Greenberg, "Giants Win World Series with Game 7 Heroics From Madison Bumgarner," huffingtonpost.com, October 29, 2014. .
5 Kepner.
6 Waldstein.
7 Ibid.
8 Craig Goldstein, "Giants vs. Royals, 2014 World Series Game Final Score: 4 Things We Learned From San Francisco's 3-2 Win." sbnation.com. sbnation.com/2014/10/29/7129791/world-series-2014-royals-giants-game-7-results-score.
9 Waldstein.
10 Kepner.
11 Michael Powell, "OMG. You're So Much More Than Awesome," New York Times, October 30, 2014. nytimes.com/2014/10/31/sports/baseball/world-series-2014-madison-bumgarner-sf-giants-ace-is-product-of-north-carolina-and-proud-father.html.
Additional Stats
San Francisco Giants 3
Kansas City Royals 2
Game 7, WS
---
Kauffman Stadium
Kansas City, MO
Box Score + PBP:
Corrections? Additions?
If you can help us improve this game story, contact us.
Tags
https://sabr.org/sites/default/files/Bumgarner_MLB_2014WS_0.jpg
600
800
admin
/wp-content/uploads/2020/02/sabr_logo.png
admin
2018-11-20 14:10:50
2020-04-17 13:33:59
October 29, 2014: Bumgarner's heroics lift Giants to World Series win in Game 7