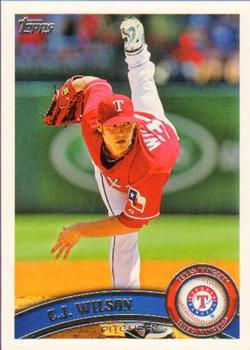 October 13, 2011: Rangers' C.J. Wilson yields natural cycle to four consecutive Tigers batters in ALCS
---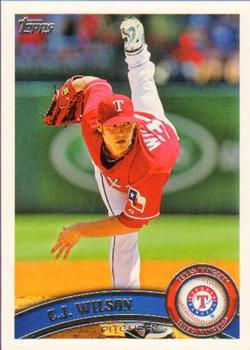 In a span of 16 pitches in the sixth inning, Texas Rangers pitcher C.J. Wilson did what no other pitcher in baseball postseason history had ever done: He yielded four consecutive hits – a single, double, triple, and home run, in that order (a natural cycle) – in the same inning to an opposing team. And he did it in front of 41,908 fans in the American League Championship Series, with a trip to the World Series on the line.
The Rangers owned a 3-1 series advantage over the Detroit Tigers when Wilson opposed Detroit's Justin Verlander in a late-afternoon game at Comerica Park. The two staff aces had met in Game One on October 8, but neither pitcher had survived that game's fifth inning. On this day, things were somewhat better.
Verlander was good early on, but he was throwing a lot of pitches. Coming into the sixth inning, his pitch count stood at 96. Ian Kinsler had scored twice (in the first and the fifth innings), but Verlander kept the Rangers in check, and the score was tied, 2-2, after five frames. Then, to start the sixth, Texas loaded the bases off the Detroit fireballer. Mike Napoli lined a single to left, Nelson Cruz struck out, David Murphy doubled to center, and Napoli stopped at third. Mitch Moreland drew a four-pitch walk. Kinsler grounded the first pitch he saw down the third-base line. Brandon Inge snared it, stepped on third, and fired a strike to first to complete the double play. "When you're hitting," Kinsler said, "you don't know if it's going to be a ball or a strike, or a fastball, a curveball, or a changeup. So you have to be ready to hit from the first pitch."1
For Texas, Wilson mixed his pitches well early in the game. Afterward he said, "I had great stuff today."2 He actually did, until the sixth inning. Wilson had allowed only four hits through five innings, but two of them were solo home runs by Alex Avila in the third inning and Delmon Young in the fourth. Then, in the bottom of the sixth inning, Wilson faced Ryan Raburn leading off. With a count of 2-and-2, Wilson hung a slider and Raburn hit it into left field for a single. Rangers third baseman Adrian Beltre was playing close to the line when three pitches later, Miguel Cabrera grounded a ball right at him. The ball struck the bag and ricocheted high over Beltre's head. The Texas third baseman "jumped spread-eagle as the ball eluded him and rolled down the line."3Raburn raced around the bases and scored, and Cabrera stopped at second base with a stand-up double. The next batter, Victor Martinez, on a 2-and-2 count sent an offering from Wilson down the opposite foul line into deep right field. Right fielder Cruz dived for the ball but missed, and Martinez stopped at third with a triple, driving in Cabrera. Wilson's first pitch to Young was driven down the left-field line and landed in the seats just foul and short of the foul pole. Young deposited Wilson's next pitch into the left-center-field bleachers for his second home run of the game. Suddenly Detroit owned a 6-2 lead and Wilson had allowed a natural cycle to four consecutive batters to start the inning.
When Martinez hit a foul ball during his at-bat, Cabrera jogged toward third base. Cabrera told reporters later, "(Beltre) said, 'You were lucky.' I said, 'Yeah, I was lucky.'"4Beltre relayed a different version: "I told him he was lucky, and he started laughing. And he told me I was lucky the ball didn't hit me in the mouth."5
For Texas, Koji Uehara relieved Wilson at the start of the seventh inning. After leadoff batter Austin Jackson struck out, Raburn took Uehara deep for a solo home run. Now the score was 7-2.
In the locker room after the game, Wilson tried to put his outing into perspective. "As much as I want to be a Cy Young winner and all that stuff like the other guy was tonight, I have to slug it out and take my lumps to be the best guy I'm going to be," he said.6 His lumps amounted to an 8.05 earned-run average in three postseason appearances (ALDS and ALCS), with a record of 0-2 in 15⅔ innings. Worse, he had allowed 21 hits and six home runs in those three starts.7
Verlander continued pitching into the eighth inning. He threw 133 pitches, but his final pitch "resulted in a towering two-run homer"8 by Cruz in the Rangers' eighth inning. He departed the game with a lead, and teammate Phil Coke had to get five outs to earn the save. A double by Josh Hamilton followed by Michael Young's RBI single in the ninth inning kept the game close. Then a walk to Beltre, and the Rangers had a mini-rally. Coke induced Napoli to ground into a force out at second and the Tigers had won. Verlander described the Cruz at-bat thusly: "The ball is in the air and I'm thinking, 'Please go foul. Please go foul.' I'm such an idiot. 'Please go foul.' It didn't."9
Each team had 10 hits, but Texas left 10 on base while the Tigers left only four. (The Rangers turned two double plays.)
Besides the rare team natural cycle, the Tigers set a club record by slugging four home runs in a postseason game. With his high-hop grounder in the sixth, Cabrera had doubled in four consecutive games. Wilson took the loss, while Verlander picked up the victory. Verlander, the 2011 American League Cy Young Award10 and Most Valuable Player Award winner, put the Tigers on his back and carried them to victory.
Cruz's eighth-inning blast set a record, making him the first player to hit five home runs in a League Championship Series. The Detroit win extended the ALCS to a sixth game. However, Texas prevailed in Game Six, again due to a Cruz home run (extending his record), beating the Tigers 15-5, earning the Rangers the chance to return to the World Series. With six home runs in six games (he homered in every game except Game Three), Cruz was voted the Series' Most Valuable Player. The Rangers had won Game Four in dramatic fashion, scoring four runs in the top of the 11th inning, capped by Cruz's three-run bomb to left-center field. Yet in Game Five, it was a different sensation – a team natural cycle and four home runs – that caused the excitement.
Sources
In addition to the sources cited in the Notes, the author also accessed Retrosheet.org and Baseball-Reference.com.
Notes
Additional Stats
Detroit Tigers 7
Texas Rangers 5
Game 5, ALCS
---
Comerica Park
Detroit, MI
Box Score + PBP:
Corrections? Additions?
If you can help us improve this game story, contact us.
Tags
http://sabr.org/sites/default/files/WilsonCJ-2011.jpg
600
800
admin
/wp-content/uploads/2020/02/sabr_logo.png
admin
2016-09-06 18:11:51
2020-04-17 13:34:07
October 13, 2011: Rangers' C.J. Wilson yields natural cycle to four consecutive Tigers batters in ALCS