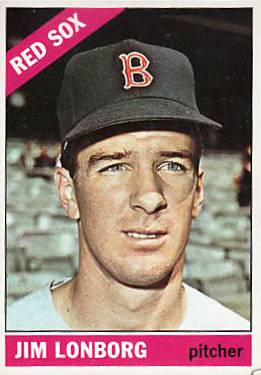 October 9, 1967: Down but not out: Red Sox take Game 5 of World Series
---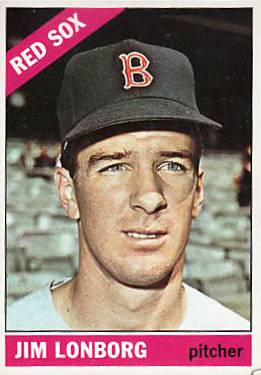 The St. Louis Cardinals held a three games to one lead before what could be the last game of the 1967 World Series.
"It's as one-sided as a cat eating a canary," wrote Jim Murray in the Los Angeles Times.1
The Cards had overpowered the Boston Red Sox. They out-hit, out-ran, and with the exception of Jim Lonborg, had outpitched Boston's Cinderella boys. Hoping for a quick knockout punch to finish the Series, the Cards would start hard-throwing 22-year-old rookie left-hander Steve Carlton.
Murray further suggested, "Maybe the Red Sox should just phone in the last game and save everyone a lot of trouble."2
The Red Sox had other aspirations.
Circumstances deemed impossible early in the year were now viewed with cautious optimism and encouragement. The players' confidence was dampened, yet they were still full of conviction. Their spirits down, but still good.
Stopper Lonborg, who had subdued the Redbirds in Game Two, provided hope as Boston's starting pitcher.
Manager Dick Williams sought further wizardry, with yet further lineup changes.
Tony Conigliaro, out for the season after his August 18 beaning, was given in the column in a Boston newspaper. He was optimistic on the morning of Game Five: "Lonnie will win … and then we'll play the last two games in Boston. With the crowd behind us, we'll have that much more going for us."3
With his team at the brink of closing the season, Williams would set the tone in his off-the-cuff pregame speech in Boston's somber locker room — as he provided hope, encouragement, and incentive to his players and coaches.
Williams stated, "It could end here today. But personally I don't think it will."4 He reminded all that a win created a scenario and opportunity similar to when they beat the Twins to win the pennant. They'd come through a lot, all year. "We're not quitting by any means. Things looked a lot dimmer when we lost that two-game series to Cleveland."5
He then proceeded to post a Los Angeles Times news clipping that stated, "The Red Sox are now the Dead Sox." He followed by shouting, "Let's show them that we're far from dead."6
Indeed they did. Behind Lonborg and a supporting cast of new Series stars, the Red Sox beat the Cardinals, 3-1. The World Series then shifted to Boston for Game Six, thanks to Elston Howard's two-run single in the ninth inning, aided by key plays from three new players inserted in Williams' lineup — Mike Andrews, Joe Foy, and Ken Harrelson.
Lou Brock led off the game with the Cards' hardest-hit ball of the game — a tremendous drive that outfielder Ken "The Hawk" Harrelson, in his first appearance since Game One, made a nice grab going deep into right field.
The Red Sox scored first with a run in the third inning. With one out, Joe Foy singled to left field. Foy, the forgotten third baseman playing in his first full World Series game, also sparked the Red Sox with two spectacular defensive plays — as he robbed Dal Maxvill of a potential double in the fifth inning, and made a game-ending play off Orlando Cepeda in the ninth inning. Mike Andrews then was safe on a sacrifice bunt muffed by Cards third baseman Mike Shannon. The next batter, Harrelson drove Foy home with a single to left field.
Both Lonborg and Carlton pitched effectively through the sixth inning. Behind 1-0, future Hall of Famer Carlton was lifted for a pitch hitter having allowed only one unearned run and three singles in six innings.
Lonborg continued to be spectacular. Through eight innings, he allowed only a couple of meaningless singles, by Maxvill in the third inning and to Roger Maris in the fourth.
For Lonborg, who had been nursing a cold, the eighth was his 17th consecutive scoreless inning in the World Series, having allowed only three hits. Near perfect.
"I was better today than I was in Boston [when he pitched a one-hitter against the Cards]. My fastball was alive. I knew where it was going every pitch," reflected Lonborg after the game.7 Sox pitching coach Sal Maglie said, "He was a killer out there today. He was like a fighter going into the run and taking a guy apart on killer instinct alone."8
In the ninth inning, the Red Sox scored some needed insurance runs. George Scott led off the inning with a walk. He moved to third base on a double by Reggie Smith. Shortstop Rico Petrocelli was then walked intentionally, loading the bases for 13-year veteran Elston Howard who was familiar with big-game situations. Howard proceeded to slice a 150-foot "Texas League" single down the right-field line in front of Maris. The "dying quail," as Howard later described his hit, scored Scott and Smith and gave the BoSox and Lonborg a three-run cushion.
Lonborg got the first two Cards out in the bottom of the ninth as Brock and Curt Flood both grounded out. Maris followed, hitting a home run on a low, inside changeup that just cleared the fence near the 330 foot sign in right field. But it was too little, too late for the Cardinals. With Orlando Cepeda's groundout for the game's final out, the "Boston Dead Sox" — "the best back-to-the-wall team in the business, became the Boston Dread Sox once more."9
"Lonnie was beautiful," said a smiling Howard afterwards. "He did it all by himself. You don't have to talk to anyone else on this team. He was the story all by himself."10
So once again it was the 24-year-old Jim Lonborg who rekindled the Red Sox hopes, and righted their ship. They would return to Boston, and get to play yet another game.
As bleak and handicapped as it seemed, the overmatched Red Sox had no plans to abandon this year's miracle ride while in St. Louis. The never-say-die Beaneaters had successfully overcome similar odds during the regular season, and planned to do the same in the World Series. Even after the loss, Harold Kaese noted in the Boston Globe, "[The Red Sox] had overcome more obstacles this season than Rin-Tin-Tin ever had in the original dog operas."11
"The Red Sox got up at the count of eight," reflected West Coast scribe Jim Murray.
"The ninth-place team just refuses to return to the cinder box. They like the glass slippers. They'll die in their own good time. Don't rush them."12
"Never since Cy Young threw history's first World Series delivery in 1903 has any pitcher been as nearly perfect through 18 consecutive innings as Lonborg," wrote Red Smith.13
This article appears in "The 1967 Impossible Dream Red Sox: Pandemonium on the Field" (SABR, 2017), edited by Bill Nowlin and Dan Desrochers. To read more stories from this book, click here.
Sources
In addition to the sources mentioned in the Notes, box scores for this game can be found on baseball-reference.com, and retrosheet.org at:
https://www.baseball-reference.com/boxes/SLN/SLN196710090.shtml
http://www.retrosheet.org/boxesetc/1967/B10090SLN1967.htm
Notes
Additional Stats
Boston Red Sox 3
St. Louis Cardinals 1
Game 5, WS
---
Busch Stadium
St. Louis, MO
Box Score + PBP:
Corrections? Additions?
If you can help us improve this game story, contact us.
Tags
http://bioproj.sabr.org/bp_ftp/images2/LonborgJim.jpg
600
800
admin
/wp-content/uploads/2020/02/sabr_logo.png
admin
2017-09-20 18:34:35
2020-04-17 13:34:05
October 9, 1967: Down but not out: Red Sox take Game 5 of World Series