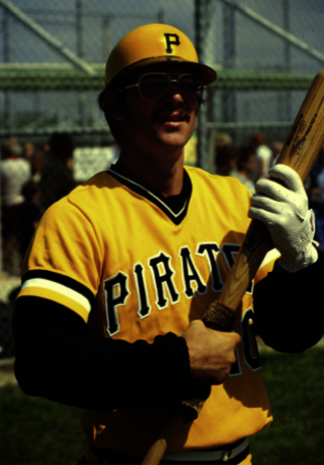 October 14, 1979: Pirates' 'Family' unites to extend World Series back to Baltimore
---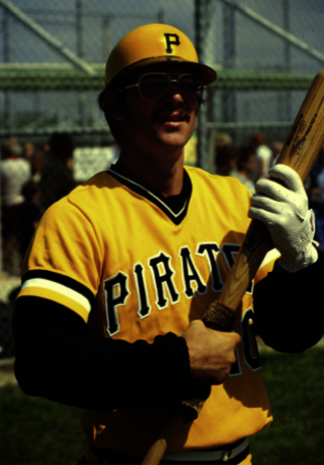 As the day of Game Five dawned, tragedy struck the Bucs' extended family. Manager Chuck Tanner, a native son who had been born and raised 50 miles northwest of Pittsburgh in the town of New Castle, called to check on his ailing mother and was told, "I'm sorry, Mr. Tanner. Your mother died at 7:40."1 Tanner decided to manage the Bucs in Game Five after both his father and sister reminded him that it was what his mother would have wanted him to do, and the Pirates players rallied around their grief-stricken skipper.2 Bill Mazeroski, the Pirates' former second baseman and the hero of the 1960 World Series, provided further inspiration as he threw out the ceremonial first pitch.
Game Five was the second lefty-versus-lefty matchup of this Series as Mike Flanagan opposed Tanner's surprise starter, Jim Rooker. Rooker had suffered through an injury-plagued season that had included two stints on the disabled list — first for elbow and then for back problems — which had resulted in a 4-7 record with a 4.59 ERA for the year, and he had been on the DL as recently as September 2.3 Tanner, however, did not consider his decision to be shocking and explained, "He's a great competitor, and when he's healthy, he's as good as anybody."4 With that endorsement from his manager, Rooker took the mound and set about turning around the Pirates' World Series fortunes.
Rooker turned in a clutch five-inning performance in which he allowed the Orioles only one run. He retired the Orioles in order in each of the first three innings and surrendered only a one-out walk to Benny Ayala in the fourth. Trouble started in the fifth inning when Gary Roenicke led off with a double to left-center and Doug DeCinces followed with a line-drive single to right-center just over a leaping Phil Garner to put runners at the corners. Rooker induced a 4-6-3 groundball double play by Rich Dauer that allowed Roenicke to score for a 1-0 Orioles lead, but he escaped the inning without further damage.
If anything kept the 50,920 fans in attendance from fully appreciating Rooker's effort, it was the fact that his mound opponent, Flanagan, had allowed only four hits — three of which were singles — and had kept the Pirates off the scoreboard for five full innings. The Bucs finally broke through for two runs against Flanagan in the sixth inning. Tim Foli drew a leadoff walk which Dave Parker followed with a single, and they both advanced on Bill Robinson's sacrifice bunt. A sacrifice fly by Willie Stargell scored Foli to tie the game, and Bill Madlock's bloop single to center scored Parker for a 2-1 Pirates edge.
Bert Blyleven had come into the game in relief in the top of the sixth inning, and he had picked up where Rooker had left off. Blyleven was slated to be the Game Six starter, but Tanner knew that there would not be a sixth game if the Pirates did not win now.5 Even though Blyleven had made only six relief appearances in his career — the last one in 1972 — he embraced the role and said afterward, "When it comes down to the final games and millions of people are watching, it doesn't matter when you come into a game."6
Over the final four innings, Blyleven surrendered only three hits and one walk and held the Orioles without another run to become the winning pitcher. Second baseman Phil Garner supported Blyleven with an outstanding defensive play in the top of the eighth inning. After Blyleven deflected Ken Singleton's grounder, Garner scooped it up and made a backhanded flip of the ball to shortstop Foli as part of a 1-4-6-3 double play that ended the inning.
As the Bucs worked their pitching and fielding magic, their bats began to come alive again and close plays began to go their way. In the bottom of the seventh inning, with Tim Stoddard now pitching for the Orioles, Omar Moreno was at first base with two outs. Sammy Stewart had picked Moreno off first in the previous game, and it looked as though Stoddard had him dead to rights now as well, but Stoddard's throw hit Moreno and bounced away. Eddie Murray recovered the ball quickly and almost nabbed Moreno at second, but his throw was too late. Foli's triple to right-center scored Moreno and, after Tippy Martinez relieved Stoddard, Dave Parker's double to left-center plated Foli and made the score 4-1 in favor of the Pirates.
Stargell led off the bottom of the eighth with a single that chased Martinez from the game, but the Bucs continued to score against Don Stanhouse. After a single by Madlock, Garner brought Stargell home for the fifth Pirates run with a single of his own. Blyleven helped his own cause with a sacrifice bunt that advanced Madlock and Garner, and Moreno was intentionally walked, loading the bases. With the table set for him, Foli grounded a single to center and drove in two more runs to increase the lead to 7-1, which ended up being the final score.
The Orioles tried to mount a threat in the ninth inning with consecutive two-out singles by DeCinces and pinch-hitter John Lowenstein, but pinch-hitter Terry Crowley ended the game with a fly ball to Bill Robinson in left field. The Pirates had won Game Five, closed their deficit in games to 3-2, and sent the Series back to Baltimore, where Game Six was scheduled to be played on Tuesday, October 16.
Game Five showed that in baseball nothing is certain, circumstances change quickly, and genius can be fleeting. The strategies that had worked so well for Earl Weaver and his Orioles in previous games were implemented to no positive effect this time. Facing a left-hander in Rooker, Weaver once again used an all right-handed-hitting lineup (except for his pitcher Flanagan) but they managed only a paltry three hits, two walks, and one run against the Bucs' starter. The Orioles' pinch-hitters, "who after four games stood at four hits, three walks, and a hit batsman in nine tries" and who had devastated the Pirates in Game Four, were 1-for-4 in Game Five with the lone hit being Lowenstein's single.7 The use of the intentional walk to try to induce a double play had quelled a Pirates threat in Game Four but had backfired on the Orioles in Game Five. Even the pickoff attempts by Orioles pitchers, one of which had nabbed Moreno one night earlier, had resulted in nothing but failure for the Orioles now.
Baltimore still had to win only one game (of a potential two) at home to win the World Series, and the Orioles tried to project all due confidence. Rick Dempsey said, "Now we go back home with a definite advantage because we get that ninth-inning chance," while reliever Tim Stoddard pointed out, "It gives us a chance to win the World Series at home."8 When asked if Game Five had brought about a change in momentum in the Series, Weaver said, "If [Game Six starter] Palmer goes out and pitches a good game, then there is no such thing as momentum."9
To the careful observer, all of the Orioles' talk of chances and the "ifs" contained in their statements made those remarks sound more like doubt-filled false bravado. After all, the Orioles were well aware that through Game Four the Pirates had hit well but had been "squandering their hits in meaningless situations. This time they [had] made them count."10 If the Pirates' clutch hitting continued and their pitching and fielding remained of the caliber of Game Five, then the Orioles were in trouble.
The atmosphere in the Pirates' locker room was, of course, the exact opposite of what it had been after Game Four. Rooker exulted, "The real Pirates played today. The first four games, we had some no-shows. Today we rose to the occasion."11 Indeed, the Pirates had come together as the "family" they touted themselves to be through their Sister Sledge theme song. Stargell said of the grieving Tanner after the game, "He walked very tall today. I really saw something in that man. It was a very touching performance on his part."12 The same things were true of the entire Pirates team in Game Five.
This article appeared in "When Pops Led the Family: The 1979 Pitttsburgh Pirates" (SABR, 2016), edited by Bill Nowlin and Gregory H. Wolf. To read more game stories from this book at the SABR Games Project, click here.
Sources
https://www.baseball-reference.com/boxes/PIT/PIT197910140.shtml
http://www.retrosheet.org/boxesetc/1979/B10140PIT1979.htm

Notes
1 Dave Anderson, "'Your Mother Died at 7:40,'" New York Times, October 15, 1979.
2 Ibid.
3 Malcolm Moran, "The Real Pirates Stand Up and Win," New York Times, October 15, 1979.
4 Lowell Reidenbaugh, "Madlock Mauls Oriole Hurlers," The Sporting News, October 27, 1979: 12-14.
5 Joseph Durso, "Pirates Win, 7-1, and Send Series Into 6th Game," New York Times, October 15, 1979.
6 Ron Fimrite, "A Series of Ups and Downs," Sports Illustrated, October 22, 1979: 24-31.
7 Lowell Reidenbaugh, "Rallies? Orioles Own the Patent," The Sporting News, October 27, 1979: 11.
8 Lowell Reidenbaugh, "Game 5 Notes," The Sporting News, October 27, 1979: 14.
9 Phil Musick, "World Series Notebook," Pittsburgh Post-Gazette, October 15, 1979.
10 Fimrite, "A Series of Ups and Downs."
11 Phil Musick, "Rooker Survives on Guts," Pittsburgh Post-Gazette, October 15, 1979.
12 Reidenbaugh, "Game 5 Notes."
Additional Stats
Pittsburgh Pirates 7
Baltimore Orioles 1
Game 5, WS
---
Three Rivers Stadium
Pittsburgh, PA
Box Score + PBP:
Corrections? Additions?
If you can help us improve this game story, contact us.
Tags
https://sabr.org/sites/default/files/FoliTim.png
600
800
admin
/wp-content/uploads/2020/02/sabr_logo.png
admin
2018-05-02 14:25:10
2020-04-17 13:34:02
October 14, 1979: Pirates' 'Family' unites to extend World Series back to Baltimore