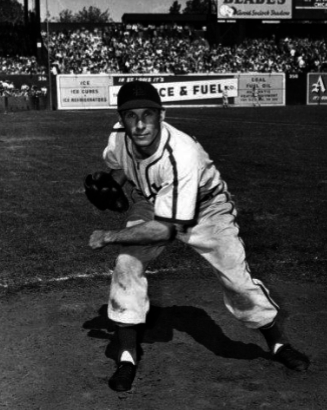 October 13, 1946: Joyous Cardinals hail gameness of Brecheen and Slaughter in Game 6
---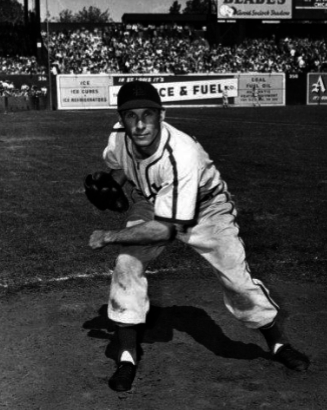 On Sunday, October 13, 1946, the St. Louis Cardinals faced the sixth game of the World Series against the Boston Red Sox with their backs, once again, against the wall. They had played that way for the entire bruising 1946 season, and now they needed another win to tie the Series and force a seventh and deciding game in Sportsman's Park.
The 1946 National League season ended with the Cardinals, who were seven games back on the Fourth of July, tied with the Brooklyn Dodgers, forcing the first tiebreaker playoff in major-league history. The Cardinals won the best-of-three series in two straight games despite being underdogs.
The Boston Red Sox were restless as the World Series was delayed. They had won 104 regular-season games and captured the American League pennant by 12 games over the Detroit Tigers. They finally clinched on September 13 after uncharacteristically dropping six games in a row. To keep his club fine-tuned for the coming series, Boston general manager Eddie Collins scheduled three exhibition games against a team of AL players. In one of the games, Ted Williams was struck on the elbow by a pitch from knuckleballer Mickey Haefner, a mishap that some blamed for his poor hitting in the Series.
The Cardinals won National League championships in 1942, '43, and '44, and had been in nine World Series since 1926. Red Sox fans pointed out that their team had never lost a World Series, sometimes failed to note that this was their first Series appearance in 28 years, since 1918, a year before the club traded Babe Ruth to the Yankees.
The Red Sox were heavily favored against the Cardinals — as the Dodgers had been in the playoff. Boston's Dom DiMaggio thought he knew the reason for the Red Sox' success in 1946 — "Red Sox players were lucky enough to be able to resume playing at our prewar level of performance."1 This was remarkably true for Williams, who returned in 1946 after three full years of military service and picked up right where he left off, batting .342 with 38 home runs and earning the AL Most Valuable Player Award.
The 1946 Series featured the MVPs of both leagues in Williams and Stan Musial of the Cardinals. But the key to the Series quickly became the Cardinals' pitching staff, which had compiled a league-best ERA of 3.01 during the regular season. First-year manager Eddie Dyer's "money man"2 turned out to be left-hander Harry "The Cat" Brecheen, who had won 15 games for the second straight season. Game Six featured Brecheen against Red Sox left-hander Mickey Harris in a rematch of Game Two, which Brecheen and the Cardinals won, 3-0. Brecheen also saved the clinching game in the playoff against the Dodgers, getting the last two outs in relief of Murry Dickson. Boston manager Joe Cronin held back his ace, Dave "Boo" Ferriss, who had won Game Three on a six-hit shutout, for a possible seventh game.
In the second game of the Series, Brecheen gave up four hits and shut out a powerful Red Sox lineup that included Williams (.342 batting average, .497 on-base percentage, .667 slugging average), Dom DiMaggio (.316/.393/.427), Johnny Pesky (.335/.401/.427), Rudy York (119 RBIs), and Bobby Doerr (116 RBIs).
Game Six did not start well for Brecheen as he struggled to control his screwball; Dyer had George Munger warming up in the first and second innings. The Red Sox loaded the bases in the first with singles by Pesky and DiMaggio and a walk to Williams. But with one out Rudy York grounded to third baseman Whitey Kurowski, who started an around-the-horn double play to extinguish the threat.
The Red Sox opened the second inning with singles by Doerr and Pinky Higgins. But Erv Dusak threw Doerr out from left field as he attempted to advance to third and the Red Sox were unable to score against Brecheen.
Harris gave up five hits and three runs in the third. Del Rice singled to left field but was forced out at second on Brecheen's bunt. Red Schoendienst doubled to right, advancing Brecheen to third. Brecheen scored on Terry Moore's fly ball to right. What followed convinced the fans in Sportsman's Park there would be a Game Seven — consecutive singles by Musial, Kurowski, and Enos Slaughter produced two more runs before Cronin summoned 20-game winner Tex Hughson from the bullpen. Dyer countered with pinch-hitter Harry Walker, Hughson, who pitched four strong innings of relief, retired Walker on a fly ball to center to end the inning.
Brecheen held Boston at bay until the seventh, when he gave up a triple to York that Moore almost caught near the left-center-field wall. Doerr then knocked in Boston's only run of the day with a fly ball to left.
The Cards scored an insurance run in the eighth on a walk to Slaughter followed by a double by Marty Marion. As the eighth inning ended, the Cardinals were startled by a public-address system announcement to the 35,768 fans in attendance that tickets for Game Seven were now on sale. "That guy on the PA system scared me to death." Enos Slaughter said. "Announcing tickets on sale for the seventh game in the ninth inning. We still had three men to get out."3
Brecheen gave up a single to Williams in the ninth, one of only five hits, all singles, that Williams would get in the Series. The game ended when York's smash deflected off Brecheen to second baseman Schoendienst, who turned it into a double play.
York grounded into two of the three double plays the Cardinals turned in the game (DiMaggio was the victim of the third) and the Red Sox left only four men on base. Slaughter reached base three times for the Cardinals, drove in a run and made a running catch of Leon Culberson's line drive in fifth inning despite having spent the previous night having his injured elbow X-rayed. No fracture had been discovered, but the elbow was puffy and inflamed. A physician declined to give an opinion whether Slaughter could play in Game Six but Cards owner Sam Breadon said, "Enos will be in there, all right."4
In 1 hour and 56 minutes of work, Brecheen assured that there would be a Game Seven. "Yahoo, one run off me in 18 innings," the pitcher said with a smile. "Ain't that something?"5
The rescheduling of World Series games to accommodate the three-game NL playoff meant Game Seven could not be played until Tuesday afternoon. Many in the jubilant crowd stayed for hours until an orderly process was established to sell tickets.
Although box-seat holders were assured of their regular seats, 25,000 tickets were sold at the box office in a single day. The Cardinals, on behalf of the St. Louis fire marshal, also announced that people buying standing-room tickets could not enter the park with stools, chairs, or ladders, and that only one person could sit in the aisle in each row.
The postwar housing shortage meant that out-of-town fans turned out by their hotels spent the offday trying to secure another place to stay. Their problems were made worse as a convention of state medical examiners and a parent-teacher conference were also in town. Baseball visitors were forced to sleep on cots in hotel dining rooms or on park benches.6
The New York Times observed that in the clubhouse, "Dyer was more than happy. He was overjoyed." Talking about the deciding game, he said "I'll toss Brecheen back in there again, if need be."7
Dyer was pressed to explain his team's success against Ted Williams, "the most publicized hitter in baseball." Brecheen was a screwball pitcher, but had teased Williams with a well-controlled curveball and jammed him with a fastball close to the wrists. "They certainly know how to pitch to me," said the Boston slugger before Game Six, "'cause I'm getting what I'm not expecting."8
Dyer had also used a shift against Williams during the Series, switching one infielder from the left side of the infield to the right, a strategy slightly more conservative than the shift introduced during the season by Lou Boudreau of the Cleveland Indians, which positioned three infielders to the right of second base. Dyer thought his shift got into Williams's head. "We had Ted crazy before it was over," he said. 9
In the Boston clubhouse, the postgame atmosphere was tense. York reminded his teammates that Game Seven was their turn — as the Cardinals had won Games Two, Four, and Six of the Series and the Red Sox had won Games One, Three, and Five. As Cronin explained his pitching strategy to sportswriters, he was interrupted by the noise of Mickey Harris tossing furniture and tearing apart the contents of his locker in frustration over failing to win either of his two starts in the Series.10
"One thing I you can quote me on," said St. Louis catcher Joe Garigiola as waves of sportswriters pressed for more quotes, "the next game is definitely the last one."11
This article appears in "Sportsman's Park in St. Louis: Home of the Browns and Cardinals at Grand and Dodier" (SABR, 2017), edited by Gregory H. Wolf. Click here to read more articles from this book online.
Notes
1 Dom DiMaggio with Bill Gilbert, Real Grass, Real Heroes; Baseball's Historic 1941 Season (New York: Kensington Publishing Corporation, 1990), 233.
2 "Brecheen Stops Red Sox With Hill Magic, Big Bat," The Sporting News, October 16, 1946.
3 Jimmy Cannon, St. Louis Star and Times, October 14 1946.
4 "X Ray Shows No Fracture. Slaughter Says He'll Play," St. Louis Post-Dispatch, October 13, 1946.
5 John Schlegel, First Cards-Red Sox Series in '46 had its own twists, MLB.com, October 29, 2013. https://m.mlb.com/news/article/63480966//.
6 Selwyn Pepper, "Most Seats Sold Quickly for Deciding Series Game," St. Louis Post-Dispatch, October 14, 1946.
7 James P. Dawson, "Joyous Cards Hail Gameness of Brecheen and Slaughter; Cronin Downcast," New York Times, October 14, 1946.
8 Bob Broeg, "Musial's Leg Work on a Leg Hit Called Turning Point of the Game," St. Louis Post-Dispatch, October 14, 1946.
9 "Brecheen Stops Red Sox."
10 Dawson.
11 Cannon.
Additional Stats
St. Louis Cardinals 4
Boston Red Sox 1
Game 6, WS
---
Sportsman's Park
St. Louis, Mo
Box Score + PBP:
Corrections? Additions?
If you can help us improve this game story, contact us.
Tags
https://sabr.org/sites/default/files/BrecheenHarry.png
600
800
admin
/wp-content/uploads/2020/02/sabr_logo.png
admin
2018-11-14 14:01:01
2020-04-17 13:33:59
October 13, 1946: Joyous Cardinals hail gameness of Brecheen and Slaughter in Game 6