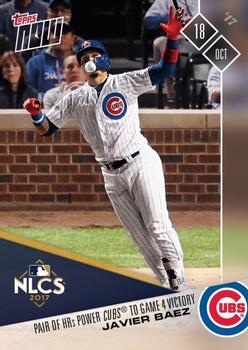 October 18, 2017: Cubs show championship swagger to stay alive in NLCS
---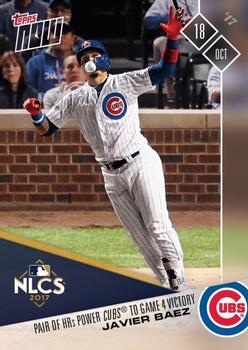 The Cubs were playing mostly for pride in Game Four of the 2017 NLCS, the pride of defending world champions not wanting to surrender the pennant without a fight. But they were also playing for plausibility: to nudge the idea of a series comeback back into the realm of the possible. A win would leave them down three games to one — still in a hole, but the same kind of hole they climbed out of last year in the World Series to win it all.
All series, the meekly hitting Cubs had been waiting to string some big hits together to ignite their offense and their confidence. They got two strong strokes in the second inning of Game Four. With the game still scoreless, Willson Contreras crushed a shot to left field off Dodgers starter Alex Wood that crashed off the video scoreboard. It was measured at 491 feet. Contreras paused in the batter's box and then strode out slowly in admiration of his blast, letting the statement settle in. He was, the Chicago Tribune said, "a man with a message. Notice us. We are still the champions."1
Two batters later, Javier Báez slammed a deep shot of his own, 437 feet down the left-field line, out of the park and over Waveland. It was his first hit after suffering an 0-for-20 showing in the postseason. After rounding the bases, Báez stomped on home plate, as if to announce that the Cubs would not go quietly in this series.
"It felt like the real Cubs had arrived at Clark and Addison for the NLCS, finally," wrote the Tribune.2
The Dodgers got one back in the top of the third, a Cody Bellinger solo home run down the right-field line off Cubs starter Jake Arrieta. But Arrieta, in what fans knew could be his last appearance as a Cub at Wrigley Field before becoming a free agent, shut down the Dodgers after that, holding them hitless the rest of the third and then all of the fourth and fifth innings.
Báez came back up to bat with the Cubs still leading 2-1. Few players had dazzled and puzzled Cubs fans in recent years as much as Báez. He was a magician in the field and at times a titan with the bat, but he was also prone to strikeouts and slumps. Now, in the fifth inning, Báez fully regained the form that earned him NLCS co-MVP last year, and sent his second home run of the night into the left-field seats. He became just the 15th player in postseason history to hit two home runs in an elimination game. "That guy, he's fun to watch," Kyle Schwarber said of Báez after the game. "He's an electric player."3
The Dodgers got a leadoff single by Justin Turner but nothing more off Arrieta in the sixth inning. Arrieta exited with two outs in the seventh, having surrendered just three hits and one run while striking out nine. The crowd, knowing this could be Arrieta's farewell, rose to its feet, and Arrieta tipped his cap to the ovation.
"Hopefully it's not a good-bye," Arrieta said afterward. "It's a thank you, obviously."4 Arrieta added that he savored every moment of his start, knowing it could be the end of an unforgettable era that included a career resurgence, a historically dominant 2015 season, and a world championship. "I took a little bit [of] extra time in between pitches just to look around," he said. "Just to kind of relish it and take it in."5
Brian Duensing came and retired Bellinger and the Dodgers. In the bottom of the seventh, Báez was back, lifting a fly ball to deep center, this time no farther than the warning track, where Curtis Granderson made the catch. Further heroics denied, the Cubs' lead remained 3-1.
Cubs manager Joe Maddon turned to Wade Davis in the eighth, asking for six outs from his closer, and it quickly looked like a lot to ask. The first batter was Turner, and he hit "a towering home run hit far enough to register on radar at O'Hare," as the Tribune put it.6 The crowd clenched its teeth as the Cubs' lead was cut to 3-2. All of the game's runs had been scored on solo home runs.
Two batters later Davis struck out Granderson, only to have the umpires convene and concur that Granderson had stayed alive on a foul tip. A furious Maddon came out to complain and got ejected. The inning risked unraveling for the Cubs. But Davis struck out Granderson on the next pitch, and, after walking Yasmani Grandal, struck out Chase Utley to escape the inning with the lead.
The Cubs had Kris Bryant at bat with two runners on in the bottom of the eighth, but Bryant's bat stayed quiet for the series and he grounded out to end the inning. Davis went back out to try to give the Cubs their elusive first win of the series, and his ninth inning proved as uneventful as the eighth was unnerving. He struck out Austin Barnes, and then after walking Chris Taylor, got Bellinger to hit into a game-ending double play.
The Cubs had hung on to win 3-2, with Contreras and Báez rejuvenating the offense, setting the tone, and calming their team's nerves, at least for one night.
"The Dodgers still have every reason to believe they are headed for their first World Series since 1988," the Tribune wrote. "But for a desperate Cubs team facing a daunting challenge, it was a start."7
The Cubs' reward for extending the series would be to face Clayton Kershaw in Game Five. But after losing the first three games, they knew there would be no shortcuts back to the pennant. Still, they could look to their team president, Theo Epstein, who saw his Boston Red Sox come back from a 3-0 Championship Series deficit in 2004. So what did that team do that this year's Cubs could do too?
"You've got to find a way to get the team that's been up 3-0 on a plane back home, failing to close out a series twice in a row," Epstein said after Game Four. "If you can do that, I think the momentum completely changes, and the pressure changes."8
This article appears in "Wrigley Field: The Friendly Confines at Clark and Addison" (SABR, 2019), edited by Gregory H. Wolf. To read more stories from this book online, click here.
Sources
In addition to the sources cited in the Notes, the author also accessed Retrosheet.org, Baseball-Reference.com, and SABR.org.
https://www.baseball-reference.com/boxes/CHN/CHN201710180.shtml
https://www.retrosheet.org/boxesetc/2017/B10180CHN2017.htm
Notes
1 David Haugh, "Contreras, Baez Reclaim Some Swagger," Chicago Tribune, October 19, 2017: 34.
2 Ibid.
3 Lauren Comitor, "Make Sure to Update Your Clocks Because It's Finally Javy Time," The Athletic, October 19, 2017. Accessed at https://theathletic.com/131615/2017/10/19/make-sure-to-update-your-clocks-because-its-finally-javy-time.
4 Sahadev Sharma, "Jake Arrieta Tipped His Cap to the Fans, But He Isn't Ready to Leave the Cubs," The Athletic, October 19, 2017. Accessed at https://theathletic.com/131809/2017/10/19/jake-arrieta-tipped-his-cap-to-the-fans-but-he-isnt-ready-to-leave-the-cubs.
5 Ibid.
6 Haugh, "Contreras, Baez Reclaim Some Swagger."
7 Ibid.
8 Jon Greenberg, "As the Cubs Fight for Their Playoff Lives, Theo Epstein Reflects on 2004 Memories, a Leaky Bullpen and More," The Athletic, October 19, 2017. Accessed at https://theathletic.com/132704/2017/10/19/as-the-cubs-fight-for-their-playoff-lives-theo-epstein-reflects-on-2004-memories-the-cubs-bullpen-and-more.
Additional Stats
Chicago Cubs 3
Los Angeles Dodgers 2
Game 4, NLCS

---
Wrigley Field
Chicago, IL
Box Score + PBP:
Corrections? Additions?
If you can help us improve this game story, contact us.
Tags
https://sabr.org/sites/default/files/BaezJavier-2017.jpg
600
800
admin
/wp-content/uploads/2020/02/sabr_logo.png
admin
2020-01-09 15:35:53
2020-04-17 13:33:54
October 18, 2017: Cubs show championship swagger to stay alive in NLCS